One of our favourite video game series in PC is GTA (Grand Theft Auto). Especially, the latest game of this series named GTA 5 has got so much popularity that even smartphone gamers want to have this game on their mobile screen & we all know, that's not utterly possible. But there are some games like GTA 5 for Android that you can definitely enjoy playing & feel like you are playing the smaller version of GTA 5 So, let's know about the games like GTA 5 for Android one by one.
Read More: Upscaling 1080p to 4k!! How Is It Possible?!
Auto Gangsters
Doodle Mobile Ltd.
Action/Adventure|3.9★|26 MB |Free (in-app purchases) | 10M+ Downloads
Auto Gangsters is a very interesting yet small game like GTA 5 for Android. In this 3D criminal adventure game, you can be the criminal mastermind of the underworld with the help of insane weapons & crazy vehicles. Hundreds of missions are available in this game world of Liberty City, Vegas & San Andreas. You can do whatever you want in that open world game.
In the multiplayer modes, you can join with other notorious gangsters from all over the world to take over the cities. Because of this small size, this game can be played very smoothly in any low end smartphones which is obviously a huge benefit for the low end smartphone users.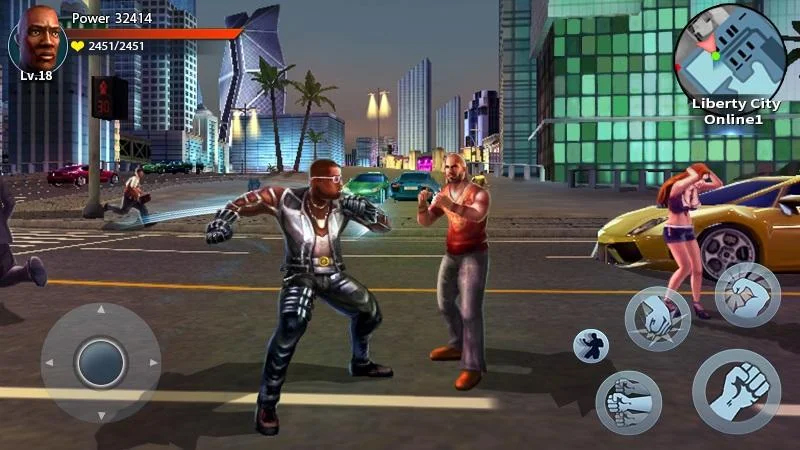 The story of this game revolves around a war between all the well-known crime families who lead the town to self-destruct under insolence, deportation, murder and revenge. Surprisingly, you arrive in the game world just before that gang war & now, it's your opportunity to attack their weaknesses, destroy the kingpins, shoot down the godfathers in order to become the god of the underworld in this city. Are you ready to take this massive opportunity? If yes then download this game & start playing.
Read More: How to Install Games from Steam? [Step by Step]
Gangstar Rio: City of Saints
Gameloft SE
Action/Shooter|4.1★|2.2 GB |₹599.00 (in-app purchases) | 100K+ Downloads
Gangster Rio is the only premium game in our list of games like GTA 5 for Android. This game will make your feel like you are playing GTA 5 in Rio de Janeiro! You'll never experience a better way to discover this incredible city. This is the only game where open world crime is very much possible in the city of Rio, Brazil. You can explore 5 different neighbourhoods including the favelas, business district, beaches and jungle. Over 60 different missions are available to complete and dozens of random events to give you hours of fun & excitement.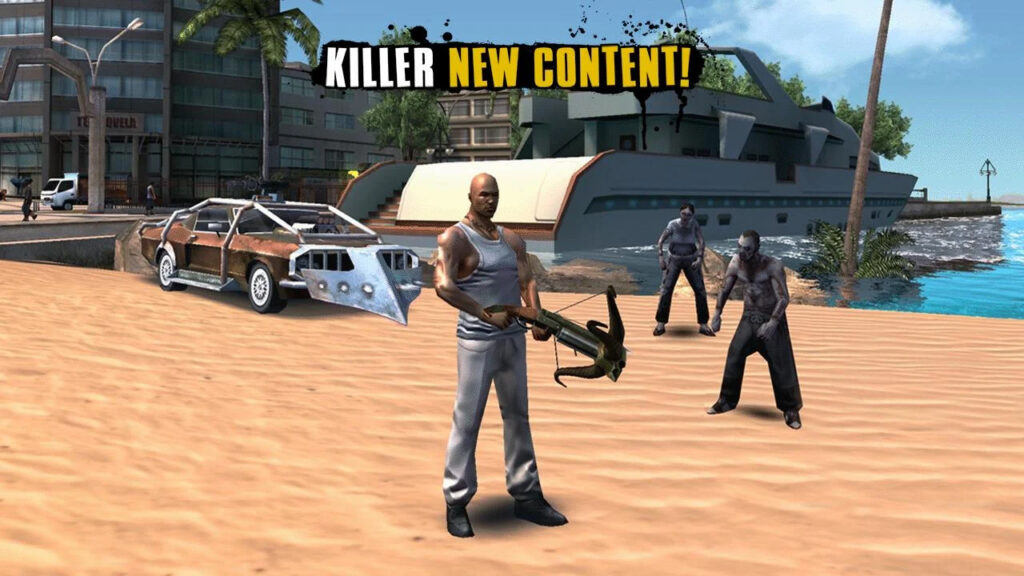 You can kill corrupted politicians, protect witnesses, deliver special packages, steal cars and find out who tried to kill you in the missions. The thrilling that each & every mission provides you is just superb. Use variety of weapons such as bazooka, minigun, assault rifle, grenade launcher etc. to complete missions or to destroy public properties, govt. properties, military base, cops & other defence services. Also drive dozens of vehicles including planes, helicopters and a tank, and of course, you can steal, purchase and collect dozens of cars and motorbikes.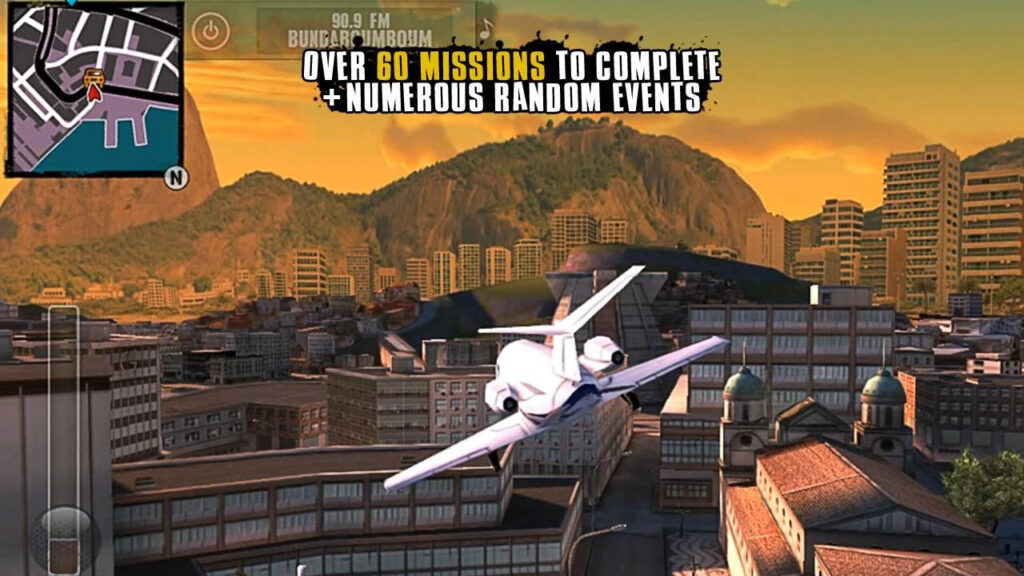 In a nutshell, this game is a cool one but we cannot recommend you because this game is not worth the money. People complain that it has too little missions or its graphics is poor compared to the amount of size this game possesses. So, you can go for the Gangstar Vegas game which is also a Gameloft game & free to play & also has much better graphics, missions etc. then this one. Or, if you really want to feel the gangster life in Brazil, you can go for this game.
Read More: The Dark Truth Behind Pirated Games! Be Alert!
Grand Action Simulator – New York Car Gang
HGames-ArtWorks
Action/Simulation|4.1★|120 MB |Free (in-app purchases) | 10M+ Downloads
What if GTA 5 sets in a future world? Would it be awesome? Well, if you play Grand Action Simulator game, you might feel that this is a game like GTA for Android but sets in a future open world New York city where robots are easily seen, futuristic vehicles, weapons can be used and many more awesome things can be done. You can play the game as third person or in FPS mode with your character. Beautifully designed graphics has made this game more cool. The style of city is similar to Miami of Las Vegas but actually it's New York & here, you work as a thug whom the whole city fears.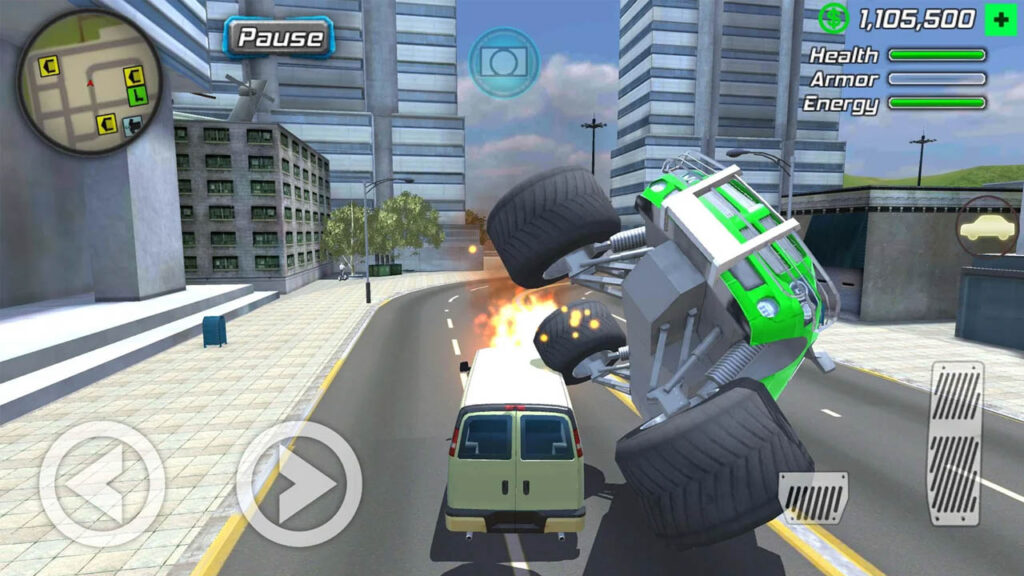 Various rival mafia gangsters from different countries will try to knock you down but you have to stay one step ahead of them. Apart from your criminal activities & missions, you can also explore the beautiful open world environment of the city. You can go for some long drives in the off-roads or you can steal anyone's supercar & go for highway racing. You can even shoot down civilians with your modern weapons. From the shop, you will get everything from modern weapons to hyper cars & they will help you to complete your missions more easily.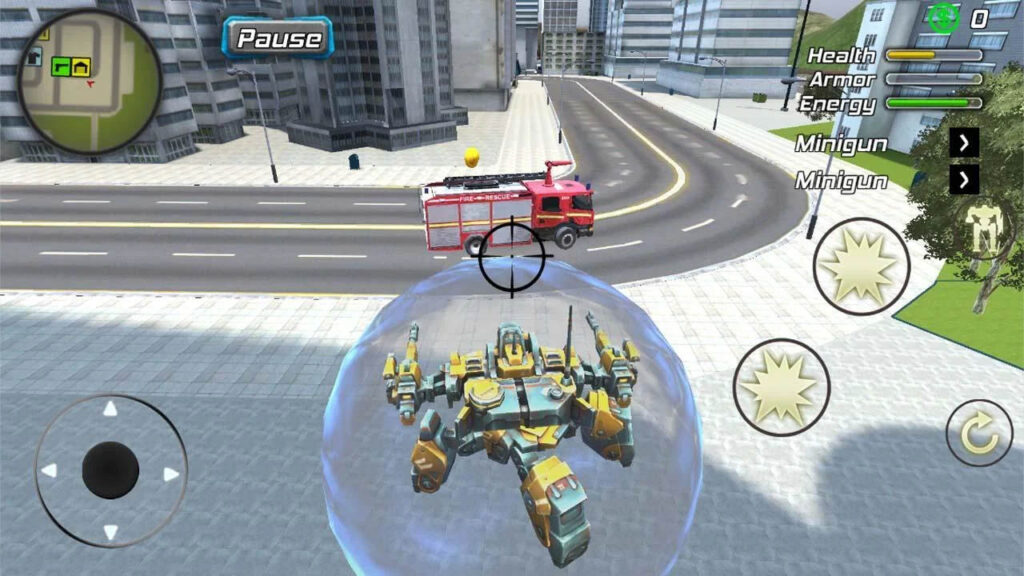 Are you ready for the street wars of the gangs to become the real mafia of the New York city? Go ahead, show the future that you are the ultimate Kingpin of the world!
Gangstar New Orleans OpenWorld
Gameloft SE
Action/Adventure|4.3★|965 MB |Free (in-app purchases) | 10M+ Downloads
One of the latest games from Gameloft is Gangster New Orleans & it have already got so much popularity because of its gold standard open world action-packed gameplay just like GTA 5. This game undoubtedly provides all the tools from the city of New Orleans in order to make you a real Gangstar.
After Gameloft's Gangstar Vegas's huge success, Gameloft had decided to launch another game of this open world action-adventure genre. Thus, we have got another awesome game like GTA 5 for Android.
Gangstar New Orleans contains AAA quality graphics like PC games & this graphics quality makes the action more awesome & exciting. You can go to different districts of New Orleans to taste unique flavours of action. Apart from the single player story mode, this game provides various multiplayer game modes like GvG (gangster vs gangster) are available that can lift the level of action to another height.
Turf War is another game mode of this game in which you have to claim your turf & then defend it from rival gangs. Hundreds of guns, other heavy weapons, vehicles are available so that you can choose your personal style of crime & action. Want to be a gangster & rule the underworld in New Orleans? Then download & play this game.
Read More: External GPUs: How Do They Work?
Grand Gangsters 3D
Doodle Mobile Ltd.
Action/Adventure|4.0★|22 MB |Free (in-app purchases) | 50M+ Downloads
This is another very small sized gangster game by the same developers. Doodle Mobile Ltd. is one step ahead when it comes to develop games in very little size like 20 to 30 MB. Grand Gangsters 3D is only 22 MB & it has so much features that will make you crazy. With comparatively good quality graphics, this game has a open world environment in which you can roam, kill, steal, murder, destroy everything to become the most dangerous gangster.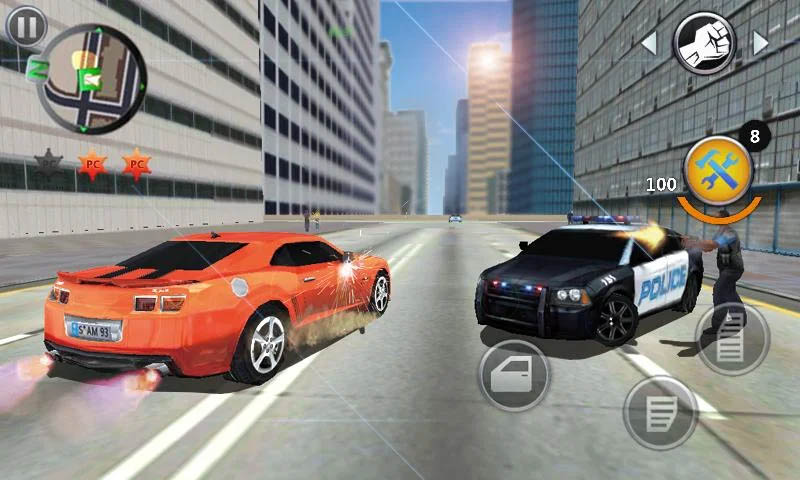 There are tons of action-packed missions & other possibilities available in the 4 areas of the city. You can get various auto vehicles & 15+ cool weapons from the shop section. In short, the game is a good one because of what it provides in just a small size like this. Any low-end Android device can easily handle this game so if you have a low-end phone & you cannot play games like Gangstar Rio, Gangstar Vegas then you can definitely go for this game.
Vegas Crime Simulator
Naxeex Ltd
Action/Adventure|4.1★|93 MB |Free (in-app purchases) | 100M+ Downloads
Vegas Crime Simulator is l iterally one of the best games like GTA 5 for Android smartphones that are low-end. It's only around 100 MB & is easily playable in smartphones with weak processors or low RAM. This game provides almost same gaming experience like GTA game series. It has a 3D large open world along surprisingly beautiful graphics.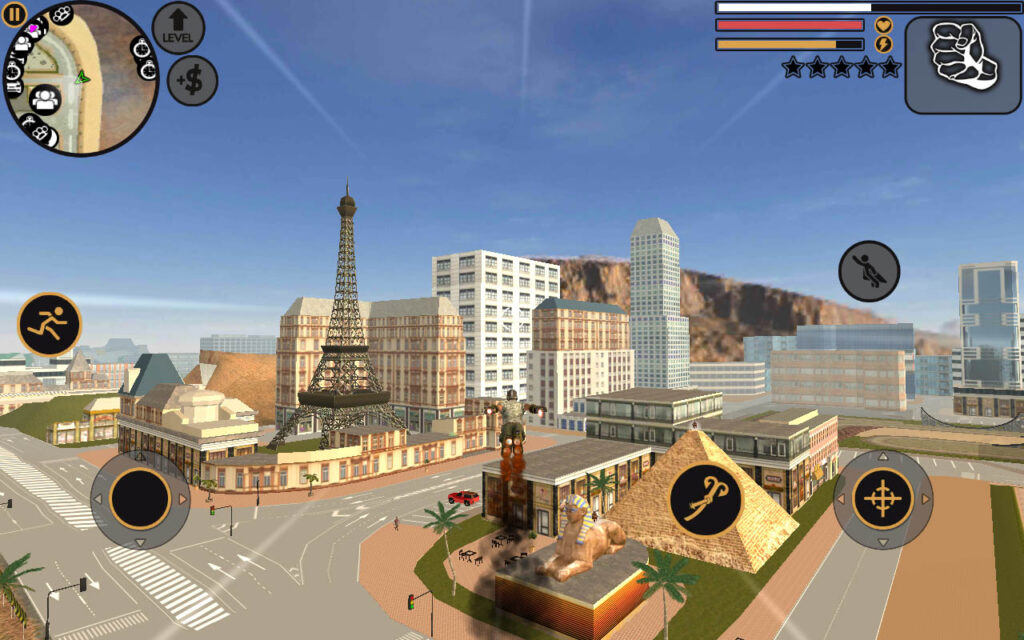 This game has everything that an open-world gangster game should have. There are countless missions such as confronting other gang members, racing with other opponents, attacking politicians, polices, militaries etc. are available although there are not any proper story missions in this game that gets you hooked to play it.
Various outfits for your character are available in the game shop. You can purchase them & give your gangster a rebellious look. Tons of cool, heavy weapons are also available by which your gangster can be the strongest of the Vegas city. This third person gangster simulator may be the best gangster simulator for your Android device. In such a low size, Vegas Crime Simulator offers almost every possible thing like a GTA game. You will regret if you don't give it a try.
Real Gangster Crime
Naxeex Studio
Action/Shooter|4.1★|103 MB |Free (in-app purchases) | 10M+ Downloads
Vegas Crime Simulator & Real Gangster Crime are two of the best games developed by Naxeex. While Vegas Crime Simulator is better for its countless features, Real Gangster Crime is better for its realistic graphics. In only around 100 MB this game possesses incredibly good quality of graphics. The modern open world city of this game world is surrounded by ghetto areas. Tall skyscrapers and luxurious life make this city an oasis in the desert. Tons of different missions available in this game although there is no particular story mission provided in this game. The touch of modern elements makes the gameplay more exciting & action-packed.
The robots, Hyper cars, modern weapons are the common materials in the open world environment of this game. You can do whatever you want like other open world games. In the shop, you can get sci-fi hyper cars, fighter planes & copter, rocket launcher, railgun and other modern vehicles & weapons. You can customize your character from the hundreds of dresses to make him look like a real gangster so that everyone can fear you. Be the sinful master of this city so that everyone can obey your words or you can be a good person too like going for a long drive & listening songs. In such a low size, this game is indeed one of the best games like GTA 5 for Android which is why you should definitely give it a try.
MadOut2 BigCityOnline
MadOut Games BY
Action/Shooter|4.3★|561 MB |Free (in-app purchases) | 10M+ Downloads
MadOut2 is one of the most unique open world action games available for Android. This game is filled with a huge open world city in which you can do whatever you want such as driving cars, killing people, destroys almost everything & many more things. Tons of cool cars & weapons available in the shop only for you to own the city in order to make it your underworld. There are different missions available in this game in the single player mode. In multiplayer mode, there will be up to 100 players playing on that open world map. Kill all of them to be the ultimate gangster of this city. Anyway, in short this is a cool game & you will know more about the features of this game when you start playing it.
Payback 2 – The Battle Sandbox
Apex Designs Entertainment Ltd
Action/Adventure|4.4★|102 MB |Free (in-app purchases) | 100M+ Downloads
Payback 2 is for those who wants action from head to toe in a open-world scenario without any bounds. This game includes everything from tank battles to high speed helicopter races to massive gang battles. That's why it is not only one of the best action games for android today but also it is one of the best open-world Android games today.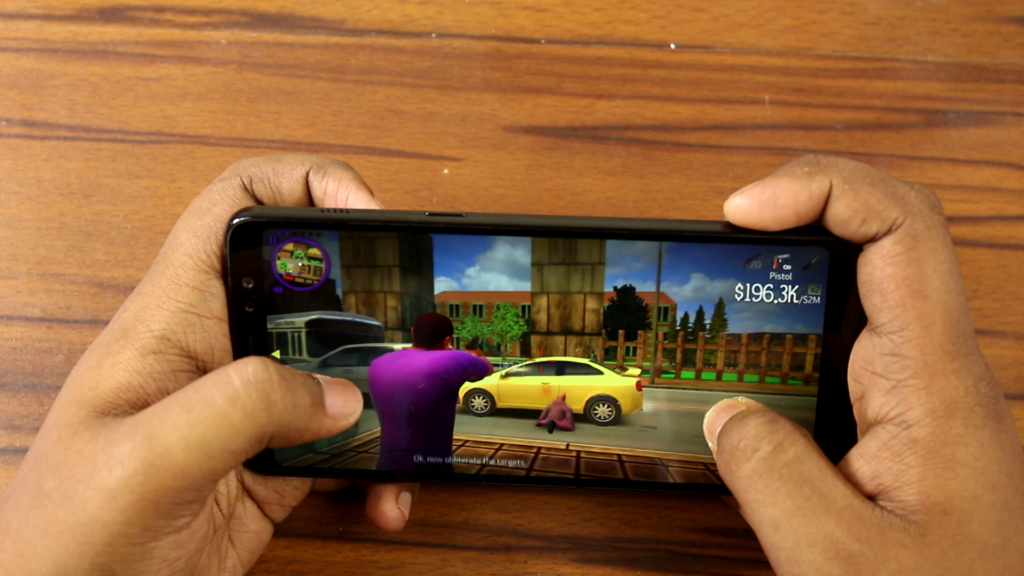 There are fifty campaign events available in this game that feature massive street brawls, super-car races, tank battles & much more in an open world scenario. You can make your own action-packed events by using the custom mode of the game in which you can combine your preferable cities game modes, weapons and vehicles too as this game offers 7 cities with 9 game modes, dozens of vehicles and weaponries. You can even battle with your friends or other players in online multiplayer modes and get the top spot of the leaderboard. Numerous hourly, daily and weekly challenges are provided in this game so that one can always ready to go for action. If you don't play it yet, you better give it a try.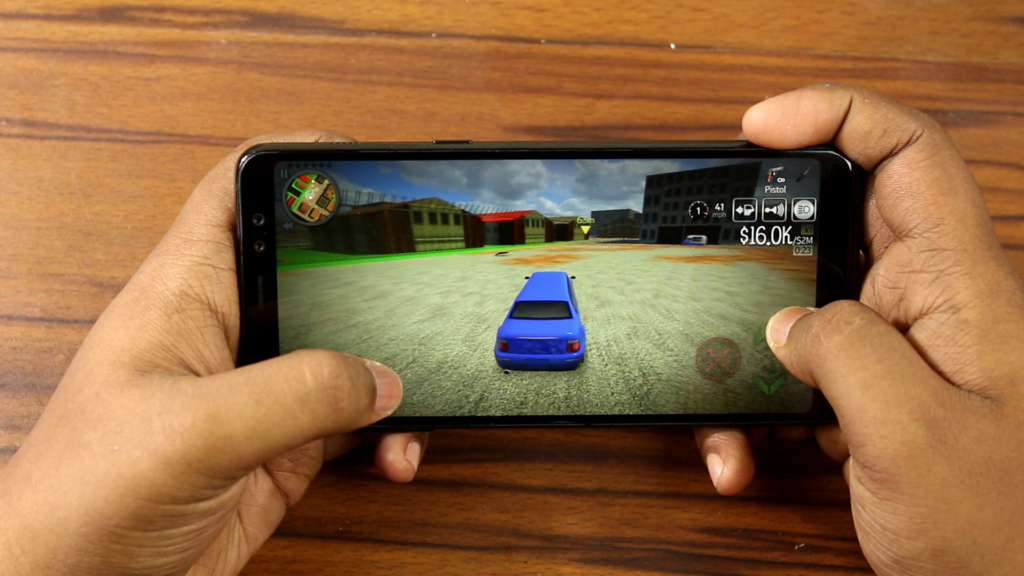 Gangstar Vegas: World of Crime
Gameloft SE
Action/Role Playing|4.3★|1.9 GB |Free (in-app purchases) | 100M+ Downloads
Gameloft has fulfilled many smartphone gamers' wish by launching this incredibly good action-adventure open world game which is even better than the real GTA games available for Android. Gangstar Vegas is not only the best open world android games but also one of the best action-adventure games that Play Store ever has. You have to play the role of Jason in the dramatic story of this third person shooter game and you can do basically anything in Las Vegas. You can walk and run freely, go for long drive-in cars & boats too, pilot planes or helicopters, kill someone and snatch his money and cloths without caring who he/she is or even you can go to the casino to play them.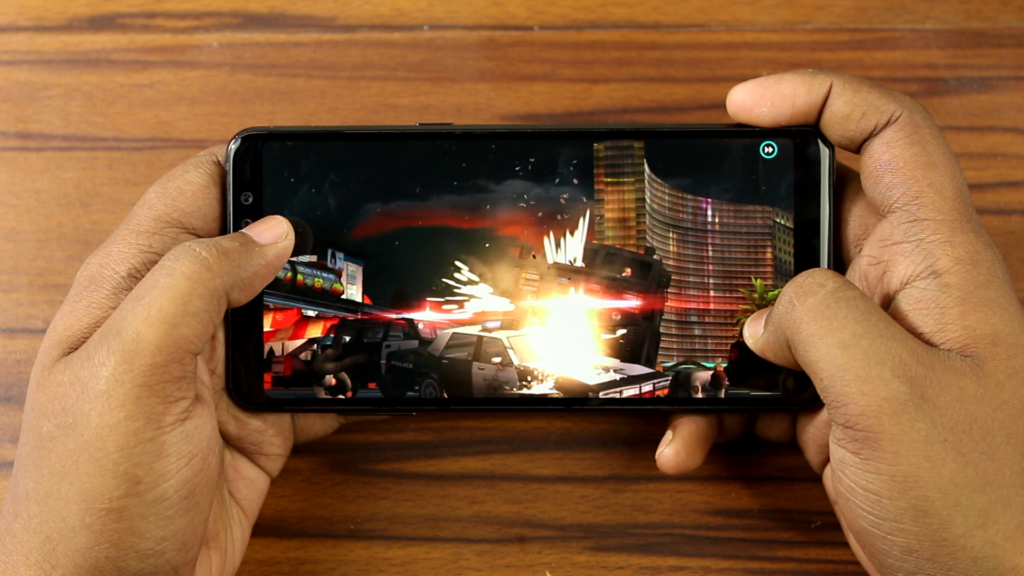 Gangstar Vegas comes with beautifully realistic graphics like actual GTA 5 PC game that makes you really surprised. There are numerous weapons like SMGs, LMGs, Shotguns, Rocket Launchers, melee weapons etc., cloths like casual dresses, formal dress on variations and vehicles like SUVs, Sedans, Supercars, Boats, Helicopters, Airplanes etc. are available in this shop section of the game so that you can complete all the 80+ missions properly by purchasing & using them. You can also craft your own weapons, vehicles & cloths.
Fully action-packed online events are offered by this game where you have to either fight with the zombies, aliens and other gangstars with your own or you have to join with a gang to beat down other gangs in the massive gang wars. The rewards of those events are lucrative cloths and suits, legendary guns and vehicles too. So, what are you waiting for? You cannot get another awesome open world game like that which is too similar like GTA 5. Install Gangstar Vegas and rule Vegas with your criminal adventures in your own way. The City of Vegas is eagerly waiting for a gangstar like you!
Read More: [Best] Open World Android Games: Top 10 List
Watch the video below if you want more Games Like GTA 5 For your Android smartphone…
Therefore, these are some of the best games like GTA 5 for Android. We can assure you that you will certainly feel like playing a small version of GTA 5 game if you play one of these games. All of these games are very cool & awesome. So, try these games according to your Android phone's power. If your phone is low-end then try the small sized games or your phone is a mid-budget or flagship phone then you can definitely try all of these games. Anyway, we hope that you have enjoyed reading this article. If so then don't hesitate to express your valuable thoughts in the comment section. Thanks for visiting & appreciating our work.