Your Android TV has definitely a home screen that contains the necessary apps, videos, and menus. Which is known as a launcher or you can say Android TV launcher. Replacing the launcher means you can change the background images, the layouts, the look of the app icons and most importantly you can even replace the apps from one place to another for your convenience. You can easily download many Android TV launchers from the app market but how will you choose which is the best and most convenient one? Therefore, here are some of the best Android TV launcher apps for your Android TV box or for your Android TV. Here are some of the best Android TV launchers that I personally prefer.
Ugoos TV Launcher
Ugoos TV Launcher is one of the best apps out there to provide a better look as well as functionality to your Android TV Box.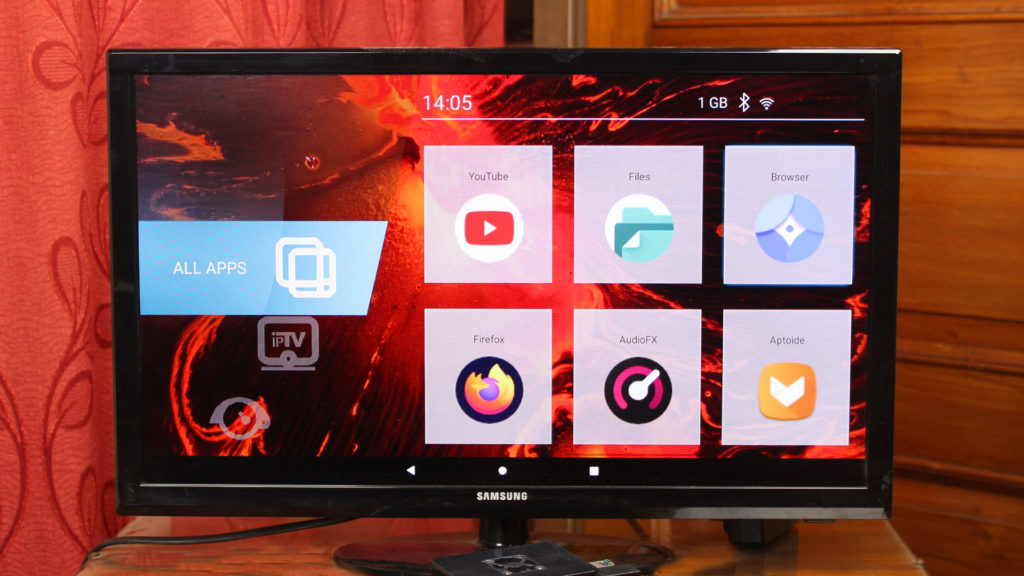 This launcher offers some extraordinary benefits which are as follows:-
Adaptive remote controller and air mouse support.
A total of nine color themes for main launcher elements.
The easily customizable and selectable background that one can choose from a list or use system background.
Customizable desktop icons: amount on one screen, border size, icon background.
New category selector: eight categories + one with all applications
Quickstart option of main application from every category.
Therefore, this launcher should be a user's first choice no matter what.
Download: Ugoos TV Launcher
TvHome launcher
This minimalistic launcher is for low powered Android TV set-top boxes. Also, it is one of my favorite Android TV launcher app If you want a quick and easy to use launcher for your Android TV then TvHome should be perfect for you. As it —
Do not demand the resources;
No extra settings;
Minimalistic design and
Neutral background image.
So, if you have an underpowered Android TV box and you want an easy to use simple and quick launcher for it, undoubtedly TvHome should be your first choice.
Download: TVHome Launcher
HALauncher – Android TV
HALauncher is also a launcher that comes with advanced and updated features for displaying and opening non-Android TV applications quickly on the Nexus Player, ADT-1, Nvidia Shield and the Razor Forge, Fire TV. But the main advantage that HALauncher provides is showing sideloaded apps on the display.
Usually, Android TV's home launcher doesn't show sideloaded apps. But if you use the "HALauncher", you can display and run apps designed for smartphones and tablets using a 1-click operation. Amazing, isn't?
Therefore, if you are a user who sideloads apps, this launcher is highly recommended for you. All apps will be available in the "Apps List" section.
HALauncher is an updated launcher that comes with Android 5.0 material Design so it fits right in with the Android TV. It is greatly customizable allowing you to change the color scheme, background graphic, icon graphic, add widgets to the home screen and remove the side panel completely to facilitate a cleaner home screen appearance.
Not only that, HALauncher lets you create shortcuts to applications, webpages, IPTV channels and videos stored on your hard drive by using the "Create Shortcut" feature.
To conclude this, if you want an updated, highly customizable launcher for your app that allows you to sideload apps and create shortcuts for them, HALauncher is best for you.
Download: HALauncher
UNICA TV Launcher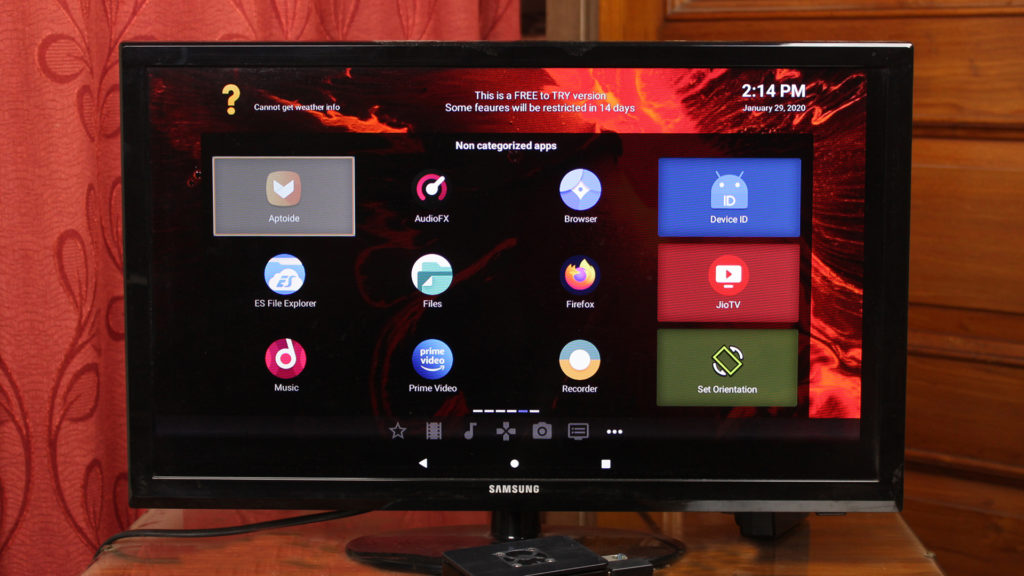 This is a simple launcher optimized for TV devices where Android TV is not yet available. The main features that this launcher provides are:
D-pad optimized navigation
Automatic TV icons for Android TV enabled apps
Fast and Easy access to your most-used apps
Simple search feature
Apps can be organized by categories for quick access
Custom wallpapers selected to fit this launcher layout
Actually this app is paid. You have to get the full version after using the 14 days free trial period. Once the period has finished, it will turn into a restricted mode. At any time you can buy to enjoy and utilize the full access through the same application (Settings -> Purchase). Here are the limitations after a trial period:
Message remembering that you are using the free to try version
Restricted weather location
Cannot edit the recently used apps category
Cannot change apps categories
So, these are the restrictions that you have to follow to use the free version of this launcher. I prefer to purchase it to get the full access and enjoy its great features like the D-pad optimized navigation.
Download: UNICA TV Launcher
Top TV Launcher 2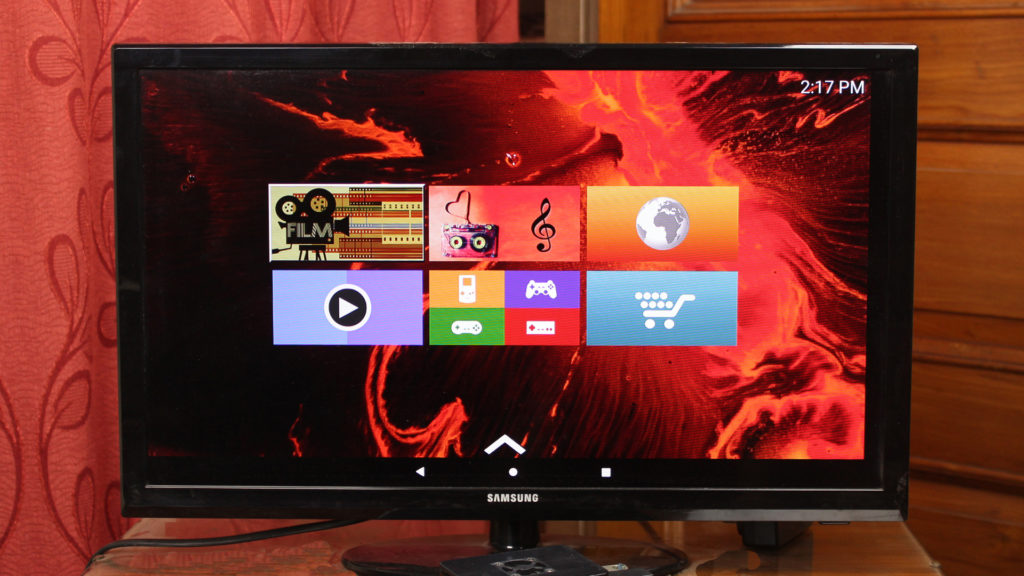 If you want to enjoy and use complete control over the way how your home screen looks on the Android TV box then you should most likely consider Top TV Launcher 2 as it is very professionally created for the users who want to use numerous fonts, background images, layouts, and other extraordinary features.
Top TV Launcher 2 is fully controllable and configurable using only your remotes navigation keys so it makes this launcher easy to control, use and enjoy.
Top TV Launcher 2 has unique on-screen editing features as no other app has. You can edit layouts, the places where you keep your apps, support of widgets and most importantly this launcher provides you the control over tiles by which you can design and recreate application icons. You can also add multiple apps in a single tile. All those features make this launcher fully accessible and controllable. All the features are listed below:
Customizable layouts.
Widget support.
Custom tile support, you can design tiles using:

Any icon within an icon pack.

A selection of pre-made tiles.
Ability to add multiple apps to a tile.
Ability to set an admin PIN to protect your setup from little ones.
Import and export of your configuration.
Custom wallpaper support.
No ads.
Though this app is paid but it is worth the money and your money will not be wasted if you purchase it for your utility. Top TV Launcher is a professionally beautiful launcher that allows you to take control over it surprisingly.
Download: Top TV Launcher 2
Android TV Launcher
Android TV Launcher is the last one on this list. With decent features, Android TV Launcher comes to start all activities on your Android TV. The Launcher is well optimized to put content at the center; from casual movie-watching to immersive gameplay. It's all about finding and enjoying content with the least amount of friction and providing quick and easy access to all the features Android TV has to offer. You can definitely give it a try on your Android TV.
Download: Android TV Launcher
Therefore, these are some of the best Android TV launchers apps out there that I prefer. So, if you like the post, don't hesitate to comment down below to appreciate my work. Thanks for visiting.