The term ".io" may sound unfamiliar to most of us but the io games are very much familiar to all of us. ".io" basically means the Indian Ocean which actually indicates the games of British Indian Ocean Territory. Now we have to know what is ".io"? But do you know why are the io genre & their games so popular? Because all the io games are developed with very small size yet they are capable of providing us intense action & entertainment. This way, any player can afford these games easily & enjoy their limitless fun. If you haven't played any io games yet then here are the best io games that you can play on your Android smartphone. We have listed various types of io games that provide unique types of excitement & fun. So without further ado, let's know what are the best io games for Android.
Read More: Top 10 Best Browser Games You Should Try!
slither.io
slither.io is arguably the oldest io game available in Android so it also has become the most popular io game ever because when it was introduced in the Play Store, there were hardly any io games so slither.io has easily made its spot as the number 1 io game. Yeah Agar.io was there before but it did not get the same amount of good ratings & popularity like slither.io. Although, we cannot surely claim slither.io as the best but it is obviously one of the best io games.
Most of us already know what this game has to offer. You start as a tiny worm with other opponent players & your goal is to be the longest slither of the game. Just eat the dots of the screen to be longer & longer. But keep in mind that if your head touches to another player, you will explode immediately! On the other hand, if others sun into you, they will explode no matter how big they are & you can eat their remains to be larger. So, you can also win the game even if you are tinier than others. You can make other larger players run into you in order to defeat them! Anyway, if you haven't played this game yet then you should try this at least for once. This is what a classic io game really is!
Paper.io 2
If you have loved playing its predecessor named Paper.io then you will obviously love playing the part 2 of this game where the goal of the game players remains the same. Capture as much territory as possible with your preferable colour & beat other opponents to win the competition. Paper.io 2 has smoother & graphically better gameplay than the first version. It will definitely be fun for you to watch while capturing the territory with your favourite colour paper & defeat other papers or opponents. You should give it a try as it is one of the best io games available in Android right now.
Aquapark.io
An io game based on water slide! As you can see another cool io game is present in our list of the best io games. This game is all about water sliding & reaching the end of the water slide before anyone else. That means, your character has to reach the end of the water slide first to win the game. You can bump other players during the race so that they will fall behind you. The adventures during the sliding will drive you crazy for sure. Want to be a part of this exciting, adventurous water sliding race? Then install the game right now.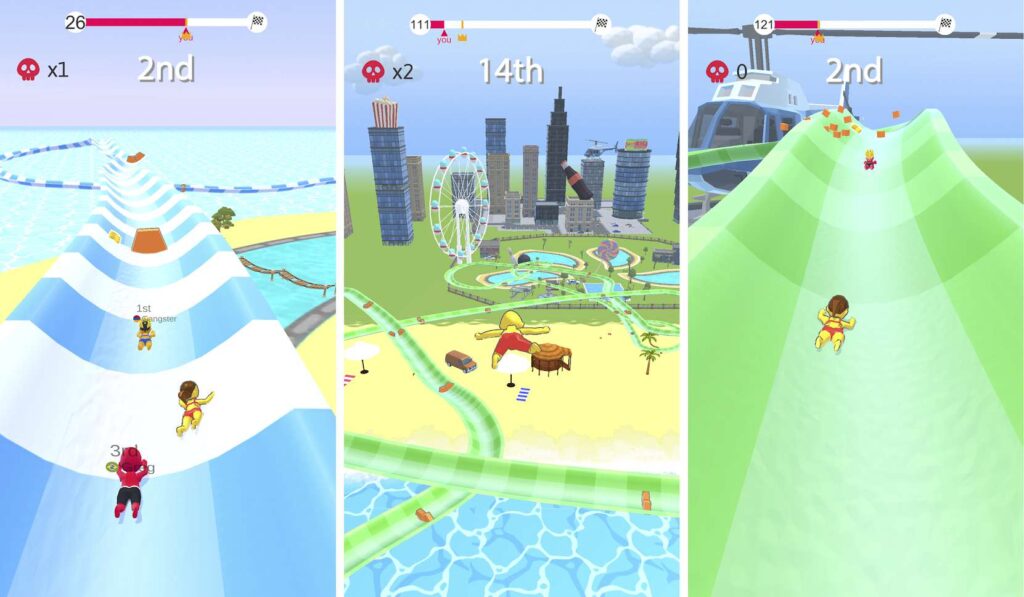 Hole.io
Hole.io is a very addictive & interesting io game in which you have to create your own black hole in the city or other locations & eat everything in sight with your black hole & then it will expand to be a bigger one. But remember, other black holes of other opponents are also there to face you. The bigger holes can eat yours & vice versa. So, save your hole from the bigger ones, eat anything you can & make your hole the biggest world-eater! The uniqueness of this game is the reason why this io game is so popular & is in our list of the best io games.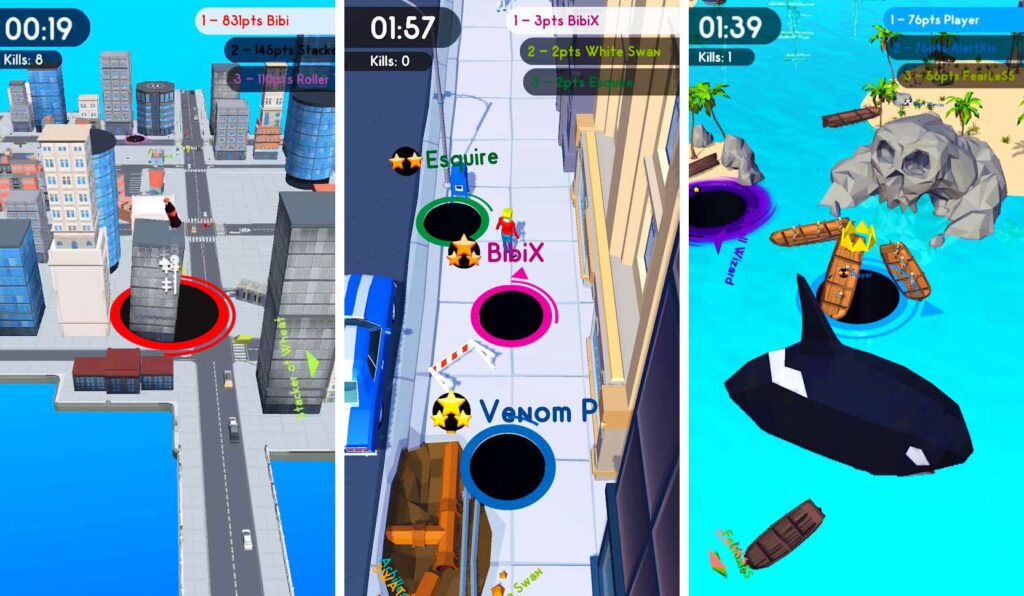 Agar.io
One of the most exciting & the best io games in Android & PC, Agar.io delivers the most addictive gameplay even for Android with the help of its new controls. In this game, you have to play online with other players just like other io games but the goal of this game is pretty unique. You will have a tiny cell that you have to control & eat other players to grow larger. But watch out because players bigger than you will be trying to make you their lunch & dinner. You have to save your cell at any cost & eat long enough in order to be the biggest cell in the game! Is not it crazy?! So, don't wait too much. Rush to Play Store, install & enjoy playing the game.
AXES.io
AXES.io is a battle royale io game consisting of the intense actions with axes & knives. This game is a perfect mixture of io & battle royale genre. You have to fight with other players in a battle royale world with the help of axes & knives unlike other battle royale games where you normally use guns & other ranged weapons. This unusual battle royale io game truly test your skills to become a true warrior.
You have to survive in the epic arena among other players. Choose your hero, play with friends, and let the fight for the crown begin! You have to be alert because the arena will gradually narrow & you have to run to the centre to avoid death. & while running to the centre, kill your opponents to stay as the last man standing in this war! There is 20+ unique heroes with 40+ unique weapon types available in this truly awesome game. Also, different game modes are available. So, if you really love battle royale survival games then this io game is just made for you. Try this right now.
diep.io
The same creators that created the Agar.io has also created this game. This is a very unorthodoxly action-packed smash hit multiplayer tank game. It may not be as popular & as good as Agar.io but it is definitely one of the best io games right now. You have to upgrade your tank, shoot down other players & destroy blocks to gain XP. With that XP, you have to level up your tank & finally, reach the top of the leaderboard. Simple yet exciting, right? There are many new classes, weapons & abilities to unlock. So, if you want breath-taking warfare action then this is the game you are looking for.
Snowball.io
Snowball.io is a very addictive io game with one of the simplest controls. In this game, make a snowball from tiny to gigantic & bump it to the opponents in order to flick them off the play field. Or you can make a number of small balls & bump it directly to your opponents or snipe them with it. Do whatever you like but at the end, you have to eliminate all your opponents from the game to be the winner. Swipe to the direction you want to move & lift your finger to shoot the snowballs. This is as simple as that. This game has got so much popularity because of its exciting action in quite a simple gameplay. You should give this unique io game a try.
Read More: How to Download Facebook Videos On Android?!
Therefore, these are the best io games that you can play on your Android mobile. All of them are very much cool & enjoyable to play with. You can try all of them & lastly choose your preferable one. io games are also great at killing time so if you have free time then these games can also work as great time killers. Lastly, we can hope that you have really liked our article about "The Best io Games That You Should Play in Android". If so then don't hesitate to express your valuable thoughts in the comment section below. Thanks for visiting & appreciating our work.