If you are surfing the web for years then you have probably seen sometimes "404 Error" or "404 not found" or something similar. I know many of you think that this problem can be fixable. Right? The answer is "not always". It depends upon many factors. Sometimes, the problem is on your side and sometimes it is on the web server itself. Obviously, if the problem is on the website then you have nothing to do. Ok, let's understand what is '404 error' and how to fix 404 error?
As I said before, the 404 error occurs due to many reasons. One of the main reasons is; the web page that you are trying to access doesn't exist. It is called 404 error because it is an Http status code Just like 403 error which can also be seen sometimes during web surfing. The website designer has the right to customize this error message that how they want to show the error code to their visitors. These are some examples.
404
404 not found
404 error
Error 404 – not found
HTTP 404
404 Page Not Found
Sometimes, 404 error comes to the screen when you find some content that you are trying to find in the particular site or sometimes, this error just gives you some information about some other pages of that site.
Ok, without wasting much time, let's come to the solution part. There are a few things that you can do to solve the 404 error but always remember "Try try but don't cry".
How to fix 404 error – Forbidden problem?
Refresh the Web Page
Many times, 404 error is just a temporary problem and can be fixed by refreshing the webpage. All the browsers in all over the universe have a refresh button next to the URL section of it. By clicking on it, the webpage will refresh and maybe the problem will fix. Also, a webpage can be refreshed by pressing the F5 key from your keyboard which most browsers support.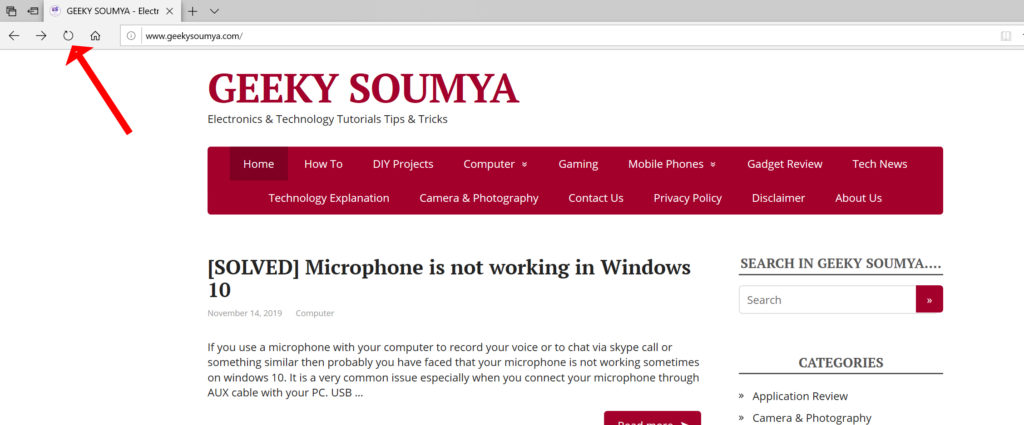 Clean your browser cookies, cache, and history
Sometimes the error message of a particular website cached on the browser and it is possible that the web page link is actually repaired but the browser displays the old broken link's content which is 404 error. So, clearing the cookies, cache, and history is not a bad idea. Don't take any tension because there is nothing happens if you clean them all. The only difference you may notice that the web pages are opening slowly because they have to store all the previously cached data.
To clear cookies, cache and history follow these steps: Press Ctrl+H from your keyboard > Click on Clear browsing data > Tick the options as shown in the picture below > Click on Clear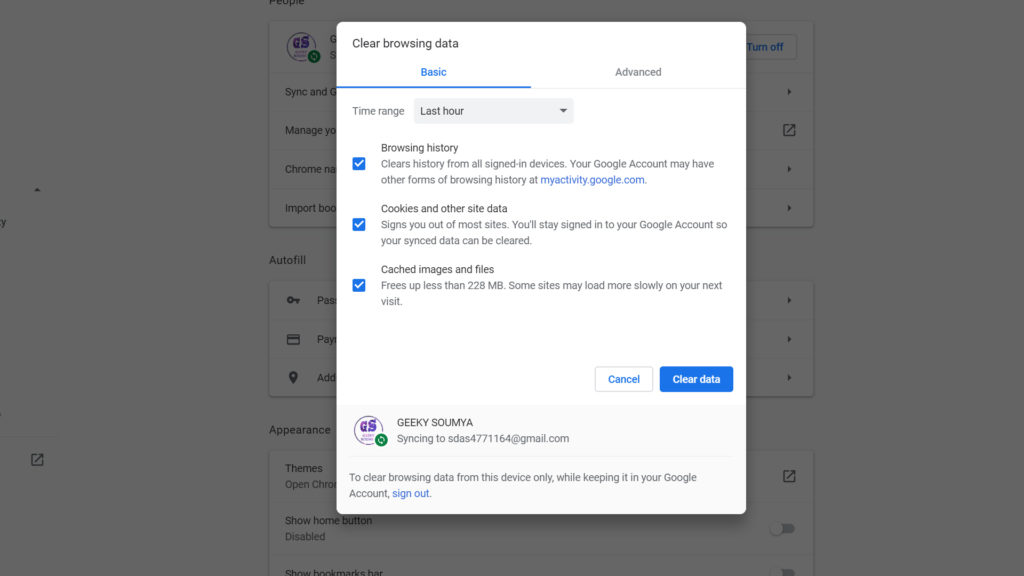 Check the URL
Sometimes the URL you are entering is the culprit. If you have entered a wrong URL then the problem may occur. So, if you get this 404 error code, check carefully your browser's URL section whether you have done any mistake or not. One thing you have to remember if you are finding a particular page of a website by just entering the URL by approximation and the URL is descriptive then better not to type it on the URL section instead search the content through that particular website's search bar or type on google like this "site:geekysoumya.com IP rating". This way you can easily search that content that you are want to see by writing only it's keyword. You don't need to know what title the website owner gave to that particular content.
Try again later or contact with the website owner
If you're facing problems like 404 error, 403 error or 502 error, better to try the luck next time after an hour or two. Maybe the website owner has detected the problem and resolve it. You can contact the owner of the website if you are sure that that the content you are trying to watch is pretty relevant for you.
If you have enjoyed reading " How to Fix 404 error?" then don't forget to comment down below to appreciate my work. Thanks for visiting.