With the rapid progression of the technology, it's quite hard to use the old and abandoned ones but still, if you want then it's possible. So, to reduce the E-Waste a bit, I have recently gathered a GT 740 from a PC shop when they are throwing their junks into the junkyard. After a bit of repairing here and there in the card, it's back to life once again. So, can we play games in GT 740 now? Well, yes even some latest AAA games could work but we need to tinker with the graphics settings a bit to achieve any playable performance.
Related: GTX 1060: Should You Buy it in 2022?
Geforce GT 740 isn't Just a Display Card!
Back in 2014, NVIDIA launched GT 740 by keeping the budget gamers in mind. With a 2GB of VRAM, 384 Cuda Cores, 128bit of Memory bus width, and with 993MHz of GPU clock, it was a beast back then. Back then, it could easily handle games in 1600×900 resolution at medium or high settings. In terms of the latest AAA games, I am expecting GT 740 can handle most of them at 720P medium or low settings. Expecting higher than that from an 8-year-old card might be stupid thought.
If you're thinking of overclocking, it's not that easy to achieve stable overclock settings. The reason is quite simple. You can though tweak the memory clock or the GPU clock of the GT 740 but there's no power limiter so you can't increase the power of the GPU at all. So, it is pointless of having a higher clock speed without having sufficient power. The power limit was set on the factory settings and it cannot be adjustable. This is the scenario for the cheap GT 740, it sticks on memory clocks of 800-900MHz. Although if you have a hand on a high-quality card and if you have won the silicon lottery then it could easily hit 1200MHz and beyond by overclocking it and maybe you could increase the power limit to increase the performance. Sadly, I don't have such luck so my card can't hit more than 1166MHz and the power limit can't be adjusted.
Variants of NVIDIA GeForce GT 740
Actually, there were two versions of this card released back then. For a start, the GDDR3 RAM was introduced but later with the arrival of ultra-fast GDDR5 memories, another version of GT 740 was introduced. Because of the faster memory, it has become more powerful than its predecessor. These new memories can also achieve a higher memory clock which is good to have. Other than the VRAM improvement, rest of the card was left mostly the same.
GT 740 with Latest AAA Games: Ok for a Low Budget Gamer
To test the power, We have tried 10 AAA games released between 2019 to 2021 on my PC which has an Intel Core I3 10100 CPU, MSI H510M PRO-E Motherboard, 16GB Of RAM, 1 SATA SSD as a boot drive, and a 1 TB of HDD to store all the games.
Also Read: How to Check What GPU (Graphics Card) You Have In Your PC?
We have picked up Shadow Of The Tomb Raider, Horizon Zero Dawn, Assassin's Creed Odyssey, FarCry 5, Resident Evil 3, Days Gone, Witcher 3, Rise Of The Tomb Raider, Cyberpunk 2077, and finally Control to test on GT 740.
First, I have tested with Shadow Of The Tomb Raider. At 1024×768 resolution and lowest possible settings, the game actually works pretty well. The graphics card has managed to provide an average of 30FPS in the in-game benchmark. Impressive! As you can see in the picture below.
After benchmarks, you can see the results. On the 2nd graph of the result, you could see the orange line is way above the CPU which means GPU is taking much longer to do things so there's no CPU bottlenecking instead the GPU is bottlenecking the CPU. You could also see the GPU bound is 1% which isn't quite good but by looking at the age of the card and the performance demand of the game, I would say the result is quite good and you could enjoy the game with that setting.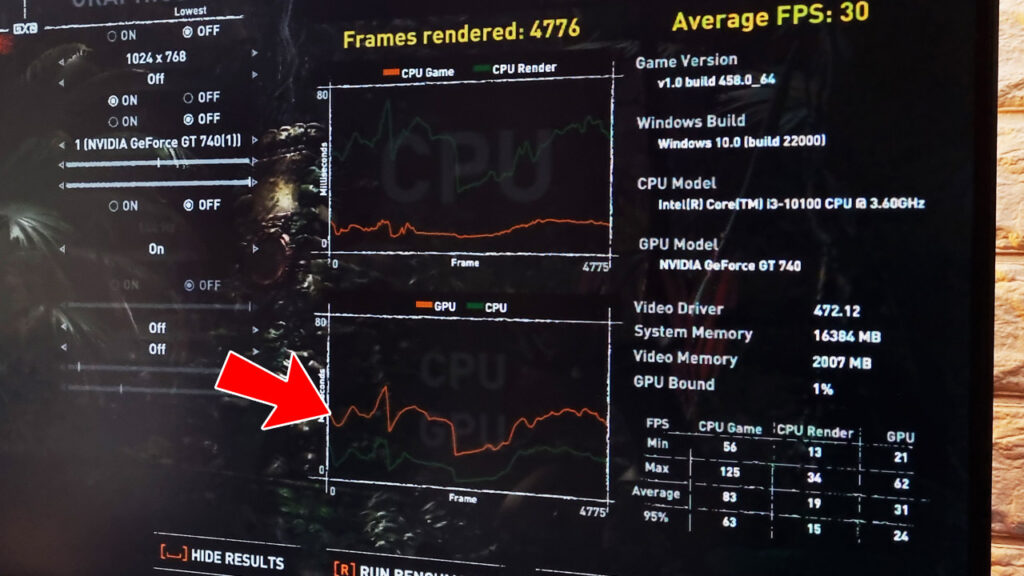 In the 2nd position, I have placed Horizon Zero Dawn which performs really well at 720P low settings. I could easily achieve 22 – 25 FPS during the in-game benchmark. In some of the scenes, it dropped a bit but in some, FPS varies between 25 to 30FPS. Here's the benchmark result. That's really great from that old card.
Don't Miss: External GPUs: How Do They Work?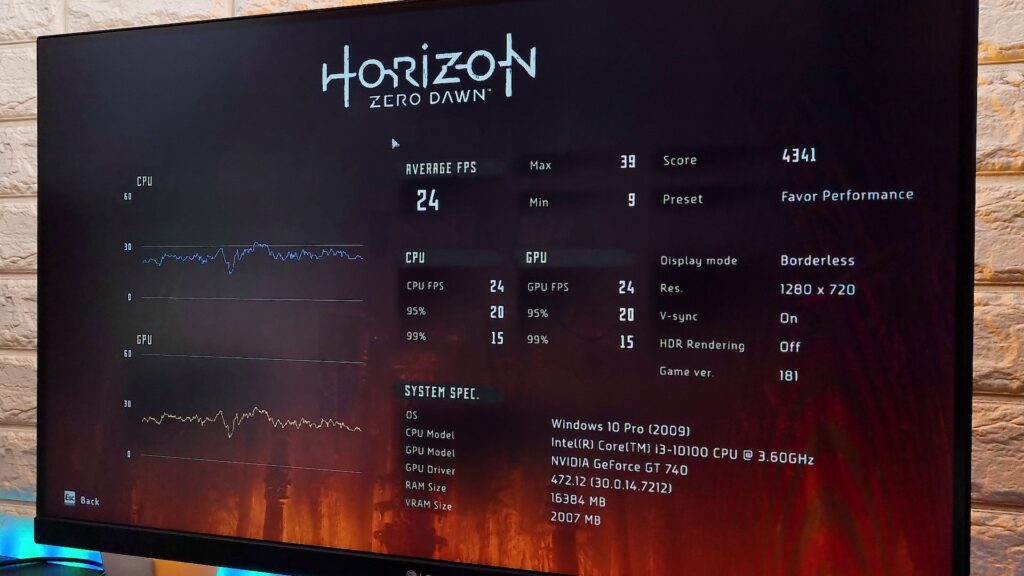 Next, in this list, I have included a title called Assassin's Creed Odyssey. At 720P low settings, the graphics card easily achieved 25FPS in this game. It's pretty strange to see that performance from an 8-year-old graphics card!
Assassin's Creed Odyssey is a very graphics and CPU demanding game that's why you may have seen the high CPU usage in this game but anyway, here's the result after the benchmark.
In the 4th position, there's no replacement for FarCry 5 because of its great hardware utilization and performance optimization. In the medium settings, I haven't gotten any playable FPS. FPS is dropping below 20 which is not pleasant to look at. So, by compromising the visuals, we are getting around 29 to 30 FPS. Here's the result after the benchmark.
How would I miss Resident Evil 3 Remake? At 1600×900 resolution medium settings, performance is really impressive. The game is maintaining 25 to 30FPS which is not the fact I have expected. Resident Evil 3 does not offer an in-game benchmark so we have to evaluate the performance by playing the game for a bit. At the cinematics, we are getting around 22 to 25FPS. Throughout the gameplay, it's maintaining 25 to 30FPS.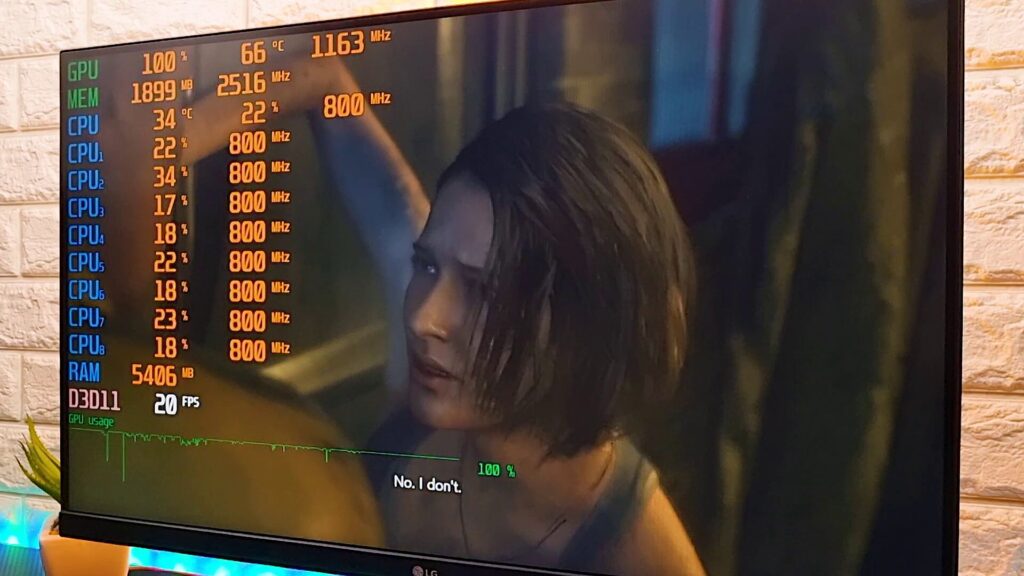 Next, we are including a PS4 title Days Gone which has been ported into the PC. The performance of this game was just amazing. There's a balance maintained between performance and visuals. At 720P low settings, depending upon the scenes, lighting, and textures, FPS fluctuates between 22 to 35FPS. Pretty good I would say.
We have also tried Witcher 3 which also works pretty well. At the 720P medium setting, we get around 25 – 28FPS. Basically, Witcher 3 is performing acceptably well in this card. We can't believe with such beautiful graphics and texture details, we would see such a performance with this graphics card.
Ok moving on, Let's try Control. In some of the scenes, this game works acceptably well as at 720P low setting, we get around 30FPS but in some scenes, FPS drops and stays between 20 to 25FPS, especially in fast-moving scenes and cinematics.
Ok, what about Rise of the Tomb Raider which was released back in 2016? As it has stunning visuals, so I have included this game. In Gt 740 at 1600×900 medium settings, this game performs really well. Depending upon the scenes and environment, FPS is varying on an average. From the In-game benchmark, we get around 23 FPS, maximum 45FPS, and minimum 29FPS.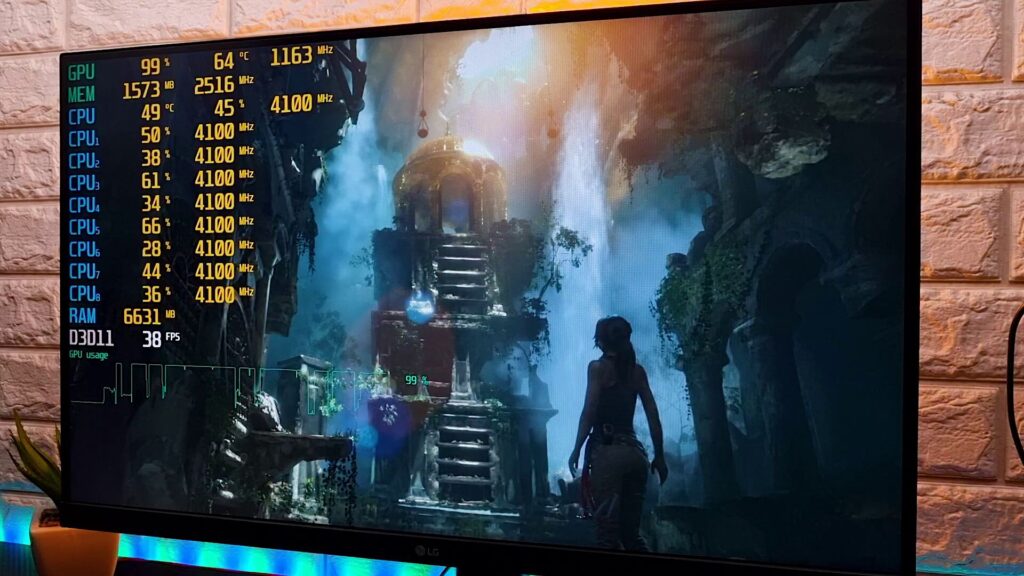 Last but not least, we have also tested Cyberpunk 2077 with this graphic card. This is definitely a bad idea. At 720P low settings, we barely get any playable framerates. We can't enjoy it at 10 or 12FPS. So, we can conclude that it's not possible to play such AAA games like this one with such an old graphic card.
GT 740 Vs GT 710 Vs Intel HD Graphics!
GT 740 is currently discontinued but if you can get it second hand, should you purchase it? Currently in the market from the 700 series, we can easily hand on GT 710 and GT 730. They are decent cards if you consider an improvement from Intel HD Graphics. But according to User Benchmark, GT 740 is 139% more powerful than GT 710, 62% more powerful than GT 730, and 62% more than Intel HD Graphics 630. So, you can guess it. GT 740 is the king of all the cheapest cards on the market. If you get it second-hand from somewhere and you are just frustrated with integrated graphics then go for GT 740. Keep in mind, that this card isn't for a power user, if you are a power user then don't waste your money on such cards. Go for at least GTX 1660 or 1660 Super.
Hope you guys find this article helpful enough. If so then don't forget to express your thoughts in the comments section below. Thanks for visiting.