As people's living space is becoming smaller, users nowadays are becoming more aggressive to buy either laptops or mini PCs, aka mini computers. They both are small, compact, and almost offer desktop-level performance. The reason I said 'almost' is because they really can't compete with desktop computers. Desktop computers are designed to keep performance in mind but these compact PCs are designed to keep their compact design in mind while performance is the secondary aspect. Here, in this article, we'll roam through all the aspects you should know before picking up a suitable mini PC according to your needs.
Don't Miss: GT 740: Cheapest Graphics Card in 2023?! Should You Buy?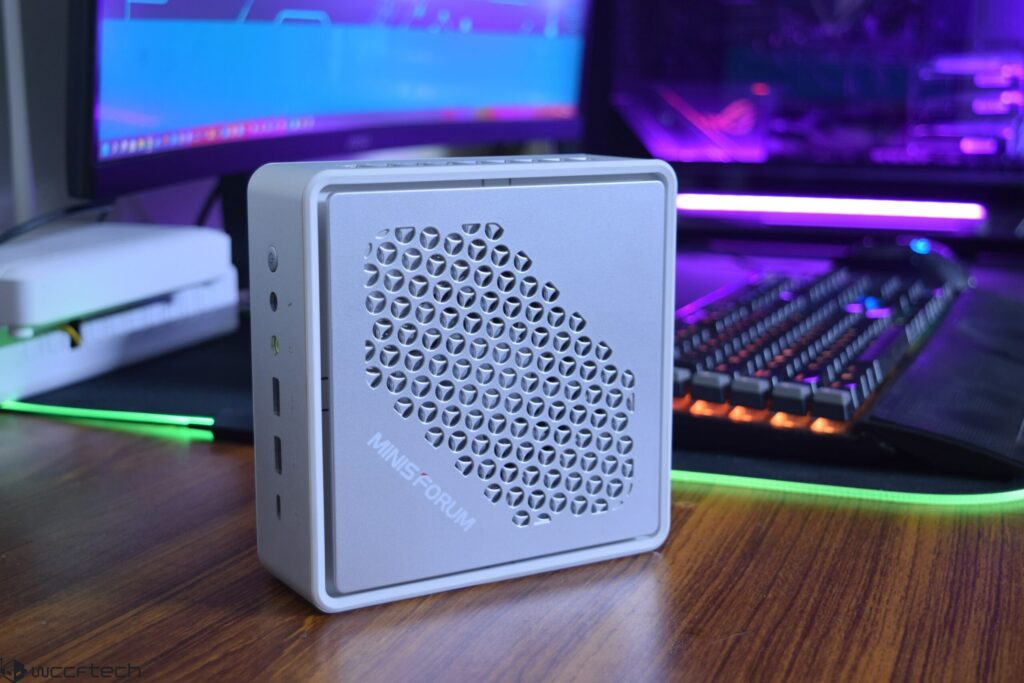 What is a Mini PC? Why Should You Care?
As the name refers, Mini PCs are tremendous compact PCs that offer almost every feature that a full-sized computer does. Mini PCs are also known as minicomputers or mid-range computers. It's not a lot customizable, so when you're selecting the one, you should know your needs. If you're a light user, and want to use your mini PC for emails, or browsing the internet then your selection will be different from those who intend to use it for gaming or rendering? Depending upon your needs, prices could vary between a couple of hundred dollars to thousands of dollars. So, keep that in mind.
Different Types of Mini PCs
Mini PCs are commonly found in two different flavors: Barebones and Ready To Go. Both are great choices actually but are targeted at two different types of audiences.
A Barebones PC is actually a bit customizable. When you're picking up a Barebone PC, the package includes the case, the motherboard, and the processor. You need to select the storage as well as the RAM depending upon your choice. After assembling, you need to install the OS and you are good to go.
On the other hand, Ready To Go mini PCs have everything that are needed to work as a PC. You will get a hard drive and RAM, as well as an operating system. Actually, This type of mini PC is ready to be used as soon as you take it out of the box.
Unlike desktop PCs where you have the choice of whether you need Bluetooth and Wi-Fi or not, with mini PCs, Wi-Fi and Bluetooth are always present. It doesn't matter whether you're selecting Barebones Mini PC or Ready To Go Mini PC. It's a disadvantage for those who don't need such features but have to pay for them.
Parts and Features of Mini PCs
A mini PC is nothing but a computer so most of the important parts are there yet maybe they are a bit different from a conventional PC. It has a Processor, RAM, Hard disk or SSD or maybe both, and most importantly, a power supply.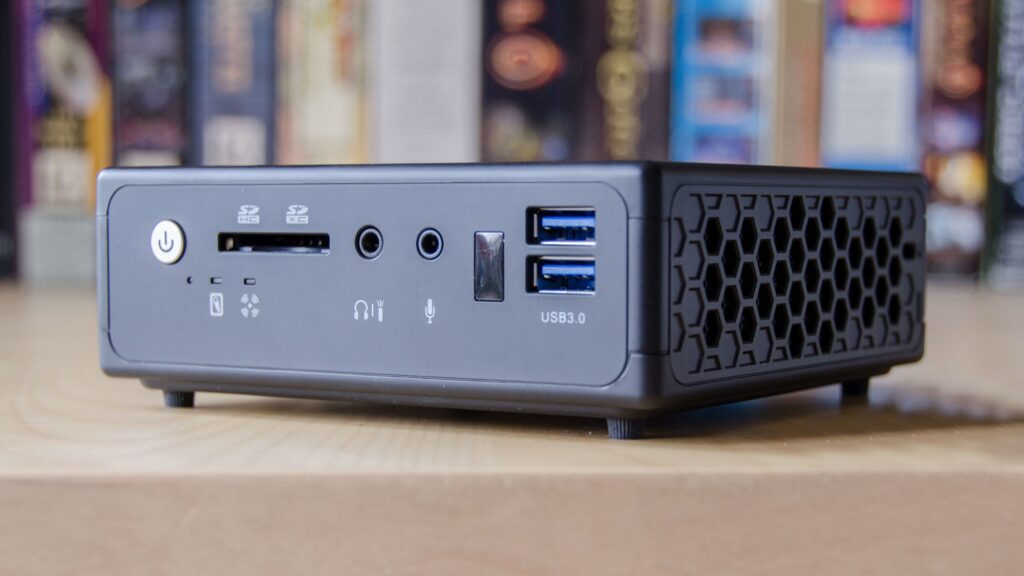 The interfacing ports are also there like mostly 4 or more USB ports, generally 2 HDMI Ports, audio jack. Ethernet Port and sometimes, there's also an RCA video out port. So, in terms of connectors, there's almost nothing to miss.
Keep in mind, mini PCs don't have any monitor, keyboard, or mouse itself. You need to connect them externally as we do with desktop computers. So, unlike laptops or All In One PCs, you have the opportunity to select the monitor, keyboard, and mouse. Mini PCs don't have any speakers so if you want audio then either you could use a speaker system or a headphone. The decision is totally yours.
Related: All In One Computer Vs Desktop Computer Vs Laptop – Choose Wisely!
Advantages of Mini PCs
In mini computers or mini PCs, the primary advantage is their size. Obviously, this doesn't surprise you because the 'Mini' term is already beside the name of these PCs but this is not their only advantage.
Cost: The main advantage of mini PCs which makes mini PCs much more popular is their cost. For between 150 US dollars, you can get a computer that can perform most of your day-to-day tasks. So, it's really great for students or for those who just need a computer for their simple office work.
Versatile: Versatility is one of the great advantages of a mini PC. It is portable, consumes less power, and also takes a very little space on your desk. Even if you want to then you can use it with your television. The television here acts like a monitor. With a wireless keyboard and mouse, you can control the mini PC from distance. As most of these PCs consume very little power so you can use them to watch movies on your TV. The same thing can also be performed with a Raspberry Pi single board computer.
Related: How to Build an Android TV Box With a Raspberry Pi 4
What Can We Customize?!
Can We Change CPU in Mini PCs?
It's really a tricky question. It depends from model to model but in most cases, unlike a desktop PC, most of the parts aren't much upgradable. If you open the enclosure of a mini PC, you will find there's no physical space in it. Everything is tightly packed.
In terms of the CPU, it's generally directly soldered onto the motherboard. If you want to replace it, you need a soldering station and a bit of soldering skill. It's also not recommended if you perform such modifications, the warranty will be void.
So, you can't upgrade the CPU of your mini PC. When you buy the mini PC which has a Core i3 CPU, you can't upgrade it to Core i7 later. It has no traditional CPU socket because there is no room for it. Actually, with mini PCs, you can only upgrade the storage and the RAM. That's it.
Also if you're ok with soldering to replace the CPU of the mini PC then I want to inform you that Mini PCs generally use (ARM)-based processors. It is small, cost-effective, and most importantly energy-efficient.
Although, there are a few mini PCs exist that has desktop-grade CPUs. The PC has a mini ITX motherboard inside and the CPU is connected with LGA or PGA socket. We can take ZOTAC ZBOX MAGNUS ONE as an example. It has Intel Core i5 11400H CPU and desktop-grade 30 series graphics card. In this machine, you can replace the VPU as well as the graphics card just like a desktop PC.
Can We Add Graphics Card In Mini PCs?
Well, yes but not as we do with desktop PCs. Mini PCs don't offer PCI-E X 16 slot to add any add-on cards. If you want to add a graphics card with Mini PCs, you have to sacrifice the M.2 drive. As most of the mini PCs do offer an M.2 slot so it's not much of a problem but it's a problem when you're going to connect the graphic card into the system.
Graphics cards have a PCI-E X16 slot that can't directly connect with the M.2 slot. You need to purchase a docking station which might cost you a lot. Also, you need a power supply to power the graphics card. So, it's not worth the hassle.
Even after all of these, you can't get the full performance of the graphics card that you have paid for. As you're not using the PCI-E X16 slot so the performance is got limited because of the low bandwidth of the M.2 slot. So, it's not recommended to perform these tasks. Instead, you could save money, wait for a bit, add some more and purchase a desktop PC.
Read Now: EGPU and Their Problems
There's a catch, there are few exceptions exist that have desktop graphics cards inside. ZOTAC ZBOX Magnus One and Corsair ONE I164 are perfect examples of this.
Can We Upgrade RAM?
Yes, it's possible to upgrade the RAM of a mini PC and in most situations, it's pretty easy to do but you should keep in mind, mini PCs support only laptop RAM and not desktop RAM. Laptop RAM is smaller but not much cost-effective and there are not many options like their desktop counterparts.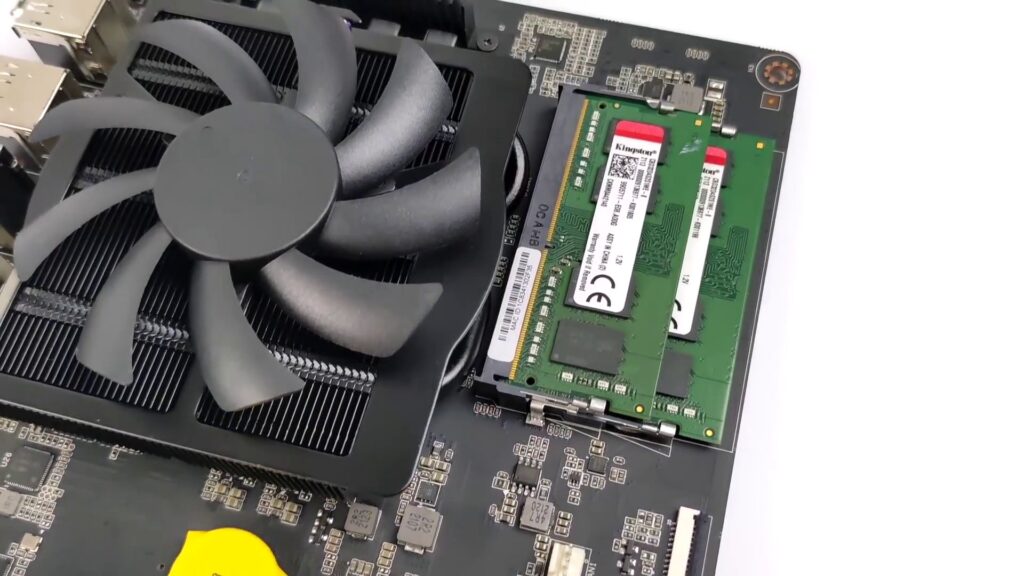 Related: Can You Use 4GB And 8GB RAM Together?!
Before you're planning to upgrade RAM, you should check out whether there are any extra RAM slots available in the mini PC or not. In most situations, only two DIMM slots are available, one is in use so there's headroom for upgradation. Some mini PCs have only a single slot and obviously, it's occupied. For the typical two-slot config, 16GB RAM is more than enough – 8GB and 8GB configuration. If you're really a heavy user then a 32GB kit may come in handy. Although before upgrading RAM, you should understand the fact that not all the RAM sticks are compatible with each other. Here's our detailed guide about RAM selection.
What About the Storage Option in Mini PCs?
Most of the storage solutions can be used with Mini PCs except 3.5-inch form factor hard drives. One can use SATA SSDs, M.2 SSDs, and even 2.5-inch hard drives. Because of the lack of space, we can't use 3.5-inch hard drives. Also power delivery and heat production are some factors. Of course, in 2.5-inch hard drives, there's a significant performance drop than the 3.5-inch form factor.
Related: 2.5 Vs 3.5 HDD: What is Better & Why?
Power Supply For a Mini PC? Do they use Standard ATX PC Power Supply?
No, mini PCs generally can't use a standard typical ATX PC power supply. because of the small form factor of these PCs, a power supply is always kept separate. A mini PC has typically a 19V power adapter just like laptops. You can just plug it into the dedicated power port and you're ready to go. However, with powerful mini PCs, sometimes we could find an ATX power supply inside, for example, Corsair ONE I164.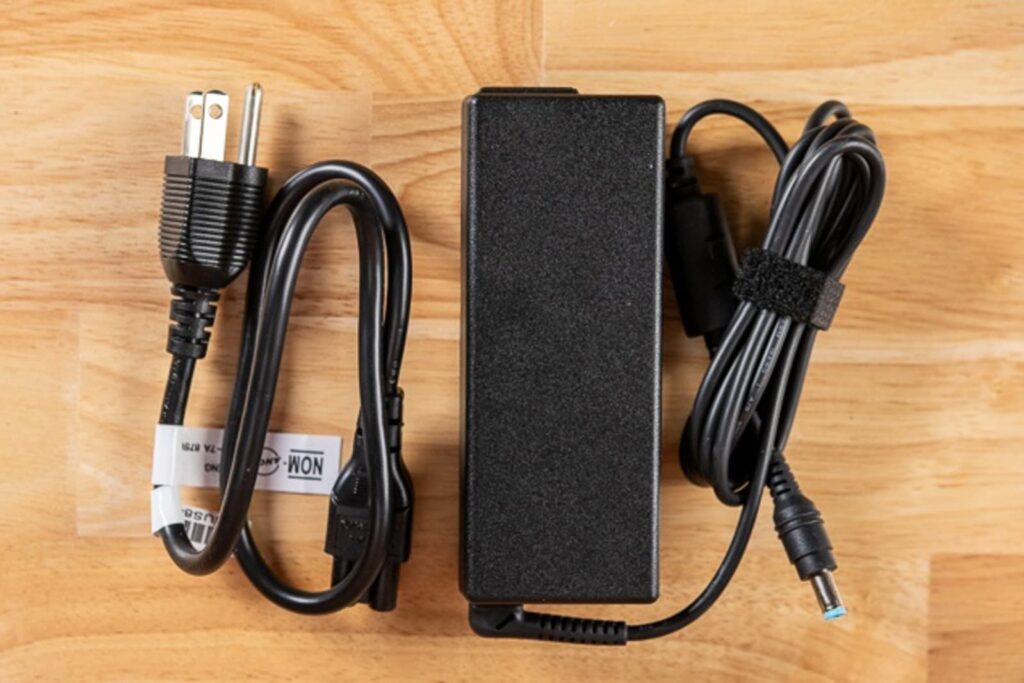 Have an extra PC power supply? Here's what you can do with it.
Heating Issue with Mini PC!
Heating Issue is mostly found in all the compact PCs such as laptops and even in All In One PCs. Actually, the key reason for this problem is dust and degraded thermal paste which could easily be sorted out. Basically, all the compact PCs are designed by keeping heat production in mind. That's why, their performances are also lower than conventional desktop PCs but as their power consumption is also pretty low than a desktop, we could consider it.
If you're considering a powerful mini PC then there's no guarantee after one or two years you will not face heating issues in your machine. So, if you ask us then in those places, where most of the time of the year weather is warm, a powerful mini PC isn't recommended until the PC always stays in an air-conditioned room.
Do Mini PCs Repairable?
Yes, it's repairable but not the way you do with the desktop PCs. Its most parts aren't replaceable. So swapping the graphics card or CPU or motherboard with a new one isn't possible. With mini PCs, repairing is only possible with dedicated tools and knowledge just like smartphones. It's the same, just like you can't swap or replace the component of a smartphone. So if you're facing problems with mini PCs and you have confirmed that it is a hardware problem then go visit a service center or a repair shop, they will fix it for you. Although before sending it to a repair shop, you could try to tweak RAM or storage depending upon the problem you're facing.
Intel Vs AMD: Best Side for Mini PCs!
As we discussed earlier, we can't upgrade the processor of a mini PC so before purchasing, we need to take a decision on which side we should go Intel or AMD. If you take a look at the desktop processor then currently with intel 12th generation and AMD's latest 5000 series, it's pretty hard to compare but in laptop or portable devices, AMD is doing a great job right now. In terms of efficiency and battery life, Intel is clearly the winner but as we don't much care about the battery life of mini PCs, the AMD side is the best way to go.
Another factor you need to consider is the integrated GPU. AMD processors offer great integrated GPU in every type of their CPU. We have checked Ryzen 3 3200G's Radeon Vega 8 Graphics and Radeon Vega 3 Graphics of the Athlon 3000G – both perform really well on their respective price bracket so no doubt AMD's APUs are great. So having AMD's APUs in mini PCs is really a good idea.
Performance of Mini PCs
Mini PCs are great if you're looking for a compact desk PC setup but they are not as powerful as desktops. If you're a heavy gamer and performing video editing or graphic designing all day then there's no alternative to a desktop PC. It's not as cheap as Mini PC but their performance and flexibility are way higher than mini PCs.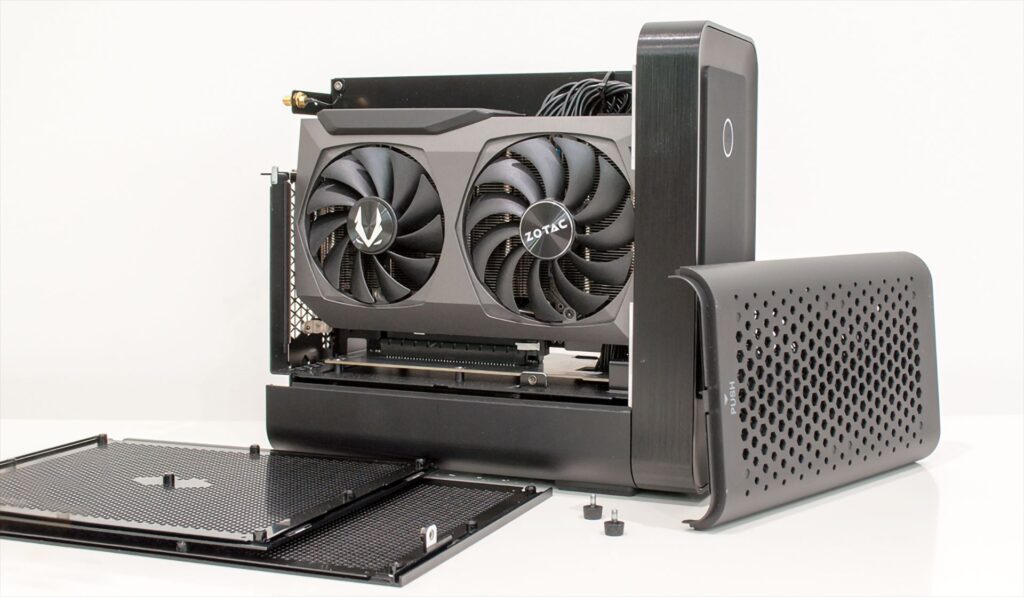 As mini PCs are too compact, manufacturers always take care of their heat production when the machine is 80% or 90% loaded. So, they always choose a super-efficient CPU that can deliver performance at a certain level where heat production should be at a minimum rate but because of the lack of space, it doesn't provide a big cooling system at all. So performance is definitely sacrificed in terms of the CPU.
As we have discussed, there are few alternatives. They possess great CPU performance because they have desktop CPUs inside but to keep their heat production a bit lower, the CPU's TDP is locked down from the motherboard so these CPUs perform a bit lower as they should and of course, forget about overclocking.
If you're considering GPU performance then there's also the same problem. The onboard GPU is not able to complete performance-intensive tasks whether or not you are purchasing a super expensive mini PC. They never stand toe-to-toe with a desktop graphics card. If you're thinking of adding a graphics card externally then it's also not recommended. So if you're an avid gamer or a professional video editor then we'd never suggest you a mini PC because it's not worth the investment.
Though the scene completely changes if the manufacturer provides a desktop graphics card inside the mini PC like Zotac ZBOX Magnus One. With these desktop-grade graphics cards, these machines are becoming extremely powerful but they are expensive. It's also a fact that mini PCs are so compact so how much performance the graphics card can showcase is really questionable especially, if you are living in a warm environment like in summer-dominated countries.
Desktop Grade Mini PCs
There are only a few mini PCs available whose specs are really amazing almost like desktop PCs for example, Corsair ONE I164. It runs on Intel Core i9-9900K, Nvidia's RTX 2080 Ti GPU, 32GB DDR4 RAM, and either a 960GB M.2 SSD or 2TB HDD at a price of 3077 US Dollar. So obviously, mini PCs are super expensive as well as the disadvantages of mini PCs are also persisted on them so, if you're spending such a lot of money then it's way better to build a desktop PC which worth every penny you would pay for.
There's also another example of how much power a mini PC could possess. Zotac  ZBOX Magnus, a Mini PC with RTX 3080 GPU, Intel Core i7-11800H processor (8-core, 2.3 GHz, up to 4.6 GHz Turbo, 45 W TDP). Yes, the GPU isn't the full-fledged desktop variant. It is the mobile version. with 6,144 CUDA cores and 16 GB of GDDR6 VRAM over a 256-bit bus, 150 W TDP. If we compare it with the desktop counterparts which have 8,704 CUDA Cores, much higher clock speed, and obviously and most importantly, with a big size cooler, it's underpowered. It's quite obvious as in such a small enclosure, a full-fledged graphics processor heats up so quickly and it may cause a performance drop and permanent destruction. Still, with the underpowered graphics card and with the underpowered processor, it's still hard to believe that the system will not bring the heating Issue and it's the most common problem of a mini PC or you can say every compact PC.
If you want to learn about mini PCs in Hindi then watch this Video
In the Concluding Lines
Here is the quite a bit of things you should know before purchasing a mini PC. As we have said earlier if you're planning to buy then you have two options: Barebones kit and Ready To Go. If you love to tinker with your PC then the Barebones kit is really great. Also, they come in cheap. If you don't want to tinker with anything then there's no alternative to Ready to Go, It even comes with an operating system pre-installed, just plug and play. Anyway, hope you have found this article helpful enough. If it really so then don't hesitate to express your valuable thoughts in the comment section below. Thanks for visiting and appreciating our work.