A stupid idea but sometimes it becomes a necessity when two love birds or two friends watch movies on android while traveling. Usually, at a time you can only connect one Bluetooth headphone but there is a way to connect two Bluetooth simultaneously with android and enjoy the sound of the same contents simultaneously. So, without further ado let's see How to connect multiple Bluetooth headphones/earbuds or whatever to Android. This technology is named 'Dual Audio'.
Requirements to Connect Two Bluetooth Headphones
Nowadays Bluetooth headphones and speakers are just standard. While thinking of using two Bluetooth headphones simultaneously first of all your devices should support Bluetooth 5.0. In Bluetooth 4.2 there's no native support for this feature. It's not mandatory to have Bluetooth 5.0 on the headphones. If the android device has Bluetooth 5.0 then it's sufficient. Also, other factors such as your device operating system, Android version, and hardware capabilities also play a part.
Also Read: Android Tablet: Why You Shouldn't Buy?
However, few headphone or speaker brands use a dedicated application where you can pair two speakers or headphones at once. However, not all companies provide that convenience. Although the two devices should be from the same manufacturer otherwise these applications might not work.
Dual Audio: A Crazy Advanced Idea
Apple introduces this feature with the name of 'Audio Sharing' but one of the biggest disadvantages of this technique is that only Apple Earpods are compatible with this technology. Android, on the other hand, there is no limitation on devices, you could use Dual Audio which was originally introduced by Samsung support with any device of any brand you like.
Don't Miss: USB-C to 3.5mm Adapter: Things You Should Know Before Purchasing
With Dual Audio you can even control the volume of the two headphones or earphones or earbuds individually which is super useful. Not everyone's hearing level are same so if you and your partner or your friend have a lower hearing level than you then he/she will constantly complain about the high volume levels. So, controlling the volume of two individual devices is important unless the Bluetooth headphone itself has its own volume control functionality without touching the volume level of the Android phone.
Samsung is not the only brand working in the Dual Audio build including Google, Bluetooth and some less-known brands are working in this field. We can connect two Bluetooth headphones with any android phone soon enough. Not limited to just Samsung, Apple, or Google Pixel Devices.
How to Connect Two Headphones Simultaneously in Android
As I have mentioned, not all the devices natively support this feature but there are a lot of devices that actually do. I am currently using Samsung Galaxy s21 but if you have anything higher than Galaxy s8 you could connect two Bluetooth headphones at a time.
List Of Samsung Devices Support Dual Audio:
Galaxy Note 8
Galaxy Note 9
Galaxy Note 10, Galaxy Note 10 Plus, and Galaxy Note 10 Plus 5G
Galaxy Note 20 and Note 20 Ultra
Galaxy S8 and Galaxy S8+
Galaxy S9 and Galaxy S9+
Galaxy S10e, Galaxy S10 and Galaxy S10 Plus+
Galaxy S20, Galaxy S20 Plus, and Galaxy S20 Ultra
Galaxy S21, Galaxy S21+, and Galaxy S21 Ultra
Galaxy Tab S4
Galaxy Tab S6
Galaxy Tab S8, Galaxy Tab S8+, and Galaxy Tab S8 Ultra
Galaxy Z Flip, Z Flip 2, Z Flip 3, and Z Flip 4
Galaxy Z Fold 4, Galaxy Z Fold 3, and Galaxy Z Fold 2
First of all, put both of your headphones in pairing mode and turn on Bluetooth. Now connect individual headphones one by one as you normally do.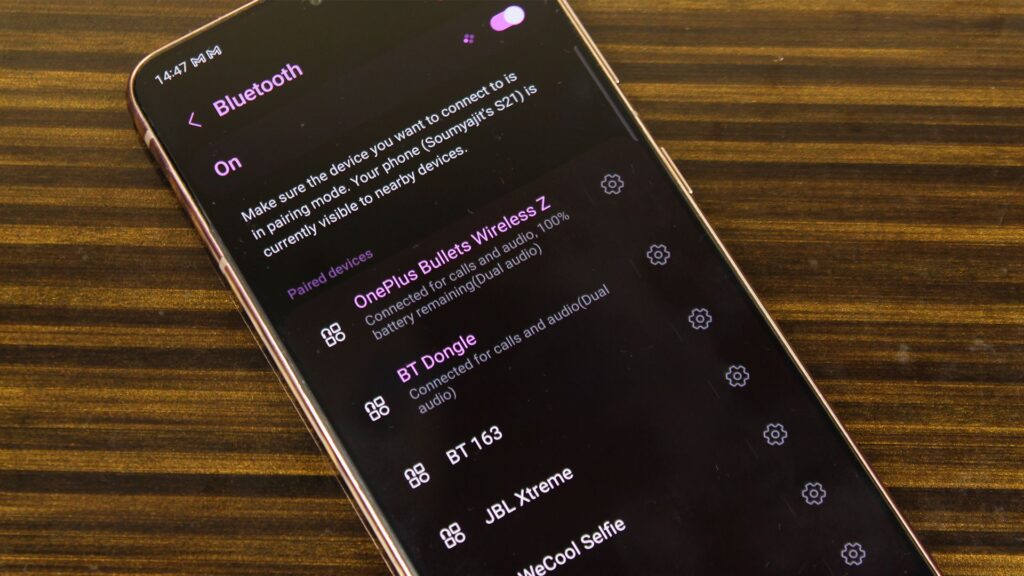 Swipe down from the top of the screen to access the quick panel menu and tap on the Media button. Here you should see two Bluetooth devices that you have just connected.
Now check the checkboxes beside those headphones' names. You can now enjoy listening to the same audio streaming from one device with a friend or loved one at the same time! You can even control each volume individually.
In the Concluding Lines…
So, yes, you can connect 2 Bluetooth headphones at the same time, and this is also the way to enable dual audio in Android devices. Apple's 'Audio Sharing' when only works in Apple's ecosystem the Android version of audio sharing works on any device you want. No, I am not comparing here Apple Vs Android Audio Sharing but it is the fact. Hope you guys understood how to share audio in both simultaneously connected Bluetooth headphones. Hope you guys have enjoyed this article and learned something new. If so then don't forget to express your thoughts in the comments below. Thanks for visiting.