In video games, the open-world category is very interesting – you can do whatever you want in the fantasy world of that game and it gives the feeling like you are the king or the conqueror of that world. Basically, an open-world category is a type of category of the game that offers free movements of the players in anywhere of the location provided in the game, interaction with unplayable characters, the things of that location should be usable enough whether they are money items or they are other purchasable items or more than that. An open-world game also means that the players have to play the game and complete the missions under a vast location where other unplayable characters and materials are present just like reality. Anyway, here we are with our best open-world games for PS5 you should play at least once in your life. Some of them are my personal favorites and the rest are popular in their own way. Let's know the best open-world games for PS5 one by one in detail.
Read More: Upscaling 1080p to 4k!! How Is It Possible?!
Red Dead Redemption 2
'Rockstar Games' hits the community with Red Dead Redemption 2 in 2018 which is considered as one of the best open-world games for PS5. This is an action-adventure, fully open-world, first- and third-person western-style shooting game. You play as Arthur Morgan, a gunfighter of a gang named 'Van Der Linde'. Arthur must deal with the decline of the Wild West while attempting to survive against government forces and other adversaries in the American frontier.
The game always keep you busy in its interactive open world. You can play story missions, side quests, mini-games, activities like hunting, horseback riding. I would say you can spend plenty of hours in this game. To complete the story, you need approx. 40 to 60hrs to complete but you can enjoy the side missions for plenty of hours without getting bored. I would say this is one of the best PS4 game that you shouldn't ignore on PS5.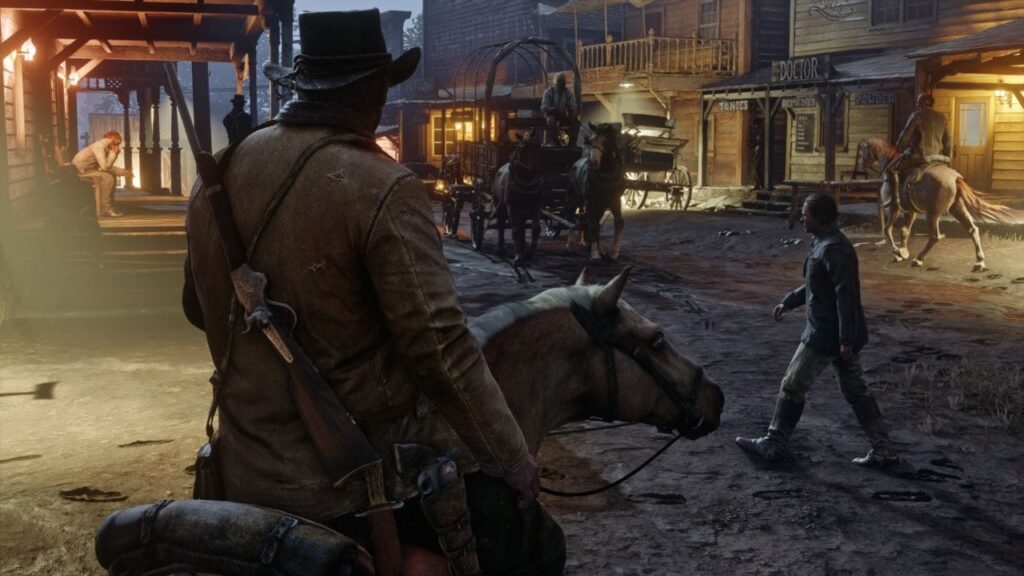 Marvel's Spider-Man: Miles Morales
Marvel's Spider-Man: Miles Morales is a graphically beautiful game, and a fitting sequel to 2018's Marvel's Spider-Man. 2018's Spider-Man was just awesome and it's remastered one (For PS5) is really great. Marvel's Spider-Man: Miles Morales is the same of its predecessor. It features the same open-world, a fictionalized version of modern-day Manhattan. Like Peter, Miles possesses a "spider-sense", which warns the player of incoming attacks and allows them to dodge and retaliate, and web-shooters, which fire lines of webs that can be used during both traversal and combat, in several different ways.
Miles can also jump, stick to surfaces, and fast travel using the New York City Subway system. Side-missions have been significantly altered, and are now accessed from an in-game phone app. Miles has several unlockable suits, some of which are based on existing versions of the character in media, as well as original suits created for the game. Many of these enhance Miles' abilities, such as allowing him to take less damage, stay invisible for a longer time, or regenerate Venom Power faster. During certain sections of the game, players control Miles in his civilian personality and cannot use any of his abilities or gadgets.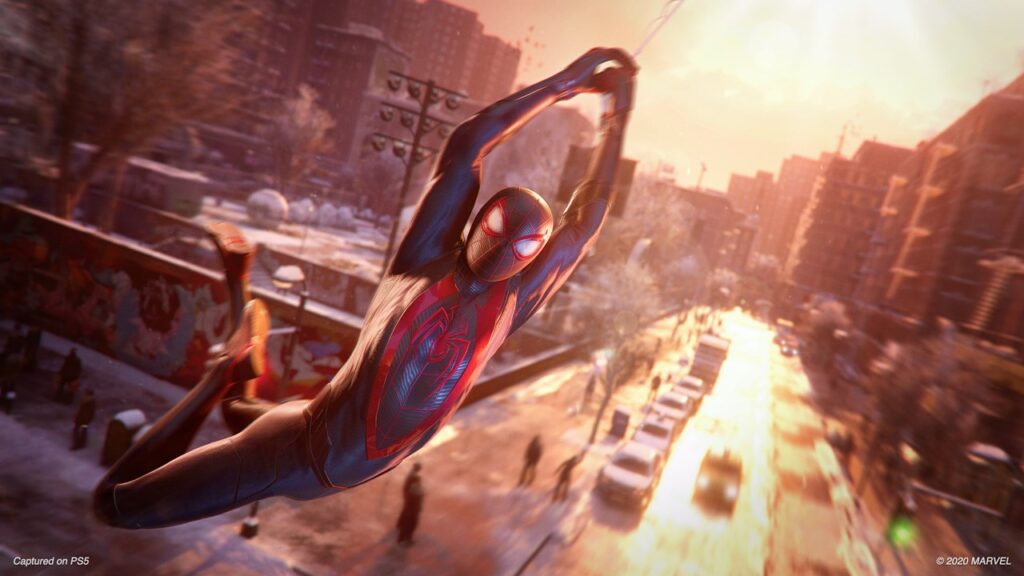 So, you can guess why this is one of the best Open World Games For PS5 & how much good its successor is. No doubt that means it's a more condensed experience overall, though no less entertaining. Expect spectacular, jaw-dropping set pieces, Hollywood-rivalling voice acting, and sensational HDR implementation throughout (if you have a capable display).
Far Cry 5
As a first-person shooter game, Far Cry 5 is one of the best games in the Far Cry franchise. Despite experiencing a great storyline, the player can explore the world freely on foot or via various vehicles. Unlike previous titles in the series where the player takes on the role of a set character, the game gives the player the opportunity to customize their character's appearance. The game is set on a frictional location Hope County, Montana, land of the free and the brave. It is also home to a fanatical doomsday cult known as Eden's Gate. Stand up to cult leader Joseph Seed (Father), and his siblings, the Heralds, to spark the fires of resistance and liberate the besieged community.
While the player has a variety of ranged and explosive weapons to fight against enemies, the game places a renewed emphasis on close-quarters combat compared to previous Far Cry titles by introducing a wider range of melee weapons. Far Cry comes to America in the latest installment of the award-winning franchise. So, there is no reason not to include Far Cry 5 on the Best Open World Games for PS5 list.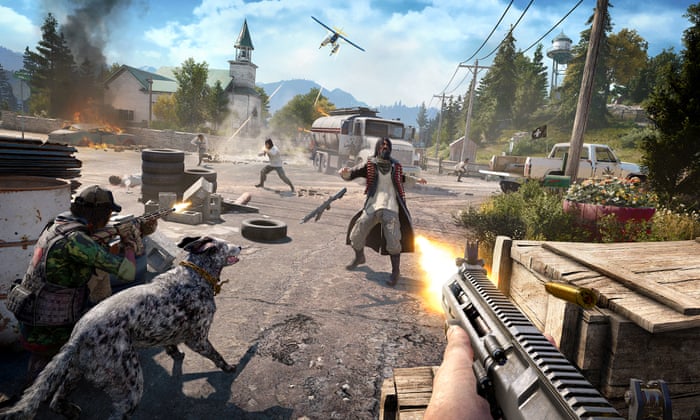 Assassin's Creed Valhalla
In the open world category Assassin's Creed® Valhalla is the second-best game from my perspective. I know all the games in the Assassin's Creed franchise are very popular and awesome on their time but I think this time Assassin's Creed Valhalla is a bit underrated because of the most hyped game of this year Cyberpunk 2077. Become Eivor, a legendary Viking warrior on a quest for glory. Explore England's Dark Ages as you raid your enemies, grow your settlement, and build your political power to Lead epic Viking raids against Saxon troops and fortresses.
Using dual-wield powerful weapons as you can relive the visceral fighting style of the Vikings.  Also, you can Challenge yourself with the most varied collection of enemies ever in Assassin's Creed, shape the growth of your character with each choice and carve a path to glory, explore a Dark Age open world, from the shores of Norway to the kingdoms of England and personalize your experience by growing your clan's settlement.
Days Gone (PS5)
Bend Studio has announced PS5 enhancements for the Days Gone which really make this game more attractive & stunning to look at. Now it can achieve 4K at 60 FPS so that you can get buttery smooth gameplay and an incredible visual on this game. This is an action-adventure survival horror game which has been set on post-apocalyptic world. The plot sets on two years after a global pandemic. Almost all of the humanity is wiped out and transformed millions of others into "Freakers", mindless nocturnal zombie-like creatures that are quickly evolving. Not only the humans, animals such as bears and wolves are infected by the pandemic and of course everything that happens is completely planed by some smart and demon like humans so there is some human enemies that should be eliminated on the game. By seeing such a story, I can't control my self to add this game on best open world games for PS5 list. Basically, this game reminds me the current situation of the Corona Virus Pandemic.
You can complete objectives in multiple ways, being stealthy using long and short ranged weapons. Speaking about weapons, player can craft weapons that can be repaired after extended use. Player can pick up already crafted weapons from enemies too and by crafting new items player can improve the combat efficiency.  There is a dynamic weather system and day-night cycle make Freakers weak and slow by day but fast and aggressive by night. The main transportation vehicle is a motorcycle that you can be modified with parts to enhance its speed, durability or maneuverability, among other parameters.
Cyberpunk 2077
Cyberpunk 2077 – is an open-world, action-adventure game and also a best-looking game on PS5. The story of this game is set in Night City, a megalopolis obsessed with power, glamour, and body modification. You have to play as V, a mercenary outlaw going after a one-of-a-kind implant that is the key to immortality. You can customize your character's cyberware, skillset, and playstyle, and explore a vast city where the choices you make shape the story and the world around you.
You can experience in-depth character creation like hair, nose, jaw nail, body, etc., and also choose the gender you want. Become a cyberpunk, an urban mercenary equipped with cybernetic enhancements, and build your legend on the streets of Night City, a place that sets new standards in terms of visuals, complexity, and depth.
Read More: PS5 Vs PS4 Pro: Should You Upgrade?
Ghost of Tsushima
When it comes to best open world games for PS5 then how could we complete the list without including Ghost of Tsushima! This is comfortably one of the best-looking games on PS4, but on PS5, it's even better because of PS5's extra graphical horsepower and especially for the AI – 'Game Boost' and yes, by having the recent update, Ghost of Tsushima is now playable at a silky-smooth 60 FPS. It makes a massive difference to the game's responsiveness when in combat, and the frame rate boost brings the spectacular scenery and stunning in-game cinematics to life.
Ghost of Tsushima recently has received an excellent new multiplayer mode called Legends which provides the game even more replay value and appealing than ever before. Oh, and if you've purchased a 4K HDR TV and want a game that really benefits, Ghost of Tsushima shows what high dynamic range can do!
Horizon Zero Dawn
Horizon Zero Dawn is a multi-award-winning action role-playing and best PS4 game you should play on your PS5. Reason to include this game for its incredible visuals and graphics. I think in terms of graphics this is the finest game I have ever seen. By experiencing Aloy's entire legendary quest to unravel the mysteries of a world ruled by deadly Machines, you can uncover her past, discover her destiny, and stop a catastrophic threat to the future. She has to face devastating, tactical attacks against unique Machines and rival tribes as you explore an open world teeming with wildlife and danger. Undoubtedly, this is one of the best open-world games for PS5 you should play right now.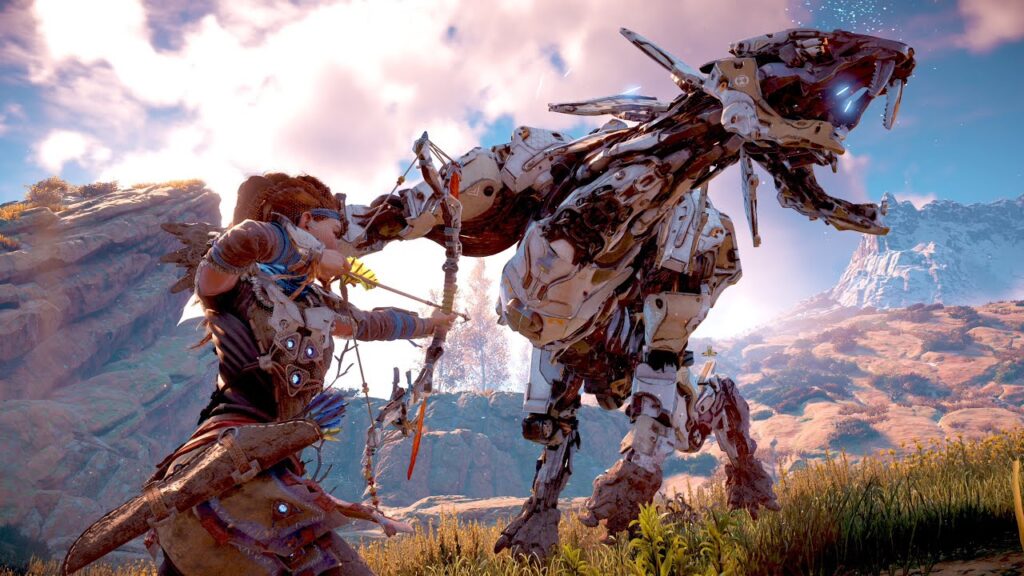 Assassin's Creed Odyssey
Assassin's Creed Odyssey is a great addition to the epic Assassin's Creed RPG franchise. Odyssey set in Peloponnesian War between Athens and Sparta at year 431 BCE. You can choose between two different individuals; Alexios and Kassandra whatever you choose, he/she is a mercenary who fights for both sides as they attempt to him/her family. As the story progresses as a player, you will know the relationship between the two characters. Alexios and Kassandra are brother and sister. If you choose Kassandra then Alexios is your younger brother and he will be Deimos – a strongest weapon and a member of 'Cult of Kosmos'
Odyssey is a graphically stunning & one of the best Open World Games For PS5 which will take you to the heart of Ancient Greece, easily securing it a place in our collection of the best PS4 games. Just make sure you have the time to play it because there's over 100 hours of content to enjoy here. I however played around 172 hrs. and still I haven't finished the game!
Grand Theft Auto 5
Who doesn't hear about GTA 5? It is an open world, action-adventure third person as well as first-person game. With an awesome storyline and quest missions this game fills you; you are on the game; you are the character of the game. In the open-world environment, you can interact with most of the living and nonliving things except buildings.
In campaign mode, there are three characters: Michael De Santa, Trevor Philips, and Franklin Clinton—criminals whose stories interconnect as they complete missions. Some missions are completed with only one character and others feature two or three. In some missions, you have to switch characters back and forth to complete the missions when you are not in any mission you can normally switch characters after you unlock them.
Also, there are several mods are available to enjoy the game after completing the campaign and side missions. I prefer to play with Spiderman, Thanos, Iron Man, and Hulk. If you really need some action then no doubt there are no alternatives to replace Grand Theft Auto 5.
Death Stranding
Death Stranding provides an incredible gaming atmosphere and ultimately a very lonely open world set. That's quite unique than anything else on this list that's why I have included this on best open world games for PS5. It isn't stuffed with enemy camps and there isn't a fight around every corner — it's a post-apocalyptic story that does an excellent job of portraying a secluded yet strangely peaceful land. As the twisting, turning, and undeniably intriguing story entertains you, it's the perfect deliveries that the lead character, Sam Porter Bridges finishes which ensure this weird but wonderful open world lives long in the memory of the players.
Read More: PS5 Hidden Features You Don't Know!
So, this list will go on and on. There are so many games available to play on PS5. I know, there have been few released for the next-gen console but because of its backward compatibility, the history has been changed. If you can recall, neither PS4 nor any of its predecessor doesn't support their previous-gen console games.
Unless the new games will release, you can play any of them according to your taste and if you really love our list then we will be thankful to you and that would most probably be your best open-world games for PS5. With that being said, we hope that you have truly liked this article. If so then don't hesitate to express your valuable thoughts in the comment section below. Thanks for visiting & appreciating our work.