Crossword puzzles have been getting so much popularity since they have become easily available in newspapers & magazines. these puzzles are available in different languages of newspapers of different states & countries in the entire world. Nowadays, crossword puzzles are also available as a part of video games or in some websites where you can play them online although they are only available in English because of its global acceptance as a smart & easy-to-adapt language. If you don't have any source of playing crossword puzzles offline then you can go for some best online crossword puzzles in English obviously that can be found in some websites or as a video game. So, let's know what are the best online crossword puzzles that you should try.
Read More: PS5 Hidden Features You Don't Know!
Daily Puzzles from Dictionary.com
Dictionary.com is a renowned website for word meanings, synonyms & other vocabularies but it also provides some word puzzles & games to their learners. The crossword puzzle is one of them. You can play crossword puzzles on this website just by following some simple steps. Open the dictionary.com website then click on the "Word Games" option. From the drop-down menu, choose "Daily Crossword Puzzle". Then click on "Play Now". After that, choose your skill level by ticking on the options: Regular & Expert. After that, you can play the crossword puzzle. If you get stuck during the puzzle, you can get help by clicking on the "Crossword Solver" button which is situated under the chart of the puzzle.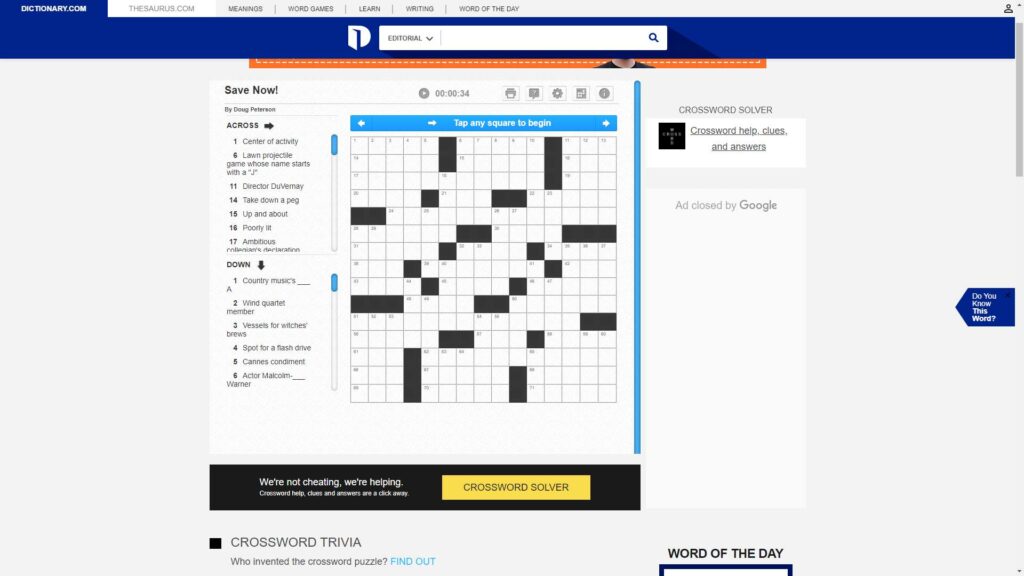 On the top of the puzzle, you can notice some icons are available in which there is a gear icon which is the settings button actually. You can set your game in your preferable way by using settings. At the right side of the settings, you can see another icon in which you can select the type or the subject of crossword puzzle you want. At the left side of the settings icon, another icon is there in which you can select the game difficulty during playing the game. This popular website provides some of the best online crossword puzzles in a daily basis. You must try your skill in this site.
Washington Post is for Expert Crossword Solvers!
The famous news website Washington Post also provides their daily crossword puzzles along with countless variations & difficulties. Even you can also play the previous puzzles too! Anyway, first go to the washingtonpost.com website. Then click on the three horizontal lines on the top left corner of the site. Then from the countless options, search for the "Crossword Puzzles" in the search box. When the page of Crossword Puzzles will open, you will notice that there are four types of puzzles available on this website.
First one is Daily Crossword which are the normal crosswords provided by The Washington Post on a daily basis. The second one is only Sunday Crossword by Evan Birnholz which is much harder than the daily ones. The third one is Classic Crosswords by Merl Reagle which mostly consists of small words but still, it is also harder than daily puzzles. The fourth & final one is Muller Monthly Music Meta by Pete Muller which is not only harder from all of the above but also is provided on a monthly basis which means it is the rarest as well as toughest one.
So, noticing these four type of Crossword Puzzles, you can choose one of them according to your skill level. Then, click on the Play button and select the puzzle that you want to play from all the previous puzzles to the latest one. After clicking the particular puzzle, click on the "Play" button to start the game. Here, in this game, you can play solo or with your friends if you want. Also, you can get the full help if you get stuck in a puzzle. Change the settings according to your preference & you are ready to go. The Washington Post really has some of the best online crossword puzzles in their collection.
Boatloadpuzzles.com for Beginners!
This is a great website for playing online crossword puzzles specially designed for beginners who want to practice their skills to advance into this famous word game. Just go to the boatloadpuzzles.com website and play the crossword puzzles one by one given by them. Or you can search the number of a particular puzzle among the 40,000 crossword puzzles! There is a virtual keyboard given by this site with the puzzle chart so that you don't need to open your device's keyboard. If you get stuck at any point, you can easily get help by revealing letters or words. In a nutshell, this website provides simple & easy crossword puzzles that are very much suggested for beginners although an expert can try them too If he/she wants.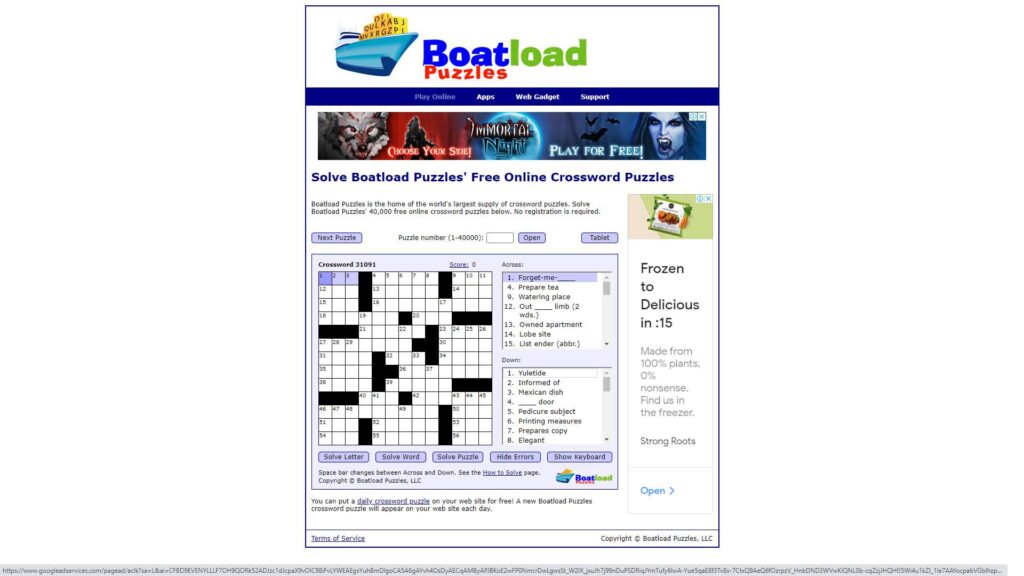 Arcadium Games got the Best Collection of Puzzles!
This website provides thousands of mini-games including some best online crossword puzzles & other word games. What you have to do is to visit arcadium.com & then go to the search box & type "Crossword Puzzles". When the results will come to screen, you will see there will be tons of crossword puzzle games available there. Now, click on any of those games' icon to start the game. The game will open after an advertisement. After opening the game, you can play them easily from this site. Different types of crossword puzzle games are available on this website so that you can't get bored so easily.
The Guardian Provides the Best Cryptic Crosswords!
Although the famous news website The Guardian provides millions of different crosswords on their official website, their cryptic crossword puzzles are the trickiest & competitive ones. Thus, this type of crossword is more famous than the traditional & others. Anyway, you have to just go to the theguardian.com website, then click on the three horizontal lines of the top right corner of the webpage. A menu will open. Scroll down the menu & choose the last option which is definitely "Crosswords".
Now, from the hundreds of different crosswords, choose your preferable one which can meet your skill level. You can go for cryptic crosswords if you are an absolute expert in this game otherwise you can also choose other crosswords that are also tricky enough. In short, The Guardian provides some of the best online crossword puzzles for sure. Playing their crossword is best if you are a master in this game.
Fun Trivia has Crosswords for Kids & Teens!
Funtrivia.com is a website that possesses various types of trivia & puzzle games, especially for kids, teens & beginners. On this website, thousands of easy crossword puzzles are also available. Just visit the funtrivia.com website & from the main section, click on the "Crossword Puzzles" option. Now, there are many topics of crosswords available on this site. You have to choose the topic first. After choosing the topic, scroll down & click on the subtopic to finally start the puzzle. Lastly, you can get to play the puzzle.
If you are a teen or a beginner, this site is best for you as it provides very easy topics & puzzles for the crosswords. If you want crosswords for your children, then choose the topic "For Children" then choose subtopics according to your requirement. We are recommending this site because of its simple & easy crossword puzzles that can be practiced by children, teens & beginners. Indeed, Fun Trivia has the best online crossword puzzles for kids & beginners.
Read More: GTA 6 Release Date!! Latest Update on GTA 6!!
Therefore, these are some of the best online crossword puzzles that you must try. There are many other ways to play these puzzles but what we have listed in this article are most probably the best ones. Anyway, if you are really a crossword lover then don't think too much rather go to these websites & start to play your preferable puzzles one by one. If you are an expert in this popular puzzle game then you should go for the puzzles available in The Guardian, Washington Post & Dictionary.com but if you are a beginner & looking for some simple puzzles to enhance your skill then you should go for Fun Trivia & Boatload puzzles website or you can also give a try in the crossword puzzle games of Arcadium. Lastly, we hope that you have really understood & enjoyed reading our article about the best online crossword puzzles. If so then don't hesitate to express your valuable thoughts in the comment section below. Thanks for visiting & appreciating our work.