So, let's face it, you don't like online music streaming services like Spotify or Amazon Prime Music and love to store your favorite songs & music on your Android smartphone in its local storage which ultimately provides you a huge collection of your favorite songs. To kick it up a notch, you may have arranged all your songs in different folders along with their artists respectively. As you have put a lot of effort then you definitely deserve the best music player for Android on your phone so that you can experience the best. In this article, you will find the top 10 free best music players for Android that you can use to get yourself lost in your favorite music and songs. Let's know which are the best music players for Android right now.
Read Now: 10 Best Learning Apps for Students! Achievements are Waiting For You
AIMP is certainly one of the best music players for Android. And, the reasons are pretty prominent. It's free, packed with features, no interruptions of Ads & quite lightweight. AIMP supports most common mainstream music formats like FLAC, MP3, MP4, AAC, etc. There are several settings such as themes customization, audio quality, music pause, peak normalization, and even the sample rate which you can change as per your demand. You can customize the Playlist, make bookmarks to find your favorite tracks more quickly.
An inbuilt equalizer and a mixer allow you to add different effects on top of the music you are listening to. Additionally, this app also features Suspend Playback option which is an extremely handy feature if you fall asleep when you are listening to music. Depending upon how you set like 'At Chosen Time', 'At Elapsed Time', 'At End of Track', 'At End Of Playlist' or 'At End of Queue', the music automatically stops. Isn't it an amazing & unique feature?! Most importantly, as we have already mentioned, this application is completely advertisement free so no disturbances at all.
This is another great music player for those who love to use hassle-free simple applications. Definitely, it is available for free but has a paid option if you want to remove advertisements but trust me, I have used this for around a month and have never seen a single advertisement so the free option is the best option to go with. In terms of features, there are a lot. First of all, lossless formats like FLAC, ALAC, APE is supported so that you don't need to sacrifice any quality. Obviously, a common codec like MP3 is definitely supported.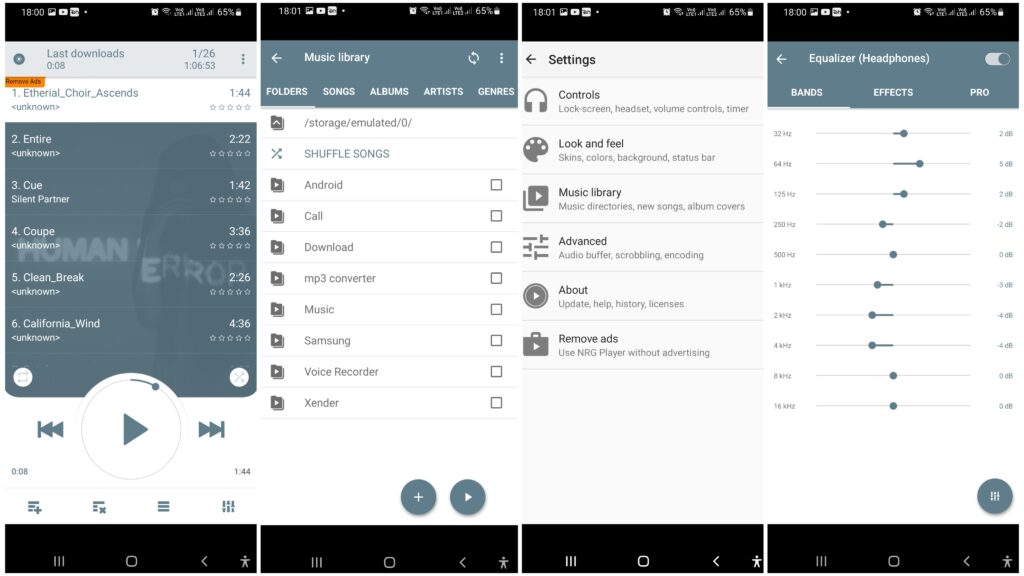 The most eye-catching features we have noticed are Volume buttons playback control and Headset buttons playback control which help you to change tracks without even touching anything on your phone. If you're wearing a headset then pressing buttons from the headset can switch between tracks. If you are just listening from the phone's speaker then volume buttons are here to help in switching between songs so, these two are quite the handy-dandy features, right?
In terms of customization, there are plenty of features. You can create a playlist in the application by selecting tracks from 5 categories: folders, songs, albums, artists, and genres which really help a lot. There is also an equalizer and mixer in case you want to add any effect on top of the song. There is also a sleep timer so, don't worry about sleeping with the player on as it's turned off automatically. Thus, it is no secret that NRG Music Player is one of the best music players for Android that you can use with ease.
Musicolet is not only one of the best music players for Android but also it possesses one of the best user-friendly interfaces which is why we love this application so much. Everything is available & accessible in just front of you on the same screen. With just one touch, you are allowed to browse music from folders, with just one touch, you will be inside the album and the same goes for Artist. So, no hassle to find a song. You can definitely create your own Playlist, add tags with a song to find it accurately or if you want then you can add songs in the favorites.
If you have updated anything in the phone's internal music directory then you can scan the whole storage to fetch the change. Just like the NRG Music Player, you are allowed to switch songs from your headset.  The equalizer of this app is also one of the best so that you can adjust the sound effects depending upon your taste. There's also a sleep timer just like previous apps. Also, the best part of this app is widget settings which most of the applications don't allow. Here in this music player, you can customize your home screen widgets depending upon your choice. Overall, in a simple user-friendly interface, developers packed a ton of features for free. Also, there are no advertisements to bother you at the time of playing music. So, if you want a super-duper easy-to-use music player packed with numerous features then Musicolet is for you.
You know the name already, right? This is the best video player app for computers as well as one of the best for Android. Not only for playing the video, you can also use VLC to play your favorite songs too. And, honestly speaking, VLC is pretty good at playing music too. So, using VLC means you will get double bonuses first of all. There's not much to tell about this application's audio playback feature. The app has a very simple and easy-to-use interface with very minimalistic features.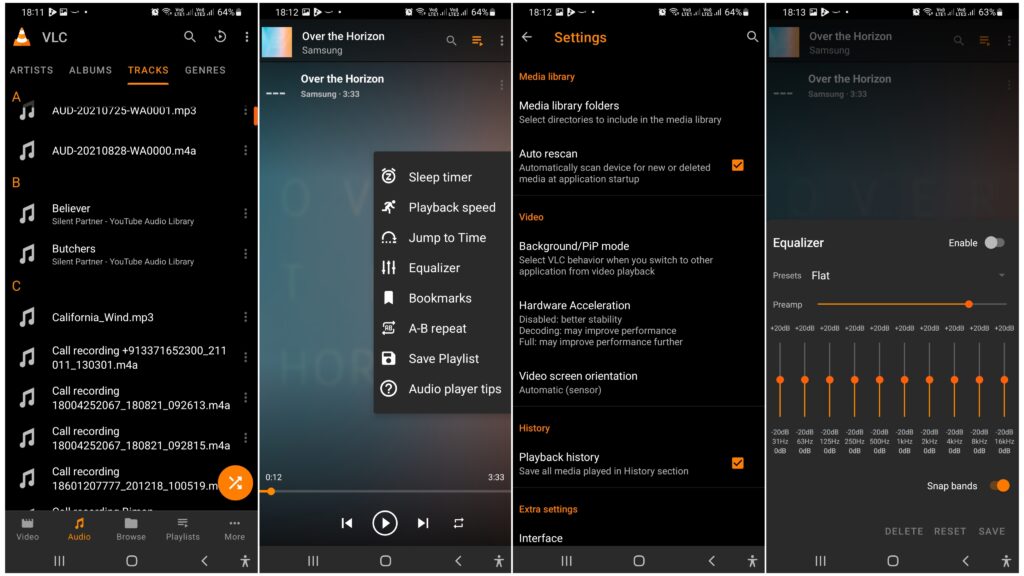 In the Audio section, there are four options to find songs: Artists, Albums, Tracks, and Genres. There is definitely a sleep timer that is only be configured by time and there is a pretty good equalizer to customize your audio output. Not much to say stuff about it. Basically, if your phone has very limited space and you're always running out of space then you can use this single app for all of your entertainment needs. Most importantly, VLC is open source so there is no chance of any Ads.
Must Read: Best Run Apps for Android!
A new, solid, free, and advertisement-free music player app is now available for your service. The most attractive features are Chromecast and Android Auto support. In 5 MB of size, this app offers a lot just like AIMP. You can get a decent equalizer with an analog-like bass boost and surround sound knob and obviously, you have the availability of lots of pre-sets to tune the audio. Additionally, the app comes with five widgets, gapless playback, light and dark theme, tag editing, sleep timer, and support for normal as well as synced lyrics. Thus, OTO is another one of the best music players for Android that you can choose to listen to your preferable songs.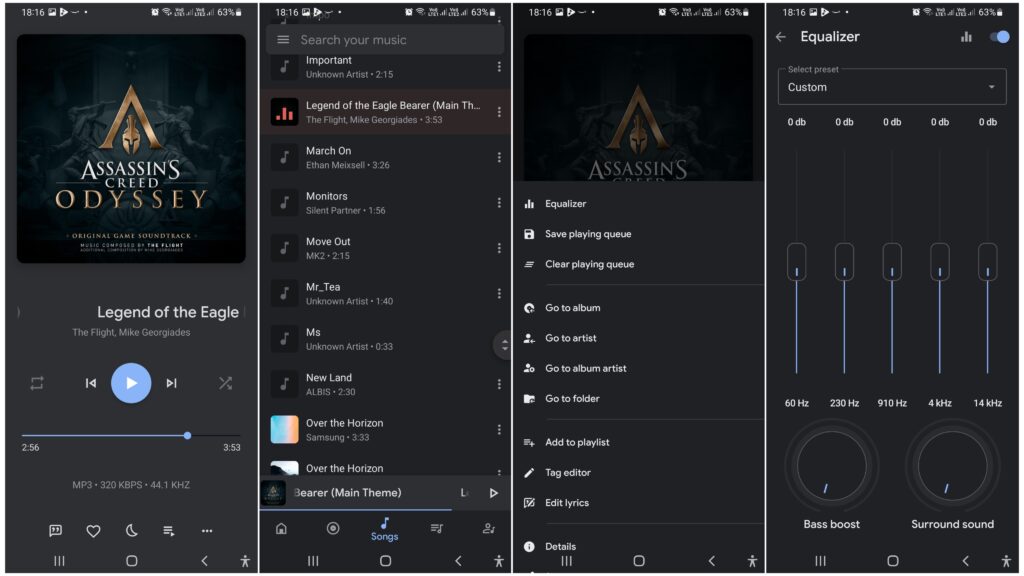 Pulsar is one of the best music players for Android that we have ever used. In a smartly designed user interface, this app offers almost everything for free that a music lover needs from tag editing to gapless playback, smart playlists, a sleep timer, and last FM scrabbling. There is also an option to download artworks for albums if missing. It is definitely a handy feature for those who mostly collect songs from different sources. There is no advertisement in this app.
You could also purchase their premium feature for more advanced options which are not that necessary. Pulsar also has Chromecast support and the best Android Auto support. You can change the theme of the player too and it has the option to control audio focus. You can reduce the playback volume or not if you want when notifications have arrived. So, in short, Pulsar is a great music player app filled with amazing handy features from which you could be benefitted.
We have another excellent free music player app with no ads in our best music players for Android list. It supports most of the standard local music player files such as MP3, WAV, OGG, FLAC, M4A. It features 5 Band Equalizer, BassBoost, 3D Surround Virtualizer, and Amplifier. The amplifier is definitely a highlighted plus for those whose mobile phones have lost its audio loudness. You can manually set the Amplifier 'mDB' to balance the volume. Keep in mind, adding excessive gain might damage your phone's speaker!
Features like Gapless audio playback, sleep timer, Album cover management, Customizable Themes, fonts, colors, and animations make this application a masterpiece. Also, there is an Android Auto feature that works decently. There's also a lot of options to find and organize your favorite tracks. You can also view & edit embedded lyrics, supports synchronized .lrc files, and edit Tracks, Albums, Artists & Genres according to your taste. Also, there are no ads in this player just like the others. So, you can see how outstanding Black Player really is!
The player is pretty decent, ads-free but some important features like equalizer, sleep timer are only available for premium users. Although they don't charge you much. The free version mostly covers all the basics and we don't recommend you to pay for those features which are available for free in others. The app supports most of the audio codecs but if you want to cast the audio to other devices, you can.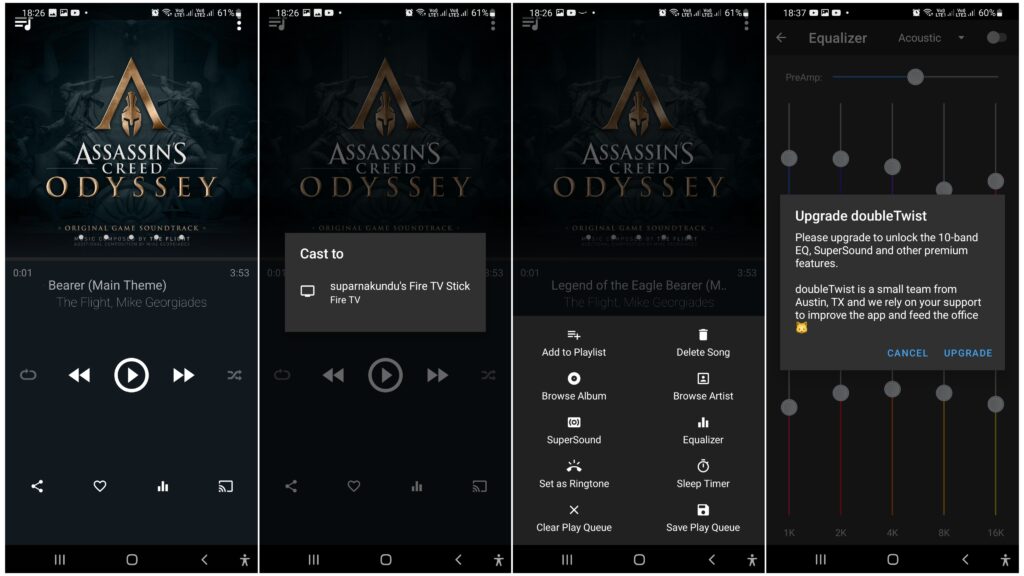 Chromecast support and Android Auto support are available for free but if you want Apple AirPlay support then you have to pay. The free version lets you listen to radio stations in your area so there is a music streaming element as well. There are even some features for podcast listeners, such as the ability to skip silences in the premium version. So, overall a pretty decent app that you can use to listen to music.
Don't Miss: How to Secure Your Facebook?
Therefore, these are the collection of the best music players for Android that we recommend you to take a look at and use one of them as per your choice and preference. In Google Play Store, there are so many great music players available but the apps we have provided are the best as they are free to use, possess lots of features in a compact size and come with zero advertisements or interruptions, unlike the others which are crowded with lots of ads which definitely frustrate while you are listening to music. Anyway, we hope, you have found this article about the best music players for Android helpful enough. If it really so then don't hesitate to express your valuable thoughts in the comment section below. Thanks for visiting and appreciating our work.