Since childhood, all of us are the fans of superheroes from DC & Marvel. DC is more popular for its comics & TV shows, while Marvel has more fan base for their movies under MCU (Marvel Cinematic Universe). Anyway, For gamers like us, both of these companies have launched & sponsored different types of superhero games for Android, iOS, PC & Gaming Consoles. The majority of superhero games available on Android are about Marvel superheroes. So, in this article, we are going to discuss some of the best Marvel games for Android that you can download on your Android smartphone and play as your favorite superhero! Let's see what are the best Marvel games for Android!
Read More: The Dark Truth Behind Pirated Games! Be Alert!
MARVEL Puzzle Quest: Join the Super Hero Battle!
D3 Go!
Casual/Puzzle|4.2★|115 MB |Free (in-app purchases) | 10M+ Downloads
Marvel Puzzle Quest is a unique match 3 puzzle role-playing game that offers the gamers to join the epic superhero fights into the Marvel Universe. There is a cool story of this game which tells us that the S.H.I.E.L.D. mishandles a powerful resource called Iso-8 which allows the notorious supervillain Norman Osborn to take the control of the whole agency and he replaces it with the H.A.M.M.E.R. So, all the superheroes & supervillains must unite in this match 3 puzzle game to defeat Norman Osborn and to restore balance to the Marvel Universe. Apart from other traditional match 3 games, in Marvel Puzzle Quest, when you match 3 gems, the unique skill of your current character will be unleashed! Isn't it amazing? In this way, you can also get some action along with some puzzles. This unique gameplay style is the reason that Puzzle Quest is one of the best Marvel games for Android right now.
Create your own dream team with any superheroes & supervillains such as Spider-Man, Captain Marvel, Thanos, Iron Man, Captain America, Ultron, Hulk, Thor, Doctor Strange, Deadpool, Wolverine & many more. A total of 185 Marvel characters are available in this game which you can collect & upgrade while progressing in the game. You must use your best superheroes & supervillains to perfect your strategy & win the match 3 battles.
Other game modes are also available in this game such as various online events of epic battles using Marvel's most famous superhero team, The Avengers! Form alliances with your friends to get your collective power in order to beat other players in those events. You can also participate in Player Vs Player tournaments for online matches with other players. And, there are many more that this game can offer. Just give it a try!
Read More: [Best] Games for Your Old PC That You Should Try
MARVEL Strike Force
Scopely
Role Playing/Action |4.3★|129 MB |Free (in-app purchases) | 10M+ Downloads
In a couple of years after its release, MARVEL Strike Force becomes one of the most popular & best Marvel games for Android. This game already has 15 million active players worldwide! & rightfully so. The key reason behind its huge success in that little time is nothing but its perfection as a Marvel game. Marvel fans may have got how they want their Marvel dream game for the Android. Let's see what this awesome game offers.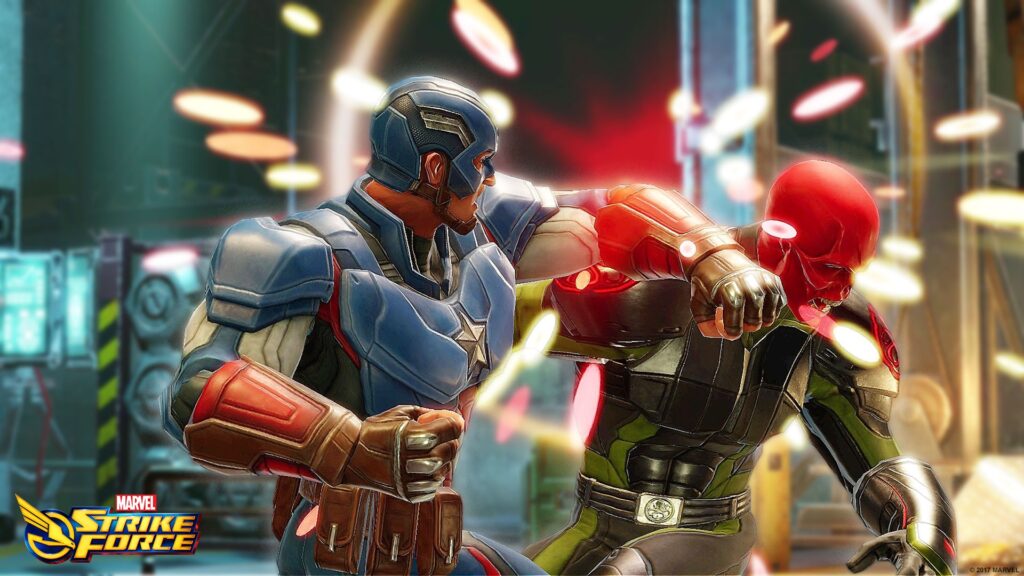 In MARVEL Strike Force, the story is quite interesting. A hellish assault on Earth has begun so Marvel superheroes & supervillains decide to work together in order to defend the planet. You have to lead the charge by assembling your best squad that includes the bests of the Marvel like Spider-Man, Doctor Strange, Groot, Rocket Raccoon, Loki, Venom, Elektra, Captain America, Iron Man & many more. In this game, the fighting style is strategic yet action-packed so use your brain to strategically fight against the enemies. The tactical 5v5 combat style of this game makes it even more realistic.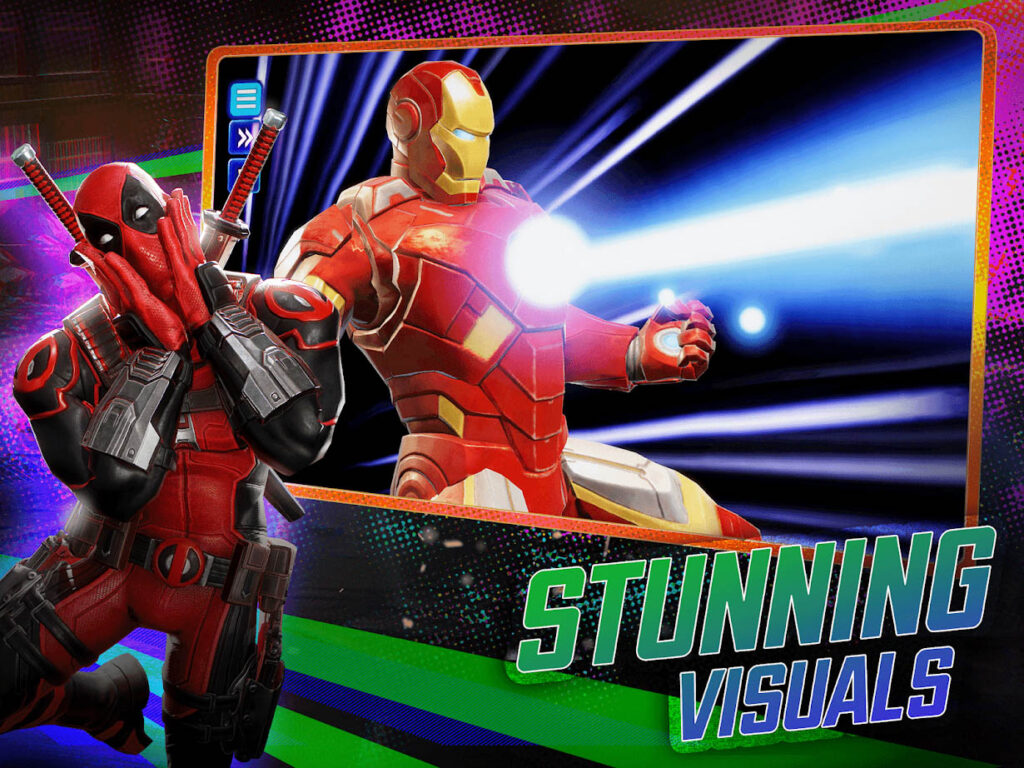 Upgrade your superheroes & supervillains to win battles for easily. Pair up specific characters together to unleash the combo skills that will more easily take out the enemies. New campaign missions, events & many more are added by providing updates of this game. The main story & its missions are also occasionally changed in this game to keep the interest grow into the players.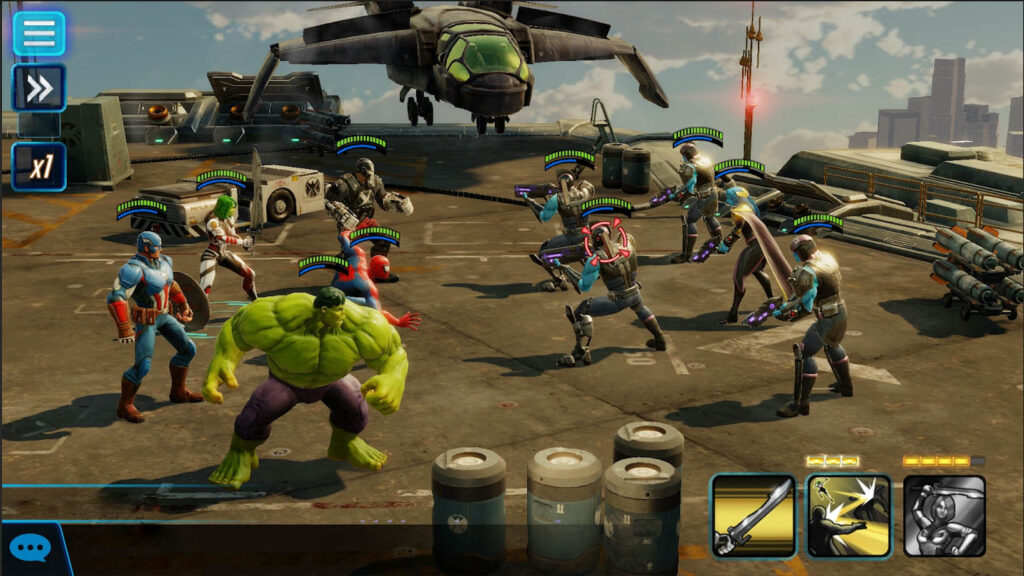 This game is also visually stunning as it requires to download the game data of almost 2 GB. So, after downloading the apk from the Play Store, open the game and it will automatically start downloading. Make sure your Android smartphone is powerful enough to properly run this game. Lastly, I can guarantee one thing that is; you cannot find a Marvel game as cool as this one so rush to the Play Store, download MARVEL Strike Force & enter the battle world with the Avengers, the Guardians, the Fantastic Four or the X-men.
Read More: [Best] Low MB Games For Your Potato PC
Marvel Future Fight
Netmarble
Role Playing/Action |4.0★|79 MB |Free (in-app purchases) | 50M+ Downloads
Along with MARVEL Contest of Champions, Marvel Future Fight is one of the oldest & best Marvel games available for Android smartphones & other devices. Many gamers consider this game as the best marvel game for Android whereas many believe Contest of Champions is the best. Anyway, we are not here for the debate show. Let's know what this fabulous game offers.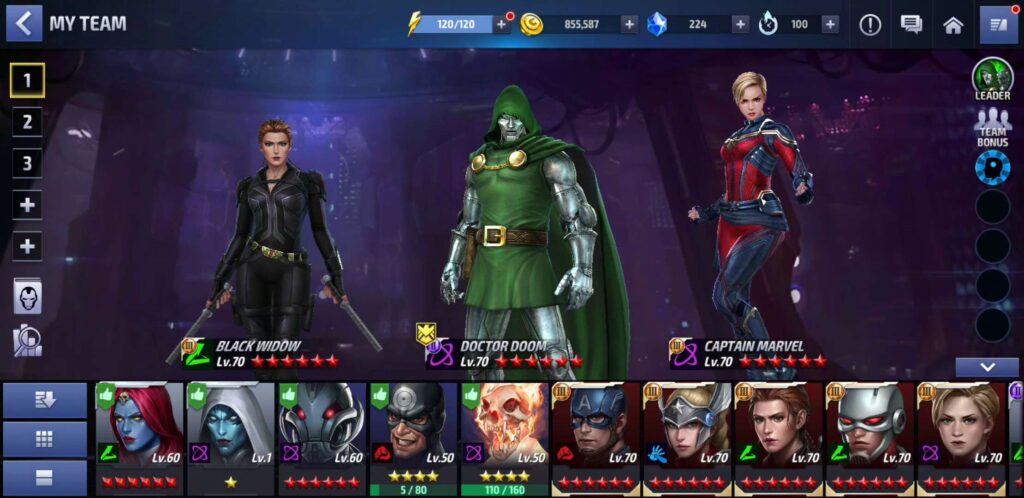 Marvel Future Fight is an epic blockbuster action-RPG featuring Super Heroes and Villains from the Marvel Universe! You can play with over 200 characters from the Marvel Universe! You have to recruit your favorite characters, complete missions by defeating enemies alone or with other players & save the world. Upgrade your characters to Tier 2 or 3 in order to make them strongest. You can build & assemble classic teams like Avengers, X-men, Fantastic Four, Dark Order, etc. to get special bonus effects. You can also buy various uniforms for different characters which will unleash more powerful effects & new skills for those heroes & villains.
The main story of this game is pretty dull although the other game modes are the reason why this game is played by 50+ million active players. Apart from the single-player story missions, there are missions such as World Boss fights, Timeline Battles, Epic Quest, Shadowland fights, Battle world, and many more. Especially, World Boss & Timeline Battle are the most played & loved game modes as these modes offer more challenges as well as action to the player. World Boss is a PVE game mode whereas Timeline Battle is a PVP one but both of them are very popular among the players of this game.
You can join the Alliances get the chance to play Alliance Battle, Alliance Conquest & other game modes. You can even also play some game modes like World Boss Invasions where you have to go with your friends to beat the villain. The visual of this game is just too awesome and you will definitely feel like the real Marvel characters are there on your mobile screen! After downloading the apk from the Play Store, you have to download the data file of this game which is more or less 3 GB! So, if you're thinking of downloading this game, make sure your device can handle this game properly. But if your phone is a high-end smartphone then you should definitely play this game at least once.
Read More: [Ten] Open World PC Games that You Should Play
Marvel Collect! by Topps
The Topps Company, Inc.
Cards|4.3★|100 MB |Free (in-app purchases) | 500K+ Downloads
Collecting cards about superheroes, soccer players, WWE superstars, Pokémons was one of the favourite nostalgic moments of our childhood. Some of those moments will surely come back if you play Marvel Collect. This latest Marvel game offers you to collect, trade & play to build a digital collection of Marvel characters. From the classic comic characters to the latest popular blockbuster MCU films, you can collect every type of Marvel character from this game! That means, the entire Marvel Universe is at your fingertips!
Every day, new digital collectibles will be available in this game. Moreover, you can claim free rewards & coins daily to grow your own collection! You can trade your cards with other players to get your favorite or necessary one. By the way, you can also combine collectibles to get the rare ones! There are plenty of missions available in this game. Complete those missions to unlock special content! In a nutshell, this game is for pure Marvel fans who want to collect cards about Marvel characters in a fun-filled way. In a pretty small size, this game offers very interesting features to Marvel fans. They recommend the players to download this game on Android 8.0 or higher for the best experience. So, if you want to try it, make sure, you follow this recommendation.
MARVEL Contest of Champions
Kabam Games, Inc.
Action/Fighting|4.2★|71 MB |Free (in-app purchases) | 100M+ Downloads
Have you ever imagined that our favorite superheroes & most notorious supervillains of Marvel are fighting with each other like a 1-on-1 MMA fight? They are knocking each other out as badly as they can. If you have really imagined this then your imagination is going to take a giant leap into reality as this game, MARVEL Contest of Champions offers the epic versus-fighting with all of your favorite Marvel superheroes & supervillains in the ultimate cosmic showdown contest!
This game is one of the best Marvel games for Android & it's so popular that already 100 million players have downloaded this game! You can play with Spider-Man, Iron Man, Wolverine & anyone you want. Just assemble a team & begin your action-packed quest to become the Ultimate Marvel Champion of the fighting contest!
Thor vs. Captain Marvel! Captain America vs. Iron Man! Hulk vs. Wolverine! Spider-Man vs. Deadpool! The greatest battles in Marvel history are in your control now! The story of this game is pretty simple. The greedy Elder of the Universe known as The Collector has summoned you to an epic brawl against the most dangerous villains like Thanos, Kang the Conqueror & many more. Now, you have to beat all of them one by one with your assembled team of superheroes. Apart from the story mode, there are many other types of game modes available under the Alliance of this game such as Alliance Wars, Alliance Event & Alliance Quest. You have collected your superheroes & supervillains, level up them with different potions & elements available in this game, and lastly, rank them up. Once fully ranked, they will get their full superpower.
This game has more or less 1 GB of data and need a decently powerful Android smartphone to play it. When you download the apk from the Play Store, just open the game, start playing and the data of this game will automatically be downloaded. This game is my personal favourite of all the Marvel games available in Android. I hope, you will love it too. So, don't waste your time. Rush to the Play Store & download it to begin the biggest fighting contest of the Marvel universe!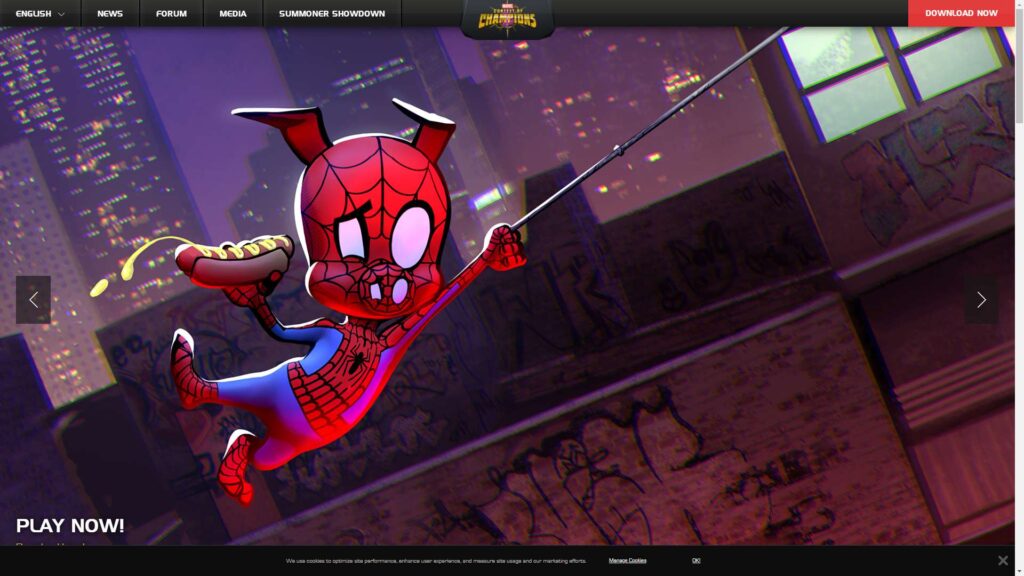 Therefore, guys, these are some of the best Marvel games for Android right now. Maybe we will see some more awesome Marvel games in the next couple of years in the Android Play Store. For now, you can try & play all of them that we have listed in this article. All of them undoubtedly are cool & fun-filled. If you have any other fabulous Marvel game in your mind, you can inform us about this. We will definitely appreciate this. Anyway, we hope you have enjoyed this article about the best Marvel games for Android. If so then don't hesitate to express your valuable thoughts in the comment section below. Thanks for visiting & appreciating our work.