Bitlocker is a pretty handy and versatile tool if you're really concerned about security and want to protect your data from intruders. It not only makes the drive password protected but also encrypts all the data in that drive. Drive means all kinds of storage devices from hard drives to SSDs, from pen drives to memory cards, everything can be encrypted with its help. Apart from Windows 10 Home, Bitlocker is available in all versions of Windows 10. In this article, we're going to talk about the best free Bitlocker alternatives that you can use on your Windows 10 Home.
Don't Miss: Windows 10 Home Vs Pro: Know Their Unexpected Differences!
What is Bitlocker?
Bitlocker basically is a software-based encryption tool that encrypts and protects user data not only on the hard drive but also on all kinds of storage devices that you can imagine. The storage data can only be unlocked using the alpha-numeric code initially created by the user themselves.
It especially helps if you're using a portable device like a laptop or notebooks. These kinds of devices can easily be stolen. Blocking the device with Operating System's password or even with a BIOS password isn't enough. Swapping the drive from that device to a new device is definitely possible and your data can still easily be theft. Bitlocker not only makes the drive password protected but also encrypts all the data in that drive. Bitlocker also helps you if you have external storage devices.
Why is Bitlocker So Convenient?
For example, you're using an external Hard Drive, and its data is encrypted with Bitlocker. Think of it because you're using this common piece of software switching back and forth to the different devices can't create any sort of problem because Bitlocker is available in Almost every Windows 10 system except Windows 10 Home. You can easily access your device from any Windows 10 computer by just entering the proper password for that drive.
Though there are several applications available that work as Bitlocker does but the versatility is in favour of Bitlocker because it is the inbuilt tool of Windows 10. If you're stuck in Windows 10 Home and can't or do not want to update to Windows 10 Pro just for the Bitlocker then we have a collection of free applications that can easily be used in the place of Bitlocker.
Best free Bitlocker alternatives!
As we said before, Bitlocker is not the only tool that provides security to drives and logical volumes. There are so many other applications out there. Some are free and some are paid. We're here only discussing the free Bitlocker alternative that you can use on Windows 10 Home. Don't worry, these are free doesn't mean you don't get fancy features. There are so many features that you can explore. Choose your favorite one and if possible then give it a tip in order to continue developing the software.
VeraCrypt for Windows
VeraCrypt is a free-to-use software encryption tool that has the same functionality as the Microsoft Bitlocker itself. VeraCrypt is available not only on Windows but also on Mac OSX and Linux. This is a cool versatile option that you can get if you work on multiple platforms. It offers so many features like full disk or partial encryption, virtual encrypted disk, etc. Also, they provide plausible deniability, in case an adversary forces you to reveal the password.
And, just like Bitlocker, all kinds of storage devices, files, logical volumes, partitions can easily be encrypted with this piece of software.

Windows Device Encryption
If you are using Windows 10 Home, it does not mean that you are out of protection. Some Windows 10 Home PCs support encryption but the PC will need to activate both TPM and UEFI, as well as support the connected standby mode.The simplest way to check whether your PC does support this technology or not is to just check directly if you are able to encrypt the device.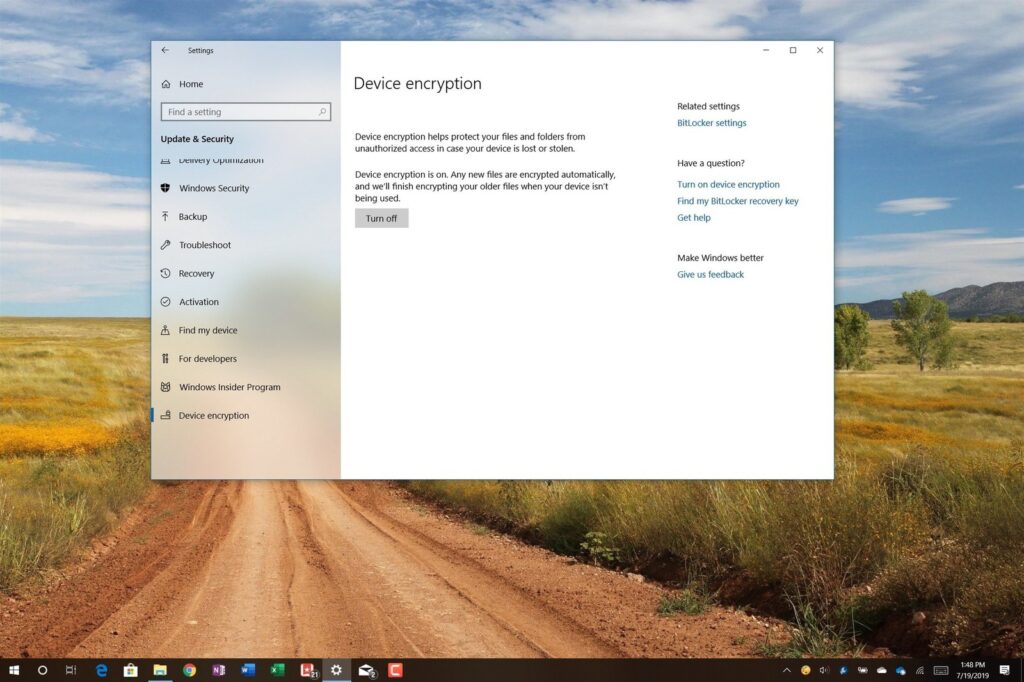 For that, in Windows 10, go to Settings> Update & Security. If you have device encryption, you'll see that option appears in the left panel of the window. Just select it, then click on the Turn on button to encrypt the device. If you have not got any option like this then try other free Bitlocker alternatives.
Read Now: How to Use Windows Device Encryption?
GNU Privacy Guard
GNU Privacy Guard is an open-source encryption software that uses the command-line interface. It is available on both Windows 10 and OS X.
Frankly speaking, the command line interface is the only drawback of this tool. There is no proper GUI to use the software. You need to have knowledge of the command line to use GNU Privacy Guard.
Just like other encryption software, GNU provides full disk protection as well as protection of partitions and individual files.

AX Crypt
AX Crypt doesn't actually provide disk-based encryption rather it only can encrypt files but the advantage is you don't need to install AX Crypt during the decryption. The only need is the decryption password. So if you are traveling with an important file copied on a flash drive then you don't need to encrypt the whole drive anymore. Just encrypt the file and you're good to go. Also, when you decrypt that file on another computer, there is no need to install AX Crypt.
There are two versions available for AX Crypt which are the premium version and the free version obviously. If you go with the free version then you get 128-bit encryption if it is paid then one can get 256-bit encryption.

CipherShed
CipherShed is definitely a free encryption software that can be used as a great free Bitlocker alternative. It protects files as well as drives. The tool offers transparent encryption. The encrypted files that get mounted through the software are easy to store anywhere and can be accessed whenever required.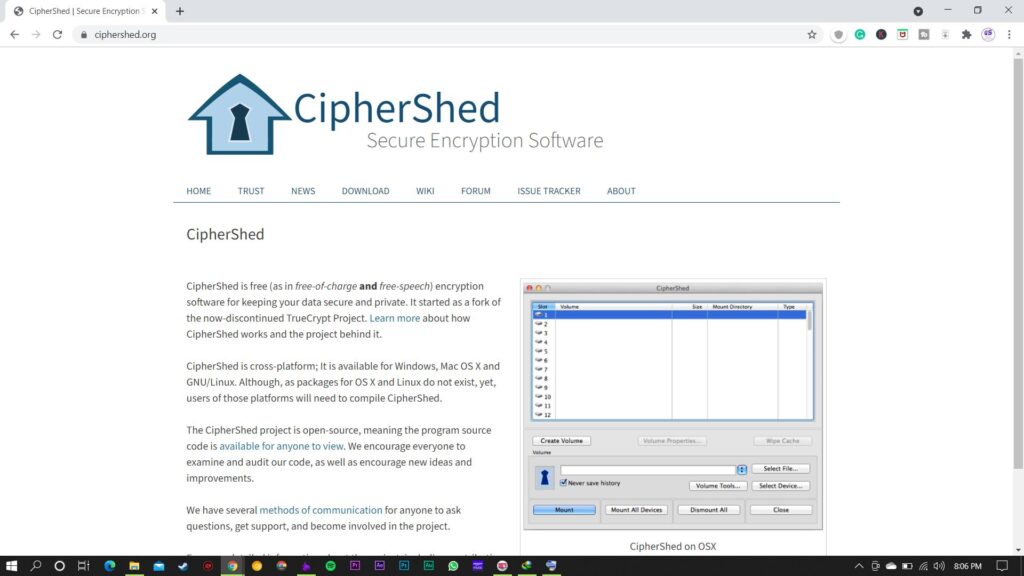 Encrypted files are definitely transferable and most importantly, the encrypted drives can be transferred from Windows to Mac OS and vice versa that is a unique feature of this tool.

The Bottom Line…
In the concluding lines, we would like to address the fact that Bitlocker is a versatile & great tool on its own but for Windows 10 Home users, there are many free Bitlocker alternatives that we have mentioned already. These are the tools that really work like Bitlocker & protect your valuable data. Therefore, we can hope that this article has really helped to find a great free Bitlocker alternative for your drives & their data. If you have found this article helpful then don't hesitate to express your valuable thoughts in the comment section below. Thanks for visiting & appreciating our work.