There are very few people who don't like action movies and that's why action movies are one of the most popular categories of movies out there. In this article, we have discussed the nine best action movies that you will enjoy watching in your free time. All of them are packed with great sequences and decent storylines that any action lover wouldn't like to miss. So without further ado let's start our list of best action movies.
Don't Miss: Best Movies Of 2022 Worth to Visit
Black Hawk Down
IMDB: 7.7
Available On: N/A at OTT
Released On: 2001
This movie is based on true events. 100 US soldier are sent to arrest the top two lieutenants of the Somalia Warlord. By the way, Somalia is the Capital City of Mogadishu. When Warlord knows that he sends up his whole army to destroy the US military from his state. What have his lieutenants done? Why did the US army trail them? Can the US army handle the situation? Or will the 100 men just die? Just enjoy the movie. There is a lot of action and you are understanding it's a kind of war movie so lots of shooting, hand-to-hand combat, and heavy blast. If you want an action movie and a good storyline then this movie is definitely worth watching.
The Raid Duology
IMDB: 7.6, 7.9
Available On: Mx Player
Released On: 2011, 2014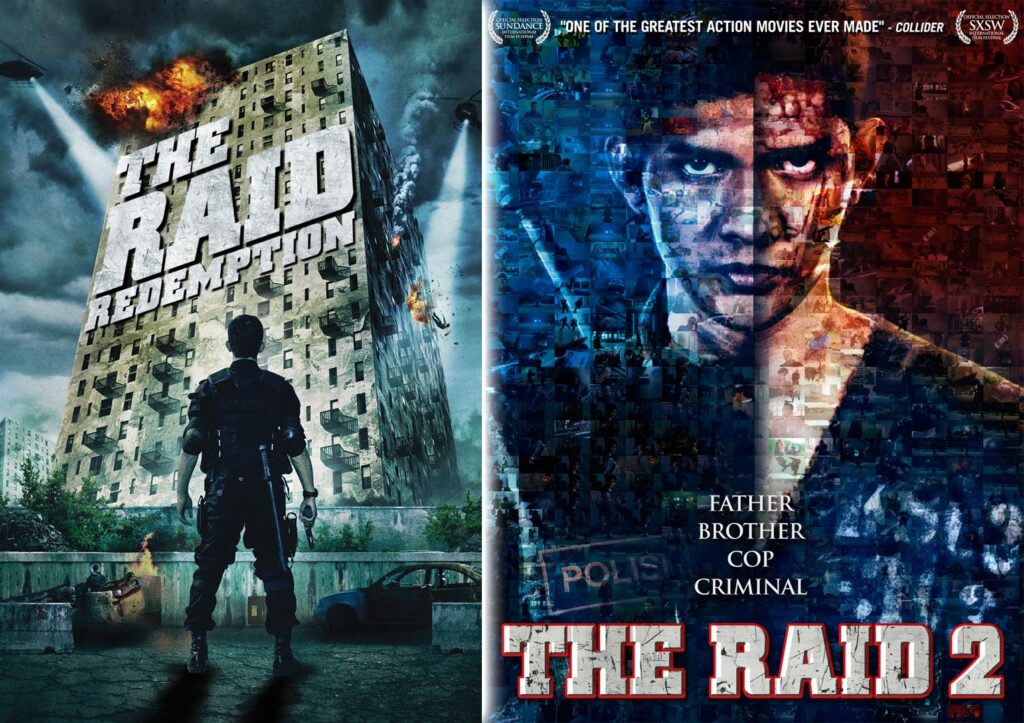 This movie has two parts 'The Raid' and 'The Raid 2'. Both are fully action-packed movies. After around 20 minutes, you will be witnessed a lot of action, including hand-to-hand combat sequences and gunfires. Until the end, you just can't catch up breath. Fully adrenaline rush and thrilling moments are packed in this film. As a lover of action movies, you will definitely enjoy them. The story of the movie is rounded on a policeman and his team who for some reason get stuck in a 15-storey building belonging to a drug mafia and their men. Now you can think what is expected! The second part of the movie is based on the same characters but this time the mission is different. Really an entertaining movie you should definitely check it out. If you really love action movies then these will be your one of the most favorite action movies – I can guarantee.
Shoot Them Up
IMDB: 6.6
Available On: N/A at OTT
Released On: 2007
The presentation of the story is so adequate. There's a lady and a child who is the main attraction of this film. Everybody just wants to kill the child. After just getting fled and surviving for a shake of the plot she finally gets a man who promises her that he will save the child. Why does everyone just want to kill the child? Who is the lady? Who is the man and how can he save the child? Is greatly presented in the movie. This is full of action sequences and lots of breathtaking moments. For one boring free time, this movie will definitely entertain you and be worth your time.
Ninja Assassin
IMDB: 6.9
Available On: N/A at OTT
Released On: 2009
For a reason, a Ninja left his tribe but the members of his tribe don't allow that. That's why his own people get against him and want him dead. That's why other ninjas of his tribe come to kill him. How he can survive? What the tribe has done? Why does our hero get against them? – well, I am not disclosing that. Otherwise, your entertainment will be spoiled. This movie is definitely a pure action movie. The environment is mostly dark. Most of the fighting is performed in a kind of dark environment that's why the movie gets so much thrilling. Most importantly- the story and how it's presented to us is definitely worth appreciation.
NoBody
IMDB: 7.4
Available On: Amazon Prime Video
Released On: 2021
If you really love action movies then don't miss this masterpiece. The movie starts with a normal middle-aged family man who has his family – his wife and children. He works in a regular office – initially looks like a boring person. He starts to reveal his true identity when thieves break into his house. To save his family he starts to fight them in a John Wick style which reveals that he was a retired assassin who worked for the government and now becomes a family man. In a local bus service, a group of people starts harassing a lady. When Mr. Nobody is traveling. To save her a fighting breakout that's so realistic and cool. This event triggered the wrath of a Russian Crime Lord. What happened on the bus? How did the mafia want to kill the family man? How did he save himself and his family? Is definitely worth watching. The planning that he has done is super impressive. His fighting techniques are so impressive he really hit everyone badly. With a sweet touch of story and realism, this movie is one of my favorite action movies.
300 Duology
IMDB: 7.6, 6.2
Available On: Netflix
Released On: 2006, 2014
This movie has two parts 300 and 300: Rise of an Empire. Both movies are connected so consider watching them sequentially. In the first part, we are witnessing the story of the Ancient battle of Thermopylae held on 480 BCE. Great king Leonidas and his 300 Spartan battle against a massive Persian army of Xerxis. This movie showed us history. In the next part, we have shown the legacy of King Themistocles of Athens. Frankly, this movie is filled with action. It is a War and you know how ancient battles are fought. As the movie is based on true events that's why the story will give you goosebumps. If you're finding a good action movie and a great story this movie series is definitely worth enjoying.
Kate
IMDB: 6.2
Available On: Netflix
Release Date: 2021
The story of this movie is based on a lady assassin who is poisoned during her mission. She has only 24 hours left. Then she will be dead. So, she promised herself that she will kill those who has poisoned her. This conflict triggers a lot of action sequences. So, in the end, can she take her revenge? Why she was poisoned Watch the movie and find it yourself. Definitely a full action-packed movie you will guarantee to be entertained.
Extraction
IMDB: 6.7
Available On: Netflix
Released On: 2020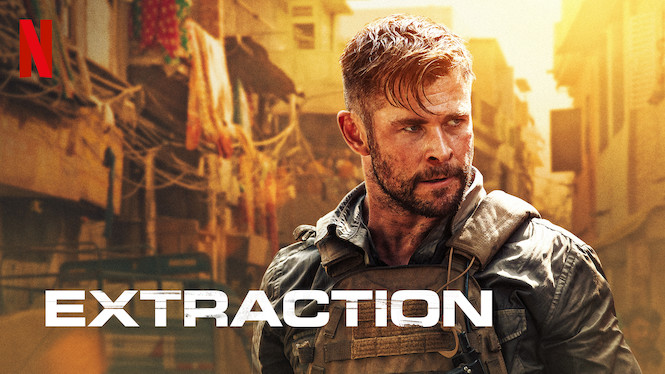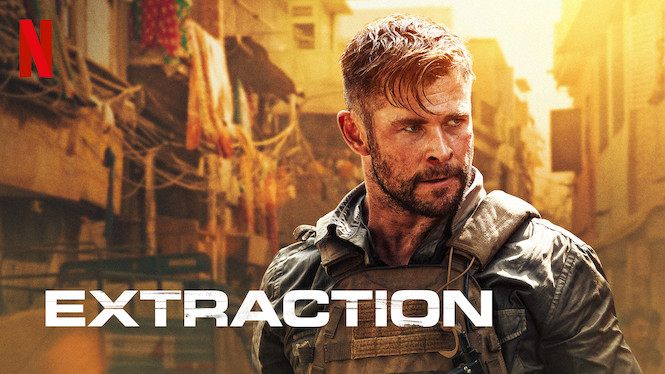 This movie is all about what its name is. In the lead role, we find out the character of Chris Hemsworth who has to extract a package from Bangladesh. You know what the package is. The package contains the son of a Mafia Don who was kidnapped for some reason. The movie is full of action and combat and ironically the state becomes War Zone to just kill one man. So, can he save himself and the package? Well that you have to look for yourself. I would say, you will definitely enjoy the movie. However, the story is quite casual but because of the action sequences, you will definitely enjoy this film.
The Gray Man
IMDB: 6.5
Available On: Netflix
Release Date: 2022
This movie is all about a CIA agent who worked for the CIA but not as officially. He handles all the dirty things that CIA agents wouldn't like to do. In some circumstances, he finds a pen drive filled with some information that the CIA doesn't want to leave to him. So, they put a reward on his head and hire assassins to kill him. One criminal assassin played by Chris Evans just makes up his mind anyhow he will terminate the agent. For that, he can do whatever he needs to. Does not care what's getting damaged and who is killed. Typical action movie but how they presented the action sequences and presented camera angles that are definitely worth appreciation. So, if you love action movies then don't miss this.
Also Read: 9 Best Thriller Movies You Shouldn't Miss
It is obvious that the list of best action movies doesn't end here thanks to the numerous great action movies available for the silver screen. Anyway, we can hope that you have enjoyed reading this article about the best action movies. If so then don't forget to express your thoughts in the comment section below. Thanks for visiting.