If we count the popularity of every genre of the games in Android, the action category will easily come out at the top because of its limitless popularity among gamers. There are millions of different action games in the Play Store but if you want to play a superb action game then look no further as here, we have listed the top 20 best action games for Android that you can definitely enjoy playing. Without further ado, let's see what are the best action games for Android.
N.O.V.A. Legacy is one of the best action games for Android not only because it is a game from famous game developer Gameloft but also it is only 45 MB in size & it is a game from a popular game franchise called N.O.V.A. So it is very obvious why this game is such a good in terms of graphics as well as action-packed gameplay.
Don't Miss: Best Games of 2020 for Android: You Should Play Now
Delve into the story offline and fight to uncover the truth about these alien invaders in 19 deep action-packed FPS levels. Or jump into the Deathmatch to be the last man standing in the online multiplayer battlefield. You can also play Team Deathmatch & other interesting game modes too. You can customize your combatant with a variety of 3D models & skins to make them look cool. The immersive offline & online gaming experience makes this action game even better. You should not miss this Sci-fi first-person shooter action game.
Activision's greatest creation, Call of Duty is already a very popular & successful video gaming series on computers which is why, when they launch a Call of Duty game for smartphones, it gains a huge amount of hype & success in a very short period of time. Matter of fact, in just a couple of weeks, Call of Duty: Mobile had crossed the border of 50 million downloads in the Google Play Store!
100 player Battle Royale battleground? Fast 5v5 team deathmatch? Sniper vs sniper battle? Call of Duty: Mobile has it all! So, you can't be bored playing this game as it offers so many multiplayer game modes along with iconic maps to explore. Activision has designed this game exclusively for mobile phones so that one can get the console-like experience without having a PC or console. With quality HD gaming & tons of multiplayer game modes like Team Deathmatch, Frontline, Free For All, Search and Destroy, Domination, Hardpoint, etc., this game really has brought an evolution in mobile gaming. So, it is certainly one of the best action games for Android that you should not miss especially if you love battle royale games.
Space Marshals 2 is a unique tactical top-down shooter game which is packed with deep unorthodox storyline with intense shooting actions. With gorgeous, colourful HD graphics, there are total 20 story missions to play with the help of next gen gears & weapons which are over 70+ in number! It's suspenseful immersive gameplay is what makes it one of the best action games for Android right now. We recommend you to at least play this excellent game once.
Shouldn't be Missed: [Best] Low MB Action Games For Your Android!
MARVEL Contest of Champions offers the epic versus-fighting with all of your favourite Marvel superheroes & supervillains in the ultimate cosmic showdown contest! This game is one of the best Marvel games as well as one of the best action games for Android. You can play with Spider-Man, Iron Man, Wolverine & anyone you want. Just assemble a team & begin your action-packed quest to become the Ultimate Marvel Champion of the fighting contest!
Thor vs. Captain Marvel! Captain America vs. Iron Man! Hulk vs. Wolverine! Spider-Man vs. Deadpool! The greatest battles in Marvel history are in your control now! The story of this game is pretty simple. The greedy Elder of the Universe known as the Collector has summoned you to an epic brawl against the most dangerous villains like Thanos, Kang the Conqueror & many more.
Now, you have to beat all of them one by one with your assembled team of superheroes. Apart from story mode, there are many other types of game modes available under the Alliance of this game such as Alliance Wars, Alliance Event & Alliance Quest. You have collect your superheroes & supervillains, level up them with different potions & elements available in this game and lastly, rank them up. Once fully ranked, they will get their full superpower.
This game have more or less 1 GB of data and need a decently powerful Android smartphone to play it. When you download the Apk from the Play Store, just open the game, start playing and the data of this game will automatically be downloaded. So, what are you waiting for? Rush to the Play Store & download it to begin the biggest fighting contest of the Marvel Universe!
So, the winner of "2018 Game of the Year" is in the list of best action games for Android! Seems obvious? Yes, of course. PUBG is not only one of the best survival shooter battle royale games today but it's also an awesome action game. As this game possesses immense popularity, I don't think that I have to discuss much about its gameplay and features. Still for the people who don't know much about this game, I am explaining it briefly.
Read More: Best Battle Royale Games for Android like PUBG!
Basically, this is the mobile version of the PC game where you have to survive in the epic action-packed third or first-person shooter 100-player classic battles, payload mode, battle duels, fast-paced 4v4 team deathmatch, and zombie modes. You have to be the last man standing to win the match. With extraordinary console-quality gaming and graphics, you can do anything you want. From voice chat with your friends to training your character, everything is possible here! Huge realistic maps are provided by this game where you can go anywhere you want, do anything you wish. So, this is the shortest possible way to describe this game. Download the coolest battle royale as well as one of the best action games for Android ever from the Play Store to enjoy the game and to know the rest of the features and gameplay.
The only thing I am recommending you i.e. make sure your device is strong enough for this game as this app needs huge additional data to play otherwise it will lag and slow down your device. If your device is not so strong, you can go for PUBG Lite which is the lighter version of the main game or you can go for other popular battle royale action games that we have mentioned in this article.
Gameloft has fulfilled many smartphone gamers' wish by launching this incredibly good action adventure open world game which is even better than the real GTA games available for Android. Gangstar Vegas is not only the best open world game but also one of the best action games for Android that Play Store ever has. You have to play the role of Jason in the dramatic story of this third person shooter game and you can do basically anything in Las Vegas. You can walk and run freely, go for long drive in cars & boats too, pilot the planes or helicopters, kill someone and snatch his money and cloths without caring who he/she is or even you can go to the casino to play.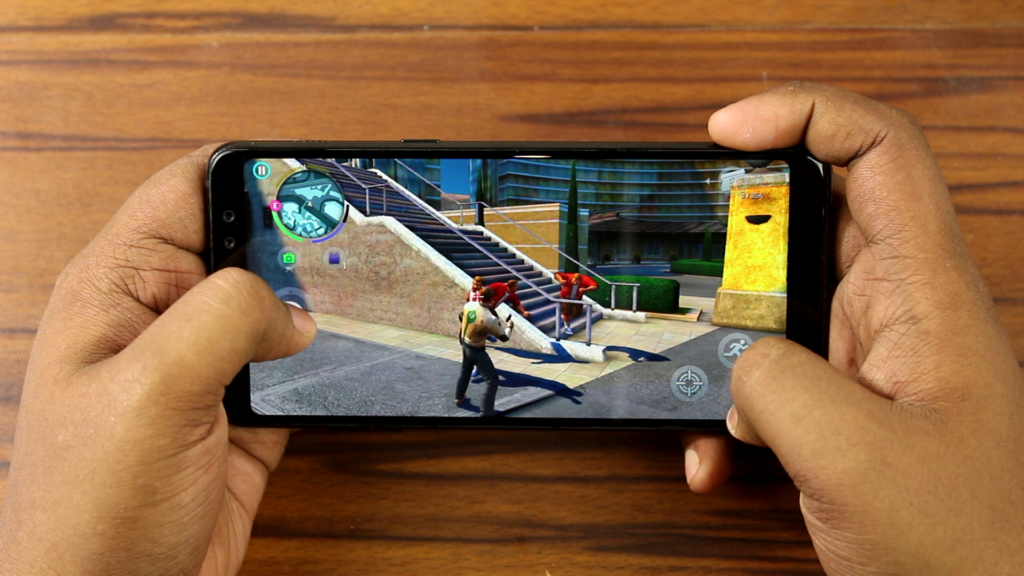 Gangstar Vegas comes with beautifully realistic graphics like actual GTA 5 PC game that makes you really surprised. There are numerous weapons like SMGs, LMGs, Shotguns, Rocket Launchers, melee weapons etc., cloths like casual dresses, formal dress on variations and vehicles like SUVs, Sedans, Supercars, Boats, Helicopters, Airplanes etc. are available in this shop section of the game so that you can complete all the 80+ missions properly by purchasing & using them. You can also craft your own weapons, vehicles & cloths. The action is quite limitless & never-ending in Gangstar Vegas.
Fully action-packed online events are offered by this game where you have to either fight with the zombies, aliens and other gangstars with your own or you have to join with a gang to beat down other gangs in the massive gang wars. The rewards of those events are lucrative cloths and suits, legendary guns and vehicles too. So, what are you waiting for? You cannot get another awesome open world action game like that which is too similar like GTA 5. Install Gangstar Vegas and rule Vegas with your criminal adventures in your own way. The City of Vegas is eagerly waiting for a gangstar like you!
Payback 2 is for those who wants action from head to toe in a open-world scenario without any bounds. This game includes everything from tank battles to high speed helicopter races to massive gang battles. That's why it is not only one of the best action games for android but also it is one of the best open-world Android games right now.
There are fifty campaign events available in this game that feature massive street brawls, super-car races, tank battles & much more in an open-world scenario. You can make your own action-packed events by using the custom mode of the game in which you can combine your preferable cities game modes, weapons, and vehicles too.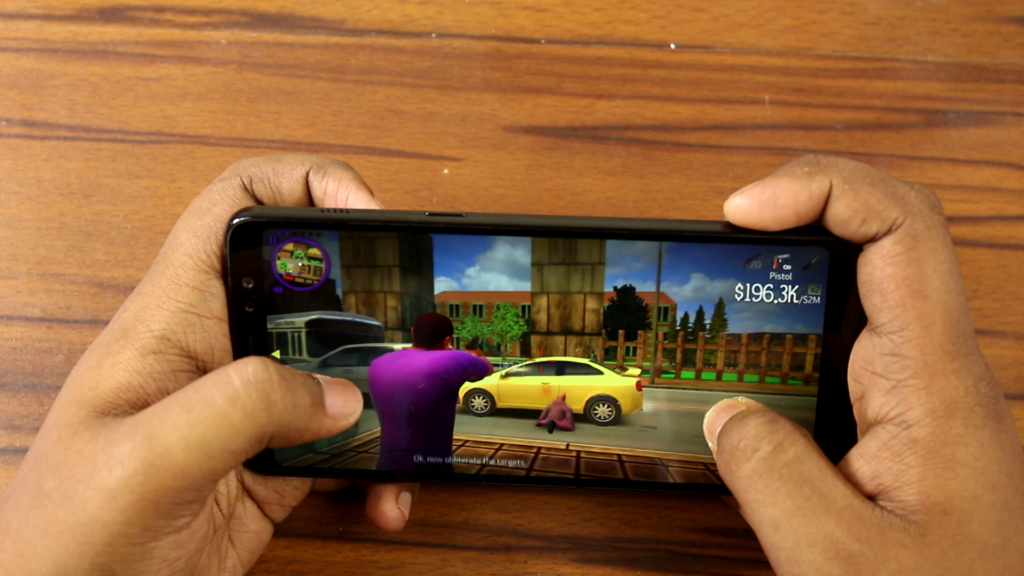 This game offers 7 cities with 9 game modes, dozens of vehicles and weaponries. You can even battle with your friends or other players in online multiplayer modes and get the top spot of the leaderboard. Numerous hourly, daily and weekly challenges are provided in this game so that one can always ready to go for action. If you don't play it yet, you better give it a try.
Hitmasters is an epic puzzle action-adventure game where you have to play with your character as a spy & eliminate your enemies in a unique & intelligent way. You have to solve the puzzles before killing your enemies with just one blow. There are tons of various lethal weapons awaiting for you in the arsenal of the game. You can try them all in the advance levels to easily eliminate your targets. You have to make decisions wisely while playing the game because one mistake can make you defeat to your enemies. Try this one of the most challenging as well as best action games for Android.
Hunter Assassin is a very thrilling action-packed assassination game that has become so popular within some months after its release. You have to control the assassin & hunt down your targets one by one. Use your surroundings & shadows to stay hidden from flashlights. Each eliminated target drops some gems that will be needed to unlock faster & stronger assassins which will help you to complete missions more easily. Lastly, this game deserves to be one of the best action games for Android because of its creative thrilling gameplay that everyone will love.
Just like the previous Johnny Trigger game, this new game is also one of the best action games for Android in recent memory. In this new Johnny Trigger game, you have to kill your targets with the sniper rifles. Unlike traditional sniper games, this game provides you quite a different perspective of sniper shooting. We are pretty sure, you will love that. There are variety of missions, locations, countless cool weapons & super weapons are available in this 3D sniper game. So, try this cool game right now.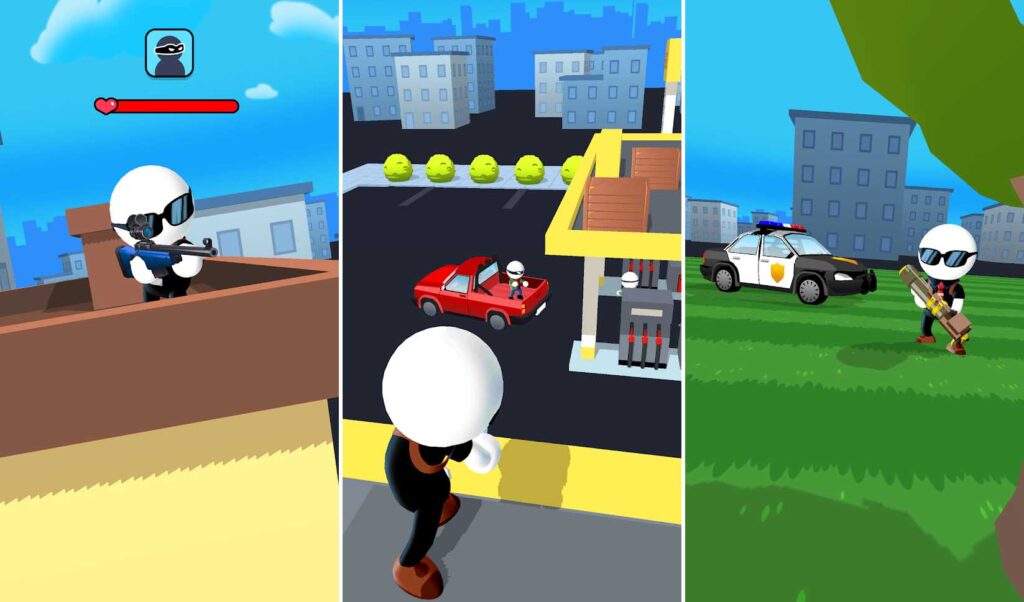 Free Fire is one of the best, if not the best battle royal game as well as one of the best action games for Android that is available on mobile. The gameplay is very simple yet full of intense actions. Each game is about 10 minutes and in that time 50 players are placed on a remote island where they have to fight with others for the survival. The last man standing will be the winner. You can also create 4-man squad along with in-game voice chat to stay connected and battle together with others.
The vast map where you will be placed is open world and you have the opportunity to explore it as much as possible in that time, with vehicles or without vehicles. This is the game that gains most of the popularity along with PUBG into the action & battle royale category games in Android so it's quite obvious to have this game in our list of best action games for Android.
If your device is not strong enough to support PUBG, you should choose Free Fire as it is as awesome as PUBG. I am not explaining much about Free Fire as it is too popular to be known for everyone. If you want to play it, don't ever hesitate, rush to the Play Store to install it as early as possible and you will come to know how outstanding the game really is!
Agent Action is also another action game that has got huge popularity from its initial release. Although, this game didn't get much appreciation after a couple of months from its final release because of some major bugs & faults, later, it has reached the expectations of the gamers & got a good name in the list of action games.
The story of this unique & stylish action game revolves around the warfare of an agent & a villainous doctor named Evilz. The gameplay is special as you have to run, shoot & cover without wasting a little time. Eliminate enemies as sharply as possible otherwise, they will eliminate you!
There are tons of exciting & challenging missions with different locations available in this game that makes it more thrilling to play. Hundreds of cool modern guns & other weapons are available too so that you can take out any enemy without any problem. In a nutshell, the game is uniquely designed & indeed, a very great action game that you may try.
Along with the MARVEL Contest of Champions, Marvel Future Fight is one of the oldest & best Marvel games available for Android smartphones & other devices. Moreover, this game is one of the best action games for Android as it offers never-ending intense action sequences & fight scenes between the popular marvel characters!
Marvel Future Fight is an epic blockbuster action RPG featuring Super Heroes and Villains from the Marvel Universe! You can play with over 200 characters from the Marvel Universe! You have to recruit your favorite characters, complete missions by defeating enemies alone or with other players & save the world. You can build & assemble classic teams like Avengers, X-men, Fantastic Four, Dark Order, etc. to get special bonus effects. You can also buy various uniforms for different characters which will unleash more powerful effects & new skills for those heroes & villains.
Don't Miss: Best RPG in Android Right Now!
The main story of this game is pretty dull although the other game modes are the reason why this game is played by 50+ million active players. Apart from the single player story missions, there are missions such as World Boss fights, Timeline Battles, Epic Quest, Shadowland fights, Battleworld and many more. Especially, World Boss & Timeline Battle are the most played & loved game modes as this modes offer more challenges as well as non-stop action. World Boss is a PVE game mode whereas Timeline Battle is a PVP one.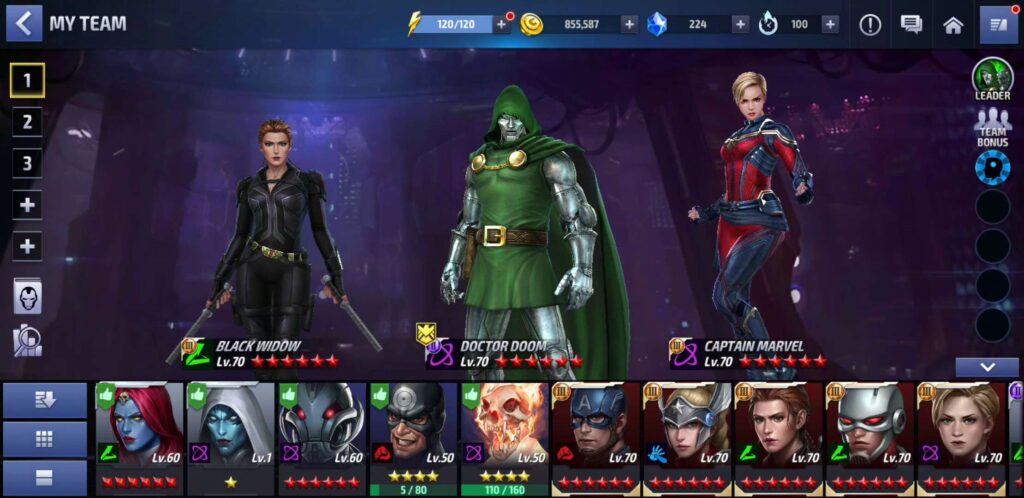 The visual of this game is just too awesome and you will definitely feel like the real Marvel characters are there in your mobile screen! After downloading the apk from the Play Store, you have to download the data file of this game which is more or less 3 GB! So, if you're thinking of downloading this game, make sure your device can handle this game properly. But, if your phone is a high-end smartphone then you should definitely play this game at least once.
One of the latest game from Gameloft is Gangster New Orleans & it have already got so much popularity because of its gold-standard open world action-packed gameplay just like GTA 5. This game undoubtedly provides all the tools from the city of New Orleans in order to make you a real Gangstar. After Gameloft's Gangstar Vegas's huge success, Gameloft had decided to launch another game of this open world action adventure genre. Thus, we have got another awesome game like GTA 5 for Android which is also considered as one of the best action games for Android recently.
Gangstar New Orleans contains AAA quality graphics like PC games & this graphics quality makes the action more awesome & exciting. You can go to different districts of New Orleans to taste unique flavours of action. Apart from the single player story mode, this game provides various multiplayer game modes like GvG (gangster vs gangster) that can lift the level of action to another height.
Turf War is another game mode of this game in which you have to claim your turf & then defend it from rival gangs. Hundreds of guns, other heavy weapons, vehicles are available so that you can choose your personal style of crime & action. Want to be a gangster & rule the underworld in New Orleans? Then download & play this game.
Vegas Crime Simulator is literally one of the best games for Android in terms of open-world actions. It's only around 100 MB & is easily playable in smartphones with weak processors or low RAM. This game provides almost same gaming experience like GTA game series & Gameloft's Gangster Vegas.
It has a 3D large open-world structure of Las Vegas along with surprisingly beautiful graphics. This game has everything that an open-world gangster game should have. There are countless missions such as confronting other gang members, racing with other opponents, attacking politicians, polices, militaries, etc. are available. So, it is for sure that action is pretty unlimited in this awesome game.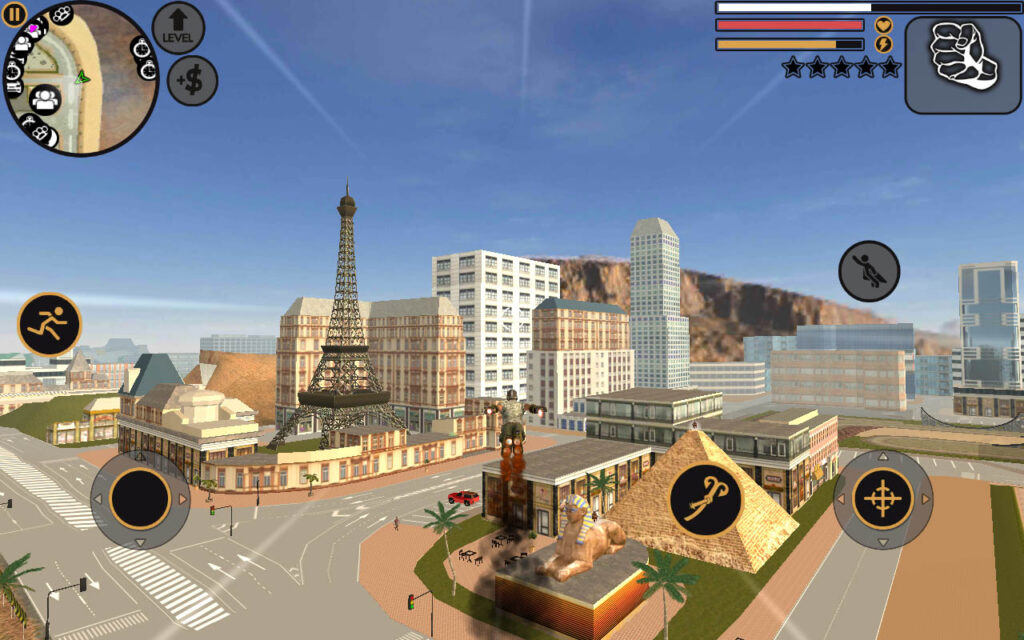 In the game shop, you can get sci-fi hyper cars, fighter planes & copter, rocket launcher, railgun and other modern vehicles & weapons by which your gangster can be the strongest of the Vegas city. Various outfits are available that you can purchase & give your gangster a rebellious look. This third person gangster simulator may be the best gangster simulator & one of the best action games for Android devices that are less powerful. In such a low size, Vegas Crime Simulator offers almost every possible thing like a GTA game. You will regret if you don't give it a try.
Want to slap someone? Or want to drive out all your anger & frustration? Then, my friend, this game is the best for you. You have to slap your opponents with your full power & accurate timing to knock them out but Hold on! Your opponent can slap you too! So, slap or be slapped.
This amusing action game provides you ultimate relaxation for sure. You will definitely love watching your opponents fly out of the ring when you hit the knockout blow. How far can you go in the face slapping tournament? Think again. If you really love to smack, hit, slap then this unique fun-filled action game is really made for you.
Vegas Crime Simulator & Real Gangster Crime are two of the best games developed by Naxeex. While Vegas Crime Simulator is better for its unlimited action-packed gameplay & countless features, Real Gangster Crime is better for its realistic graphics. In only around 100 MB, this game possesses incredibly good quality of graphics. The modern open world city of this game is surrounded by ghetto areas. The touch of modern elements makes the gameplay more exciting & action-packed.
The robots, Hyper cars, modern weapons are the common materials in this game. You can do whatever you want like other open world games. In the shop, you can get sci-fi hyper cars, fighter planes & copter, rocket launcher, railgun and other modern vehicles & weapons. You can customize your character from the hundreds of dresses to make him look like a real gangster so that everyone can fear you. In such a low size, this game is indeed one of the best action games for Android which is why you should not miss this one too.
If your android phone is not strong enough to handle big action games like PUBG, Gangster Vegas, Marvel Future Fight etc. then you should try this nice action game which is only 20 MB in size. It is a first person shooter action game which has 30+ real-life weapons with which you can go through 100+ challenging missions full of actions. This cool 3D shooting game also has a PVP mode in which you can play with other players in online. So, a great action game in such a small size that you may like to play in your low-end Android phone.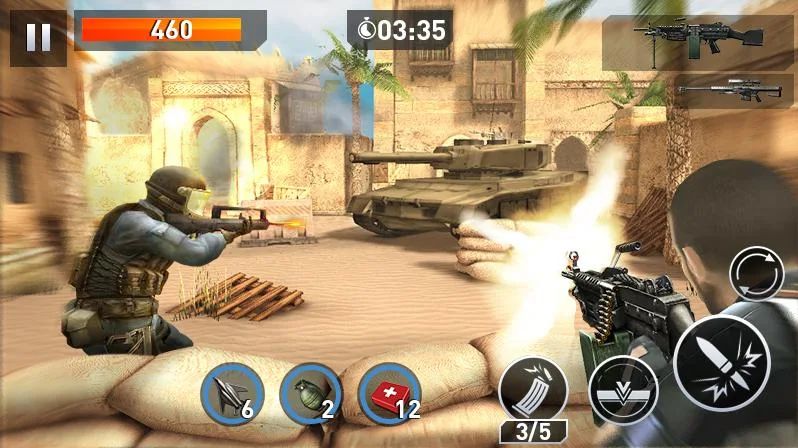 MadOut2 is one of the most unique open world action games available for Android. This game is filled with a huge open world city in which you can do whatever you want such as driving cars, killing people, destroys almost everything & many more things. Tons of cool cars & weapons available in the shop only for you to own the city in order to make it your underworld. There are different missions available in this game in the single player mode. In multiplayer mode, there will be up to 100 players playing on that open world map. Kill all of them to be the ultimate gangster of this city. Anyway, in short this is a pretty good game & you will know more about the features of this game when you start playing it.
This is another very small sized gangster action game by Doodle Mobile Ltd. Grand Gangsters 3D is only 22 MB & it has so much features that will make you crazy. With comparatively good quality graphics, this game has a open world environment in which you can roam, kill, steal, murder, destroy everything to become the most dangerous gangster.
There are tons of action-packed missions & other possibilities available in the 4 areas of the city. You can get various auto vehicles & 15+ cool weapons from the shop section. In short, the game is a good one because of what it provides in just a small size like this. Any low-end Android device can easily handle this game so if you have a low-end phone & you cannot play games like Gangstar Rio, Gangstar Vegas then you can definitely go for this decent action game.
Therefore, these are the 20 best action games for Android that you can obviously enjoy playing. All of them are superb in terms of action-packed gameplay so you just have to pick your preferable game, install it from the Play Store & dive into the action world of the game. Anyway, we hope that you have really enjoyed reading this article about the 20 best action games for Android. And, if you found this article really helpful then don't hesitate to express your valuable thoughts in the comment section below. Thanks for visiting & appreciating our work.