It's been a long time since we have created an Article about the in-detail definition of Thunderbolt Port and explained all of its features along with all the versions. So, we have decided to provide the spotlight to Thunderbolt 3 particularly in this article in order to make you realize how amazing Thunderbolt 3 exactly is! Therefore, without further ado, let's get started.
A Little Introduction to Thunderbolt
Thunderbolt is a standard of a hardware interface developed and introduced by Intel in collaboration with Apple that helps to connect devices externally although Intel later owns this interface. That's why if any manufacturer wants to implement this interface on their products then they have to pay some royalty to Intel, unlike USB which is generally a royalty-free interface.
Thunderbolt's History: Tiny Yet Captivating!
The hardware interface Thunderbolt was initially named "Light Peak" in 2009 when it was very first developed as a prototype by Intel. In that time, this Light Peak technology was fully optical-based and all the data transfer was used to be done by optical fiber cables but after some time in 2010, Intel switched it to electrical connections in order to reduce the expenses and to supply up to 9.9 watts of power to the connected devices that mean they switched optical fiber cables to copper wires to supply power to the devices that are connected to PC with Thunderbolt. But wires that are made with copper can only be extended up to 3-metre whereas if you use optical cables, you can get a maximum of 100-metre Thunderbolt cable possibly.
With Great Speed, Comes Even Greater Responsibility!
Thunderbolt 3 was first commercially introduced in 2015 as the most advanced version of the whole brand that came with many more extra eye-popping features starting with its huge speed:
Thunderbolt 3 provides a maximum speed of 40 Gigabit/s and if we convert it into Gigabyte per second, it will be 5 GB/s which is a really massive speed to utilize. This speed is 2× faster than the latest USB 3.2! Isn't that so surprising?!
The specialty of Thunderbolt 3 is hidden in its connector as it uses a USB Type-C connector. On the other hand, Thunderbolt 1 & 2 use Mini DisplayPort (MDP) connector. When only there were Thunderbolt 1 & 2, mostly Apple uses these interfaces but after the release of Thunderbolt 3 and its utilization with the USB type C connector, it has become common for almost every manufacturer company to apply it in their expensive laptops like HP, Dell, Asus, etc. And also, in desktops, if the motherboard supports it.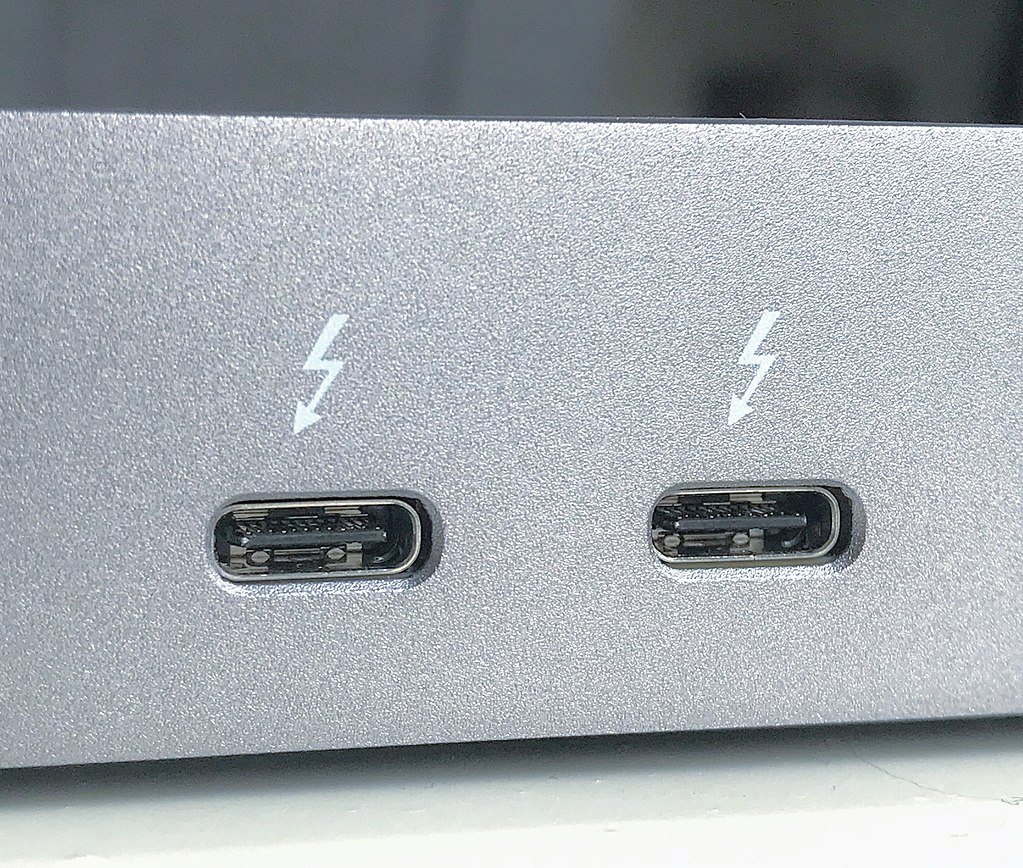 With the help of Thunderbolt 3 using a USB Type-C connector, you can supply power to the connected devices up to 100 watts which are really huge, right? By using Thunderbolt 3, you can charge your connected devices such as laptops and there will be very less chance of cable hazard.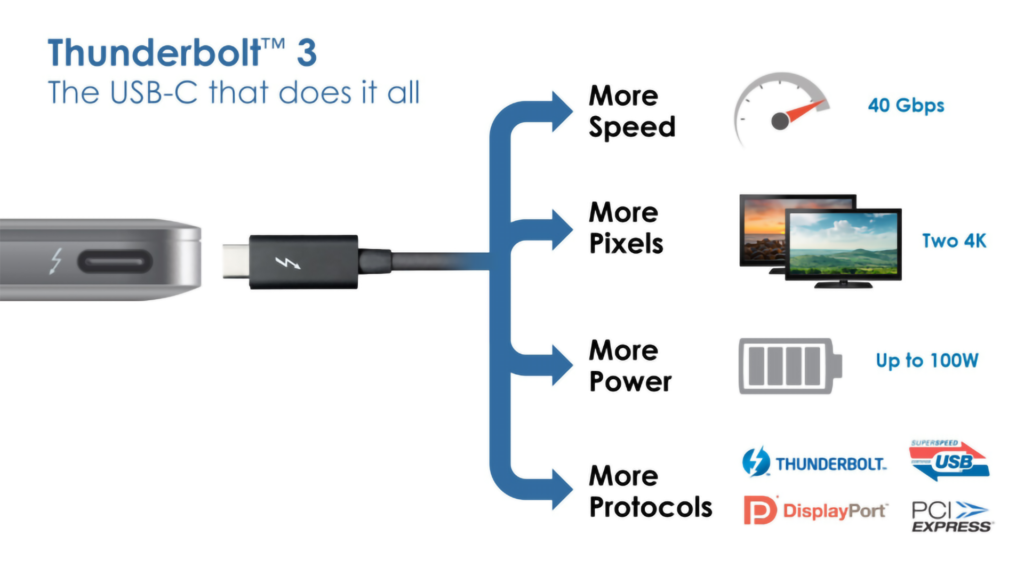 Thunderbolt is the one & only interface by which you can daisy-chain up to six different Thunderbolt devices through a single port without needing a hub or a switch, unlike USB which definitely needs a USB hub to connect multiple devices with each other. Daisy chaining is only available on all the Thunderbolt versions from Thunderbolt 1 to 3. Thanks to this Daisy Chaining facility, there will be no trouble regarding cable mess.
Moreover, Thunderbolt 3 can provide video data to the displays while serially supplying data to other devices like SSDs, hard drives, etc. by using Display Port & PCI Express Lanes which is why this interface is so fast & efficient.
One of the biggest benefits of using Thunderbolt 3.0 is, you can connect two 4K 60hz monitors together in a single port. Not only you can connect but also you can get audio support from the two different connected monitors by using daisy-chaining. So, you can see how amazing and awesome this particular benefit is.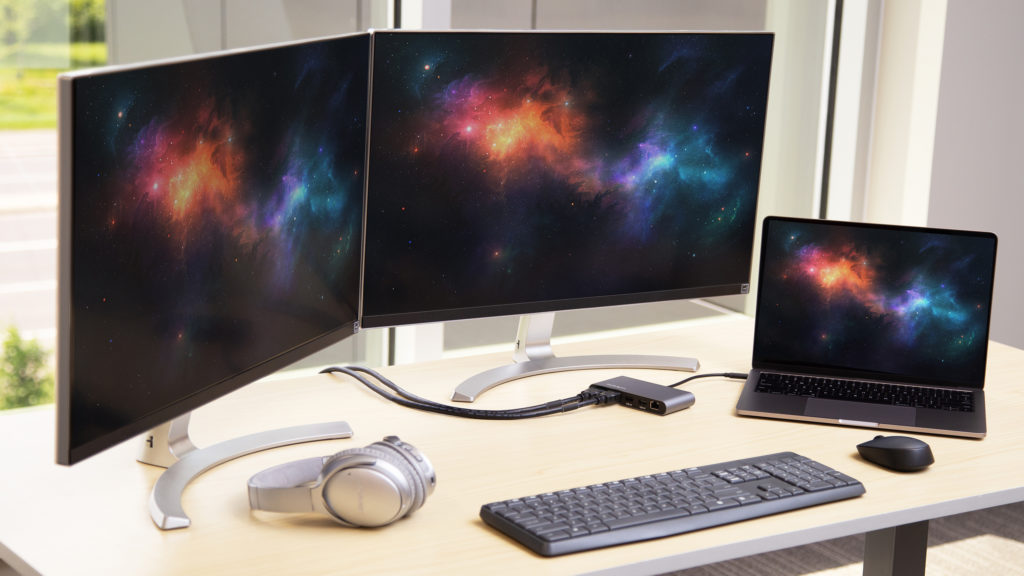 Thunderbolt 3 provides Ethernet that has a 10 Gb/s speed. If you want that data transferring speed, then you have to purchase a very costly network card but if you have a Thunderbolt port in your device, then just purchase an adapter and you can easily get 10Gb/s Ethernet by using Thunderbolt 3.
I think you are probably familiar with the thunderbolt port placed on your computer. If not then just look for a logo of "Thunder" beside the port. If there is a logo like the thunder, it's obviously Thunderbolt. If you want to know about it in detail, you should check the device's specification properly to know whether your device is possessed by Thunderbolt or not. Check the details and you will be thanking yourself in near future.
The Thunderbolt interface is backward compatible so if you are thinking of connecting Thunderbolt 1 or 2, you have to purchase a suitable adapter for that as Thunderbolt 3 uses a USB Type-C connector but previous versions use Mini DisplayPort.
If we compare the speed & power delivery of Thunderbolt 3 with it's older versions then we will find that Thunderbolt 1 provides a maximum speed of 10 Gb/s along with 9.9 watts of power delivery whereas Thunderbolt 2 provides a maximum speed of 20 Gb/s along with 9.5 watts of power delivery so, it's pretty clear than Thunderbolt 3 is totally incomparable &  superior to all of them.
Why Thunderbolt Is Our Future?!
In terms of speed, flexibility, compatibility, facilities, almost in every way, Thunderbolt 3 is beyond excellent. Even in most of the cases, for using External GPUs, manufacturers provide Thunderbolt. So because of lightning-fast speed and tons of cool features & facilities, we can assure the fact that in near future, we will see Thunderbolt in every device. Although in today's world, Thunderbolt is somewhat costly for some devices because of its royalty, we can hope that very soon, every manufacturer will provide the support of Thunderbolt in their devices.
Want to know more about Thunderbolt 3 In Hindi Watch the video below…
Therefore, that's all about the awesomeness of Thunderbolt 3. We hope you have understood as well as enjoyed this article. If so then don't hesitate to express your valuable thoughts in the comment section below. Thanks for visiting & appreciating our work.