Windows is definitely not a free operating system because after installing, you have to activate the Windows, right? Well, this was true for older versions of Windows but after releasing Windows 10, some changes are made. You can use Windows 10 or Windows 11 without activating but there are some limitations. So, what happens when you don't activate Windows 11? Let's discuss them briefly.
You Can't Personalize Your Windows!
If you don't purchase a license or don't activate Windows 11, the most annoying problem you may face is that you can't customize your Windows, mainly the Personalization settings. You can't customize Themes, Lock Screen, Color. Now, that might be essential for you but not for everyone. They just want to use an OS to smoothly run their workflow. For them, inactivated Windows will not create any problems whether it is Windows 10 or Windows 11.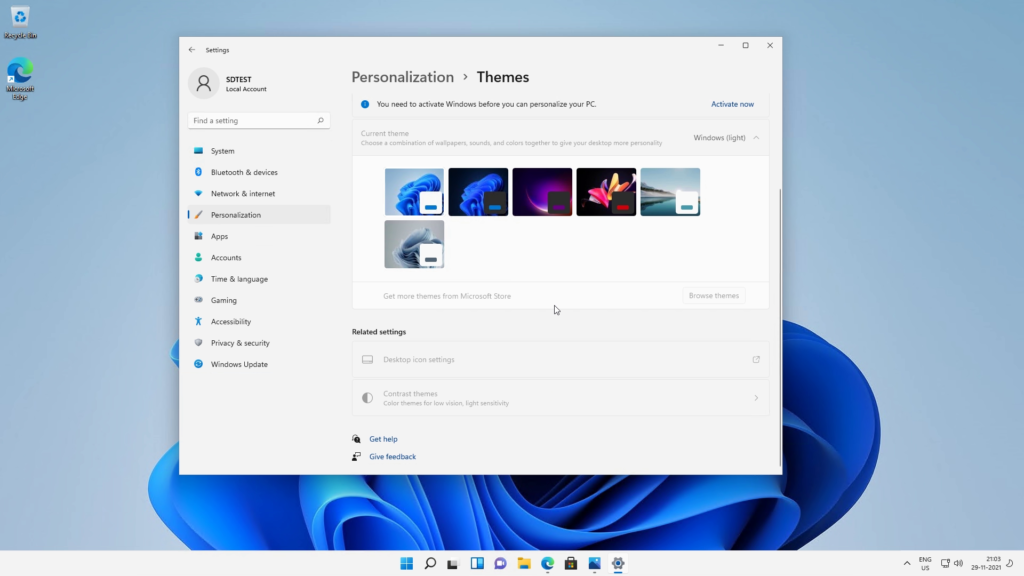 Watermark Could Bother You
If you don't activate Windows 11 or 10 and continue using Windows 11 or Windows 10 without the activation then often you will see a watermark on the desktop wallpaper's down-right side corner that reminds you to Activate Windows. You though can ignore it because it doesn't disturb any of your workflows but some people don't want to see this kind of message. Basically, they think being visible with this kind of message with screenshots or on-screen sharing with someone remotely doesn't make a good impression.
For those of you, the best solution is to activate Windows 11 or Windows 10 but if you don't want that option then you can use the Windows registry editor to remove Activate Windows watermark although I never recommend you to tweak Windows Registry unnecessarily as this could lead to many other errors you may face in near future!
Microsoft Will Remind You Every Time:
Activation Message on Windows Settings
In the Windows 11 settings, you can find an activation message every time if you haven't activated your copy of Windows. The same goes for Windows 10. You can find a link there too. By clicking that link, you will redirect to the Windows activation panel in Windows Settings.
Sometimes with Frequent Notification to Activate Windows
This is a bit annoying. Sometimes, while using Windows on important work, countless notifications at a particular interval to notify to activate Windows definitely make you frustrated. Whether you are watching a movie or reading an article on the internet, Windows will try its 100% to disturb you so that you will buy a valid license soon enough but if you can ignore it then you can use the inactive version of Windows. Thankfully though, this popup doesn't interrupt any of your workflows unlike Windows 8 and Windows 8.1. The pop-up just displays on the down right side corner of the taskbar after certain intervals. besides, the problem inactivated Windows, Windows 11 also has lots of other issues that may bother you. In terms of updates and other Windows features that aren't disabled in inactivated Windows, you can definitely use them.
Read Now: Problems with Windows 11 that Stop You to Upgrade!
Is it really Necessary to Activate Windows 11 or 10?
Well, it depends. Technically, you can use inactivated Windows for a lifetime but you shouldn't if you're planning to stay on the Windows platform. You may have to face some issues with inactivated Windows. Although, if you're not currently in the situation to spend some money just to buy an operating system then you can use the inactive version of it but don't activate Windows 11 with Windows 11 Keygen or some kind of activation software. That's dangerous!
Therefore, you can continue using the inactive version and when you have enough money to spend on it then you can just purchase a license from Microsoft or invest in Windows 11 OEM keys which are pretty pocket-friendly. Anyway, we hope, you have found this article helpful enough. If it really so then don't hesitate to express your valuable thoughts in the comment section below. Thanks for visiting & appreciating our work.