Learning is an eternal process and it is a treasure that finds its owner everywhere so anybody can be a learner regardless of any age. In today's modern world, almost everything has been attached with technology and learning is not an exception. Nowadays, we can find numerous apps that help us to learn whatever we want to, from academic studies to job courses, from general knowledge to foreign languages; everything we aspire to. So, if you want to be a next-level learner & gain vast knowledge then here are the 10 best learning apps that you should use. All of them are great in their own way of teaching. Let's know all of these 10 best learning apps in detail right now.
Brainly is one of the best if not the best learning app for academic studies. It is a blessing for the school students as it helps them to overcome the tough chapters & subjects in an excellent way. Hundreds of experts from Brainly provide explanations & solutions for almost every NCERT, CBSE, ICSE & State Govt. Based subjects & chapters.
Brainly also has a whopping 250M+ community of students and learners who would always like to answer the questions you have stuck with. Just snap your questions from your book on Brainly and receive help from other students within moments. Not only in academic studies, but Brainly is also pretty capable of providing vast knowledge & education about any entrance exams such as JEE, NEET, AIIMS, and about any job exams such as SSC, UPSC, IBPS, RRB, etc. Moreover, Brainly is totally free to use! So, it is really an amazing app which is a must if you are a student, specifically a school student.
BYJU'S is most probably the most popular and certainly one of the best learning apps that any school student should use. With video lessons, live classes, personalized learning & limitless practice sessions, a student can easily learn almost anything on any subject by attending BYJU'S Classes. With the help of thousands of expert teachers around the globe including Founder & CEO, Byju Raveendran, every concept would be easy peasy for you.
From Class 4 to 12 CBSE, ICSE & State Board complete studies along with competitive entrance exams like IIT JEE, NEET, AIIMS, etc. can be easily prepared through this app. Different types of mock tests & quizzes are also available in BYZU'S so that the students can prepare for challenges. Thus it is no secret that why BYJU'S is one of the versatile & best learning apps that any student of any stream can consider using to pursue their dream career.
If you want to learn & speak English along with more than 30 languages such as Chinese, Japanese, Korean, Spanish, French, German, Italian, Russian, Portuguese, Turkish, and many more then Duolingo is the app that you should consider learning because Duolingo is literally the most popular as well as one of the best language learning apps out there in the Play Store. The short lessons with mini fun-filled classes of this app will help you to easily improve your English or other languages.
With that short lessons like games, you would be able to practice speaking, reading, listening, and writing to improve your vocabulary and pronunciation of English & other languages that you aspire to learn. Additionally, you can learn new words daily. Moreover, it is totally a free app! Isn't it amazing? An app with this much popularity and uniqueness is still a free app. Thus, it is proven that Duolingo is one of the best learning apps and you should use it if you want to learn spoken English or other foreign languages in a unique & exciting way.
Unacademy is undoubtedly one of the most popular and best-learning apps, especially for job aspirants. With the help of Unacademy's top educators, live classes, mock tests & quizzes, your journey to crack your dream exam will become smoother. You can easily prepare for IIT, JEE, NEET-UG, CAT, SSC Exams, State PSCs, UPSC, and other Govt. & non-govt. competitive exams with the help of this incredible learning app.
Even, CBSE class 6 to 12 students can also get help from this app where top educators are always here to help regardless of any subject. Just upload the photo of the question on the app & in a minute, top educators will be providing you solutions. Not everything in this app is for free but going premium is not a bad idea too since it provides so much to help and learn. Although without investing a penny, you can also get lots of help as Unacademy is truly an amazing learning app that comes with more than 130k+ live classes per month for their 59M+ learners! So, if you want to ease your way to your dream job or exam then you should make Unacademy your close friend.
WhiteHat Jr is quite the newest in the fields of learning apps still it has created its own place pretty easily on the top by providing unique ways of learning something new, something special & something creative. This learning app is a specialist for Maths, Music & Coding as it provides free live 1:1 online classes for students in grades 1-12. Coding is the specialty of this app because even in today's modern world, we can't often see schools teaching coding but this app does!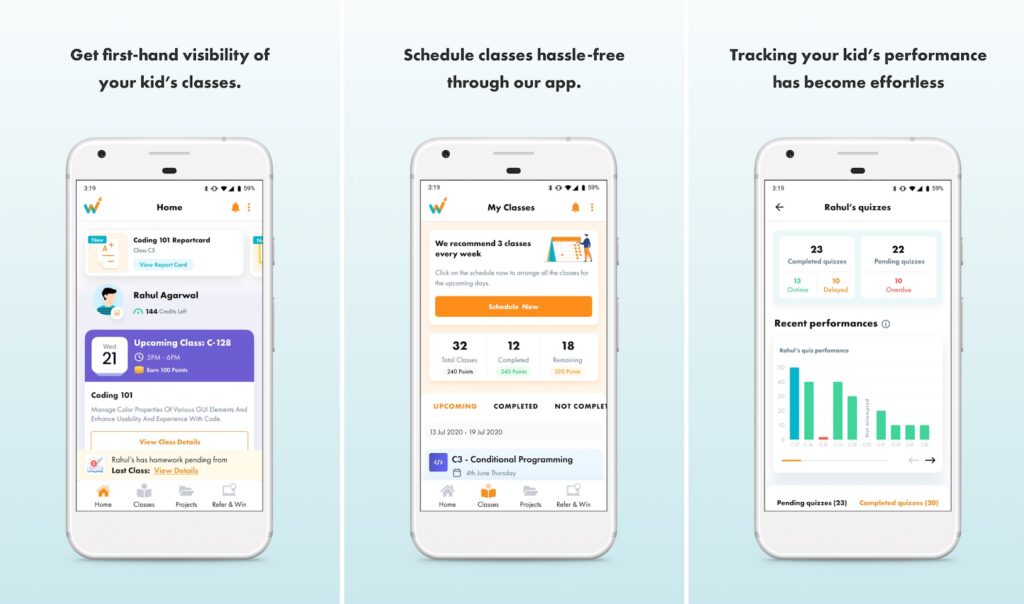 If the students can learn coding that easily, he or she can create websites, animations, apps & many more necessary things. The top educators of WhiteHat Jr teach the fundamentals of coding such as logic, structure, sequence, algorithm, etc. which helps the students to learn faster & create unique as well as useful sites, apps, and more. So, if a student wants to learn something unique like coding along with music & maths then he or she can install this unique learning app called WhiteHat Jr.
Previously this app was named "Gradeup" until BYJU'S bought it & named it "BYJU'S Exam Preparation: Live Classes". Anyway, this is a very useful learning app for job aspirants who want to prepare and crack their dream exams to get their dream jobs. With the help of this app, you can prepare yourself for any competitive Govt. & non-govt.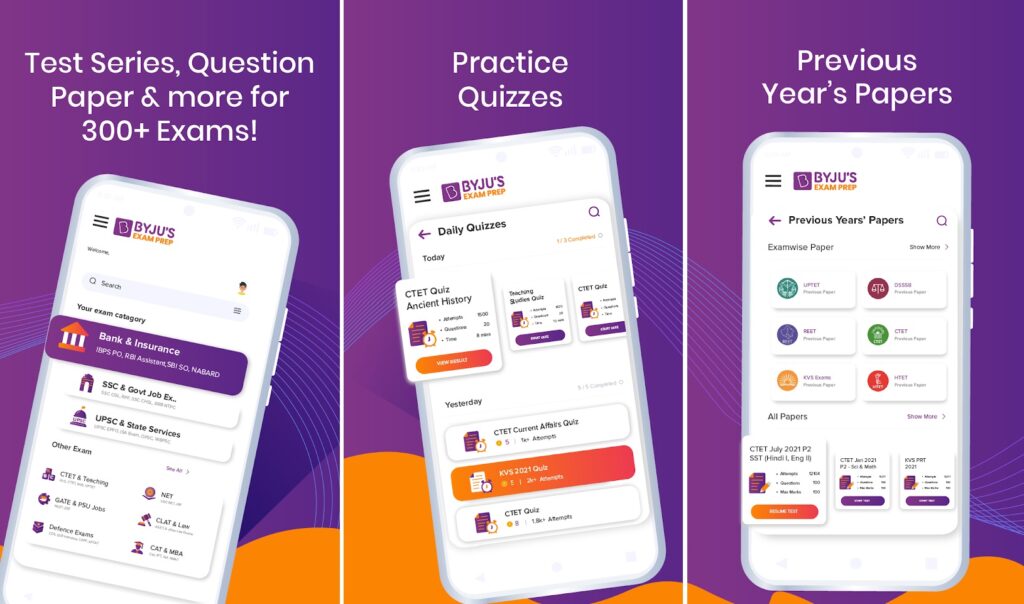 Exams such as SSC, SSC JE, GATE, CDS, NDA, CLAT, CAT, MPPSC, CGL, CHSL, CPO, RRB, NTPC, IBPS PO, Clerk, IBPS RRB, RBI Grade B, GATE, ESE/IES, HPCL, UPSC, UGC NET & many more with the guidance of this awesome learning app. With the help of mock tests, quizzes, live classes and 300+ comprehensive exams provided by the experts in this app, your preparation for the exams would be simpler than ever. So, this is a learning app that you can choose to use if you are a job aspirant and want healthy guidance.
Just like Duolingo, Cake is another very cool learning app that helps you to improve your English speaking ability in an interesting & fun-filled way. But, unlike mini-games & lessons, Cake provides videos from where you can learn & improve your spoken English daily. With the help of these videos provided by the experts from the app, you can truly learn to speak the native English as well as expressions & pronunciations. While watching the videos from Cake, you have to notice the subtitles & repeat it after each line which will be checked by the AI of the app whether it is correct or not. In that way, you can easily learn to speak English like the native people.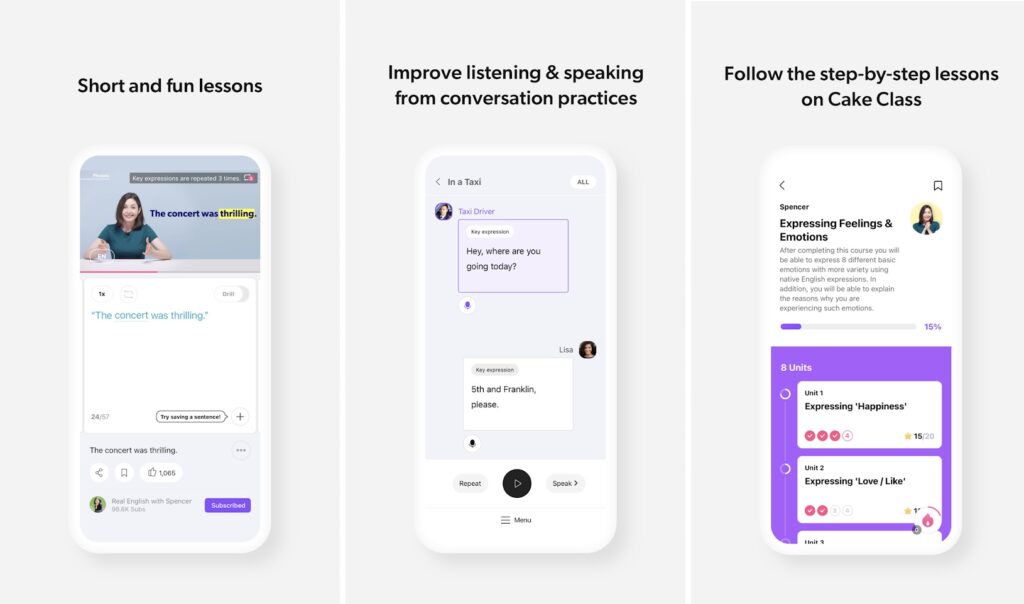 Moreover, daily expression clips, quizzes,  lectures, classes & sentence practices are also available in this English learning app so that you can learn English in the best way possible. Unlike Duolingo, Cake comes with a premium version of its own which is called Cake Plus. To improve your learning further, you can purchase Cake Plus and access exclusive content of that premium version. Unfortunately, Cake is limited to only English learning but frankly speaking, it is one of the best English learning apps on Android, that is for sure. So, if you want to speak English like a pro then eat Cake, I mean, install Cake.
Vedantu: LIVE Learning App | Class 1-12 | JEE, NEET
Vedantu is another one of the best learning apps especially for the school students and as its name suggests, it provides a complete guide of academic studies to the school students of class 1 to class 12 of CBSE, ICSE, State Boards & any other boards of the nation. Moreover, Vedantu guides the students for competitive as well as entrance exams such as Olympiad, IIT JEE & NEET.
With the help of test series, online study materials, assignments, live classes, you can get quality education from Vedantu. In addition, Vedantu is a free app so you don't have to invest a penny on it. So, in short, just like other learning apps such as Brainly, BYJU'S, Toppr; Vedantu is also an amazing app specifically for academic studies that you can use to learn & educate yourself.
Toppr is another decent learning apps mostly for academic studies of school students. You may purchase a paid subscription for better facilities from this app. This online app is quite similar to Brainly & other learning apps like this, which mostly provides the studies and online coaching for CBSE, ICSE, State Boards from class 5 to 12 along with JEE, CA, NEET & AIIMS exams.
Video lectures with multiple languages are also available in this app about all the chapters and topics. Like other apps, Toppr also provides all the NCERT solutions on their app so that students can easily help themselves if they are stuck in a question. So, Toppr is another app that school students can consider using for their help in studies & exams.
Memorise Easy Language Learning
This is another excellent app that helps you to learn multiple foreign languages with ease. Just like Duolingo, Memorise also provides the opportunity to learn & speak more than 20 languages such as Spanish, French, Portuguese, German, Japanese, English, and many more. With the help of over 50,000 video & audio clips along with proper expressions, sound, tone & rhythm, you can effortlessly learn your needed or desired languages within months.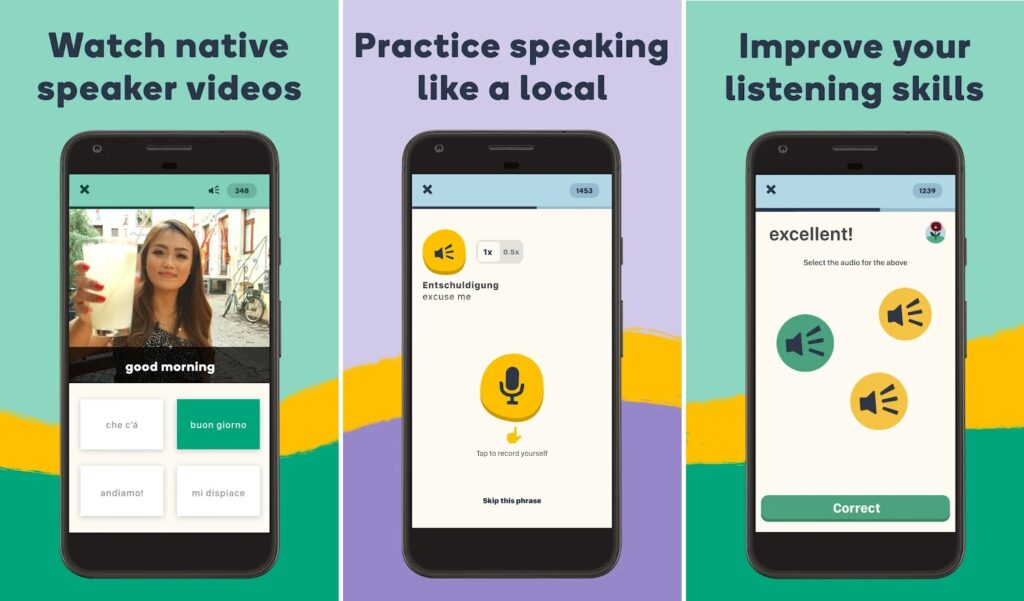 With the help of native experts of particular languages from this app, your journey to learn the languages will be simpler than ever! Unlike Duolingo, Memorise is not a free language learning app rather it possesses a pro subscription that you should purchase if you want to access all the learning features that help you to progress even faster. Anyway, this outstanding app, Memorise is also a great option for you if you need to learn multiple foreign languages properly and effortlessly.
Therefore, these are the 10 best learning apps that any students or job aspirants can use to excel their knowledge & provide it into their academic career or to crack their exams for their dream jobs. Whatever your goal is, just install the apps which seem necessary to you and start learning & gaining knowledge in order to progress in your goals. Anyway, we hope that you have found this article about the best learning apps helpful enough. If it really so then don't hesitate to express your valuable thoughts in the comment section below. Thanks for visiting & appreciating our work.