As USB Type-C becomes popular over the years, manufacturers have come with so many unique ideas that completely change the industry. Recently, Kingston has launched a flash drive aka pen drive or thumb drive whatever you call it, that can achieve a whopping 900MB/s write speed! This is the first consumer-grade external storage that offers this incredible speed and we would say it is more than enough that we need in 2021!
Kingston DataTraveler Max (DT Max) Specification
On 30th August, Kingston has announced this incredibly fast external storage solution that can fit in your pocket, and because of their fabulous small and unique design with the dimension of 82.17 mm x 22.00 mm x 9.02 mm, you can use it as a keyring of your car or bike key.
By taking advantage of USB Type-C and USB 3.2 protocol, Kingston DTMAX offers up to 1000MB/s read speed and 900MB/s write speed which is 10 times faster than traditional external hard drives and 2 times faster than external SSDs! So, for those who require on-the-go storage to store their HD images, 4K/8K videos, music, and more, this is definitely a great buy for them. DTMAX also offers a status LED indicator which we have missed nowadays in most of the thumb drives.
The most interesting part is the storage capacity. In the size of your fingers, it offers up to 1TB of storage capacity! Although according to your needs, you can buy 256GB or 500GB option.
A Bit of USB Type-C
USB-C is a reversible 24 pins connector that was introduced with USB 3.1 (10Gb/s). There are so many different names of USB 3.1 – USB 3.1 Gen 2 and USB 3.2 Gen 2. Kingston basically uses USB 3.1 protocol to achieve this huge data transfer rate.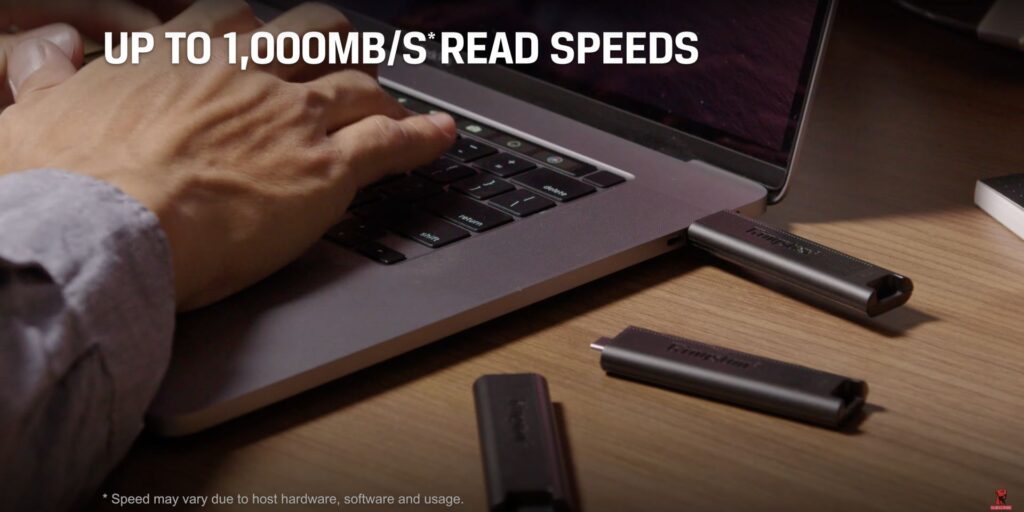 As you know, we generally have used USB Type-A port to connect our Pen drive but the annoying problem we all are facing is loose port. As time passes, most of the USB Type-A ports are getting loose and because of that, our Pen drive sometimes doesn't come in contact with the computer. If this loose connection occurs during data transfer then there is a high chance of data corruption.
This doesn't remain a problem with USB Type-C as offers far more durability than USB Type-A. USB Type-A offers a minimum of 1,500 cycles of insertion and removal whereas Type-C offers more than 10,000 cycles!
Read Now: USB Type-C Everything We Know About
Problems With Kingston DataTraveler Max
We think the DTMax is perfect but our devices are not designed for this modern technology. USB 3.1 supported Type-C ports are still not so common on computers. If you don't have one then you can't achieve the rated speed of this thumb drive.
Definitely, for older devices, this pen drive is not designed for. If you have one then we recommend you to stay away from this thumb drive. That old device may not have any Type-C port, in that case, you have to buy a USB Type-A to Type-C adapter which might not be so convenient because your old device definitely does not support the USB 3.2 Gen 2 specification on the Type-A port. It is not possible and definitely this Pen drive doesn't come in cheap so if you don't have a suitable device, you should have stayed away from Kingston DataTraveler Max unless you want extreme future-proofing.
Kingston DataTraveler Max Price
With these incredible features, this thumb drive is definitely very expensive. According to 'bhphotovideo', it is  165.60 US dollars and according to 'Databyran', it is listed 1949 Swedish Krona. If we consider both the pricing then we can expect in India it may be sold at 12000 to 16000 Indian Rupees! Not a pocket-friendly one but professionals definitely consider spending their money on this extremely high-speed external storage solution.
In concluding lines, Kingston DataTraveler Max is not for everyone at least for now but as time passes, more manufacturers dive deep into this technology & it will get cheaper but can't expect to be super cheap as we buy general thumb drive nowadays. When Pen drive was introduced they were sold at very high price tags. My first 8GB Pen drive based on USB 2.0 was bought in 1000 Indian Rs almost 14 years ago but now in 1000 Rs, you can get 64GB USB 3.0 Pen drives. See, how technology advances with time!