Marvel Phase 4 is saturating with surprisingly great TV shows and movies. Fans have already been immersed into Spider-Man No Way Home, Wanda Vision, Loki along with the upcoming, Doctor Strange In the Multiverse of Madness. In between these fabulous creations, Marvel recently has dropped a trailer of a new show in Disney Plus – Moon Knight. The incredible official trailer basically wowed us out of nowhere. According to the comics, Moon Knight's power was granted by Egyptian moon god Khonshu and it is revealed in the trailer that Oscar Isaac's Moon Knight is one of the personalities of Steven Grant. It would be our pleasure to see how he and his powers will fit into Marvel's phase 4. So without wasting any more time, let's dive into all the details such as release date, cast, trailer, and most importantly, what can we expect from the show, Moon Knight?
Moon Knight Origin Story: Who is Moon Knight? What are Moon Knight's Superpowers?
The trailer told us a lot. Everything was begun with Steven, a worker at the gift shop. As the trailer progresses, we are shown that Steven finds a cell phone. Someone says from the other side that he is not him as he knows himself, He is 'Marc'. There is a catch here, Steven is suffering from dissociative identity disorder a condition that means he has multiple personalities. Steven Grant/Marc Spector is struggling to sleep and says that he can't tell the difference between real life and dreams. In Marvel comics, Steven possesses 4 other different personalities – Marc Spector, cab driver Jake Lockley, Moon Knight, and the white-suited Mr. Knight.
It also seems pretty odd that the story is not beginning in traditional Marvel Manhattan. It is London unless he is not in dreams. Anyway, according to the comics, Moon Knight's power was granted by Egyptian moon god Khonshu. Marc Spector who is an ex-mercenary with dissociative identity disorder was granted superhuman abilities by the Egyptian moon god Khonshu after a fatal fight with a rival. Basically, the comic series is highly influenced by Egyptian mythology. In the trailer, we have also seen Khonshu for a brief moment – Marc/Steven in the elevator, elevator door is just going to shut then the light flickers and Steven sees Khonshu! However, in the trailer of the show, we have seen Steven who is an alter-ego of Marc Spector.
In the trailer, we have seen Moon Knight badly pummelling a creature probably Werewolf by Night. That means, sooner or later we will meet Blade – A Hybrid of Vampire and Human. So, the time is not so far when Marvel will introduce us with Count Dracula, the King of Vampires.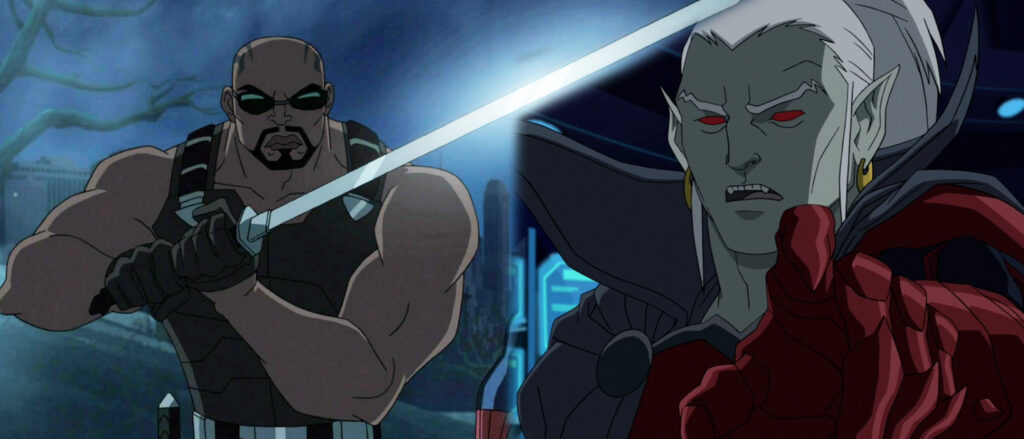 Anyway, In terms of powers, Moon Knight relies on his superhuman fighting prowess and high-tech gadgets like Batman. In the trailer, however, we are teased that Oscar Isaac's Moon Knight may have supernatural abilities like Healing Power and has the ability to knock out death if Khonshu is kind to him. We can't be so sure about these things until the release of the show.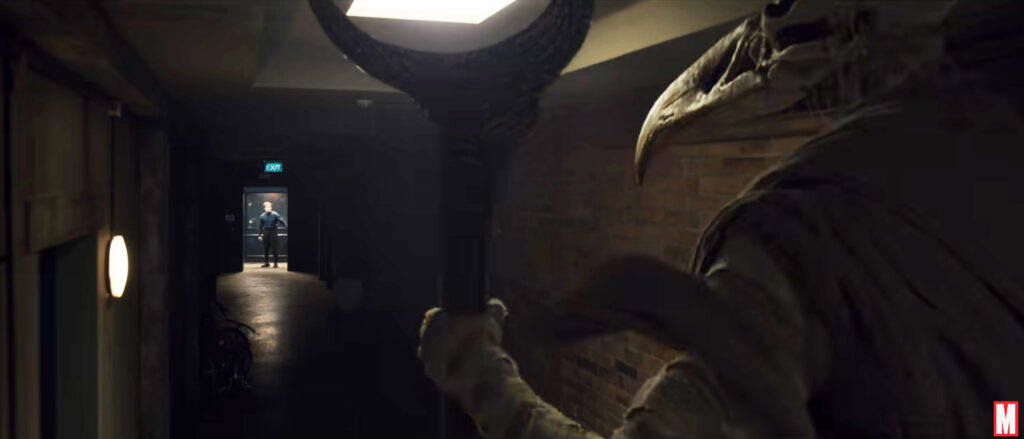 There is another thing that flies over our head which is the suit up of Moon Knight. Is the scene in the trailer really happening? or is Steven just dreaming? There's a lot that obviously needs explanation and we can be sure that the show reveals everything.
Moon Knight Release Date & Episode Details [Confirmed!]
Moon Knight – the show will release in Disney Plus on 30th March Wednesday. Following the rule of previous shows, it will have 6 episodes each will expected to be at around 40 to 50 Minutes. That raises one question, will Moon Knight be able to gain popularity? As the series' final episode will arrive on May 11 five days after Doctor Strange 2, the hype may be shifted to Doctor Strange's movie but to hold the potential of the new character in MCU, there might be something that connects the Doctor Strange Multiverse of the Madness with the Moon Knight series.
Moon Knight Cast Revealed!
There's not so much information about who's playing what roles but as we have seen in the first official trailer:
Oscar Isaac will play as Moon Knight/Marc Spector/Steven Grant
Ethan Hawke will portray the character of Arthur HarrowLoic Mabanza will act as Bushman
Lucy Thackeray will play as Donna
Gaspard Ulliel will act the role of Anton Mogart aka Midnight Man (according to comics)
May Calamawy as TBC.
In the trailer, we have seen leading actor Oscar Issac played 3 different roles, they are basically alter-egos of one character that's Marc Spector. However, Steven Grant gets the most screen time in the trailer. Steven Grant is a gift shop employee whose boss mostly taunts him for his abnormal activities. Basically, he is plagued with blackouts and memories of another life which he thought they are just dreams but sooner Steven discovers that he shares a body with Marc Spector. That ultimately reveals the connection with the ancient Egyptian God.
There's no mention in the tailer about the name 'Arthur Harrow' but in the YouTube version, if you turn on the subtitle, there's a dialog from him. Arthur Harrow's character is played by Ethan Hawke. Moreover, what we have understood in the trailer is that Arthur Harrow is a self-help guru or cult leader as we have seen a group of people is cringing in front of him.
Back in the comics, Harrow was trying to figure out to stop all the pain receptors in the human body. Unfortunately, he did by using old Nazi research. Using that research, he made an army with zombie-like soldiers whom Moon Knight had to fight. Although some fans assume that Hawke's character is a variation of Bushman and some also suggest that he may be Randal Spector, Marc's brother who becomes a mercenary himself and adopts two other identities: Hatchet-Man and Shadow knight, it is confirmed now that we will see Bushman portrayed by another actor Loic Mabanza.
In the cast, there are also May Calamawy and Gaspard Ulliel. May's role isn't confirmed yet. It is possible that May Calamawy would play Layla, whose voice we have heard on the other end of Marc's cellphone in the trailer. In the comics, there's a character named Layla Millar aka Butterfly who has some incredible powers like resurrection, healing & magic. Nonetheless, there's no direct connection between the Moon Knight & Butterfly in the comics or it could also happen in the series that Layla is Marc's love interest, Marlene. So, it could be possible that just for the series, Marvel changes her name to Layla or maybe there are both the characters shown in the series! Who knows? This is MCU and anything can happen!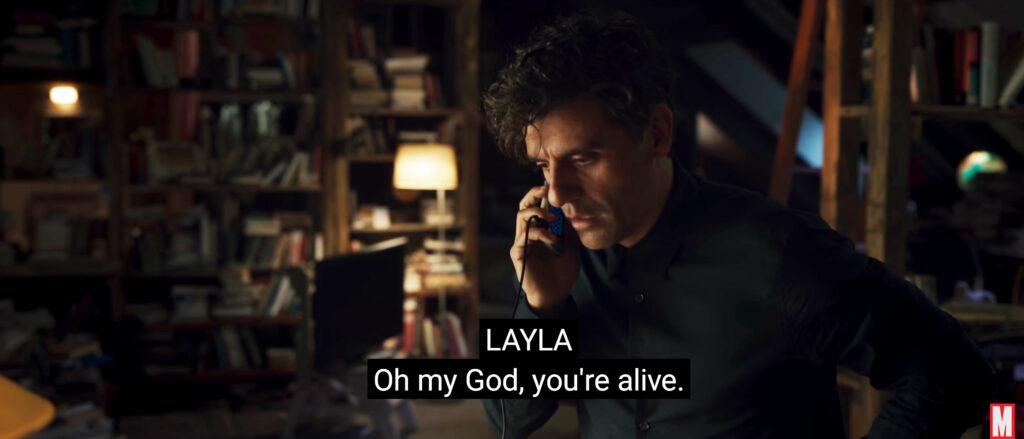 Gaspard Ulliel will obviously play the character of Anton Mogart – who steals art and goes by the name "Midnight Man." according to comics.
Moon Knight Expected Plot: what Could We Expect In The MCU's Future?
Obviously, by watching the trailer, it is impossible to guess the storyline, especially an MCU storyline. But as we have an idea from comics, we could expect what would be the plot and what would be going to happen in the series. This TV show will probably be the origin story of Moon Knight – an alter-ego of Steven Grant. As we have seen in the trailer, Steven Grant is an employee of a Gift Shop however he is a billionaire back in the comics. There's is a reference to Ancient Egyptian God Khonshu in the trailer that might reveal how Moon Knight gains his powers.
There is also a reference to possibly multiple villains in the series. Werewolf by Night, Arthur Harrow & Roald Bushman is the three names whom we would most possibly see fighting with Moon Knight.
There's another reference to a powerful superhero named Butterfly in the trailer. You may have seen in the trailer that Layla is concerned about Marc Spector who is the alter-ego of Steven Grant who basically got the most screen time in the trailer.
As Marvel enters into the psychological thriller-based, horror-inspired content then maybe we would find a reference to Blade's TV show or movie and it could also be possible that there's a sneak peek of Count Dracula. Even, maybe we could see Blade's cameo scene at the post-credit. Or in the future, we could even be witnessed with a fantasy/magic-based Marvel movie with Blade, Black Knight, and Doctor Strange. Or it is also possible in the future that we would see Moon Knight in the New Avengers team with Shang-Chi and She-Hulk. So, after all these "or", one this is for sure, where there is Marvel, there are surprises and beyond expected plots.
Therefore, we can't be sure about anything that could happen in the Moon Knight web series. Yeah, it would most possibly be an origin story; that's for sure. Besides that, you can't expect anything in detail before watching the show as anything can happen! Anyway, we hope you have found this article helpful enough. If it really so then don't hesitate to express your valuable thoughts in the comment section below. Thanks for visiting and appreciating our work.