Who doesn't want more battery life in smartphones? I mean everyone wants. There is a very common question that smartphone users think; "how to increase battery life on Android phones?". Nowadays, we are purchasing android devices with 4000-5000 mah battery life still can't enjoy them fully due to extreme battery drain. Nowadays, finding the best battery life phone is pretty hard actually and almost impossible. There are two main reasons for this. One of them is due to the high powered CPU and GPU placed on the phone. Another important reason is the improper use on the part of ourselves. To Increase Battery Life on Android Phones, here we can do something by following these tips to increase battery life on Android phones from 20% to 30% and save battery as well.
How to Increase Battery Life on Android Phones?
Ther are so many things that you can do to save the battery on your smartphone. Because of our wrong usage habits, we waste too much power from our smartphone battery. So let's go through all those things which we are doing wrong with our smartphone.
Disabling Auto-brightness
most of the smartphones have this Auto-brightness feature. It may sound useful but it keeps the display of your phone more brighter than you actually need. So I recommend you to set change the brightness level manually as your needs. In that way, you can improve your phone's battery life significantly.
To disable Auto-brightness, go to settings > display, disable the Auto-brightness, set your needed brightness to save battery. In some smartphones, there has a Dark Mode feature. If your phone has, then you should use it at night. It's an excellent way to save battery as well as less harmful for our eyes.
Disabling the Auto updates of the apps
you may see if your mobile data is on, the apps steal the data to update them and also makes your battery from 50% to 20% without your realizing the fact. So I highly recommend you to go to play store, click the vertical 3 lines, go to settings, click the auto-update apps then click the last option i.e. Don't Auto-Update Apps. That's all. Then you will be able to update apps whenever and whatever apps you want and also save a significant amount of battery life.
Turning off the things that aren't needed to use
in most cases, people forget to turn off things like WiFi or mobile data, GPS, Bluetooth, etc. they used previously Or they just don't feel the importance of disabling these things so some people just don't do that. But the reality is if you don't turn your phone's mobile data or GPS or Bluetooth off, then these things will consume the phone's energy rapidly. In fact, if you turn on your phone's mobile data all day without using then you will notice that mobile data is being used in the background for apps usage or updates & that will drain the battery also. So my suggestion is if you are not using your internet or mobile data then turn it off. If you are not using GPS or any navigation tools like Google maps then definitely disable it. Turning on GPS also consume the battery. If you are not using Bluetooth then close it. That's so simple. Proper use of these things gives you enough battery life for your device.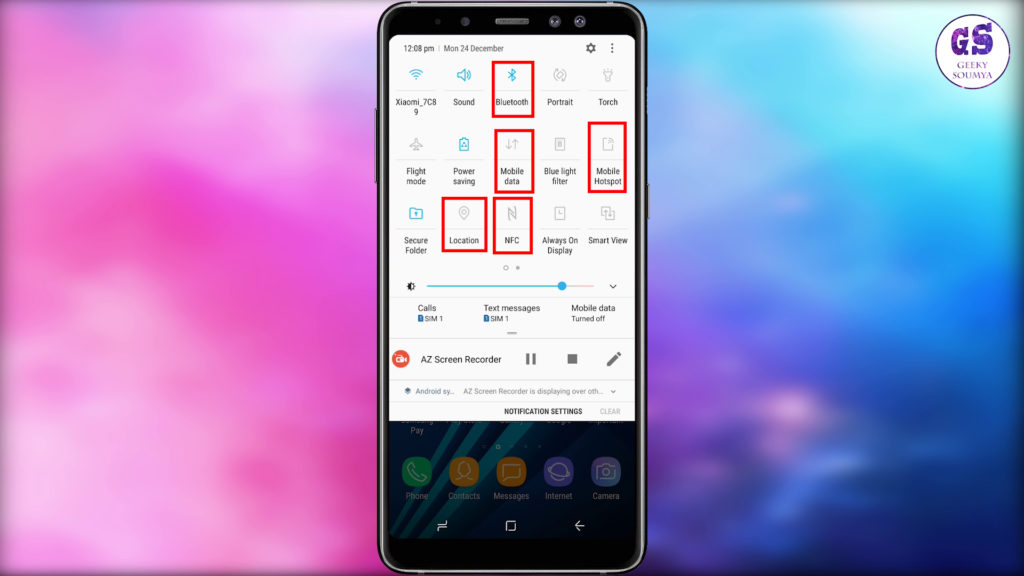 Enabling background data usage of the only required apps:-
many people don't know about the fact that most of the apps consume data in the background for their purpose of usages. In that case, If you keep the device's data on, those apps use the data to feed themselves continually and send notifications. This is one of the principal causes of battery drainage. So it will be much better if you only enable the background data usage of the required apps and disable the rest of others.
To do so, you have to go to Settings > Apps > simply tap those apps you want to disable > Data Usage > Turn off Allow Background Data Usage option. In this way, you can easily increase your phone's battery life & enjoy more of time with it.
To Increase Battery Life on Android Phones by Killing the recent apps
Almost 90% of people minimize the recently used apps in their smartphones. Just use the first app, minimize it, use the second app, against minimizing it. And just like that, people do not close the apps and make their phones like the junkyard. I mean seriously, this habit of minimizing apps not only drains battery for no reason but also creates pressure on the processor of the device.
So if you are not using those apps in the near future then don't minimize them, just clear them or close them properly. Though you can minimize one or two apps. That's no matter but everything excessive is bad, right? So you should clear the recently used apps to save your phone's battery. This is another useful way to increase battery life.
Using the lite version of the apps
some apps consume data as well as battery like a hungry shark. Nowadays lite versions of some of the similar apps are launched which really useful for the users who are trying to save mobile battery & mobile data so one can use the lite versions of the apps with ease to save the phone's battery life. Facebook, Messenger, Twitter, Instagram, Skype – all these social networking apps have their own lite versions & available in the Google Play Store. Even now YouTube and Google maps have their lite versions available named YouTube Go and Google Maps Go. So download and use lite version apps to save some phone battery.
Using phone without any unwanted sounds and vibrations
if you don't need any unwanted sounds then make them silent. Something like notification tones or message tones causes some sort of battery drainage so, you can put your phone in silence to save some battery life if you want.
Another thing is the vibrations. If you don't need any alertness or awareness then you should turn off all vibrations or vibrate tones in your device. Why? Because when our phones vibrate, it has to start a tiny motor inside its body & to start this, some battery consumption is a must. That means vibrations also consumes battery. If you have to save your phone's battery & that is a primary focus for you then you should silent your device totally without any tones, without any vibrations as well.
Use simple wallpaper background & get rid of gorgeous live wallpapers:-
if you really want to save your phone's battery then ditch the live wallpapers from your phone. Live wallpapers may look fascinating & gorgeous but to be practical is there really any need for that beautiful wallpapers which eat your phone's battery from time to time? If your focus is on saving the mobile battery then you must understand that it is better to use simple wallpapers for mobile rather than live wallpapers. So my last suggestion about increasing battery life is to use only simple wallpapers and forget about live wallpapers.
N.B. it is important to note that if your phone has an AMOLED or Super AMOLED display then you should use simple black colored backgrounds because, in AMOLED displays, the black pixels are not activated so black wallpapers in Amoled display is the most power-efficient.
Failed, How to Increase Battery Life on Android Phones then?
Now you can't do anything. These are the basic things that you can do. Remember, If you're using your phone for around two to three years then obviously its battery life is decreased. You can't get battery backup from it as a new phone. If you want, this is the time when you should replace your smartphone's battery from the service center.
If you are feeling problems by reading this topic in English then feel free to gain your knowledge in Hindi.
Now you know "How to Increase Battery Life on Android Phones?". You should follow these tips if you want some extra juice from your smartphone's battery. Anyway, I hope you guys enjoyed reading this article. If so then don't forget to comment down below to appreciate my work. Thanks for visiting.