Let's say, you have a video on your phone and want to watch it on your big 55″ television screen. Normally what you have to do is to first transfer the video file to the computer then copy it to a Pen drive and connect the Pen drive to watch it on TV. Although, nowadays, things are much simpler with Screen Casting technology so it wouldn't be much efficient if the router is designed to handle the huge data you're transferring or the particular area of your home is a dead zone where Wi-Fi signal can't propagate properly. In these cases, it would be great if we connect the mobile phone with the TV via HDMI cable to stream the content of the phone's screen directly to the TV. Yes, it's possible but in a few conditions so, let's dive deep and find out the process to connect phone to TV.
Not Every Smartphone Allows External Display
Yes, it is true. To connect an external display you need to know does your smartphone support HDMI/DisplayPort Alt Mode or MHL? Which is an alternate mode of Type-C. As you might know Type-C port is just a connector, including the USB specs it could support lots of different protocols. These are called Type-C Alternate Mode and these are optional features if a manufacturer wants to include one they can if they want to include all, they can if they don't want to include any, it's not a crime. As for now, Type-C possesses 4 different alternate modes like HDMI, DisplayPort, MHL, and Thunderbolt. MHL was also supported by Micro USB devices.
Can Your smartphone be used with TV?
As I have told the criteria to connect smartphones with TV, if your smartphone has a Type-C port then it doesn't mean it supports HDMI/DisplayPort alternate mode. Most mobile phones don't offer DisplayPort alternate mode. Still now, it is limited to the computer. To get an idea whether your device supports HDMI out or not, there is not an official way to find out but in some cases, device manufacturers somewhere somehow mention that the phone supports Display out. So, read the specification carefully. If you can't find any details just search Google it like "Do (Device Name) Support HDMI Out". Maybe from the different forums, you could get your answer.
How to Connect phone to TV?
Although nowadays, HDMI Alt Mode is pretty common in devices but some don't support it because they support different protocols and technologies so there are actually three options for connecting Android phones and tablets to your TV:
USB-C cable with HDMI support
USB cable with MHL
USB cable with Slimport
Connect Your Phone to an HDMI TV Using USB Type-C
The most common, easiest, and cost-effective method is to use a Type-C to HDMI cable. As these are just a cable, not a converter – no circuitry inside so it doesn't consume the battery during the operation. All the needed circuitry to transmit the Display signal through the cable is inside the phone. So when you connect a Type-C to an HDMI cable then the little HDMI chip inside your phone stays active which obviously consumes power and ultimately, the battery discharges quickly.
To solve this problem, you can buy a Type-C to HDMI hub which not only offers a charging port along with the HDMI but also has a USB and Ethernet port. Keep in mind that these hubs have a controller circuit inside so if you don't connect the charger, these hubs consume power from the smartphone. The particular hub I have used to demonstrate offers 100W of charging. It is easily possible to use this hub with a laptop.
Ok, now simply connect the USB-C cable to Android, then connect an HDMI cable with the HDMI out port and the other end of the HDMI cable to a TV. Voila! The mobile phone's display is on the TV. Always keep in mind, when you connect your phone with a TV, the resolution of the television should be similar to or more than the display resolution of the mobile phone. If the TV resolution is lower than the smartphone then you may not get anything on the TV.
Connect Phone to TV Using USB With MHL
In older days, MHL was commonly used in Micro USB devices to connect phones to TV. Nowadays in smartphones or tablets, MHL is mostly washed out. Just like HDMI, not all the micro-USB-supported smartphones or tablets have the support of MHL but unlike HDMI, there is a list of compatible devices on the MHL website which support MHL.
To use Mobile High-Definition Link aka MHL, you just need a USB to MHL adapter and obviously an HDMI cable that's coming from the TV. The MHL adapter requires power to work with. If the MHL adapter supports external power then it's good for the smartphone's battery but if the MHL adapter takes power from the phone then the phone loses its battery quickly. Sometimes though, MHL adapters also offer to charge the phone through the external power adapter. It could be extremely handy with no time limitation to use your smartphone with a TV.
To connect the phone to a TV using an MHL adapter, first, you need to plug in the adapter with your smartphone then add the HDMI cable coming from the TV to the MHL adapter. If the adapter needs power then add the power adapter. That's it. You will find the contents of your mobile screen on the TV.
Connecting Phone to TV Using USB SlimPort
SlimPort is almost faded out nowadays but before MHL's extensive popularity, it held the market pretty well. If you have a 10 years old smartphone then probably it supports SlimPort over micro-USB to connect it with the TV. Unlike MHL, SlimPort output could be HDMI, DVI, DisplayPort, and VGA. This makes it better suited to connect any display we want, even the ancient monitors with VGA input. Slimport adapters don't need to be powered externally. But it has a port to connect a charger with it to charge the phone when it is in use to mirror its display to a big screen. In short, SlimPort is also known as Mobility DisplayPort (MDP). That means it can deliver uncompressed HD audio and video over a micro-USB connector if the device supports the technology.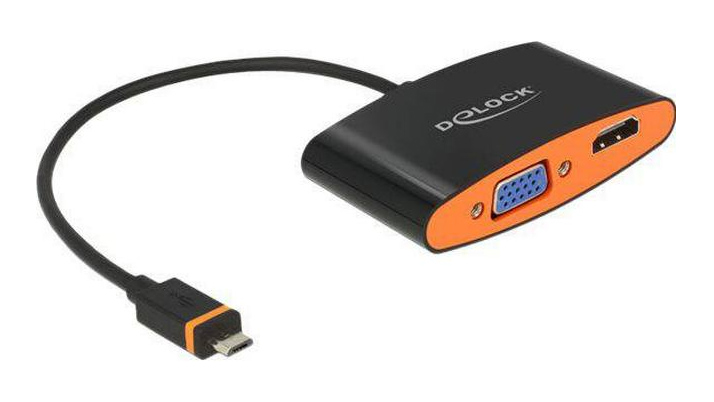 To use the SlimPort, just plug the SlimPort adapter into your phone. Then, attach the SlimPort adapter to the display using a proper cable. Here we go, your phone's screen is on a TV.
What About the Audio?
After connecting the mobile phone to the TV, we obviously need audio to enjoy the content we are watching. Actually, you don't need to worry about it much because all the previously discussed technologies support audio. So the speaker inside of your TV could produce sound but if you want to connect external speakers then you could use Bluetooth or an AV Receiver – only HDMI could do the trick.
Can a Phone Make a TV smart?
Well, it depends on how you can think of it. If you just want to stream Netflix, Disney Plus, or Amazon Prime Video like ott platforms on your TV then this is definitely a good idea to save some money because most streaming platforms charges a couple of extra bucks to stream their contents on TV. In this case, as you're actually streaming the content on your phone and the phone's screen is shared with the TV then you don't need to pay that extra amount. Also if you want to control the phone from distance, you could buy a Wireless Remote, it could make you feel that you're using a smart TV.
Related: Best Wireless Remote You Could Buy
Hope you guys have enjoyed the article and learned a thing or two if so then don't forget to express your thoughts in the comment section below. Thanks for visiting.