In our modern world of poor quality foods and lifestyles, internal diseases are spreading rapidly through our bodies. So, it is quite necessary to make our internal organs strong and healthy. Along with proper nutrition, brisk walking can strengthen our heart as well as energizes other internal and external organs. Moreover, if we get a tool that can track and analyze our walking in detail then nothing will be better than this, right? So, here we go. There are the best walk apps or pedometer apps that we have discussed in detail in this very article. All of them are really good in terms of accuracy and optimization. Additionally, all of them are suitable for any age. Let's know what are the best walk apps!
Must Read: Best-Run Apps for Android!
The step counter is arguably the most popular walking app which is really an outstanding app that uses the built-in sensor to count your steps pretty accurately. It can also track your burned calories, walking distance, duration, etc. It doesn't care whether your phone is inside your bag or pocket or armband or hand, it will still record your steps whenever you tap the start button of the app. You can check your hourly, weekly, or monthly steps, calories, distances, and other information from the statistics of the app that it records. So, no doubt it is one of the best walk apps for Android that you can use to track details of your walking.
Another excellent and very popular pedometer app that as usual uses the built-in sensor to track the steps as well as calories burned. This app is suitable for all ages. This app can also track the distance as well as walking speed so that it can show the accurate burned calories. It is great for the older persons as well as the young ones. It can sync and connect to popular fitness apps like Google Fit, MyFitnessPal, etc. So that one can get access to those apps in order to add proper diet and training. Anyway, it is another one of the best walk apps that anyone can use for walking.
Google Fit is a versatile and very unique fitness app that collaborated with WHO & AHA (American Health Organisation) to make healthy & fitness enjoyable. This app gives one heart point per minute of moderate activities like brisk walking etc. And double heart points for intense activities like running. Most importantly, this is a great step counter app too as it counts the steps, tracks the calories, pace, distance, etc. This unique fitness app by Google also provides you the goals that you have to achieve to reduce the risk of heart disease, improve sleep and mental wellbeing. In a nutshell, a well-rounded as well as unique fitness app that is one of the best walk apps too!
This is another amazing and accurate pedometer app that will help you to count your steps, calories burned, distance, and many other details. It also allows you to activate your goals by which you can set a targeted amount of steps that you have to complete in a particular time phrase. This will challenge and help you to ultimately lose even more fat and weight. You can also see your hourly, weekly, or monthly details in a graph provided by this app. In a nutshell, this is obviously one of the best walk apps especially for people who want to lose weight simply by walking more.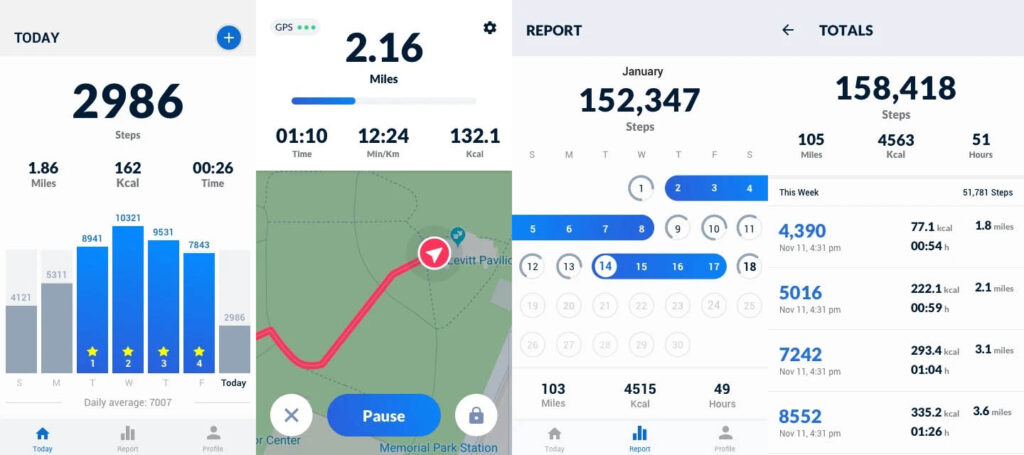 This step counter app is a very simple and tiny app that counts your number of daily steps and calories burned. It also tracks the activity, distance, and duration of your walks. It is a user-friendly app as well as it doesn't put pressure on the phone's battery. So, if you have a low-end smartphone then you can use this tiny simple easy-to-use app although every pedometer and step counter app is very small in size and takes little power to use.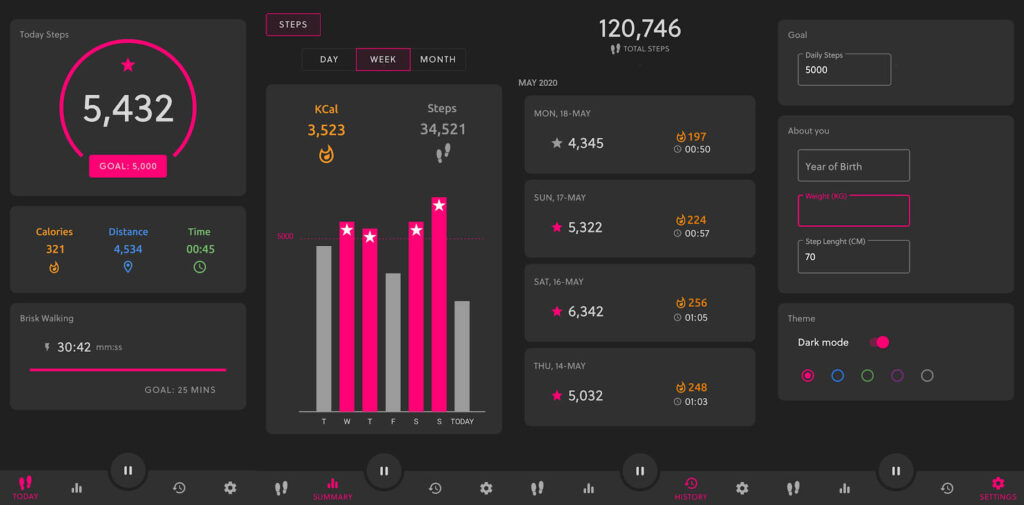 Pacer Pedometer is one of the oldest as well as best walk apps for Android. It can count steps automatically after starting the app. And, just like other apps, it also tracks other details such as calories, distance, etc. This cool app also offers challenges by which you can go further on your weight loss goal. In addition, Pacer Pedometer also provides daily exercise plans with video & audio guidance so that you can reach your fitness goal even faster. So, this is not only an amazing walking app but also a great fitness app that every people who want to lose weight should use.

Step Tracker is obviously an accurate as well as a simple walking app that auto tracks your daily steps, burned calories, walking distance, duration, pace, health data, etc., and displays them in intuitive graphs for easy checking. In GPS tracking mode, this app tracks your fitness activities in detail and record your routes on the map with GPS in real-time but if you don't choose GPS tracking, the app will count steps with the help of a built-in sensor to save the battery life of the device. So, a very reliable and helpful app that you definitely choose as a necessary tool for your walking.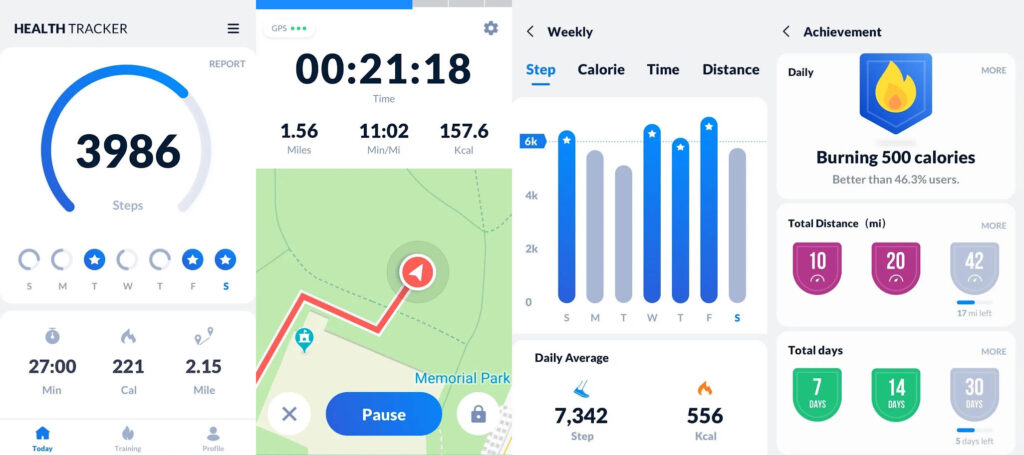 Therefore, these are the best walk apps for Android that fitness enthusiasts like you can choose to use for your daily walking. All of them are very accurate in terms of counting steps and providing information so choose one of them according to your choice. Anyway, we hope that you have found this article about the best walk apps helpful enough. If it really so then don't hesitate to express your valuable thoughts in the comment section below. Thanks for visiting and appreciating our work.