RPG or Role Playing Games are gaining popularity day by day. It is a much wider genre where almost every game can set. Whether you love fantasy, sci-fi, action, sword fighting, or horror you will never be disappointed here. Even if you want to immerse yourself into nature to get lost from the current situation and experience the beauty and nature of ancient Greece or vineyards of Toussaint then you're in the right place, my friend. It doesn't matter your gameplay style, you love the action you can do that, want to enjoy the environment and beauty; you can do that too. Love space drama; you have it, want to be a survivalist; no problem. Here we have the best RPG games for PS5 that you cannot leave behind. All of these games have insane graphics quality and also with the mixture of PS5's automatic remastering algorithm. Without any doubt, these games can impress you. Let's see what are the best RPG games for PS5.
Final Fantasy 7 Remake
Final Fantasy 7 used to be the favourite game of many of us when it was initially released. So you can guess it how much does the remastered version gain the popularity?! Which is why this game is indeed one of the best RPG games for PS5. The world is so beautiful and calm to enjoy if you want just to take a tour. As a gamer's perspective, the detailing of the remastered version is really amazing. Maybe the world looks familiar to you if you have played this game before but there are some tweaks that make you to say WOW!
The world is now bigger, more epic, and impresses at every turn. Also, new elements, weapons and skills are improved or introduced to attract the modern players.
The remake version also features an altered Active Time Battle (ATB) system from the original that fills up slowly overtime but during the combat by engaging or attacking enemies, you can fill it faster. Every character in this game has different special abilities aka skills that you can use to defeat your enemy. Using these skills definitely consume a ATB bar.
Basically your favorite characters of this remastered version have gotten more depth so, I can assure you will fall in love on them again.
Mass Effect Andromeda
Mass Effect is one of the most popular franchise in Sci-fi action genre and you know what? Mass Effect Andromeda is designed to be the best game in this franchise as well as one of the best RPG games for PS5. Here, players take control either Sara or Scott Ryder from a third-person perspective.
In the Andromeda Galaxy, there are actually five primary planets and over a dozen hub worlds to be explored. Each planet has their own challenges. You got a map of planets & all you have to do is to stand on the ship's bridge, and overlook the stars using a galaxy map and choose a navigation point. The game's primary planets have open world environments and can be traversed using a vehicle call "Nomad". There are so many story missions and tons of side quests that you can enjoy playing along with each planets has its own boss to fight. So, you might feel kind of God Of War like experience while playing this game.
Cyberpunk 2077
According to me, Cyberpunk 2077 – is one of the best PS5 action games in an open-world set that you can play. Also, the best-looking game on PS5 as well as one of the best RPG games for PS5 and thankfully PS5 version of this game is already released. The story line is set in Night City, a megalopolis obsessed with power, glamour, and body modification. You have to play as V, a mercenary outlaw going after a one-of-a-kind implant that is the key to immortality. You can customize your character's cyberware, skillset, and playstyle, and explore a vast city where the choices you make shape the story and the world around you.
You can experience in-depth character creation like hair, nose, jaw nail, body, etc., and also choose the gender you want. Become a cyberpunk, an urban mercenary equipped with cybernetic enhancements, and build your legend on the streets of Night City, a place that sets new standards in terms of visuals, complexity, and depth.
Don't Miss: Best PS5 Action Games You Should Play!
Dark Souls 3
Dark Souls 3 is a great role-playing game where players have access to a variety of weapons, armor, magic, and consumables that can be used against their enemies. In the weapon section, you have the bows, throwable projectiles, and swords. Also you have the access of shields but as a secondary weapon. It mainly reduce the damage and protect the player from the enemies.
Frankly we would say Dark Souls 3 is far more responsive than its predecessors as it demands faster action and reaction of your nervous system if you don't want to die frequently. This game is not too easy to play. The challenges, main missions and side quests are pretty hard to handle. The environment of the game isn't so calming and charming besides some scenes. The game also features Co-Op where you can enjoy the game with your friends and family.
Assassin's Creed Odyssey
Assassin's Creed Odyssey is a great addition to the epic Assassin's Creed RPG franchise. Odyssey set in Peloponnesian War between Athens and Sparta at year 431 BCE. You can choose between two different individuals; Alexios and Kassandra whatever you choose, he/she is a mercenary who fights for both sides as they attempt to him/her family. As the story progresses as a player, you will know the relationship between the two characters. Alexios and Kassandra are brother and sister. If you choose Kassandra then Alexios is your younger brother and he will be Deimos – a strongest weapon and a member of 'Cult of Kosmos'.
Odyssey is a graphically stunning & one of the best Open World as well as best RPG games for PS5 which will take you to the heart of Ancient Greece, easily securing it a place in our collection of the best PS4 games. Just make sure you have the time to play it because there's over 100 hours of content to enjoy here. I however played around 282 hrs. and still, I haven't finished the game!
The Outer Worlds is the only the first person game in this list. In the beginning of the game, you have to create your own character and unlock a ship although the ship can't be controlled by you. It only helps to fast travel and as a inventory space. You can encounter and recruit NPCs as companions who have their own personal missions and stories. At a time, 2 NPCs can be used as your squad while the rest stay on the ship. As they perform different missions, their skills and special attacks will be developed. You can use various weapons such as melee and firearms. There are different ammo types in firearms such as light, heavy and energy. These weapons can also be customized to add elemental damage.
The Outer Worlds
You can choose your play style in the game if you want, you can be stealthy to avoid direct combat with enemies. There are so many skills that are waiting for you to unlock in this game. As an example, you can use shrink ray to shrink down an enemy. Basically, this is a pretty awesome game in the RPG genre that you should definitely try on your PS5.
The Witcher 3
If you're looking to go on a trip but can't due to the current state of the world then Witcher 3 is the game that might set your mood. With fantastic music, great story line with different choices and different endings make this game place on top of others. The combat techniques, skills and magic spells makes it an unique game that everybody would like.
You may have to sometimes engage human enemies and sometimes nature's great creatures AKA monsters to complete the quest. Dialogue choices of this game really impacts on your story so carefully choose it and it is recommended not to always engage everyone in combat. Sometimes its better to be stealthy and silent.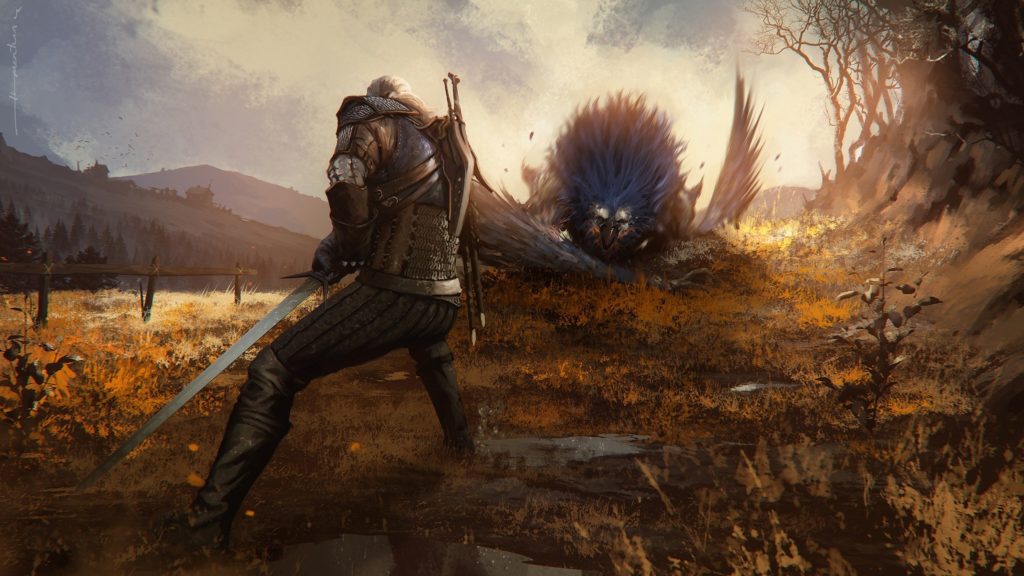 Witcher 3 can always keep you busy: sometimes you have to slay a beast, sometimes you have to find something, teach something and many more and if you're done with the deep and intense main story line, you can simply download The Blood and Wine and Hearts of Stone DLC to add a few dozen more hours of play time.
By looking at the feature, storyline, environment, and graphics we have nothing but to announce that Witcher 3 is literally the best RPG game for PS5 right now.
The Last of Us Part 2
The Last of Us 2 is a sequel to The Last of Us which is an action-adventure horror game played in third-person perspective. The plot continues after the 'The Last of Us' events. Definitely, this game is a masterpiece. Not only for the mechanics and character development of the game but also the graphics of it takes the video game industry one step ahead. Thus, it is also one of the top PS4 games in 2020. All we can say is, if you have played the first game then it would be a crime to miss part 2 and if you're on PS5 then graphically this game will be automatically remastered by the AI call 'Game Boost' which makes its graphics more fascinating.
The player traverses post-apocalyptic environments such as buildings and forests to progress on the story. By using firearms, improvised weapons, and stealth, the player has to defend against hostile humans and cannibalistic creatures infected by a mutated strain of the 'Cordyceps fungus'. Control mainly switches between Ellie and Abby and sometimes on Joel in the opening sequence. In combat, the player can use long-range weapons – rifles and bows, short-range weapons – pistols and revolvers and also melee weapons such as hammer, brick, bottle etc. However, like others, this game has not as much horror but a good story line, character development and graphics make this a must play horror game as well as RPG game.
Read Now: Horror Games on PS5! You Shouldn't Miss!
FARCRY 5
I can categorize the whole FARCRY franchise as a first-person shooter action-adventure game and Far Cry 5 is one of the best among them. Despite experiencing a great storyline, the player can explore the world freely on foot or via various vehicles. Unlike previous titles in the series where the player takes on the role of a set character, the game gives the player the opportunity to customize their character's appearance. The game is set on a fictional location, Hope County, Montana, land of the free and the brave. It is also home to a fanatical doomsday cult known as Eden's Gate. Stand up to cult leader Joseph Seed (Father), and his siblings, the Heralds, to spark the fires of resistance and liberate the besieged community.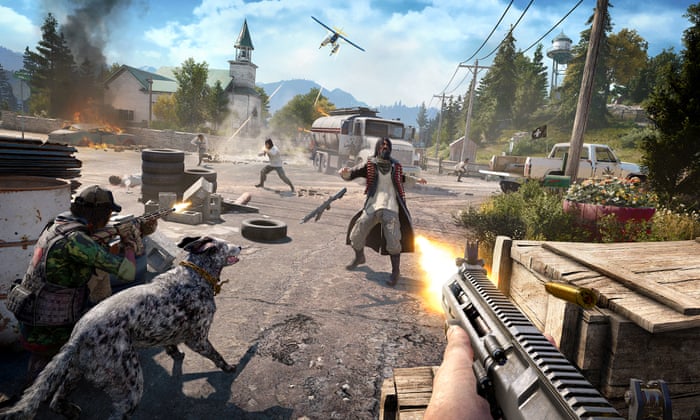 While the player has a variety of ranged and explosive weapons to fight against enemies, the game places a renewed emphasis on close-quarters combat compared to previous Far Cry titles by introducing a wider range of melee weapons. Far Cry comes to America in the latest instalment of the award-winning franchise. Now, you can realize why this game is on our list of best RPG games for PS5!
Assassin's Creed Valhalla
According to my perspective there is no excuse not to include Assassin's Creed Valhalla in the RPG games category. I know all the games in the Assassin's Creed franchise are very popular and awesome on their time but I think this time Assassin's Creed Valhalla is a bit underrated because of the most hyped game of this year Cyberpunk 2077. So, to set this into its real position, we are including this game into our best RPG games for PS5 list.
Become Eivor, a legendary Viking warrior on a quest for glory. Explore England's Dark Ages as you raid your enemies, grow your settlement, and build your political power to Lead epic Viking raids against Saxon troops and fortresses.
Using dual-wield powerful weapons as you can relive the visceral fighting style of the Vikings. Also, you can Challenge yourself with the most varied collection of enemies ever in Assassin's Creed, shape the growth of your character with each choice and carve a path to glory, explore a Dark Age open world, from the shores of Norway to the kingdoms of England and personalize your experience by growing your clan's settlement.
Therefore, these are the best RPG games for PS5 right now that you can obviously enjoy playing for hours & hours. We hope that you have really liked our list of best RPG games for PS5. If it really so then don't hesitate to express your valuable thoughts in the comment section below. Thanks for visiting and appreciating our work.