Your Raspberry Pi based Android TV is now ready to operate. What it needs are now a quality keyboard and a mouse so that you can control it however you want and it will be the best if the keyboard is wireless. Wireless keyboards are always most preferable because of its portability and ease to use but you should pick a quality keyboard for your Raspberry Pi. It is bit wrong to say keyboard and mouse, we should say a quality remote for Raspberry Pi.
There are numerous keyboards in the market and in the commercial websites that may confuse you and you cannot decide which one you should buy for your convenience and benefits. Therefore, I am listing some of the best wireless keyboards that you should buy to get complete control on your TV or other Raspberry Pi-based devices. Also, some of them are pretty handy they can easily be used as a remote for our Raspberry Pi. The keyboards that I am going to explain are also some of the most popular ones and some of them come with a mouse too so that the user doesn't have to empty his pocket for a mouse.
Why Is Wireless Remote Better Than Wireless Keyboard?
You will see in the list below, most of all the products are a type of remote. The advantages of remotes for raspberry pi are more than you may know. A remote is easy to handle, very slim and lightweight and more portable than a keyboard. The remotes have no extra assistants like keyboards have a mouse so you can use the remote freely anywhere. Nowadays, the remotes come with more features than keyboards like they have extra sensitive touchpad, separate gaming control buttons, internet browsing buttons, more character buttons and different coloured backlights. With its compact size, a remote is a comfortable choice for any user. Anyways, lets see the list below in details about the remotes for raspberry pi so that you can choose one for yours.
Choose The Best Remote For Raspberry Pi!
iPazzPort Raspberry Pi Wireless Keyboard with Touchpad and Mouse
One of the best on this list is this wireless mini keyboard from iPazzPort which possesses a tiny USB that is kept in its backside. You have to just simply plug it into your device and you are ready to go. It also has a touchpad mouse that means you don't need to buy any separate mouse which is really awesome, right? Let's take a look at its detailed features:
Fully compatible with Raspberry Pi. It can also be used for Android TV, laptops, PCs, HTPC, XBMC, etc. but is not compatible with Samsung Smart TV.
2.4 GHz USB receiver.
AAA battery needed (you have to purchase the battery separately).
Convenient On & Off button at the bottom.
Easily portable and can be used anywhere.
Auto-sleeps after 3 minutes without using the keyboard and wakes up when any key is pressed.
No laser point or backlight is provided on the keyboard.
A user manual is also provided with this device so that the user can utilize it in a proper way.
One year warranty is provided with this product.
Rii K12 Ultra Slim Raspberry Pi Wireless KODI Keyboard
As its name suggests, this is an ultra-slim modern and quite perfect wireless keyboard that Rii has designed. It is an amazing keyboard that also comes with large sized touchpad and mouse. A free mouse for your convenience! Actu ally, It is best for the travel media game console. Let's know its additional features: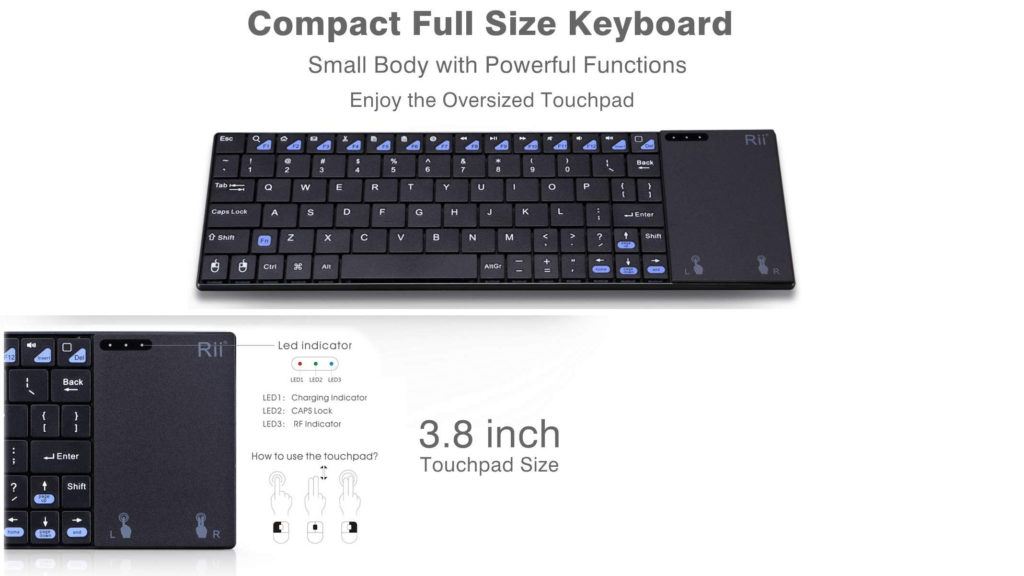 Wireless QWERTY keyboard with a multi-finger supported touchpad that operates efficiently.
Perfectly compatible with Raspberry Pi, Pi 2, HTPC, XMBC, Google Android Smart TV Box, Mac OS, Linux, PC, Laptop and Windows versions.
2.4GHz USB receiver.
Auto sleeps if it is not used for 3 minutes.
Many short cut keys that help the users to take full control over the device while operating it and improves the efficiency of the device.
Updated iPazzPort KP-810-21S Wireless Keyboard with Touchpad for Raspberry Pi
So, here's the updated version of a wireless keyboard from iPazzPort. It is basically a mini Raspberry Pi keyboard that allows you to get the full control of the device and enjoy it amazingly by eliminating the issues of using a wired and big keyboard and mouse. This keyboard comes with these features below:
2.4GHz wireless connection via included USB dongle. plug and play.
Small and handheld design, innovative shape, perfect for Raspberry Pi series, Android TV Box, HTPC and PC.
QWERTY keyboard with 92 keys, wireless keyboard with touchpad supporting multi-touch function, mouse left and right buttons, easy to type and copy/paste.
Wireless mini keyboard built-in rechargeable lithium-ion battery, last up to several weeks after fully charged, save energy in stand-by mode.
Updated Rii i8+ Mini Raspberry Pi Wireless Keyboard with Touchpad and Mouse
This i8+ wireless mini keyboard which Rii has upgraded with 92 keys and it also comes with a touchpad and mouse. It also has a very high sensitive smart touchpad that has a 360-degree touch design. Not only that, other miraculous features are as follows:
Perfectly works with Raspberry Pi, PS3, Google TV Box, Xbox360, and many more.
Very powerful in-built Li-ion rechargeable battery that has longer standby time than any other.
Cool handheld design by which it is easy to carry and operate this keyboard.
For convenience in darkness, LED-backlit function is also provided with this keyboard.
Possesses separate multimedia control keys and gaming control keys that make your gaming more enjoyable and fun-filled.
Rii K12 2.4GHz Ultra Slim and Portable Raspberry Pi Wireless Keyboard
Rii has developed this keyboard as most ultra-slim, portable and wireless definitely along with stainless steel back cover. With only 13 mm thickness, this ultra-slim keyboard also provides some more features which are
A very slim portable wireless keyboard with stainless steel back cover design.
Fully useable for Raspberry Pi, Google Android TV, PC, Linux, Mac OS, IPTV, XMBC, Windows versions, Laptop, etc.
User-friendly rechargeable in-built Li-ion battery for long-lasting power.
Auto sleep mode for saving the battery power and auto awakes too with any keypress.
More convenient and easy to use compared to other keyboards.
Very smart in-built touchpad with a 360-degree flip design.
iPazzPort RGB Backlit Mini Wireless Keyboard with Touchpad for Raspberry pi
A very innovative wireless keyboard that is great for Raspberry Pi series and other streaming devices. It comes with not only one or two but also three color backlights which provide you more fun when you use it in the dark. Let's know its other detailed features:
3 in 1 multifunction 2.4ghz mini wireless qwerty keyboard, touchpad combo, with USB interface adapter (open the battery cover you will see it )
The mini wireless keyboard with 3 color backlight, just hit fn+f2 to switch between colors, Much easier to use it with Nvidia Shield than the shields remote control in the darkroom.
Qwerty keyboard with 92 keys, wireless keyboard with touchpad supporting multi-touch function, a single finger click as left mouse function
Build-in removable rechargeable Li-ion battery that with longer standby time, no worry about standby time
Compatible with NVidia shield TV 2017 and 2018 streaming, pc, google android TV box, smart TV, HTPC, IPTV, Xbox 360, ps3, etc.
iPazzPort RGB Backlit Mini Wireless Keyboard with Touchpad
You can say that is the evolved version of the previous one. With all-new extra features like tri-color backlight etc. and IR Learning TV Remote Combo, this product is an outstanding package. More features of this keyboard are:
2.4GHz mini wireless keyboard, the combo of mini keyboard and touchpad and mouse and TV remote, all in one to replace streaming media player and TV remote
New Features than others: add IR learning feature, program with the TV remote to navigate TV basic function(Power on/off, Volume up/down, etc.), don't need the TV original remote too
New layout design, ergonomic keyboard with the new location of touchpad and mouse right/left button, much easy to select, copy and paste; Touchpad and keyboard lock button to prevent the misuse from child
RGB backlit keyboard, three kinds of backlit color for your option; Rechargeable battery keyboard, work for several months after fully charged
Work for: Mini wireless keyboard for Android TV box, NVidia Shield TV, Xiaomi mi box, Smart TV, Raspberry Pi, HTPC, and PC. It doesn't work for Samsung TV.
Rii Mini Wireless Keyboard with Touchpad
This is a great wireless keyboard that also comes with touchpad, mouse and USB receiver remote control. It's easily portable.
Rii Mini Wireless 'QWERTY' Keyboard with Touchpad, Portable and Convenient for Your Notebooks, Tablets, Laptop, PC, Windows, and Mac OS IPTV Internet TV Google TV Android TV box PS3-4 and Xbox 360, Multi-function keyboard make your home life more convenient.
Rii advanced RF 2.4G wireless technology that delivers anti-interference and reliable connection. With USB receiver (no driver needed) plug and play. enjoy up to 10m operating distance.
Qwerty keyboard and ordinary keyboard layout, Main feature buttons: Home, Page Up/Down, Volume Control, Ctrl+Alt+Dlt, Esc, Search, and more, Ultra sensitive touchpad with 90-degree flip design.
Rii X1 has a built-in rechargeable polymer Lithium-ion battery. Auto sleep and wake-up function make the battery more durable and avoid the trouble of changing the battery frequently.
45 days unconditional refund, up to 12 months product quality warranty (Free replacement), so that your purchase has no worries.
Target the best remote for raspberry pi!
If you want to know the best one among this list so that you can get the best for your device then according to me, the first one in this list is the best one to operate and enjoy. Now, if it seems costly for you, here's a very low-cost remote that I can refer to you, "Tygot Mini Wireless Keyboard and Mouse" It will also be a great choice for your raspberry pi.
If you like this article about "[Best] Remote For Raspberry Pi" and get rid of your confusion then don't forget to comment down below to appreciate my work. Thanks for visiting.
Read More:
Install Netflix, Prime Video & JIO TV On Raspberry Pi 4
How to Build an Android TV Box With a Raspberry Pi 4