A wise person once said "Music gives a soul to the universe, wings to the mind, flight to the imagination, and life to everything." that's quite true. There's an evolution over time in music, instruments, recording techniques, and storing techniques but on top of all of that, its beauty is still intact. As the internet is getting much more accessible for us, the majority or people prefer music streaming services to listen to their favourite tracks or playlists. Obviously, it's not possible to store such a huge collection locally on our devices as they offer. Many streaming services let you listen to their collection for free, some charge a couple of bucks but ultimately this easy access lets down the curb, music piracy. That's why artists get the proper credit that they really deserve. In this article, we will discuss the best music player apps available in India.
Related: 85 Best Family Movies on Disney Plus: Your Little Angels Will Remember Forever
Best Music Streaming Services: How I have Picked
Nowadays, with the increased popularity of streaming services and increasing competition, companies do their best to perfect the apps so it's not easy to hand on the best music streaming app but with lots of research, user reviews, the total number of Play Store downloads, and based on user opinion, we have selected top 8 best music streaming services that you may like to consider using.
Total Number Of Reviews: 25M+
App Ratings: 4.3
App Size: 27MB
It's not possible that you haven't heard the name of Spotify. It is one of the most popular as well as beat music streaming services with millions of songs, music, and podcasts collections. From any kind, such as jazz, Latin, classic, garage, heavy metal to any artist whatever you need, most of the time Spotify has it. The best thing about this music streaming service is its versatility. Whatever device, you just name it, installing Spotify on it is possible. Also, using Spotify Connect, you can use one device to remotely control Spotify on another device in the same network.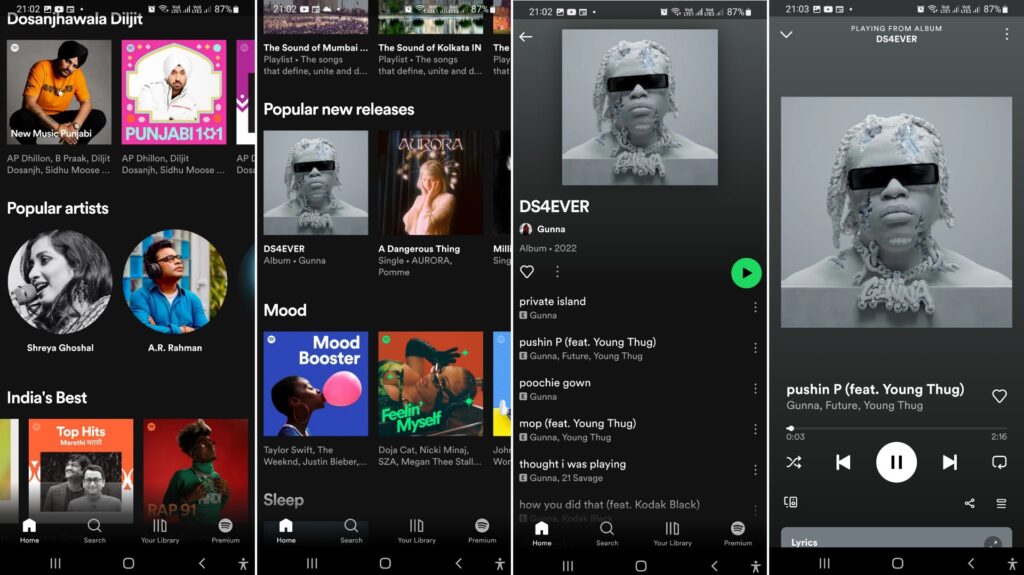 Recently, they have added video content along with quite a few radio stations which is quite amazing right? Do you know what is more amazing? – most of the content is freely accessible but there are quite a few ads breaks that may bother your experience. You could purchase Spotify Premium to get an ad-free experience. With the premium feature, you could download your favourite track or playlists, Spotify Connect is only accessible if you have a membership. Their charges are reasonable, you even take 1 day's subscription to test their service! With a 1B+ Play Store downloads, 4.3 star rating, I can guarantee, you can't skip the application.
Total Number Of Reviews: 5M+
App Ratings: 4.7
App Size: 35MB
Sound Cloud is not only the place for listeners but also for music creators as well. Here, you can upload your track for free! People can easily discover your track because of the Sound Cloud's discovery system. If you're a true music enthusiast then sound cloud is the place for you. Almost every day you may find something new for yourself. Because of its extensive popularity, tons of people upload their creations to Sound Cloud and mostly for free to provide pleasure to others.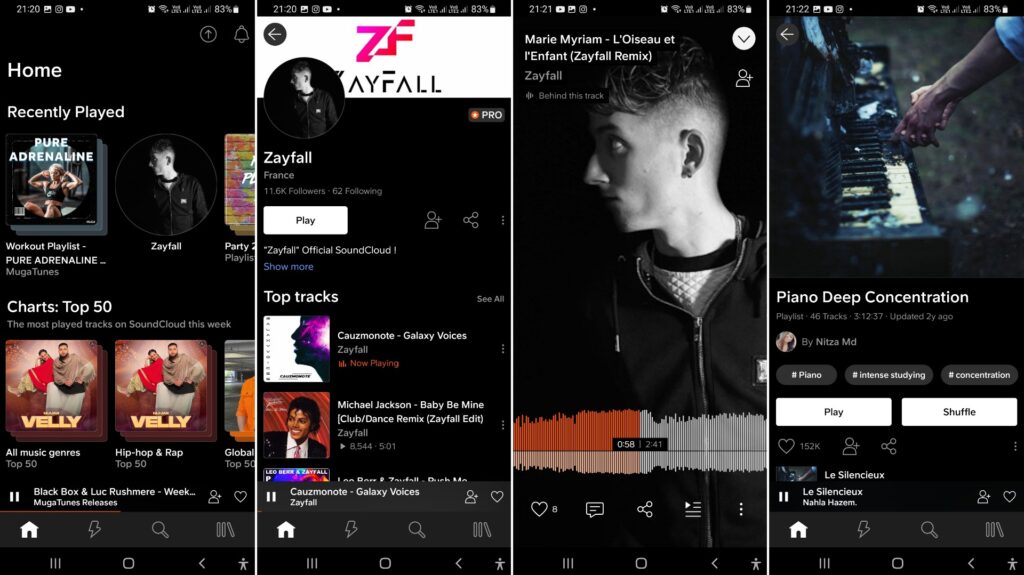 With the monthly $9.99 rental, you can access over 300 million available tracks from different artists, DJs, and podcasters. Every single category is available here: pop, hip-hop, rap, electronic, rock, techno, classical, jazz, etc. – everything! This is a great spot for discovering something new about which no one else knows. Additionally, common stuff like playlists, stations, and other discovery features have come with the subscription.
Total Number Of Reviews: 3M+
App Ratings: 4.1
App Size: 20 MB
YouTube is a great place for creators and for viewers. As they are expressing their talents, we can learn tons of things from here. Obviously, it is a great place for music artists and definitely for us as a listener. To take this one step further, YouTube Music was introduced. With 70 million-plus content and a little monthly or annual subscription, YouTube music is greatly giving competition to the competitors. Its search function is great, switching between video songs and only the audio for that respective music video makes it unique.
The best thing about the app is that anything that's Google Assistant-powered such as Google Home devices or third-party devices such as the Sony LF-S50G and JBL Link 20 has the app pre-installed but YouTube music only offers 256bit of quality so having this app on such a hi-fi music system is pointless. Because of the compression, audio detail will be missed. Anyway, YouTube Music is undoubtedly one of the best music streaming services that you should not miss at all.
Total Number Of Reviews: 2M+
App Ratings: 4.1
App Size: 93MB
Amazon Prime Music is a paid service but if you're a prime member of Amazon then along with the amazing content of Prime Video and other advantages of becoming a prime member, we could consider Prime music as almost a free service that's included in the Amazon Prime membership. With a 100 million-plus track collection, HD lossless audio streaming makes it one of the most popular & of course, the best music streaming services around the globe.
However, certain artists and albums are not accessible in the prime membership. You need Amazon Music Unlimited which costs you $8 per month for Prime members and $10 per month for everyone else (Amazon Music Unlimited isn't available in India). Don't worry about the downloading capabilities and custom playlist creation. Both are available if you're just a normal prime member.
In terms of music collection, you can find most of the content that you're looking for and whatever device you're using – iPhone, Android, and all the Amazon Alexa enabled devices. If you're a fan of podcasts then around 10 million podcasts including Amazon originals are available. So, it is a cheap but effective source of music for all the music lovers out there.
Total Number Of Reviews: 4M+
App Ratings: 4.5
App Size: 31MB
Gaana, India's one of the most popular music streaming services, was introduced back in 2010. Including most of the Indian regional language music, Gaana also offers HotShots – a short video platform just like TikTok. With 45 million+ Indian regional language music,  it costs you only Rupees 99/- per month for Indians while worldwide, it costs 3.99 dollars per month.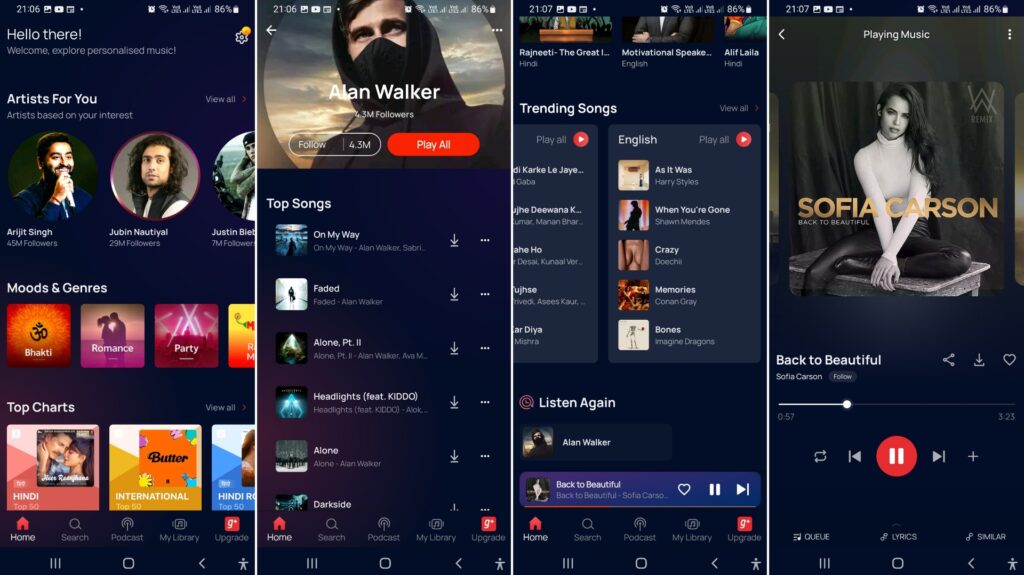 There's a free version in which most of the songs and music are available but there's an ad break that may annoy you. Songs and music are also categorized depending upon your mood. If you like podcasts then in different Indian languages, you can listen to romantic stories, comedy, news, meditation, kids' stories, nursery rhythms, motivation, and self-improvement content and if you love 80's and 90's Indian music industry then it's the place that you must go for.
Total Number Of Reviews: 4M+
App Ratings: 4.2
App Size: 31MB
JIO Saavn is quite similar to Gaana. Both possess huge music collections in all Indian regional languages but what I do not like is their poor user interface & list of upcoming songs that covers 80% of the screen. There's also not a dedicated "Now Playing" screen which sometimes creates difficulties if you're driving. They also host podcasts including some JIO Saavn originals. JIO Saavn is a freemium service: basic features are available for free with ad breaks while additional features such as offline listening, and 320Kbps sound quality are only for paid users – Rupees 99/- per month on android; Rupees 119/- per month via iTunes on iOS and Rupees 399/- per year for Android and iOS.
If you love radio stations then I never recommend you Jio Saavn. It works depending on its mood. Although Jio Saavn has a great music and podcast collection, I personally only use it to set caller tunes on Jio. Device compatibility is decent. JIO Saavn works on Android, iOS, Windows, Chromecast, Google Home, Alexa, and Android auto. Because of a few little bugs here & there, and they are not trying to improve the UI, I would say, overall this is a decent app. Definitely, this app has lots of potential if it is improved perfectly. So, as a JIO user, you can obviously give it a try.
Total Number Of Reviews: 2M+
App Ratings: 4.6
App Size: 62MB
After Spotify, Amazon Prime Music, and YouTube Music, I must admit that Reeso offers the most user-friendly interface. Everything is easily accessible, simple, and also beautiful. This application actually is coming from ByteDance, the parent company of TikTok. So, the interface of Reeso is quite similar to TikTok. The song collection is ok. Most of the common songs are found.
Songs based on Indian regional languages are also available and what makes this app unique is its AI, which senses your music taste and recommends those songs which you may like, I have tested that 60% of the time, the AI is correct. Reeso also has free and premium services. With premium, you can download the songs for offline streaming, Ad-free, 256 kbs audio quality which is quite low as compared to others. Anyway, it's without a doubt one of the best music streaming services that you should go for.
Total Number Of Reviews: 4M+
App Ratings: 4.4
App Size: 23MB
As a music streaming service, it is a ok app to recommend but the major flaw it possesses is its song collection. Even, I was unable to find half of the songs or music I was looking for especially, English songs. But it's a good app for Hindi songs. Although if you're an Airtel user then you might have some interest in this streaming platform because to set caller tune, Wynk Music is necessary. Also sometimes with data packs, Airtel offers a premium subscription to Wynk Music. If you have one then why not use that one. Other than that, poor interface, song deficiency, streaming quality, and limited song access per month for free users make this app sit at the bottom of this list.
Concluding Lines…
So, there you have it guys. I have listed all the best music streaming apps that are available in India. I know there are also a few of them that I haven't listed but these I have mentioned are some of the best music streaming services for their excellency and their premium subscription plans are worth their cost. So if you're planning to get a premium subscription to the best music streaming services then here is my conclusion: Spotify is expensive but has tons of collection and features, the sound cloud is for those who want variety and has a sweet taste for music, Amazon Prime Music is best for Amazon Prime members, YouTube Music could be a good option for students or who love video songs, Gaana, Reeso is great if you want a cheap and effective solution and lastly, JIO Saavn is good for Jio users and Wynk Music is for Airtel users. Hope you guys understood my point and can take decisions according to your needs if so then don't forget to express your opinion in the comment section below. Thanks for visiting.