Hotstar is undoubtedly the leading streaming service in India with around 2000 movies! You can easily purchase your preferable subscriptions to become a VIP member so that you can easily stream your favourite movies and TV shows on this app. Certainly, all of them are good to watch but if you want to know what are the best movies on Hotstar? Then you are in the right place. Here, in this article, I list a bunch of movies that are really awesome to watch and indeed they are some of the best movies on Hotstar app that you must watch in your pastime. Let's know them one by one in detail for your convenience.
Also Read: Best Disney Plus Shows You Don't Want To Miss!
Titanic (1997)
Genre:- Romance/Drama. Runtime :- 3h 15m.
Director:- James Cameron.
Writers:- James Cameron.
Lead Cast:- Leonardo DiCaprio, Kate Winslet, Billy Zane, Kathy Bates, Frances Fisher, Bernard Hill, Jonathan Hyde, Danny Nucci, David Warner & Bill Paxton.
Plot Summary:- Seventeen years old, Rose belongs to an aristocratic family and boards the Titanic cruise ship as her marriage is arranged but soon, she falls in love with a middle-class artist, named Jack Dawson. When the Titanic collided with a huge iceberg and starts to sink into the water, Jack saves his beloved Rose by giving his own life to death.
Pink (2016)
Genre:- Thriller/Drama. Runtime :- 2h 16m
Director:- Aniruddha Roy Chowdhury.
Writer:- Shoojit Sircar, Ritesh Shah & Aniruddha Roy Chowdhury.
Lead Casts:- Amitabh Bachchan, Taapsee Pannu, Kirti Kulhari, Andrea Tariang, Vijay Varma, Angad Bedi, Tushar Pandey, Dhritiman Chatterjee, Piyush Mishra & Mamata Shankar.
Plot Summary:- Pink is a social thriller that earns the National awards for its story about morals and its extraordinary acting skills. The story of Pink revolves around three independent self-sufficient young ladies who are forcefully molested so one of them; Minal, along with her other two friends, tries to file an FIR against a notable politician's nephew. Deepak, a old retired and renowned lawyer helps them to fight this case and overcome it later.
Avengers: Endgame (2019)
Genre:- Action/Sci-Fi. Runtime:- 3h 2m
Directors:- Joe and Anthony Russo
Writers:- Christopher Markus & Stephen McFeely
Lead Casts:- Robert Downey Jr., Chris Evans, Scarlett Johansson, Mark Ruffalo, Josh Brolin, Karen Gillan, Chris Hemsworth, Don Cheadle, Paul Rudd & Jeremy Renner.
Plot Summary:- The rest of the Avengers vow to revenge on Thanos to take back the half of the lives in the Universe that Thanos has annihilated with the power of six infinity stones in the previous movie of the Avengers series. To save the universe, the half of the Avengers must go to the past to change the present situation!
Deadpool (2016)
Genre:- Action/Comedy. Runtime :- 1h 49m
Director:- Tim Miller.
Writers:- Rhett Reese & Paul Wernick.
Lead Casts:- Ryan Reynolds, Morena Baccarin, Ed Skrein, T. J. Miller, Gina Carano & Brianna Hildebrand.
Plot Summary:- When Wade Wilson becomes a cancer patient, he admits to Ajax, a twisted scientist who experiments on Wade to cure him of from not only cancer but also any other deadly diseases and give him superhuman healing powers. Unfortunately, the experiment makes Wade disfigured badly so he, as Deadpool, decides to take revenge on Ajax.
Neerja (2016)
Genre:- Thriller/Drama. Runtime :- 2h 2m
Directors:- Ram Madhvani.
Writers:- Saiwyn Quadras & Sanyuktha Chawla Shaikh (dialogues).
Lead Casts:- Sonam Kapoor, Shabana Azmi, Yogendra Tiku, Shekhar Ravjiani, Kavi Shastri & Sadh Orhan.
Plot Summary:- the movie Neerja is based and inspired by the true story of 1986. Neerja Bhanot, a responsible flight attendant, boards Pan Am flight 73 in the same year. When the flight is hijacked by the terrorists, Neerja risks her life to stop the terrorists from attacking the passengers on board and later saves all of them all by using her intellect, skills and most importantly, bravery.
Star Wars: Episode IV – The New Hope (1977)
Genre :- Science fiction. Runtime :- 2h 5m
Director :- George Lucas
Writer :- George Lucas
Lead Casts :- Carrie Fisher, Mark Hamill, Harrison Ford, Anthony Daniels, Alec Guinness & Peter Mayhew.
Plot Summary :- The Imperial Forces of the cruel villain Dark Vader capture Princess Leia as a hostage so that they can quell the rebellion against the Galactic Empire. Luke Skywalker, along with Han Solo who is the captain of the Millennium Falcon, work together with the friendly droid duo R2-D2 and C-3PO to rescue the beautiful princess and to help the Rebel Alliance to bring back freedom and justice to the Galaxy.
Thor: Ragnarok (2017)
Genre:- Comedy/Action. Runtime :- 2h 10m
Director:- Taika Waititi
Writers:- Eric Pearson, Craig Kyle & Christopher Yost.
Lead Casts:- Chris Hemsworth, Mark Ruffalo, Cate Blanchett, Tessa Thompson, Tom Hiddleston, Karl Urban, Taika Waititi & Jeff Goldblum.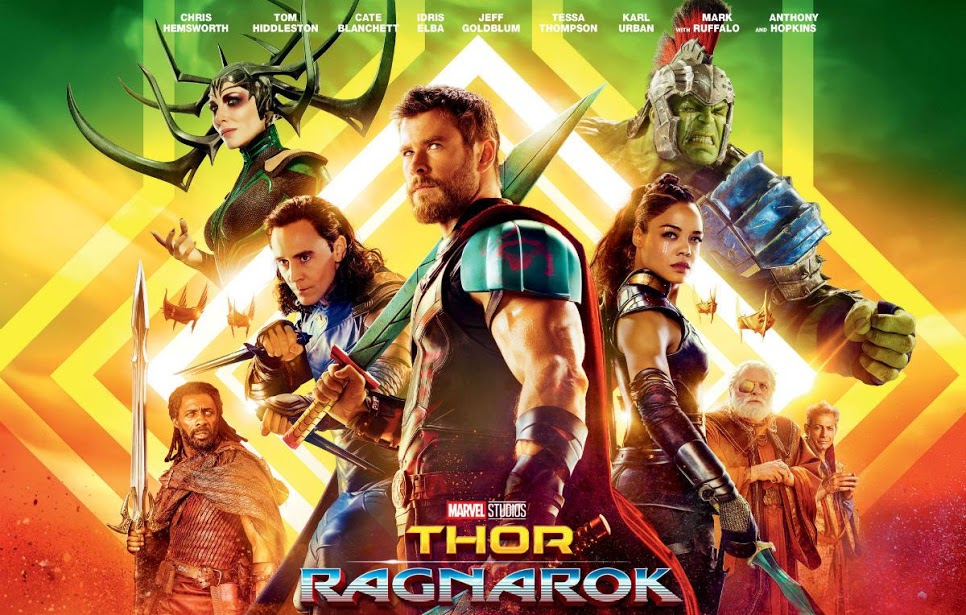 Plot Summary :- After Thor's hammer is broken by Hela, the Goddess of Death, who comes back after a long time, he, along with his friends Hulk and others, shows his all guts and courage to face his elder sister without the hammer to save the Asgardians from her wrath. He must has to plan differently to defeat Hela and save his people as he can't defeat Hela with his own power. That's what Ragnarok is all about!
Star Wars: Episode VII – The Force Awakens (2015)
Genre: – Sci-fi/Adventure. Runtime: – 2h 15m
Director: – J. J. Abrams
Writers: – Lawrence Kasdan, J. J. Abrams & Michael Arndt.
Lead Casts: – Harrison Ford, Mark Hamill, Carrie Fisher, Adam Driver, Daisy Ridley, John Boyega, Oscar Isaac, Lupita Nyong'o, Andy Serkis, Domhnall Gleeson, Anthony Daniels, Peter Mayhew & Max von Sydow.
Plot Summary:- Another story about Star Wars which starts after three decades when A new order rises to threaten about destructing the New Republic. Finn, Rey, and Poe who are backed by the Resistance and the Republic try to find a way to stop them as early as possible and they also find Luke, the last surviving Jedi.
Bajrangi Bhaijaan (2015)
Genre: – Action/Adventure. Runtime: – 2h 43m
Director:- Kabir Khan.
Writer:- Kabir Khan (Dialogues) & Kausar Munir (Additional dialogues).
Lead Casts: – Salman Khan, Kareena Kapoor Khan, Nawazuddin Siddiqui & Harshaali Malhotra.
Plot Summary: – The adventurous yet loving story revolves around Pawan who is a devotee of Lord Hanuman, finds a muslim girl, who is dumb and lost in Haryana. Later Pawan comes to know that she belongs to Pakistan and he sets out to reunite her with her family in Pakistan with some dangerous obstacles following them.
Bhaag Milkha Bhaag (2013)
Genre:- Sports/Drama. Runtime:- 3h 9m
Directors:- Rakeysh Omprakash Mehra.
Writers:- Prasoon Joshi.
Lead Casts:- Farhan Akhtar, Sonam Kapoor, Hikaru Ito, Divya Dutta, Meesha Shafi, Pawan Malhotra & Art Malik.
Plot Summary:- the iconic movie "Bhaag Milkha Bhaag" is totally inspired and based on the biography of Milkha Singh, from the book named "The Race of My Life" by Milkha Singh & Sonia Sanwalka. He was an Indian Athlete who fought against all the obstacles of his life & career in order to become a world champion, Olympian too & most importantly, he became India's one of the most iconic and legendary athletes. His inspirational life story is well-portrayed into this movie.
If you're a too much movie lover then here is the list of Best Movies On Disney Plus That You Must Watch.
Therefore, guys, these are some of the best movies on Hotstar (as per my preferences) that you must watch to spend your quality time. Stream all those movies right know in Hotstar App and enjoy your free time with lots of fun! I hope, you have liked this article. If so, don't hesitate to comment down below. Thanks for visiting and appreciating my work.