If you love to capture every valuable moment in your smartphone by taking a lot of photos then a photo editor is a must for you to make these photos more vibrant and better. And, if you want to make a photo better within a moment then using filters is the best way to do it. Just select the preferable filter, save the photo and you are good to go. There are so many filter apps available nowadays but here, we have described the best filter apps which are obviously some photo editor apps known for their outstanding filters which help to make the photos extraordinary. Without wasting more, let's jump into the list of best filter apps for your Android or iPhone.
Read Now: 3D Print Your Smart Phone Vertical Mount For Any Tripod
Picsart Photo and Video Editor
Picsart is not only the most popular photo editor app but also one of the best filter apps for smartphones. It's like the Adobe Photoshop but for mobile! Along with the widest range of photo editing tools and advanced features, Picsart offers over 200 filters under various categories in the B/W category, there are a bunch of different black & white filters while in the Colours category, there are a bunch of unique filters providing colorful tones. Just like that, there are more categories including FX, Sketch, Artistic etc. so that a user can easily choose his/her preferable filter by entering that particular section. To get access of all the amazing filters, you have to purchase the premium membership of this app. Just like some other photo editor as well as filter apps, Picsart also gives access to modify the filters and adjust the intensity to higher or lower. So, Picsart is a must if you want to do out-of-the-world photo editing as well as apply marvelous filters.
Retrica – The Original Filter Camera
As its name suggests, Retrica is known for its excellent collection of filters as well as its film-like special effects such as transforming your phone's camera into a retro camera. Over 190 filters are available in this app from which you can choose any and apply to your photos as well as videos to give them a greater and better look. However, not every filter is available for free. You have to purchase some premium filters with a few bucks if you want to apply them in your photos. Still, this is one of the best filter apps right now for Android and iOS smartphones.
Snapseed
Google's official photo editor app is just as good as their other apps. Snapseed provides easy-to-use professional quality photo editing features as well as numerous classic filters for photographs such as noir, grainy film, retrolux, glamour glow, grunge, vintage etc. You can also adjust the intensity of the effects of the filters while applying them on your photos so that you can either reduce or increase the intensity depending on your demand. Even though Snapseed is a free to use app, you can actually get some features like changing individual edit at any time even after saving, brush marks and healing customization functions etc., just like we can find in professional software. In a nutshell, Snapseed is not only an amazing photo editor app but also it's surely one of the best filter apps for smartphones.
Adobe Lightroom: Photo Editor
Lightroom is a very popular photo editor app just like Snapseed known for its user-friendly interface and surprisingly efficient photo editing facilities. However, I don't know why very few people talks about the availability of filters. Lightroom has hundreds of incredibly good filters under different categories although half of them are paid and you need to purchase the premium membership to get their access. But, all of these filters are great to give a healthy, prominent and better look to your photos. You can't expect drastic changes in your photos by applying filters of Lightroom as this app is designed for light to medium processing of photos. Overall, Adobe Lightroom is a Super-good photo editor as well as filter app for minimal photo editing and processing.
VSCO: Photo & Video Editor
VSCO is another very popular and one of the best filter apps for Android and iOS devices. It's especially known for its customizable filters. Unlike the other filter apps, this app provides a section called "Presets" and in each preset, there is a collection of colour as well as black & white filters. These filters can be modified in many ways such as setting color, exposure, sharpness, skin tone, etc., and adjusted to a higher or lower intensity. If you purchase the premium membership of VSCO, you will get access to the complete library of 200 presets! So, you can see this is an excellent app specialized for filters and you should not miss it if you want to apply filters of your own choice.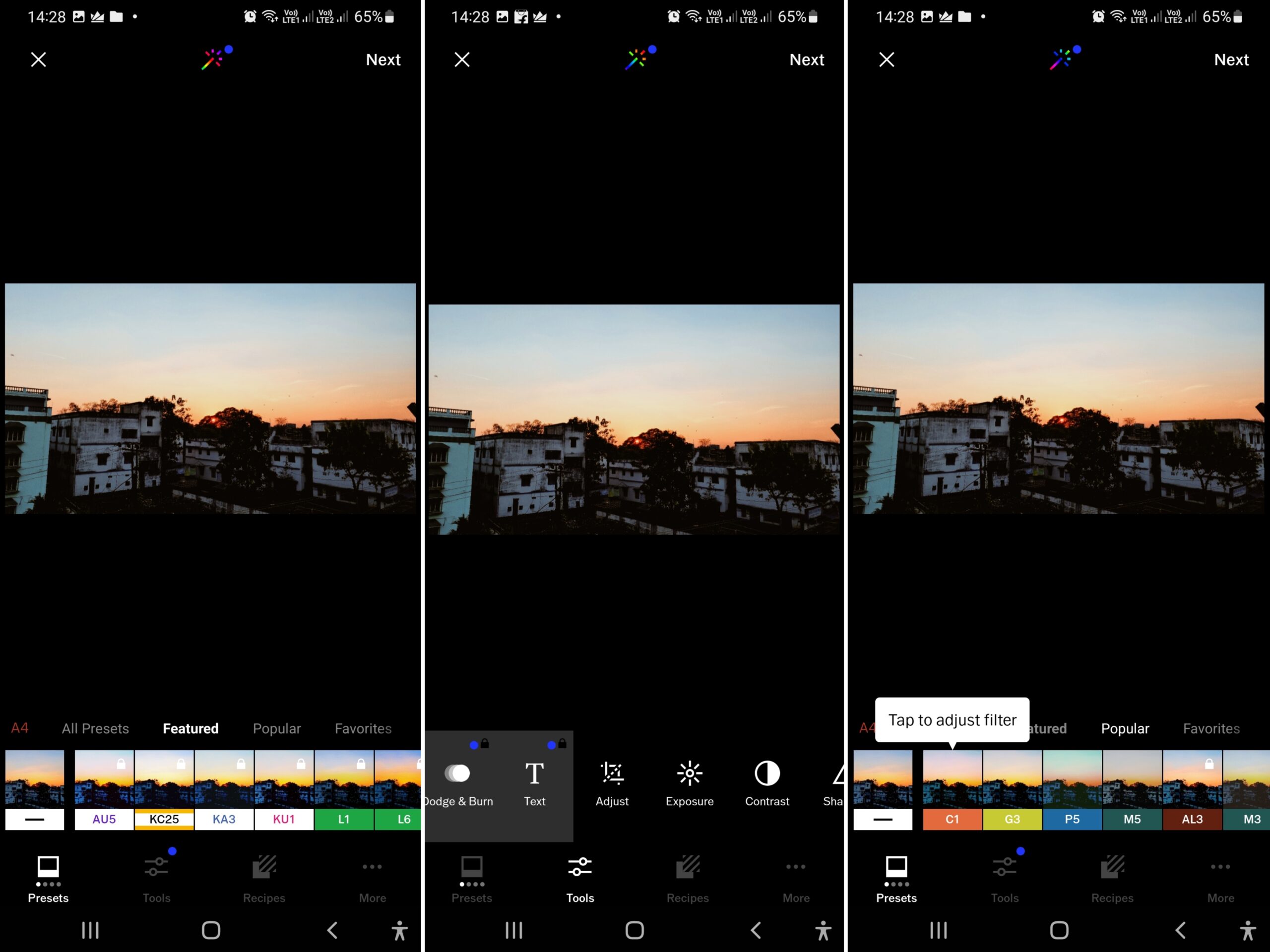 Afterlight
The reason why Afterlight is one of the best filter apps is that it offers plenty of filters which are created by famous professional photographers. Moreover, each filter can be changed or modified as per your mood. That means, you can change the look of the filters in various moods from cool and fresh to grungy and vintage. This obviously provides a better flexibility while using these filters on your photos. Additionally, just like Polarr, you can create your own presets which you can apply in your photographs later. Using the paid version of this app offers you some extra benefits. In a nutshell, a decent and unique filter app that you can choose to use.
B612 Camera&Photo/Video Editor
B612 is one of the most popular photo editor app designed mainly for girls who want to look better in photos as this app provides tons of face filters to apply and use. One can use these face filters to look better in photos within seconds. All of these filters are heavily processed thus creates a drastic change between the original and filter applied photos. So, don't worry if your face looks bad in photos because this app can really fix this within seconds with the help of its gorgeous face filters. You can also create your one-of-a-kind filter in this app for future use just like Polarr and Afterlight. In short, if you want to make your face extra-gorgeous in the photos then choose this app.
Polarr
Polarr is known for its thousands of filters which can be used for editing Instagram photos. However, 150+ filter are paid. All of these filters are included into different categories just like Picsart. Adjusting the intensity of those filters is also available similar to other apps in this list. Moreover, you can add weather effects such as snow, clouds, raindrops etc. in your photos with this app. Furthermore, unlike other app, Polarr provides the access to create your own filters to apply in your photos and you can even share them with ither users. To get some extra features and benefits, you can purchase the Polarr pro. Overall a great app for using filters that you can choose to use.
Instagram
As we all know, Instagram is one of the most popular social networking platforms and it is a pretty good photo editor app too. But the thing that is outstanding in this app is the 30+ filters which are free to use. Ludwig, Juno, Lark, Clarendon, Gingham & Lo-fi are the most popular ones of all these filters. So, if you are a beginner in photo editing & filtering and just want to take better photos for Instagram then you should use Instagram filters which are very easy to use. Just select the filter and post the photo(s) and you are good to go. You don't need to use any other filter apps if your requirement is to just post photos on Instagram. But if you want some uniqueness in your photographs then you have to use one of the multiple apps that we have mentioned in this list.
Therefore, guys, these are the best filter apps for your Android or iPhone right now that you can consider using to enhance the beauty of your photographs within seconds by applying various gorgeous filters. All of these apps are great in their own way. You can use multiple apps to filter the photos in multiple layers in order to make them even more superb. Anyway, we hope that you have found this article about the best filter apps helpful enough. If it really so then don't hesitate to express your valuable thoughts in the comment section below. Thanks for visiting and appreciating our work.