English is considered as one of the major globalized languages as it is spoken in most of the major countries in the entire globe. People from every religion from almost every country use English as their first or second language. It is also one of the easy-to-learn languages that anyone can adapt and use. Still, many of us struggle to learn & speak English as fluently as the native speakers. However, in our modern world, there are numerous language learning apps available on Play Store which we can use for the betterment of our English or other foreign language speaking skills. So, without further ado, let's know what are the best English learning apps among all of them available on Android.
Read Now: Best Brain Games You Should Play on Android!
If you want to learn & speak English along with more than 30 languages such as Chinese, Japanese, Korean, Spanish, French, German, Italian, Russian, Portuguese, Turkish, and many more then Duolingo is the app that you should consider learning because Duolingo is literally the most popular as well as one of the best multiple language learning apps out there in the Play Store. The short lessons with mini fun-filled classes of this app will help you to easily improve your English or other languages.
With that short lessons like games, you would be able to practice speaking, reading, listening, and writing to improve your vocabulary and pronunciation of English & other languages that you aspire to learn. Additionally, you can learn new words daily. Moreover, it is totally a free app! Isn't it amazing? An app with this much popularity and uniqueness is still a free app. Thus, it is proven that Duolingo is one of the best English learning apps for students as well as any person of any age and you should use it if you want to learn spoken English or other foreign languages in a unique & exciting way.
Just like Duolingo, Cake is another very cool and obviously one of the best English learning apps for students to improve their English speaking ability in an interesting & fun-filled way. But, unlike mini-games & lessons, Cake provides videos from where you can learn & improve your spoken English daily. With the help of these videos provided by the experts from the app, you can truly learn to speak native English as well as expressions & pronunciations. While watching the videos from Cake, you have to notice the subtitles & repeat them after each line which will be checked by the AI of the app whether it is correct or not. In that way, you can easily learn to speak English like the native people.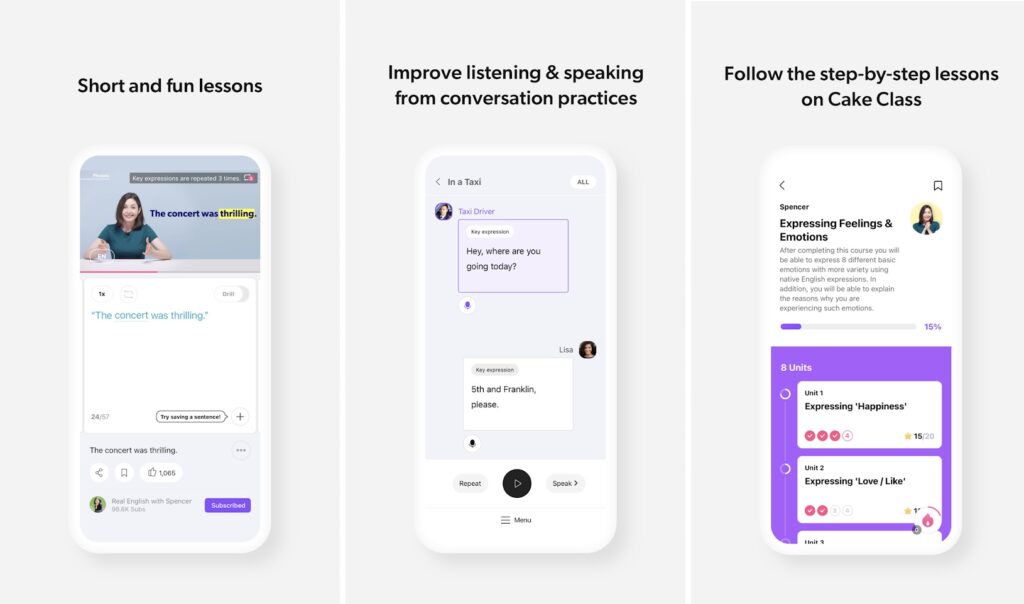 Moreover, daily expression clips, quizzes, lectures, classes & sentence practices are also available in this English learning app so that you can learn English in the best way possible. Unlike Duolingo, Cake comes with a premium version of its own which is called Cake Plus. To improve your learning further, you can purchase Cake Plus and access exclusive content of that premium version. Unfortunately, Cake is limited to only English learning but frankly speaking, it is one of the best English learning apps on Android, that is for sure. So, if you want to speak English like a pro then eat Cake, I mean, install Cake & use it.
This is another excellent language learning app that helps you to learn multiple foreign languages with ease. Just like Duolingo, Memorise also provides the opportunity to learn & speak more than 20 languages such as Spanish, French, Portuguese, German, Japanese, English, and many more. With the help of over 50,000 video & audio clips along with proper expressions, sound, tone & rhythm, you can effortlessly learn your needed or desired languages within months.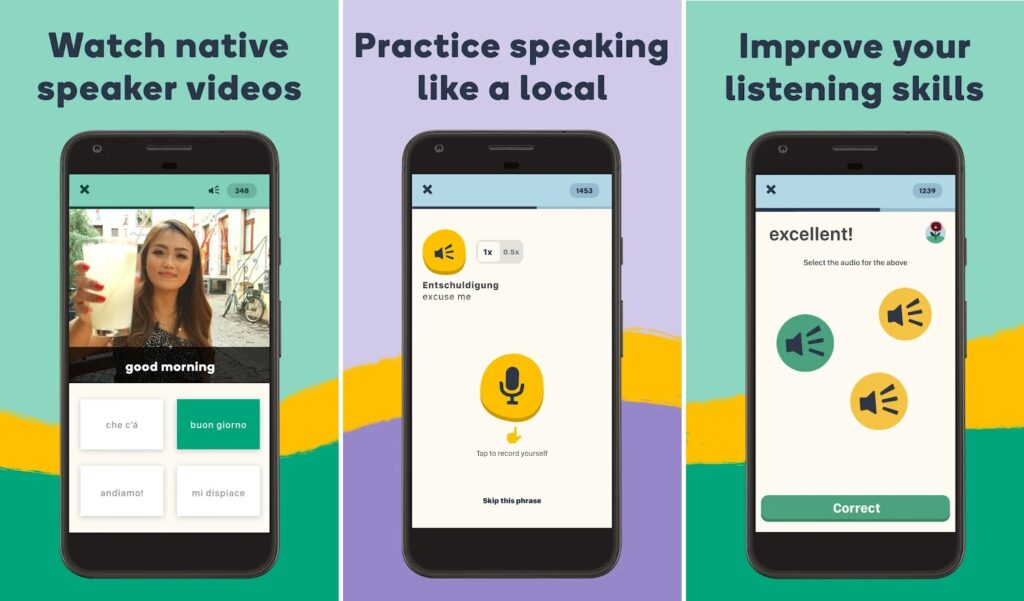 With the help of native experts of particular languages from this app, your journey to learn the languages will be simpler than ever! Unlike Duolingo, Memorise is not a free language learning app rather it possesses a pro subscription that you should purchase if you want to access all the learning features that help you to progress even faster. Anyway, this outstanding app, Memorise is also a great option for you if you need to learn English and multiple foreign languages properly and effortlessly.
Hello English is an app developed especially for India & other countries of the Indian Sub-continent as well as China, Portugal & UAE. Anyway, Hello English is one of the best English learning apps for those who are at the beginner level of learning English. So, if you are a beginner and struggle to learn English in a conventional way then this is the app you should go for. Hello English helps you to learn spoken English as well as Grammar from many languages which are: Hindi, Indonesian, Thai, Arabic, Malay, Urdu, Malay, Bangladeshi Bengali, Bengali, Punjabi, Telugu, Tamil, Kannada, Marathi, Gujarati, Oriya, Assamese, Malayalam, Chinese, Portuguese, Turkish and Nepali.
This awesome app provides free 475 interactive lessons on conversational English, grammar topics, vocabulary, and more. Moreover, Hello English provides interesting games on reading, translation, spelling, grammar, vocabulary with immediate results and grammar tips so that one can learn from their mistakes right away. In addition, there are professional teachers available on this platform with whom you can communicate for your problems.
Furthermore, chatbots, in-app dictionaries, daily articles, audio-video clips, e-books & what not? This app has everything a person needs to learn English properly. On top of that, this app is totally free! What more could you expect from a learning app right? So, without wasting time anymore, install Hello English and enjoy learning English.
ELSA (English Language Speech Assistant) is basically an English pronunciation AI app that helps you to speak English more fluently & fast. Daily conversations with this AI of this app help you incredibly to speak English with correct pronunciation as well as more fluently. Created by world-class experts and tested by professionals, this app's AI speech coach can select the best bite-sized lessons only for you so that you can speak easily as a native speaker does.
You can also take speech tests & challenges to see how good you're doing and what are your strengths & weaknesses. This excellent English learning app provides over 1,600 lessons on English pronunciations to practice & over 40 topics from travel tips to job interviews to explore. Furthermore, ELSA provides their own English Dictionary by which you can learn new words and their proper pronunciation and you can even compare to a native voice so that you can improve further.
Although free using free version is already good enough, you can also purchase the ELSA Pro for premium lessons & more extraordinary features. Some of them are discussed above. In a nutshell, ELSA is definitely one of the best English learning apps that you can choose to excel your fluency in English.
Busuu is another amazing & very popular language-learning platform that you can use to learn & speak English & 12 other major languages which are, Spanish, French, Japanese, German, Italian, Russian, Chinese, Turkish, Arabic, Polish, Dutch & Portuguese. With advanced classes of speaking skills & grammar of English & other languages, this app truly provides awesome content that an individual needs to excel in his/her way to be a fluent speaker.
From beginner to advanced level, Bussu is great for all learners. However, Busuu is very limited if you use it for free. You have to purchase the premium membership to get all the outstanding features of this app so that you can easily learn & speak English & other languages. Moreover, after completing courses, you can also get official certificates from Busuu which is also an impressive thing. Thus, Busuu is obviously one of the best English learning apps for Android and you should give it a try.
Therefore guys, these are the best English learning apps available on Play Store for you Android smartphone which you can use to learn English easily yet effectively so that you can speak English with fluency as well as proper pronunciation. Choose any of these apps which you find suitable for your requirements and start to learn today. Some of them also features other foreign languages which if you wish, you can also learn. Anyway, we hope that you have found this article about best English learning apps helpful. If it really so then don't hesitate to express your valuable thoughts in the comment section below. Thanks for visiting and appreciating our work.