Zombie games are an integral part of the action games category and this subcategory becomes popular day by day as everyone loves to shoot & kill those dumb walking deads. If you are one of them then you should be wondering which is the best zombie game for Android as there are thousands of cool zombie games available in the Play Store. So, look no further because here, we have listed the 25 best zombie games for Android that every action-lover & zombie-hater should enjoy playing. Without further ado, let's know them one by one in detail for your convenience.
VNG Game Studios is literally the expert in developing the best zombie games for Android. From DEAD WARFARE to Dead Uprising. Their each & every game is superb. But, their masterpiece game is DEAD TARGET which is why this game is the most downloaded FPS zombie shooter game on Android crossing 115 million downloads worldwide.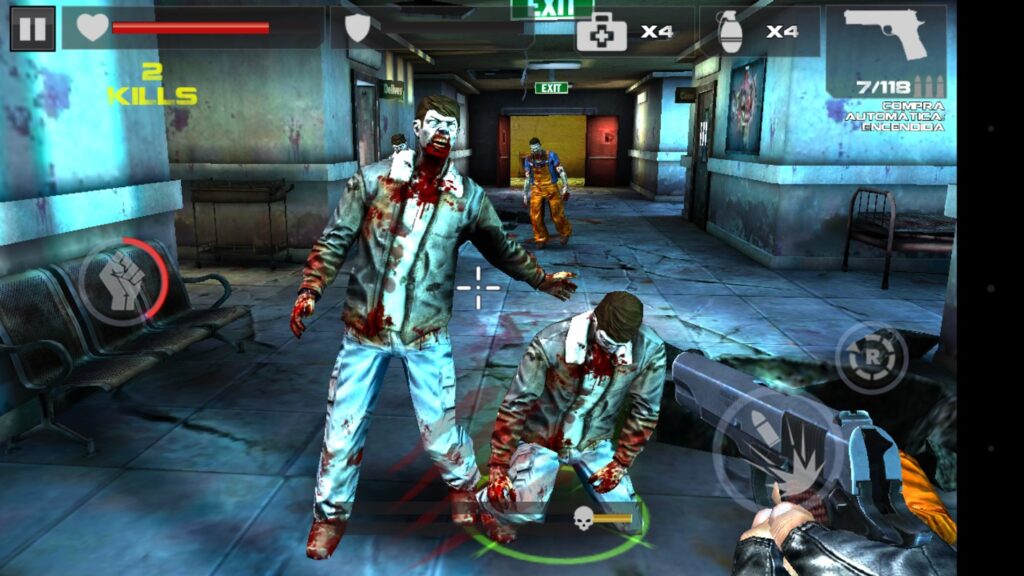 From deep storyline to perfectly optimized gameplay & quality graphics, this game is filled with everything a gamer wants. The game is totally offline still it provides top-notch non-stop action-packed 500 missions divided by different game modes which you have to play with 50+ next-gen weapons available in attractive skins. In a nutshell, this is one of the best if not the best zombie game in Android that you should not miss if you want a perfect zombie shooter game.
DEAD TRIGGER 2 is the sequel to the first game DEAD TRIGGER. After the first game got huge success, this second game of this series released within 1 year. DEAD TRIGGER 2 has got even more popularity than its predecessor because of its amazing graphics quality and its intense action-packed first person shooting gameplay. You have to build your personal hideout where you have to meet & team up with other characters such as Gunsmith, Scientist, Medic, Engineer etc.
There are 10 regions & over 600 campaign missions available in 33 different apocalyptic locations of this awesome game. More than 70 types of weapons are there in this game which you can collect & upgrade to kill the hordes of zombies. Weekly events & tournaments make this game even more exciting to play. So, install this game right now and join 50 million players worldwide if you want great graphics with stunning FPS gameplay in a zombie game.
Apart from zombie shooting games, zombie survival games are also pretty thrilling to play. Last Day on Earth is best among them. This survival shooter zombie game's storyline is set in a post-apocalyptic world of 2027 where you have to build your own house, craft your own weapons & other survival stuff.
Moreover, you have to save your resources & yourself from other survivors & zombies. The other survivors mean this is a multiplayer game & over 100 million players are playing this game so you don't know who & when will invade your house so try to keep them as safe as possible. Just be careful for incoming zombie hordes & intruders. The in game features & survival tactics of this game is fantastic as well as addictive.
There is a vast map with many seasonal locations where you can find many precious resources but watch out! Other survivors & more zombies will be waiting for you there! The immersive gameplay with a realistic survival mechanism makes this game even more amazing. So, if you are a fan of survival games as well as zombie games, you don't want to miss this one of the best zombie games for Android.
We have already known how good MADFINGER is at developing FPS games such as DEAD TRIGGER game series, Shadowgun Legends and many more. UNKILLED is one of them. It's a great FPS zombie game just like DEAD TRIGGER 2. But unlike DT 2, this game is a multiplayer zombie shooting game.More than 150 story missions with different bosses are available to complete in this cool zombie game.
With PvP & cooperation game modes, this game obviously provides higher level of excitement and action than others. 40+ weapons are there in this game for you to collect & upgrade. Anyway, in short, UNKILLED is an excellent multiplayer FPS zombie shooting game and if you want to join more than 30 million players worldwide to tackle the zombie apocalypse with them then go for UNKILLED right now!
These games are not like our ordinary zombie shooting games rather they are very fun-filled yet strategic games where you have to defend your home with the help of your plants from the hordes of zombies. Isn't it interesting? That is why, both Plants vs. Zombies 1 & 2 have crossed 100 million downloads each!
In the first game, you have to collect & use your arsenal of 49 zombie-killing plants such as peashooters, wall-nuts, cherry bombs & many more in order to destroy 26 different types of dumb to intelligent zombies from invading your home. With 50 fun-dead levels in different locations of your house such as front yard, back yard, fog, swimming pool, rooftop etc. along with day/night mode, you cannot find a more entertaining zombie game than this.
The second Plants vs. Zombies comes with even more fun & excitement as it provides hundreds of new powerful plants to smash even smarter zombie hordes. Grow your plant army with power up attacks and double defences. In this game, you can also compete against other players in Arena unlike the first one. With more than 300 levels along with 11 crazy worlds such as ancient Egypt & far future, the war against zombies remains no more only at your home lawn in this game. In the end of every world, the boss of all zombies is going to take you on!
So, there is no secret why both of these games are two of the best zombie games for Android. If you really want a strategic as well as fun-filled gameplay against zombies then these two games are created for you.
State of Survival is a strategy survival game somewhat similar to the Last Day on Earth. As you are a survivor, you have to build shelters for you & other peoples while fighting with the constant waves of zombies. The interesting thing of this game is when you will fight against the zombies, you can go FPS mode like conventional zombie shooting games!
The graphics & in-game features are significantly greater than Last Day on Earth & other survival games. As it is a deep multiplayer strategy game mixed with horrifying action, you have to use your brain as well as your weapon simultaneously. The high-quality graphics along with addictive gameplay make this multiplayer zombie survival game even better so it is no secret why this is one of the best zombie games for Android.
After its release in 2019, in just 2 years, this game has crossed the download of 50 million players! So, you can see how awesome & addictive this game is! If you want to play a next-gen survival game based on your favourite enemy, zombies then this one is made for you.
Zombie Frontier 3 is one of the most realistic & best zombies games in Android because of its realistic graphics & easy-to-handle gameplay. Unlike its predecessor Zombie Frontier 2 & 1, this game is much more optimised as well as better. With a deep storyline, this game comes with 120 levels of action-packed missions. There are 30 powerful guns available to collect and upgrade in this game. You cannot easily find a better FPS zombie game than this. So, you should not miss this outstanding realistic zombie game.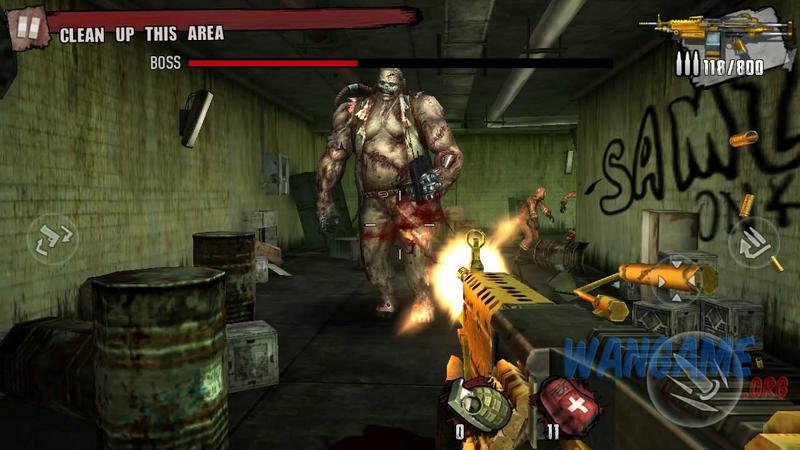 While VNG Game Studio's DEAD TARGET is all about shooting hordes of zombies as a sole survivor, DEAD WARFARE is all about recruiting a squad to kill the zombies along with surviving together. Your group has to start an adventurous journey throughout the world to find other survivors, weapons & many more.
With cool graphics, bone-chilling locations, hundreds of thrilling missions, this game is no doubt one of the best zombie games for Android right now. PvP mode is also available in this game. So, start your first-person shooting adventures right now to kill all the walking dead!
What will happen if the zombies start running away from you? & what if your task will be to chase & catch them? Unique & interesting, right? That's Zombie Catchers is all about. You have to catch the zombies with your harpoon gun or many other unique guns. This action-adventure platformer zombie game has recently crossed 100 million downloads in the Play Store which is a proof why this is one of the best zombie games for Android right now.
The in-game features are pretty cool of this game. You can use various power ups, traps and other hunting gadgets to catch the different types of zombies even more easily. Hundreds of missions at different locations with special bosses make this game very entertaining to play. Additionally, you have to run your business with my making juices & snacks from those captive zombies! it's a fully offline game & best for the casual gamers. If you love this unique fun-filled zombie game, just give it a try.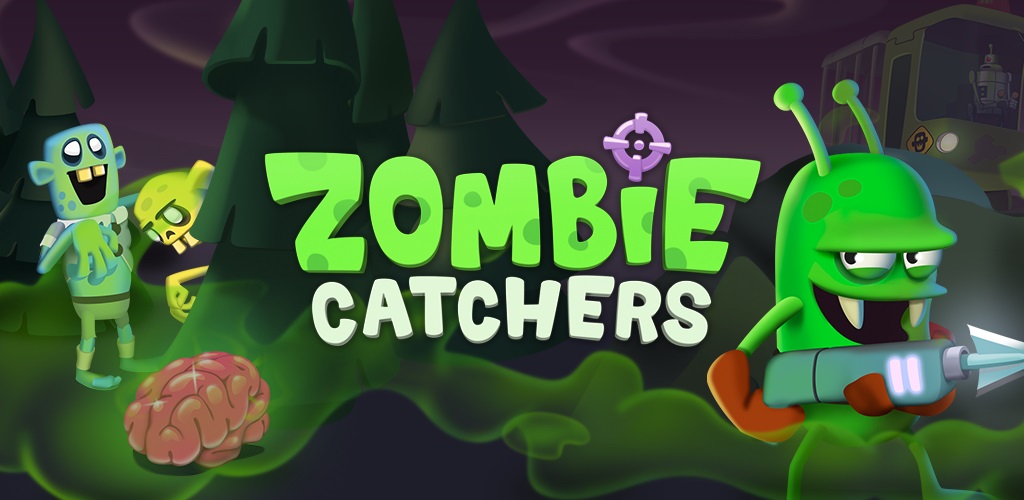 DEAD TRIGGER is one of the oldest zombie games on Android and also the very first FPS zombie shooter game too. But this is not the reason why this game has been downloaded for 60 million times rather its quality graphics, easy-to-handle gameplay & decent storyline are the reason why this is one of the best zombie games for Android. Although DEAD TRIGGER is not that amazing like MADFINGER's later games such as UNKILLED & DEAD TRIGGER 2, still it is a pretty cool game to play if you love shooting zombies.
Stupid Zombies is a cool arcade style zombie shooting puzzle game series where you have to shoot the zombies by using your brain. This turn-based zombie shooting game series includes three games with same name which are Stupid Zombies, Stupid Zombies 2 & 3. All of them are quite good although the Stupid Zombie 3 is the most loved among them. Different weapons like shotgun, flare gun, RPG launcher etc. make these games more fun-filled as well as action-packed. More than hundreds puzzles are available in these games where you have to use your brain to properly shoot those stupid zombies. Surely, these three games are great for casual gamers.
Zombie Hunter Sniper is a pretty decent zombie shooter game where you have to shoot zombies with your snipers as a primary weapon or other secondary weapons. Over a dozen of snipers & secondary weapons like RPG launcher, Ak-47, P90, etc. are available to collect & upgrade as you progress in the game.
There are a few power-ups available that will help you in difficult situations in the missions. You have to save the citizens by killing the zombies who chase them to eat. This FPS zombie shooting game comes with hundreds of challenging time-limited suspenseful missions in different post-apocalyptic locations. However, the graphics are not so great, still, it's a cool game that you should give a try.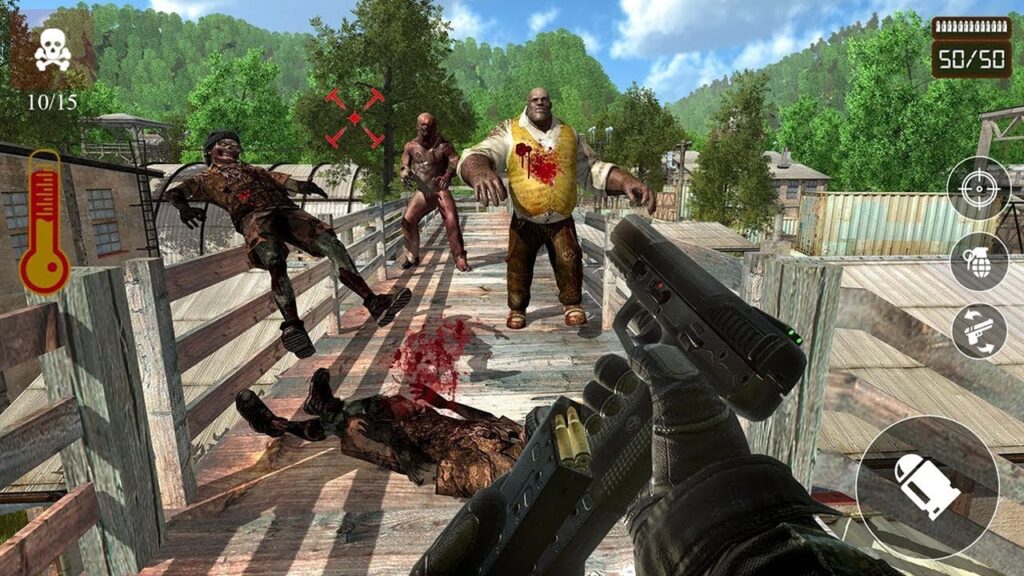 Zombie Roadkill is a unique driving game where you have to drive your car on the post-apocalyptic roads and shoot the incoming zombie hordes that try to attack your car. You can use multiple guns to shoot zombies while driving a number of cool vehicles. 10 cool weapons and 5 powerful vehicles are available in this small game to collect and use. Story mode & Endless mode are the game modes that you will have to play in this decent yet unique zombie game.
Both Zombie Age 2 & 3 are two of the best zombie games for Android because of their truly action-packed arcade-style gameplay in quite a small size. Both these games come with more or less 2 dozens of characters to unlock & choose before playing. Moreover, 30+ various guns & melee weapons are also available in each game to collect, upgrade & use against zombie hordes. Hundreds of levels along with various game modes make these two games more enjoyable to play. These two are some of the coolest zombie shooter games for sure!
It is a great strategy-based zombie shooter game where you have to use your brain as well as firepower to defend your bases from zombie hordes. This game is kind of a modern tower defense where you have to recruit various soldiers, place them on slots & start firing at those dumb walking deads. You can also move your soldiers between slots if necessary. Moreover, you can add more slots, upgrade soldiers and their firepowers. You can even order supplies, airstrikes, or throw grenades.
In short, this is a perfect mix of strategy, tactics, and micromanagement which is why this is one of the best zombie games for Android. With 22 different recruits, you can go for 4 types of modes in this game which are regular, nightmare, 3 man challenge, and TV challenge. A total of 46 missions are available in this fabulous game. Decent 3D graphics, extra power-ups like operating tesla towers, and gun turrets are also there in the game for your ultimate fun. So, if you want to destroy the zombie hordes strategically then you should go for this unique strategy-based zombie shooter game.
Just like the Zombie Age game series, Zombie Diary 1 & 2 also is a pair of casual arcade zombie shooter games. Both of these games are very less in size and great for time-killing. With more than two dozen of guns, hundreds of missions where you have to shoot at different types of zombies & various maps to explore, these two games are pretty fine. If you are a casual player, you can try these two just like the Zombie Age trilogy.
This is not a prequel or sequel to the official Walking Dead game series rather this is a totally different game by different manufacturers which is based on survival tactics along with various role-playing elements. You have to stay updated with your characters whom you will use in the team to defend from walking deads. Apart from main missions, PvP and other exciting game modes make this game more amazing to play. Although the cartoonish type of gameplay is hated by some gamers, it is still one of the best zombie games for Android because of its chilly storyline and cool in-game mechanism. So, can you survive the unlimited hordes of zombies? Then download this game now!
Into the Dead and its sequel, Into the Dead 2 are two of the most popular as well as best zombie games for Android. Both of these games come with endless running gameplay while surviving your character from the incoming zombie hordes. The first game, Into the Dead, provides endless running gameplay with missions and mini-goals to make it more challenging to play. If you can run for long enough, you can also challenge your friends to beat your high score. Utilize the perks and the arsenal of powerful weapons smartly to run for a longer time while defending yourself from the zombie.
Into the Dead 2 comes with a huge size of 1.4 GB with stunning graphics so that the gameplay feels even more realistic. Also, this second game comes with a great storyline that leads you to play story mode where you have to complete objectives and missions one after another while running and surviving from the walking dead. So, if you want to play casually just for more high scores then go for the first one but if you want polished HD graphics along with a nightmarish storyline that leads to realistic gameplay then you should go for the second one. However, both are quite outstanding zombie games.
The Walking Dead is one of the most critically acclaimed game series that is based on the award-winning series of the same name. This is a five-part zombie survival cum adventure game series where you have to play as the protagonist of the deep hellish story of the game. From action-packed sequences to choices and decisions that will affect the storyline, this game series is beyond perfection!
The second game of this series is the sequel of the previous game which means it also continues the same storyline of the previous game so that the deepness of the storyline increases over time which leads to huge plot twists later. In short, both of these games are undoubtedly two of the best zombie games for Android because of their excellent storyline with adventurous and action-packed survival gameplay. If you want to play truly serious games about zombie survival then this game series is the one you should go for.
These are the 25 best zombie games for Android that everyone should love playing for hours. A few of them come with unique & fun-filled gameplay whereas most of them come with traditional FPS zombie shooting or survival gameplay. Choose the game according to your taste as every game on this list is fantastic. Anyway, we can hope that you have enjoyed reading this article: "25 Best Zombies Games for Android!" & if you found this article to help you then express your valuable thoughts in the comment section below. Thanks for visiting & appreciating our work.