Discover the most compelling cinematic experiences of the year without leaving your home. In 2022, streaming platforms offer a wealth of must-see movies across genres and captivating audiences across the globe. From blockbusters to indie gems, we've rounded up a list of the best movies of 2022 to stream right now. Get ready to be immersed in unforgettable storytelling and spectacular performances at your fingertips. Join us as we explore the cinematic bliss to come in 2022. Let the streaming marathon begin!
All Quiet on the Western Front
Available On: Netflix
IMDB Rating: 7.8
In "All Quiet on the Western Front," we follow a group of young German soldiers who experience the harsh realities of World War I. The film delves deeply into their personal struggles, camaraderie and the psychological impact of war. In the midst of constant fighting, these soldiers find themselves questioning the true nature of war and the sacrifices they make. With powerful performances and harrowing visuals, the film depicts the deep impact of conflict on humanity, giving viewers a poignant reflection on the horrors of war. Frankly, one of the best movies of 2022 in the war drama genre that you should stream right now. What a movie!
Everything Everywhere All at Once
Available On: Prime Video
IMDB Rating: 8.2
"Everything Everywhere All at Once" delivers an enthralling and visually mesmerizing journey that defies the confines of time and space. It follows the journey of an ordinary-looking woman named Evelyn as she discovers her connection to several parallel universes. As she navigates through these alternate realities, she uncovers hidden truths about herself and the universe, leading to an exciting and emotional exploration of identity, destiny, and the interconnectedness of all things. This thought-provoking film will leave viewers questioning the fabric of reality long after the credits roll. In terms of science fiction, the movie shows everything beautifully. If you have some interest in science, the parallel universe, and quantum superposition I would recommend this film. One of the most epic movies from 2022 is ready for to stream right now from Amazon prime video.
Fire Island
Available On: Disney Plus
IMDB Rating: 6.7
"Fire Island" follows the annual weeklong vacation of Noah and his close friends as they head to Fire Island, known for its gay villages. Their "house mother" Erin reveals it will be their last trip together as she plans to sell her house. As the group meets new people, romantic tensions and personal conflicts arise. Noah tries to set up his friend Howie with a doctor named Charlie, while also developing feelings for a lawyer named Will. Amidst parties, drugs, and confrontations, the group navigates love, friendship, and self-discovery during their eventful stay on the island. The movie explores themes of identity, judgment, and the complexities of relationships, culminating in a heartfelt and hopeful ending. A romantic comedy – not perfect for everyone. Still, I recommend this film I can't say it's a masterpiece but perfect enough to be one of my most favourite movies of 2022 to stream right now.
Glass Onion: A Knives Out Mystery
Available On: Netflix
IMDB Rating: 7.1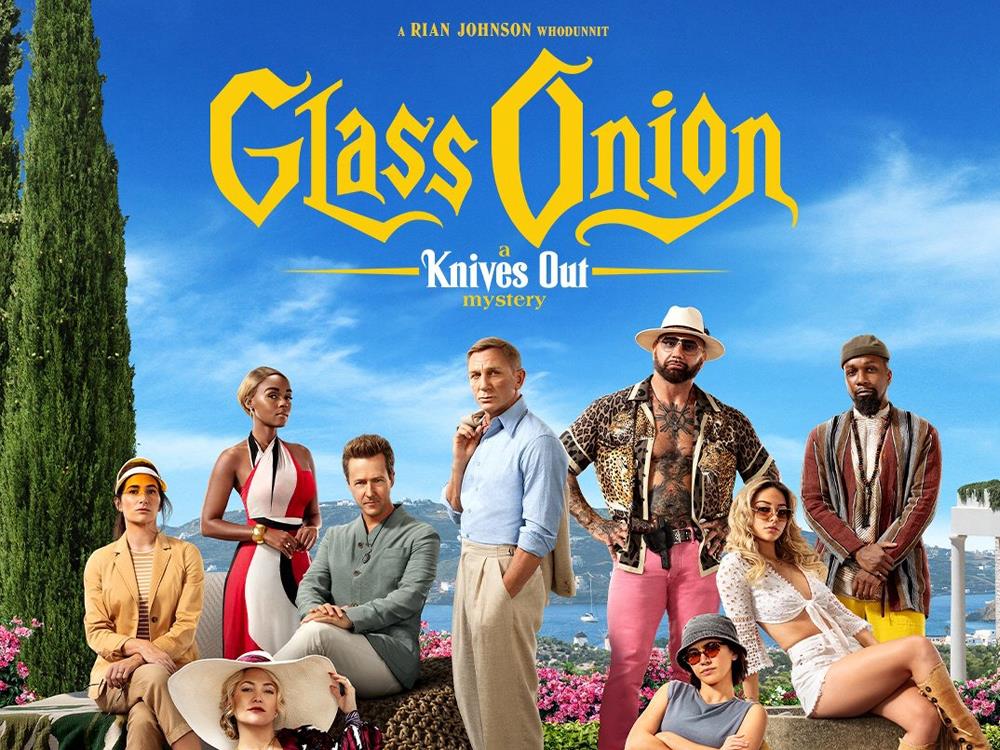 In "Glass Onion: A Knives Out Mystery," tech billionaire Miles Bron gathers his close friends on his private Greek island for an exclusive getaway. The idyllic vacation takes a sinister turn when a guest is discovered dead, sending shockwaves through the group. Detective Benoit Blanc arrives to untangle the web of deception, and as he delves deeper into the secrets of the guests, he uncovers a labyrinth of hidden motives and surprising alliances. With each revelation, tensions mount, and the true nature of the murder becomes increasingly elusive. The story weaves a riveting narrative of intrigue, where every character is a suspect, and the glass onion of truth slowly reveals its dark secrets. So, unveiling the story a little bit hope you can understand this film kind of fall in the crime thriller genre. If you're finding a best movies from 2022 – don't miss this.
Top Gun: Maverick
Available On: Prime Video
IMDB Rating: 8.3
"Top Gun Maverick," the highly anticipated sequel to the 1986 classic, lives up to its hype. Tom Cruise's exceptional acting and realistic aerial action sequences make it a masterpiece. As flight instructor Maverick, he trains a new generation of pilots for a critical mission to stop nuclear missiles. The film skillfully blends action and drama, creating an unforgettable cinematic experience. Maverick must forge ahead through personal sacrifice, camaraderie, and an unwavering pursuit of excellence. Packed with adrenaline and emotion, this film showcases stunning aerial visuals and an engrossing narrative that pays homage to a classic while making its way into the future. Get ready for an adrenaline-pumping ride that will leave you on the edge of your seat! This film is perfect. Just like every scene and dialog are set brilliantly. So, I can't skip this film.
Also Read: Best Tom Cruise Action Movies That Will Leave You Breathless
RRR
Available On: Netflix
IMDB Rating: 7.8
In the action-packed movie "RRR," set against the backdrop of India's pre-independence era, two brave and charismatic freedom fighters from different regions unite in a daring mission to fight against the common enemy. Their indomitable spirit and unwavering resolve inspire a revolution that shakes the nation to its core. Filled with breathtaking action sequences, emotional drama, and a powerful narrative, "RRR" takes audiences on an exhilarating journey through the heroism, sacrifice, and camaraderie that define the true essence of patriotism. Ok, let me tell you the cinematography is amazing but what I personally don't like is the friction that is added to the Indian War of Independence against the British Empire. Whatever, one day if you're getting bored and looking for an entertaining film this could be the movie.
TÁR
Available On: Prime Video
IMDB Rating: 7.5
In "TAR," renowned musician Lydia Tár faces unexpected challenges as she prepares to record the symphony of her career. Finding strength in her adopted daughter Petra, they forge an unbreakable bond, inspiring Lydia's music to reach new emotional heights. The heart-warming tale reminds us that love and resilience can come from the most unexpected places. If you're looking for a psychological thriller then this film should impress you.
Also Read: Explore the 14 Best Psychological Thriller Movies Of All Time
The Banshees of Inisherin
Available On: Disney Plus
IMDB Rating: 7.7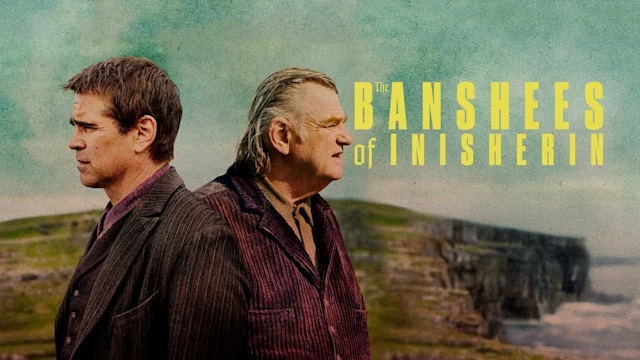 "The Banshees of Inishrein" is a dark comedy set in 1923 on a remote Irish island. When a simpleton and a profound musician end their friendship, it triggers a series of absurd conflicts within their close-knit community. Between gallows humor and unpredictable violence, the film explores the complexities of human relationships and the fine line between friendship and enmity. Colin Farrell and Brendan Gleeson star in compelling performances in this thought-provoking tragic comedy.
Batman
Available On: Prime Video
IMDB Rating: 7.8
In the much-anticipated film "Batman 2022" directed by Matt Reeves, the complexion of Gotham City has turned darker and grimmer than ever. Robert Pattinson stars as Bruce Wayne/Batman, a troubled vigilante determined to save his city from rampant crime and corruption. Faced with a new and mysterious adversary, The Riddler, played by Paul Dano, Batman must confront his inner demons and find the strength to become Gotham's symbol of hope. With stunning action sequences, a compelling story and an impressive cast, "Batman" delivers an unforgettable cinematic experience for fans and newcomers alike. If you are looking for the best thrillers of 2022, "The Batman" should be at the top of your list. So, if you're looking for the best movies to stream a 2022 movie right now "Batman" should be your first peak if you haven't watched it already.
In the Concluding Lines…
Now I hope you will fall in love with all of those movies I have shortlisted earlier. Really, nowadays, streaming platforms offer a wide variety of cinematic treasures for every movie enthusiast. From heart-warming drama to thrilling action, these movies are a must-watch experience. Ok, without further wasting any more of your time let's make this article to an end. Now go grab your popcorn, sit back, and let the magic of the cinema unfold right in your living room. Happy Streaming!