The action comedy genre is a type of special category of movies that is the combination of two popular genres; action and comedy. If you are that kind of audience who doesn't like a serious storyline packed with action but rather a light-hearted storyline mixed with both action and comedy to make it very entertaining, then you should love action comedy movies. I also love to watch this type of movie and that's why I have listed the best action comedy movies that you want to miss if you want to get next-level entertainment. Without further ado let's get started with this list of best action comedy movies.
A Man From U.N.C.L.E
IMDB: 7.2
Available On: Netflix
In the action-adventure genre 'A Man from U.N.C.L.E' is one of my favorite movies released back in 2015. In this movie, there are two spies from different organizations both are trying to prove themselves better than one another. Suddenly on a serious mission of nuclear weapons, they have to work with each other to save the world. Until the end do they really save the world? Can they successfully work with each other? Watch the movie to find it yourself. By the way, I can assure you that you will not be disappointed; There's lots of action, adventure and a little bit of comedy. Definitely, worth watching.
Central Intelligence
IMDB: 6.3
Available On: Netflix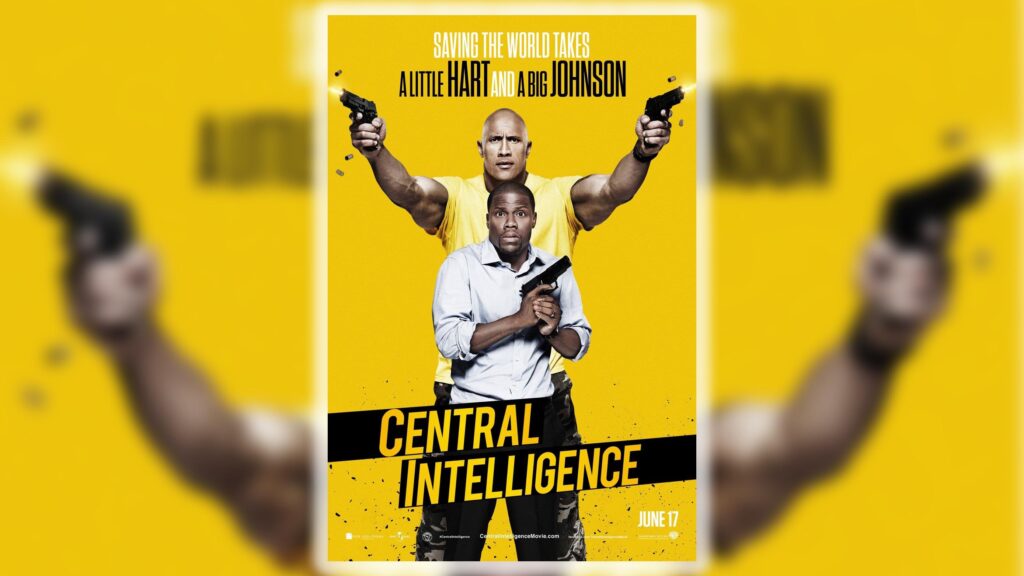 In the action-comedy genre, I can't explain what level of comedy you will miss if you skip this movie. With so much adrenaline rush action you will not leave the screen for a moment. In the lead role, Dwayne Johnson and Kevin Hart just break the stage. The funniest roll of our beloved 'The Rock'. The movie starts with Kevin Hart's character. After so many years after college, he met with his old friend – Bob Stone (Dwayne's Character); He is stunned to see how he metamorphosed from a very obese unhealthy youngster to a lean and muscular individual thanks to the vigorous training he went through for the last 20 years. Even Bob is currently working at the CIA. How they rock in the whole movie can't be explained in words. Furthermore, Aaron Paul's cameo scene is the icing on the cake. Watch! And I can guarantee that you will be entertained.
Rush Hour Trilogy
IMDB: 7.0, 6.6, 6.2
Available On: Netflix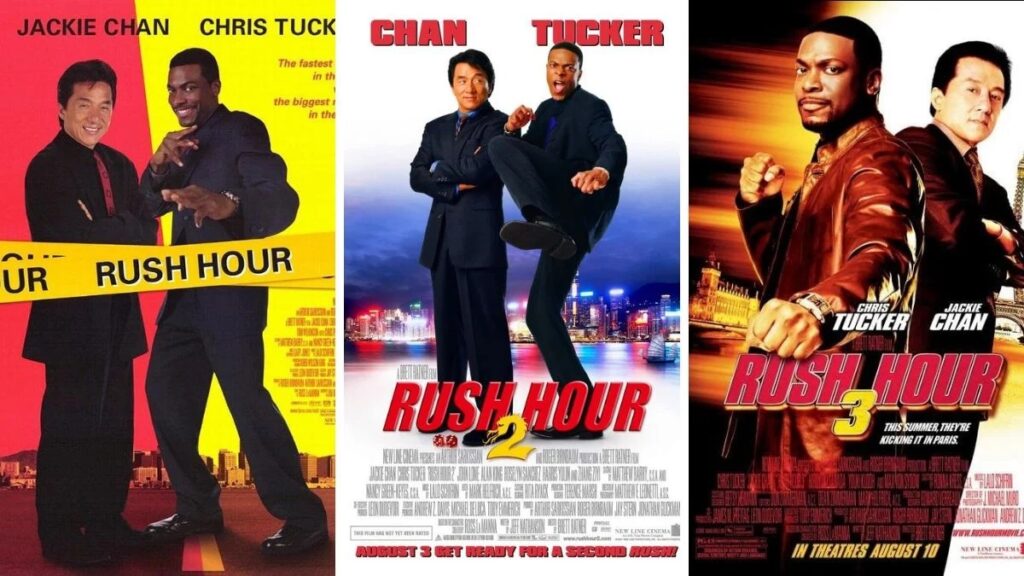 Released way back in 1998. Having 3 parts of this movie it is a masterpiece of the action comedy genre. Jackie Chan and Chris Tucker: two iconic names in the lead role. With the trilogy, you will become a f an of their characters. Jackie Chan's character is hired to solve a case of a missing Chinese girl. Chris's character is working on LAPD who is trying to work with him for some reason. The guy from LAPD is shown as stupid and funny. His comedy and Jackie Chan's action take the movie to a next level and no one action lover wants to miss the trilogy. This movie series is one of my favorite Action comedy genres.
Get Smart
IMDB: 6.5
Available On: Amazon Prime Video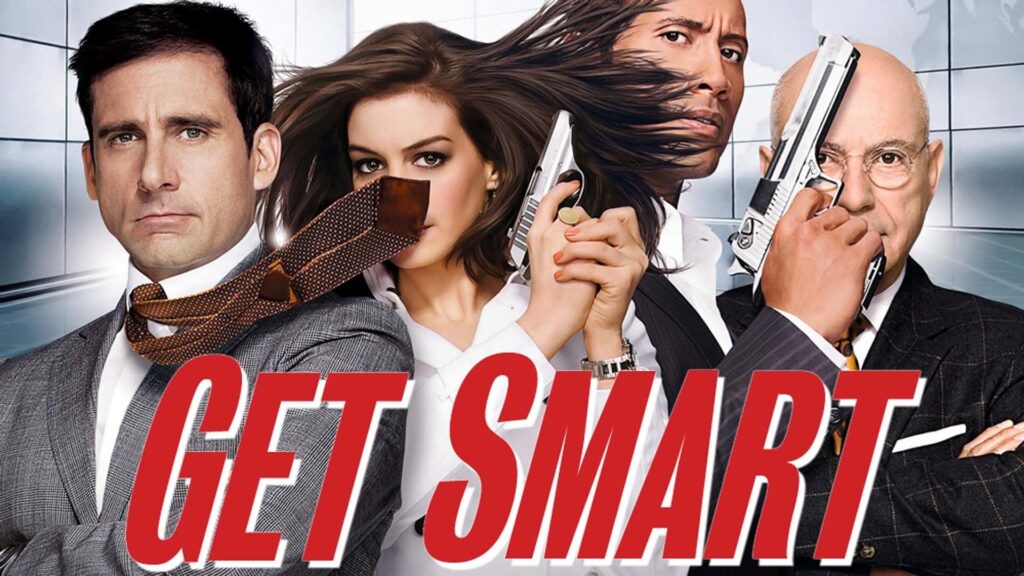 You will just laugh at every minute of the movie. No, it's not just a comedy movie. In combination with lots of action sequences, this film can have so many scenes that a normal person should not do. There is a spy who goes on a mission to save his country. Yes, he is pretty intellectual but for some reason, everything goes wrong with him and every situation can't be executed as he thinks. Which leads to create so many funny situations. Dialogue and the character's facial expressions are really adding life to this movie definitely worth a try. There are several scenes of 'The Great Khali' as a fan you will definitely be pleased.
Guns Akimbo
IMDB: 6.3
Available On: Amazon Prime Video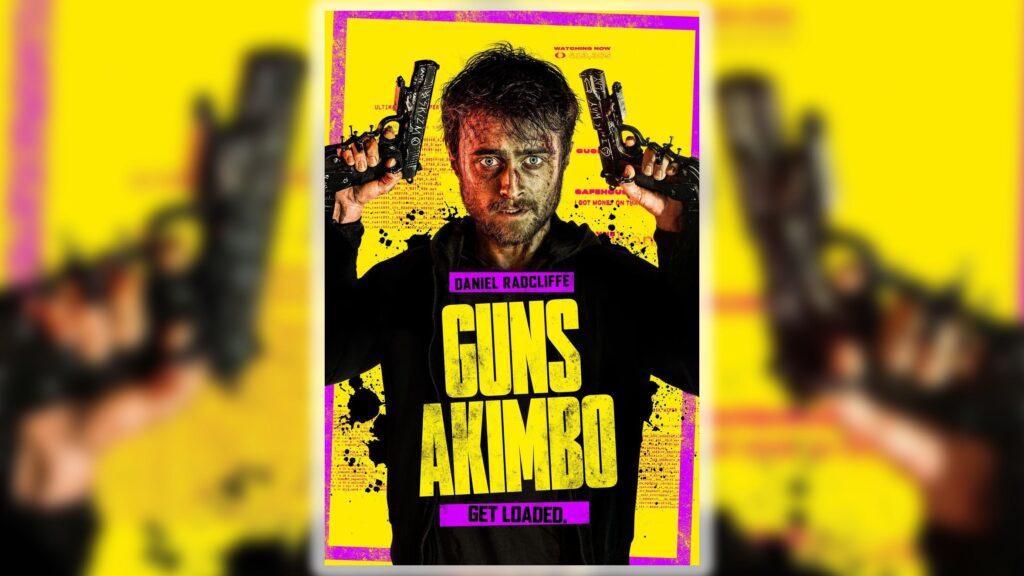 If you are a gamer: you should definitely check out this movie. Daniel Radcliffe our beloved 'Harry Potter' is in the lead role. A nerd who is timid, dumb, and an idiot person in real life but in online, he is a pro gamer. But one day on an online forum he slangs someone. Later he realized that the person on the other side is a gangster who somehow addressed Daniel Radcliffe's character and attacks him to make him senseless. When Daniel's character wakes up finds himself that the gangster has drilled guns into both of his hands. What next happens? watch the movie. With Guns drilled he can't manage to do his daily basic work such as wiring clothes or visiting the latrine which adds up to so many comedy scenes in this movie. The guns are completely loaded in his hands so there are a lot of action sequences that make you fall in love with this movie. I will definitely recommend you.
The Man From Toronto
IMDB: 5.8
Available On: Netflix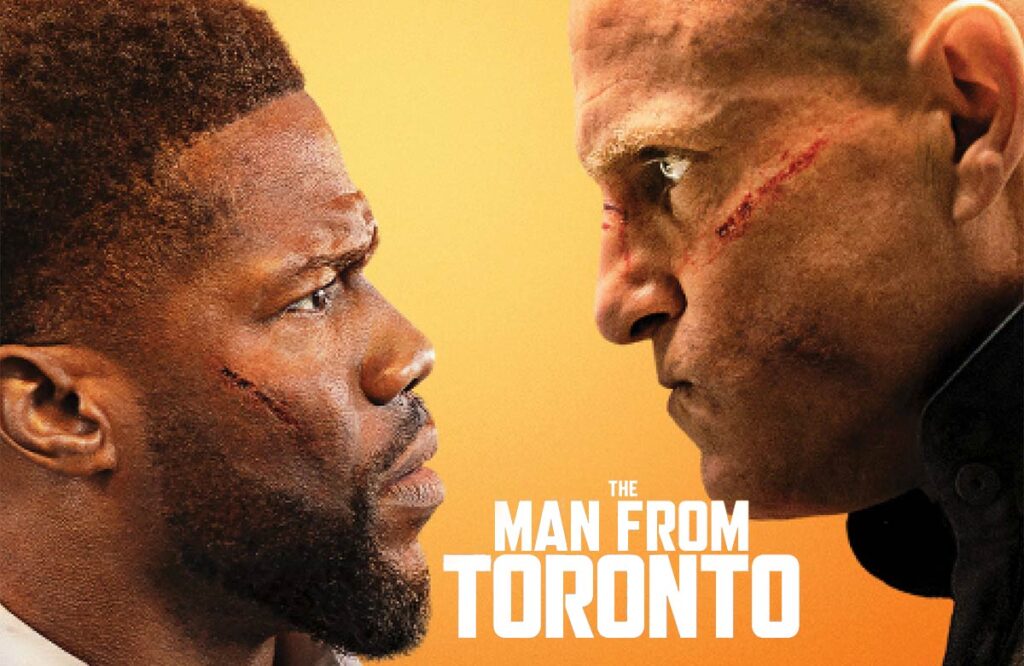 The story is rounded on a looser man who suddenly reaches a certain place filled with criminals; you guessed it he is not at the right place at right time. Understanding the situation of getting caught or being killed he started to act like the deadly assassin 'The Man From Toronto' who is being expected to be there. When the real 'The Man From Toronto' appears the scenes are becoming interesting and thrilling. What will happen next? Can the man survive? Well, watch the movie. The mixed approach of comedy and action definitely makes you entertained. Kevin Hart is in the lead role; he performs really great comedies in movies and I can assure you this movie is definitely worthy of your time.
Free Guy
IMDB: 7.1
Available On: Disney Plus
In video games, we always ignore NPCs right? But what If an NPC developed its own consciousness, that's what the movie is about. With lots of action sequences in a touching comedy, this movie becomes one of my favorite action comedy movies. Ryan Reynolds has done an incredible job in this film. He is in the lead role named 'Guy'. This movie clearly represents the life of an NPC – Non Playable character which is also known as a bot in simple terms. How players kill bots just for enjoyment. NPCs are in almost every game GTA, PUBG, or whatever game you can think of. There are also a lot of easter eggs about 'Avengers' in this movie. If you're a Gamer or were a gamer this movie will definitely entertain you.
Jumanji Duology
IMDB: 6.9, 6.7
Available On: Netflix
This movie is also quite related to video games. There's a game named Jumanji in which 4 friends started to play. For some reason, all of the friends are pulled into the game. They have to play all the levels to get out of the game. There are several challenges that they have to clear. Just like video games inside the game, each friend gets 3 lives. If one loses all the lives then he will be eliminated from the game and as a person too. So a pretty serious event but as it's showcased in the movie you can't stop laughing. As they are in the game there's a lot of action, adventure, good boss fight, and small ho-hum action mixed with lots of comedy making this movie really entertaining. You should definitely check out both of its parts you shouldn't miss it anyway.
Deadpool Duology
IMDB: 8.0, 7.7
Available On: Deadpool 1 – Netflix
If until now you haven't watched Deadpool duology then what are you doing? Go watch it right now. One of the best masterpiece Movie series Marvel Cinematic Universe has created. If you ask me personally then the first part of this series is my favorite in which we are introduced to Deadpool's origin story. Ryan Reynolds has done an incredible job in the movie. The action sequences are breathtaking but how they add up comedy in between the action sequences is really impressive. This movie is definitely worth watching. One of the most favorite movies in the action comedy genre. You should have watched both parts of this movie.
Spy
IMDB: 7.0
Available On: N/A at OTT Platforms
Released in 2015, the movie story is based on the situation when every CIA agent's identity has been leaked that's why they can't participate in or complete missions openly. In that kind of situation, a criminal organization is about to start a global disaster. To stop them, a desk worker aka an analyst of the CIA accepts the mission to handle the situation. How did she handle everything? How does she control the situation? What terrible things she has done? You can find yourself in the movie. The storyline is quite predictable but for entertainment, you can definitely watch the movie. There are a lot of action sequences and comedies in this movie also quite thrilling definitely worth your time.
30 Minutes Or Less
IMDB: 6.1
Available On: Netflix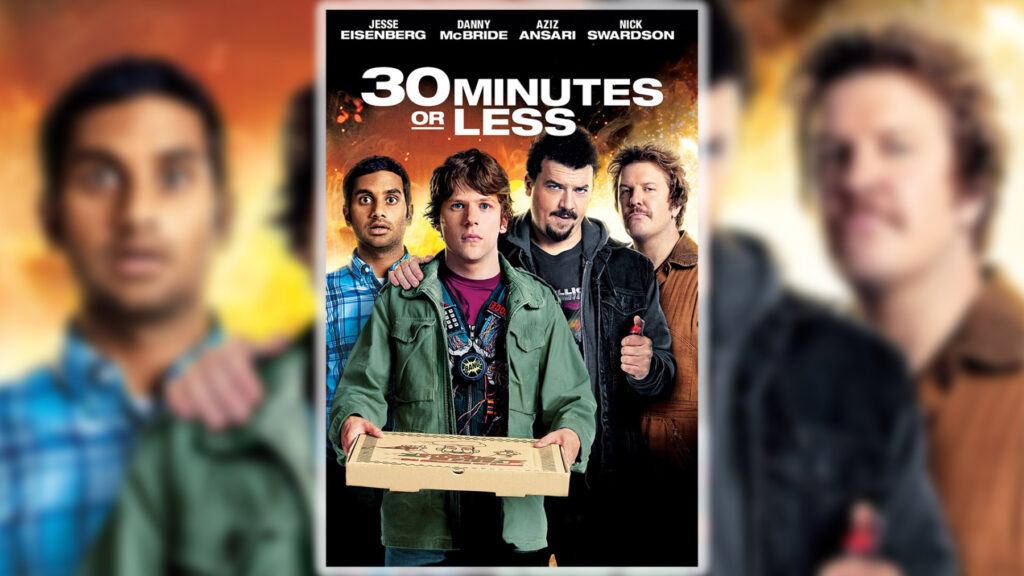 Last but not least is 30 minutes or less. The story of this movie is pretty simple and straightforward. 2 criminals order a pizza. The boy who delivered the pizza was then kidnapped and armed with bombs to force him to rob a bank otherwise the bombs will be exploded. Now, what the boy will do? Can he survive or the bombs just going to explode is on the movie I am not here to spoil the movie for you. If one day you are just getting bored and don't want to engage your brain in something then definitely it's worth watching. You will definitely be entertained.
In the Concluding Lines…
The list is not completed yet but it is definitely somewhere to end. There are so many movies in the action-comedy genre but I have listed just 11 of them. You can write down your favorite movies in the comment section below. Thanks for visiting.