Fighting category may not be the most popular category in the world of Android games still this category is one of the main pillars of Android games as we all know, without fighting, no action is quite possible so without fighting, no popular action games could last for a while. Fighting is obviously the pillar of action games but if you really want to play some games only based on fighting such as one-on-one, hand-to-hand combat or gang battle then here, we have discussed about 10 best fighting games for Android right now. All of them are filled with action-packed, ruthless fight to death gameplay that everyone should love. Let's know what are the best fighting games for Android.
Shadow Fight 2 is literally the best fighting game for Android along with the later game of the same series called Shadow Fight 3. Shadow Fight two features a nail-biting mix of RPG and classical Fighting. This game consists of a deep storyline filled with dark fantasies. There are tons of lethal weapons, armor sets & real-life martial arts techniques that your character has to obtain while progressing the game to become stronger.
From epic swords to nunchakus to magical powers, everything is available in this game! You have to go through hundreds of fights & you have to beat 6 demonic bosses while progressing in the story. Different game modes like Challenge mode, Tournament mode, Underworld (multiplayer mode) etc. make this game more awesome & versatile. From storyline to animation & fighting styles, everything in this game is so amazing that everyone should love this game for sure. So, you are going to regret if you miss this outstanding fighting game.
Read Now: Best RPG in Android Right Now!
We really think that this game is one of the best fighting games for Android not only because it has the cool street fighting mechanism gameplay but also it is a game that always gets better in every update. Now that this game has the multiplayer game mode, it is now an almost perfect fighting game. It already h as the two other game modes in which the first one is Campaign mode which is the main story & the other is Hero mode in which random places & gangs are chosen to fight against you.
City Fighter vs Street Gang has over a dozen of stylish fighters to choose & fight against the street gangs. The stylish yet realistic hand-to-hand combat mechanism is the reason why this game is so excellent. Colourful animated graphics with intense non-stop kicks & punches are what you need in a action-packed fighting game & this is what City Fighter vs Street Gang provides so you should not miss this excellent arcade style street fighting game.
Nekki leads shadow fighting to the next level when they releases Shadow Fight 3. After huge success of Shadow Fight 2, they develops Shadow Fight 3 as a 3D realistic RPG fighting game with mind-blowing graphics. This time, the story is even deeper & more thrilling. Unlike its predecessor, Shadow Fight 3 always needs a stable internet connection while playing because, apart from story mode, other game modes of this game are multiplayer.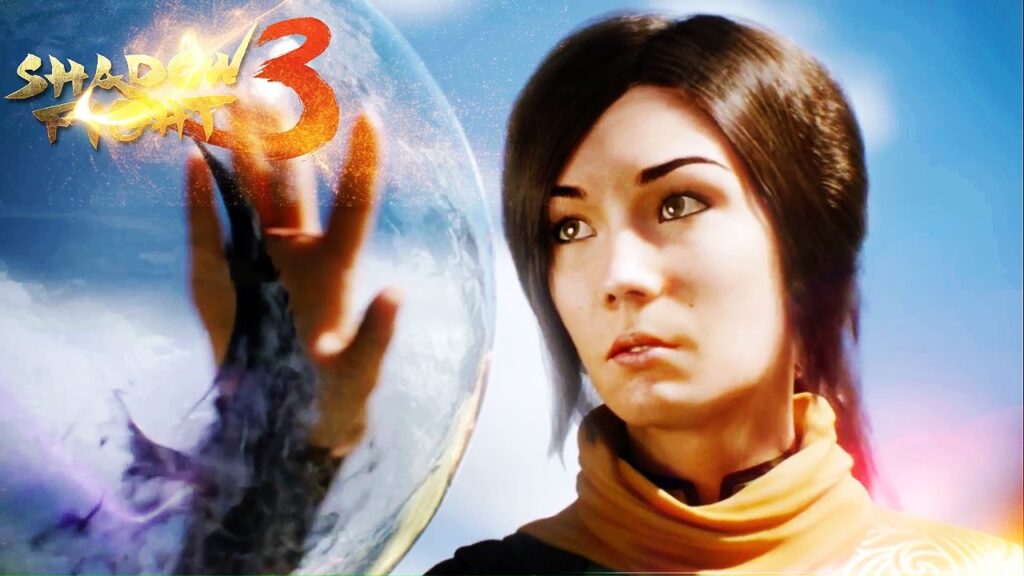 Besides the awesome story mode, Duels is a mode where you have to fight against AI controlled characters of other players. Duels is also outstanding as it tests your true fighting skills to fight against various types of skilled opponents. Just like Shadow Fight 2, numerous weapons, armors & helmets are available for you in the shop section.
Unlike the previous game, Shadow Fight 3 really possesses very beautiful & colourful 3D graphics which no one can deny. Along with its martial arts fighting styles, this is quite a perfect fighting game to have. In our opinion, Shadow Fight 3 is undeniably the best fighting game for Android along with its predecessor Shadow Fight 2. You should not miss this once in a lifetime fighting game, should you? So, install Shadow Fight 3 now & join over 100 million players worldwide!
Wrestling Revolution 3D is MDickie's most popular game which has got 60 million downloads till now. Wrestling Revolution 3D becomes so popular because of its hard-hitting yet realistic free-style wrestling combat. With 300+ characters aka wrestlers to interact & fight, this game really becomes the WWE 2K video game of mobile. Realistic fighting mechanisms along with ruthless action-packed gameplay make this game one of the best fighting games for Android.
The two games modes are provided in this game along with some side game modes such as exhibition matches, quick matches, PPV matches etc. The main two game modes are Career mode & Manager/Booker mode. In Career mode, you have to play as a wrestler to fight against others of your promotional company or others' to win championship belts.
In Manager/Booker mode, you have to play as the manager of a promotional company where you have to book matches between the wrestlers. You can obviously play as one of the wrestlers in every match. Anyway, if you really love free-style wrestling like WWE then you can consider playing this cool hard-hitting wrestling game called Wrestling Revolution 3D. We can promise that you will never be bored in this game because of its limitless creativity & openness!
Warner Bros' Mortal Kombat is one of the most popular as well as best fighting games for Android & PC. We don't think, we have to provide you detailed description about this popular 3 Vs 3 fighting game because there is hardly any gamer who know nothing about this game. With 130+ Mortal Kombat 11 characters & their unique super abilities, you have to go through epic earth-shaking hand-to-hand combats. The surreal graphic & animations make this marvellous game even better. So, install Mortal Kombat to join the breath-taking fights of the Heroes, Villains, Gods & Demons!
Have you ever imagined that our favourite Marvel superheroes & supervillains are fighting with each other like a 1-on-1 MMA fight or 3 Vs 3 like Mortal Kombat game?! Yes, this is true now as MARVEL Contest of Champions offers the epic versus-fighting with all of your favourite Marvel superheroes & supervillains in the ultimate fighting contest!
This game is one of the best fighting games for Android because of its exciting gameplay like Mortal Kombat & it's so popular that already 100 million players have downloaded this game! You can play with Spider-Man, Iron Man, Wolverine & anyone you want. Just assemble a team & begin your action-packed quest to become the Ultimate Marvel Champion of the fighting contest!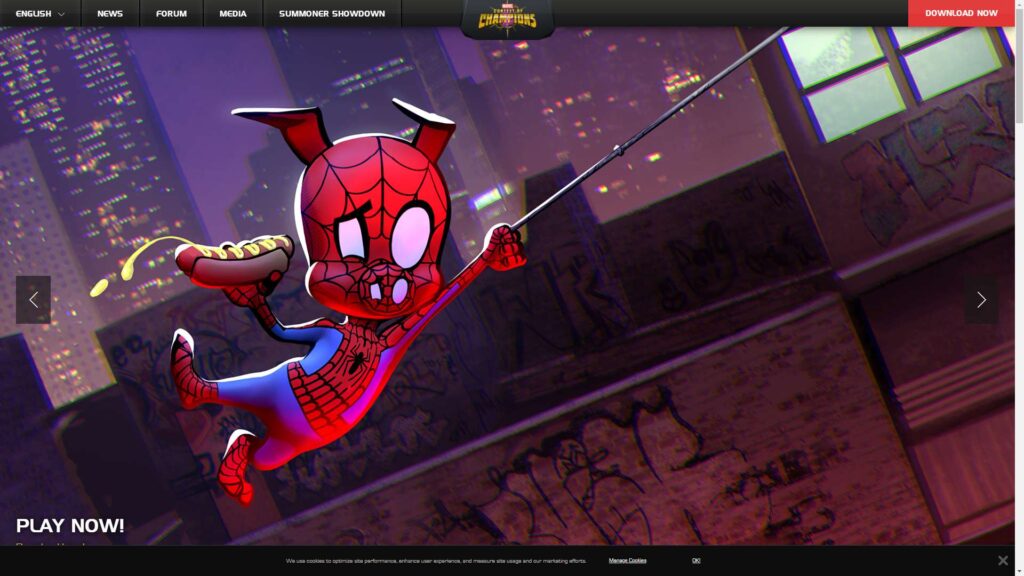 Thor vs. Captain Marvel! Captain America vs. Iron Man! Hulk vs. Wolverine! Spider-Man vs. Deadpool! The greatest battles in Marvel history are in your control now! Apart from story mode, there are many other types of game modes available under the Alliance of this game such as Alliance Wars, Alliance Event & Alliance Quest. You have collect your superheroes & supervillains, level up them with different potions & elements available in this game and lastly, rank them up. Once fully ranked, they will get their full superpower. If you are a die-hard marvel fan, don't waste your time thinking. Just rush to the Play Store & download it to begin the biggest fighting contest of the Marvel universe!
Read More: Best Marvel Games for Android Right Now!
This is the official mobile game of UFC! Yes, and if you are a UFC fan or in general MMA fan then there should be no reason to miss this amazing fighting game. Step into the octagon with your favourite UFC fighters from Connor Mcgregor to Daniel Cormier & 70 other fighters win championships in this awesome competitive combat sports game. The in-game tactics & mechanisms are quite good & easy-to-handle. The astonishing HD graphics makes this game even more thrilling to play. UFC fans should not miss great game as it is also one of the best fighting games for Android.
No, it is not an entirely zombie game as it name suggests rather it is a game of non-stop action-packed battles between stickmans. Only in 32 MB, this game comes with full of awesomeness as it offers tons of levels to play & fight against hordes of other stickmans. You have to gather your gang of 4 members & start fighting against enemies in a never-ending fight!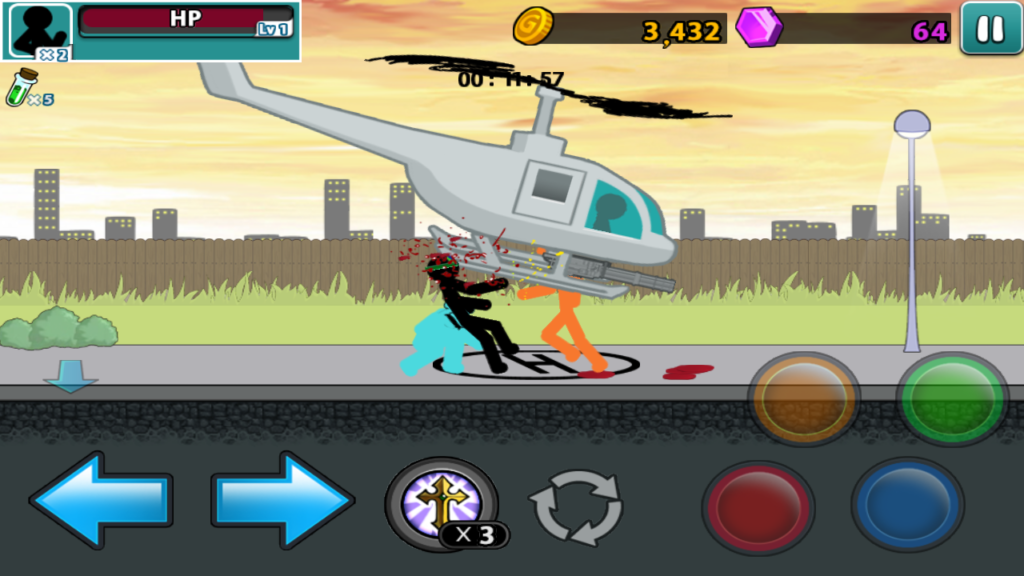 This game delivers the most action-packed gameplay of all the games in this list of best fighting games for Android. As it name suggests, there is a game mode called Zombie mode where you have to fight against the hordes of zombies. In just a little size, this game really has got the potential to be the best fighting game in Android. If you want non-stop fighting action then, this is the game you should choose to play.
Punch Boxing 3D offers one of the finest boxing gameplay in the world of Android games. And guess what? It is only a 28 MB game! Still it features a comparatively great 3D graphics. Moreover, this game has many more realistic championships that you can win with your fighter against 30+ best fighters from all over the world. You can even train your fighter to make him stronger. & there are many more things to do in this exciting boxing game. So, if you want to become the king of boxing & if you really love to knock others out then this is the game you should not miss!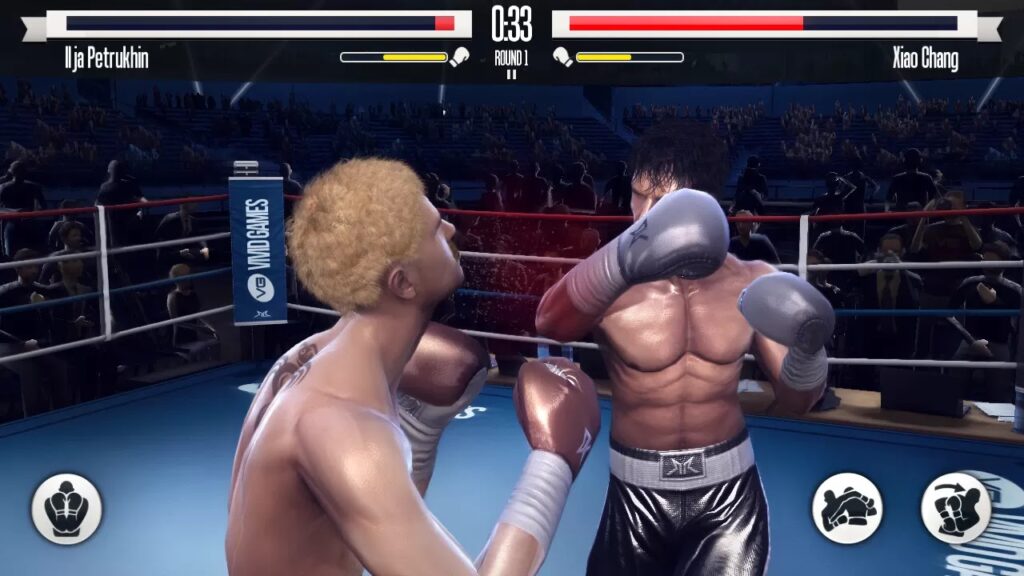 MDickie has developed some really hard-hitting fighting games & Weekend Warriors MMA is one of them. Frankly speaking, this game is one of the best MMA fighting game available in Android so it is no secret why we have added this in this list of best fighting games for Android. You can play both as a manager & as a fighter. In case of manager mode, you have to organise matches of the fighters of your promotion company at every other week.
In case of career mode, you have to play as a fighter against other fighters of your division like lightweight or heavyweight etc. from your company or other company. A total of 200+ fighters & coaches are available in this game with whom you can interact or even fight! The fighting mechanism of this game is a bit tricky & realistic so you need to practice in the practice mode to get habituated although this gameplay style is what makes the game so good & realistic as well. If you really love some hard-hitting MMA actions, you can consider playing this one.
Therefore, these are the top 10 best fighting games for Android that every brawl-lover, every fight-lover & every combat sports lover should love. All of these games are filled with brutal action-packed brawls & fights. Some of them possess martial arts style combats while some are just cool street brawls and some of are based on combat sports or fantasy fights. Choose your preferable game from this list of best fighting games for Android & start fighting against street gangs, epic fighters, demonic bosses & many more. Lastly, we can hope that you have really enjoyed reading our article & it has really helped you. If it really so then don't hesitate to express your valuable thoughts in the comment section below. Thanks for visiting & appreciating our work.