Even a couple of years ago, Facebook was only a social media platform & Facebook Messenger was a simple online messaging app in which you can chat with your Facebook friends. But, in recent times, Facebook & Messenger both have been updated so much with tons of entertaining features. Playing video games is one of them. Nowadays in Facebook Messenger, one can play various types of games from every genre with their Facebook friends or other persons who are on Facebook. If you think those games are worthless then you are totally wrong. They are just as same as any other Android game. Even some games are modified from Android games to add to Facebook Messenger. That means you can now play various cool games without installing them from the Play Store. Here, we have listed the top 10 best Facebook Messenger games that you should play. They are really awesome & you don't even need to install them separately. Let's know what are the best Facebook Messenger games that you should definitely not miss.
Read More: The Best io Games You Should Play on Android!
Uno
The classic card game Uno will bring all your nostalgic moments back with the help of your Facebook Messenger. This is certainly one of the best Facebook Messenger games that you should not miss. This popular card game is fortunately available on Messenger & the main goal of this game is to get rid of all the cards in your hand before your opponents are able to do so.
Some special deck of cards are available in this game that includes some unique cards such as Skip, Reverse, Draw Two, Draw Four & Wild. If you have already played Uno in your childhood then obviously again playing this game will bring back your nostalgic childhood memories like playing & arguing with siblings as well as your old friends.
Ludo King
There is no one who has not played this game at least once. This globally popular indoor board game, Ludo is now available on Facebook Messenger & needless to say that this is another best Facebook Messenger game that you should enjoy playing with your friends. Ludo King is also available in Play Store & after getting global success & more than 100 million current users. They develop the same game for the Facebook Messenger.
Ludo can be played up to 4 people where each player is assigned a colour & four corresponding pieces. The objective of the game is to move all those pieces once around the whole board & get to the big tile in between. It may seem very easy to play but that's not the case. There is a frustrating rule which is if somehow other players' any of the piece catches yours on the same tile, it will be eliminated & sent back to the starting point. If you have not played Ludo yet then you should not miss this awesome board game that is available on your Facebook Messenger app.
Read More: Top 10 Best Browser Games You Should Try!
The most popular virtual pool game – 8 Ball Pool is also available within your Facebook Messenger. This version of Pool game is a lite version that provides you to play a quick game of pool with your Facebook friends unlike the real application of Play Store.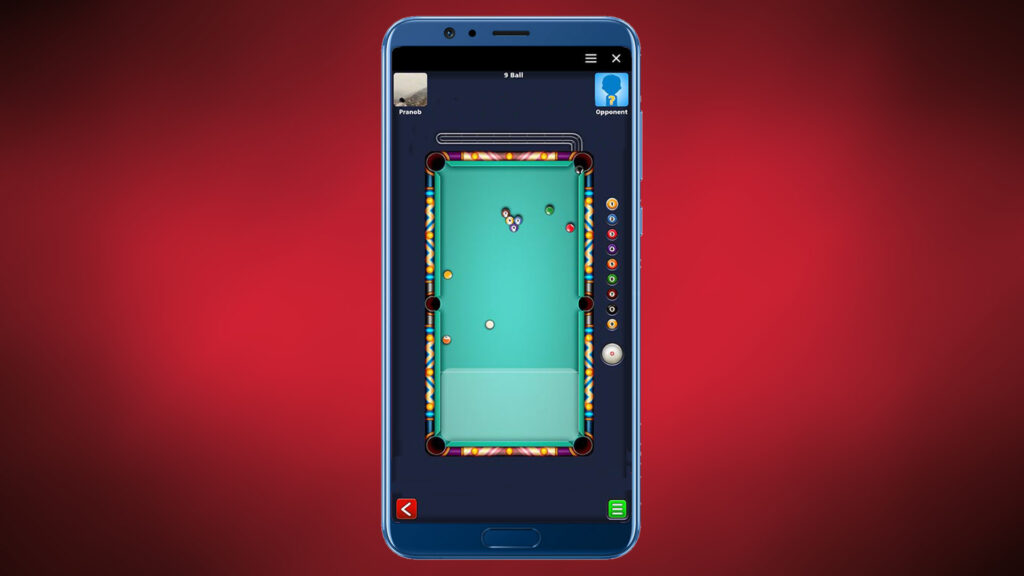 There are 3 different game modes available in this game which are: 8 Ball Pool, 9 Ball Pool & Quick Fire mode. You can play the 8 Ball Pool & 9 Ball Pool modes with your Facebook friends but the Quick Fire mode is a single player game mode where you have to play alone in order to improve your pool skills. So, what are you waiting for? Play this awesome virtual pool game right now with your friends.
This is another classic & one of the best Facebook Messenger games you should definitely give a try. This guessing game tests your drawing skills by providing you a random word that you have to draw & after that, the drawing will be sent to the person with whom you're playing the game & next, they have to guess what you've actually drawn. Seems funny & interesting, right? So, try this unique social drawing as well as guessing game now in your Messenger.
If you love playing trivia games then this is the game that you should play in your Facebook Messenger. Quiz Planet is a very exciting trivia game that you can play with your Facebook friends. From the tons of topics, you have to choose one & challenge your friends to answer the questions based on that topic. Both you & your friends get the same questions & within the limited time, you have to answer them all.
After finished, the quiz will compare your score with other friends & finally, decide the winner. Even, you can play the game alone after playing first time as it records your previous responses, scores & IQ levels in order to compare them with your friends' when they finally submit their answers. So, you can see that it is undoubtedly one of the coolest & best Facebook Messenger games based on only trivia & if you love trivia, you should not miss it.
Connect the Dots is the same game like the Flow Free game on Android. Just here, the name is different. If you have played Flow Free then you already have known how awesome this friendly puzzle game is! As the new name of this game suggests, you have to connect the same colour dots on a checker board. You have to just draw a line between the dots to connect them but be careful before taking a path as there are other coloured dots that can interrupt you & you might not be able to connect the same dots.
The initial levels are too easy to finish but the later levels are really very challenging to cope with. You have to strategically plan before each path you choose to connect each coloured dots. This is not only one of the best Facebook Messenger games but also one of the best puzzle games on Android where it is called Flow Free.
Read More: Best PS5 Action Games You Should Play!
Even, playing chess is also possible in your Facebook Messenger app. You can play chess with a number of different game modes here. This game also offers simple daily puzzles in which some chess pieces are arranged beforehand in different positions of the board & you have to win the game from that situation. There is a mode named Blitz mode where you get one minute of time per turn. Ano ther mode is Time Attack mode in which within 5 minutes, you can play a quick match of chess.
And obviously, there's Classic mode in which the turn limit is almost unlimited i.e. 48 hours! If there is no friend with whom you can play chess then you can play against random strangers online. Anyway, there is nothing more to say about this one of the greatest board game of all time. If you really love to play chess, you can play it in the Facebook Messenger without installing any chess game from Play Store.
This casual exciting game is the mini version of one of the most popular Android game, Knife Hit. That is why, this game is also one of the best Facebook Messenger games in which you have to throw knives at an always rotating board & try to break it.
This game really puts your reaction skills to the limit. It may seem very easy but actually it is not. After a few levels, the rotating board comes with several knives already stuck to it & you have to throw your knives between them. If your knife hit any of the knives of the board, the game will be over & you have to start all the way from the beginning.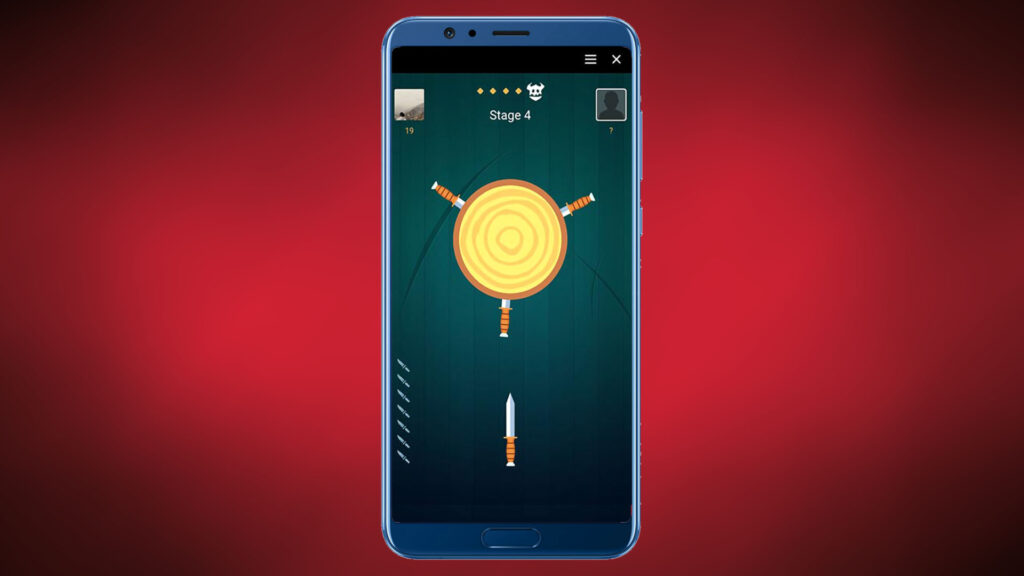 Moreover, the game will be harder when the rotating board will rotate differently such as sometimes clockwise, sometimes anticlockwise, sometimes very fast or suddenly, sometimes very slow. So, the game may look casual but it's very unique, exciting & challenging fun game that is loved by everyone which is why you also should try this once.
Almost everyone have heard about Angry Birds, their popular movies & games. This game is also adopted from the original Android game, Angry Birds which is why this game is also same like other Angry Birds game. You have to just catapult a variety of different angry birds at the greedy pigs in order to take them down.
Each stage features two different types of pigs in which one is for you & one is for opponents & you have to carefully pick which one you have to kill otherwise you might mistakenly kill your own! As this Facebook version of Angry Birds can be played with friends, it becomes more appealing than the original version. You should not miss that one.
this game is for the football fans & it is certainly one of the best Facebook Messenger games that is especially for you if you are a football fan. But, this game is very cool sports game also for those who are not fans of football. Anyway, in this simple football game, you have to take free kicks from a variety of different angles & score a goal to collect points.
The goal post is divided into several different zones & each zone rewards a different number of points than others if your goal in that zone. Although, it's very easy to hit put the ball into an empty goal post initially, later the game adds the defenders & goalkeeper that make scoring goals very challenging & exciting too. You can try the game for the ultimate thrilling & excitement of football.
Read More: Windows Game Mode: A Blessing or A Curse for Gamers?!
Therefore, these are the top 10 best Facebook Messenger games that you should obviously try to get absolute fun & enjoyment. Now, you can realise that Facebook Messenger has really become the house of free video games where you can play any games whenever you want without even installing them! Anyway, we hope that you have really enjoyed & liked our article about 10 best Facebook Messenger games that you shouldn't miss. If it really so then don't hesitate to express your valuable thoughts in the comment section below. If you have any other cool Facebook Messenger game in your mind, you can inform us about it too. We will definitely appreciate that. Thanks for visiting & appreciating our work.