Maintaining the optimum weight of our body leads to a healthier lifestyle but to achieve that proper weight, we have to control our food habits and track our daily calorie intake so that we can have the knowledge of how many calories we actually consume & how many calories we have to add or cut. Nowadays, various excellent calorie tracker apps are available in the Play Store by which you can easily track your daily calorie intake in order to ultimately lose or gain the right weight for your body. So, we have listed the 10 best calorie counter apps for Android that are very beneficial for you to complete your healthy goal. Let's know what are the best calorie counter apps right now!
Read Now: How to Check UV Index? Protect Yourself From UV Radiation!
MyFitnessPal is arguably the greatest calorie counter, macro tracker as well as diet & nutrition app for getting fit & keep your food perfectly checked. It also provides decent workout programs to maintain your fitness in the optimum level. MyFitnessPal has a large food database available – a whopping 14 million foods across the entire world! So, no matter what country you live in or what food you eat, this app will analyze it to show you every detail of the food from macro to micro.
This awesome app comes with 250+ healthy recipes & diet plans along with 150+ workout programs by certified trainers that you can utilize to be fit very smartly. It is thus no secret why this is one of the best calorie counter apps as well as an all-in-one fitness app.
MyFitnessPal has reached over 200 million members in which over 50 million downloads in the Play Store and the rest of the members are from their websites. So, this makes it the most popular fitness app too! If you are really serious about your health goals, download MyFitnessPal & start your 30-day Premium trial. You will soon discover why this app is awarded as "Best Fitness App" in GQ 2020 Fitness Awards in the U.S.
Calorie Counter by FatSecret is a very easy-to-use food diary app to plan and keep track of what you're eating. Also, this app provides a fitness diary to record all the calories you burn. Moreover, a diet calendar is also provided to track all the calories consumed & burned.
FatSecret reports the calories and macros in detail so that you can realize what food you should avoid and what you should consume. It also tracks your weight as well as reminds you of your next meals and weight-ins. This cool calorie tracker app provides plenty of healthy recipes and meal ideas too. In short, this is a versatile, easy-to-use calorie tracker as well as a diet & nutrition app that can be a good dietitian in your journey of weight loss/gain.
This Calorie Counter app by HealthifyMe is one of the best calorie counter apps for Android as you can reach your fitness point with a great personal diet plan. HealthifyMe creates some very healthy diet plans for weight loss or gains along with providing an accurate calorie calculator so that you always remain on your track to achieve your goal. Just take the photo of your meals & upload it on the app to know how many calories you are consuming.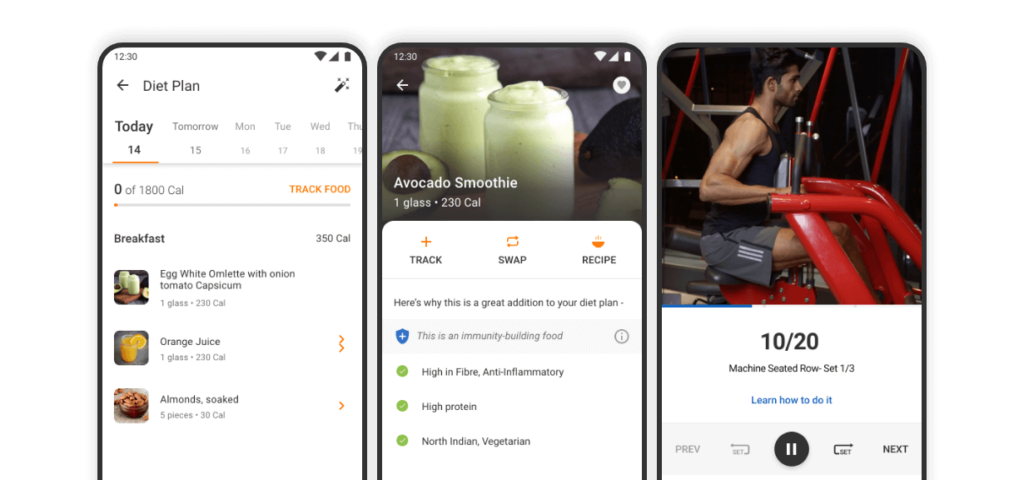 Moreover, this app also informs about the macros just like MyFitnessPal & other popular apps. HealthifyMe's calorie tracker also comes with a nutrition calculator so that your nutrition is always in check. You can also get 24×7 suggestions from the experts regarding your fitness goals. So, you can see why this is a great diet & nutrition as well as a calorie tracker app that you can use for your journey to optimum health.
Calorie Counter by Lose It is also a cool diet & nutrition app that helps to track your daily calorie intake by using their massive 27+ million international food items database! Just like other apps, here you have to also snap your meals & upload them to get the macros in detail along with calories. This fitness app also provides a few workout programs, tons of recipes, and diet plans.
The specialty of this app is that it also provides you plenty of challenges. By accepting those challenges, you may reach your desired weight & fitness much faster. In short, this is a pretty useful fitness app for the fitness enthusiasts like you. Anyway, this app is versatile enough to be one of the best calorie counter apps for Android. If you really like this app, don't hesitate to purchase their gold membership as it reveals even more features that will further help you in a better way.
This calorie tracker app, YAZIO claims to be the most successful calorie counter & intermittent fasting app for losing weight without dieting! This app was even rewarded the "Android Excellence Award" by Google Play. YAZIO provides you free calorie counter as well as free fasting tracker that helps you to lose weight with intermittent fasting methods like 16:8 or 5:2. Thus, losing weight is pretty sure in few weeks with the help of this app.
More than 4 million food items' database helps you to count your daily calorie intake. This app comes with 30+ meal plans regarding the fasting diet. If you purchase their Pro membership, you will get more features regarding calorie tracking and intermittent fasting. In short, if losing weight is your only goal, you can use this fantastic and obviously one of the best calorie counter apps as well as intermittent fasting apps called YAZIO.
Lifesum is another one of the best calorie counter apps for Android. It is a great nutrition tracker & macro calculator too. From diet plans to healthy recipes, you can find everything in this app just like most of the others on the list. Apart from tracking calories and macros, Lifesum provides you any type of diet plan of your choosing such as keto, fasting, paleo, or sugar-free. They have diet plans for any type of healthy goal! For more amazing features, you can purchase their premium membership.
MyPlate Calorie Tracker is created by the famous health & fitness website community LIVESTRONG.COM. And, just like their website, this app is also known for its user-friendliness. In short, this app makes tracking calories quite easy. By using their 2 million food items' database, you can easily count the calories. You can also create your custom meals by using the tracker of this app.
They will also track your weight along with reviewing your daily goals such as your intake of protein, fat, carbs, fiber, sugar, sodium & even water! The app will also remind you of your next meal. In addition, MyPlate allows you to log workouts from their extensive exercise tracking database. Moreover, it also provides some workout programs especially calorie burning & stuffs like that.
MyNetDiary provides a decent calorie tracker along with a diet & nutrition tracker in this app. From setting a weight goal to getting a calculated calorie budget, tons of beneficial features are available in this app. Hundreds of easy recipes and diet plans of various types like keto, high-protein, low-fat, vegetarian, vegan, etc. are provided by this app.
A Daily verified & updated food database makes your calorie tracking much easier and accurate. This app can analyze every detail in a meal from macro to micros, sodium, minerals, etc. MyNetDiary app can also track diabetes, heart rate, cholesterol etc. This versatile & mind-blowing app is much more than a simple calorie counter rather it is a complete health tracker app so that you can always stay on a healthy track.
Calorie Counter by EasyFit is an easy-to-use simple app that helps you to track your calories, exercise time, weight, waist, and daily water consumption. You can set your daily calorie requirements along with your macros that you would like to achieve. Anyway, this is a small & simple calorie counter app that you can use for your weight goal.
This is another simple yet useful app for counting not only your calorie intakes but also the macros and many other things. It also provides few diet & nutrition plans just like other diet apps on this list. It is a user-friendly app that helps you to lose or gain weight in a very basic way. You can try this cool app too for your weight goal.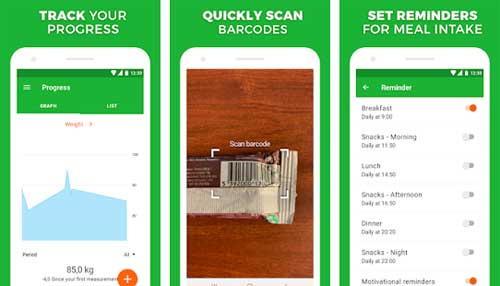 Therefore, these are the 10 best calorie counter apps for Android which you can utilize as a great tool for your journey to the optimum weight of your body. Anyway, if you have found this article about "10 Best calorie counter apps for Android!" helpful then don't hesitate to express your valuable thoughts in the comment section below. Wish you all the very best in your healthy journey. Thanks for visiting & appreciating our work.