Thor: Love and Thunder will be in cinemas very soon. Recently, Marvel has just dropped the first teaser of the movie, and finally, we get something officially. It's since five years after Thor Ragnarok hit the theatres. Over the years, fans were eagerly waiting for Thor 4. After Avengers: Endgame, we have seen Thor has joined the team, Guardian of the Galaxy. So definitely, he will go through a lot of adventures on different planets. After watching the last Avengers movie, it's quite clear that Thor has no goals in his life. So at the beginning of the movie, we will find a soul-searching Thor who has no aim and is kind of depressed but his search will end, and finally, he will get his love – Jane Foster and maybe his destination or ultimate purpose in life. That's the shortest explanation but if you are interested in the upcoming movie and all the details about the release date, cast, and what will be going to happen then be with us and experience the extensive storyline of Thor: Love and Thunder that we know so far.
Also Read: Ms. Marvel Release Date, Origin Story, Cast, Episodes, Trailer & More!
Recap From Previous Thor Movies!
It's been a long time since we have seen the last Thor movie so it is better to briefly discuss what happened in the previous movies.
Thor 2011
In the first movie 'Thor', he was always carrying his big ego so that he was always in a mood to fighting and winning. Because of a lack of responsibility and maturity, Odin outcasts Thor from the Asgard and enchants Mjolnir. Thor has fallen to earth aka Midgard. Because of his ego, Thor can't lift Mjolnir and became unworthy. On earth, Thor first meets Jane Foster. Later he falls in love with Jane and after certain intervals, Loki sends the Destroyer to Earth to destroy Thor. Fighting with the Destroyer when Thor was nearly dead, Mjolnir came to save him. At that moment, Thor becomes Worthy of Mjolnir. He returned to Asgard to defeat Loki and again became the Prince of Asgard.
Thor: The Dark World
The second movie, Thor: The Dark World has two vital events. First, Thor lost his mother after Malekith attacked Asgard. He killed her and tried to kill Jane Foster to take out Aether from her. In the final battle, Loki was killed or as he tried to show everyone. The story of this movie is based on the ultimate weapon of Dark Elves – The Aether. In ancient times, there was war between the Gods of Asgard and an evil race known as the Dark Elves. The survivors were neutralized. Their strongest weapon was Aether which was buried in a secret location.
After hundreds of years, Jane Foster suddenly discovered it and her body suddenly absorbed it and becomes its host. To protect her from the Dark Elf, Malekith, and to save her from the Aether, Thor took her to Asgard where Malekith attacked and killed a lot of soldiers along with Thor's mother, Freya. Malekith actually wanted to acquire this weapon to use it to destroy the Nine Realms — including Earth. With the help of Loki, Thor defeated as well as killed Malekith and saved Jane from him & Aether which we later came to know is one of the Infinity Stone – Reality Stone.
Thor Ragnarok
In the third movie Thor Ragnarok, we first saw the fight between Thor and Surtur with his army. After winning the war, Thor moved to Asgard where he quickly discovered that Loki was on the throne as Odin. Odin was sent by Loki to an old-age home. Thor and Loki both found him with the help of Doctor Strange in Norway. After Odin's death, Thor's elder sister Hela released her from Hel – a region of Niflheim – home of the dead who are neither honored nor dishonored. In the first confrontation with Hela, Hela broke Thor's hammer Mjolnir with one hand! In a short fight, Loki understood that they can't defeat Hela.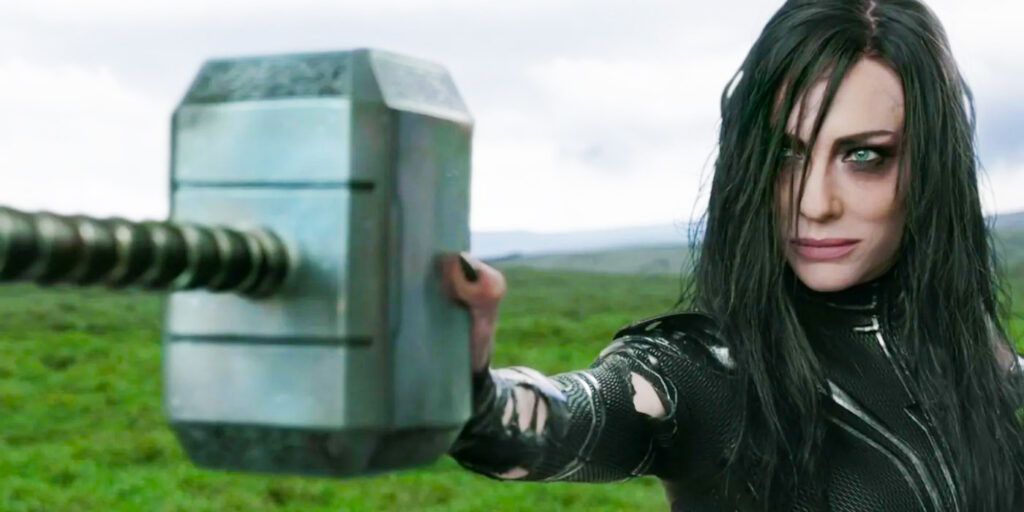 Loki ordered Heimdal for a portal but Hela followed them to Asgard. After killing the Asgardian army, Hela became the queen of Asgard with her half-dead army. In the portal, because of Hela's attack, Thor fell to the other side of the universe where he was imprisoned and found himself in a deadly gladiatorial contest against the Hulk, his ally from the team Avenger.
After some time, Thor left the gladiator planet with Valkyrie, Loki, and Hulk and reached his home Asgard where he defeated Hela by raising Surtur by Internal Flame. In a fight with Hela, Thor also discovered his full power. Surtur destroyed Hela and Asgard. Thor tried to save the Asgardian civilians but a few of them survived.
Thor: Love and Thunder Release Date!
In 2019, Marvel listed all their upcoming Movies and TV shows after completing Phase 3 Infinity Saga. Thor: Love and Thunder were originally slotted for November 5, 2021, but after so many delays due to the Pandemic, finally Thor: Love and Thunder's release date is confirmed which is on July 8, 2022. Marvel chose this date so cleverly. At the time of releasing this movie, the craze of Doctor strange Multiverse of the Madness would almost be neutral while the Ms. Marvel series will be continuing in the Disney Plus and on the other hand, the Moon Knight series is just about to end. So, the hype about Thor 4 will be totally on that time and it's hard to forget about the movie if you're a true Marvel fan.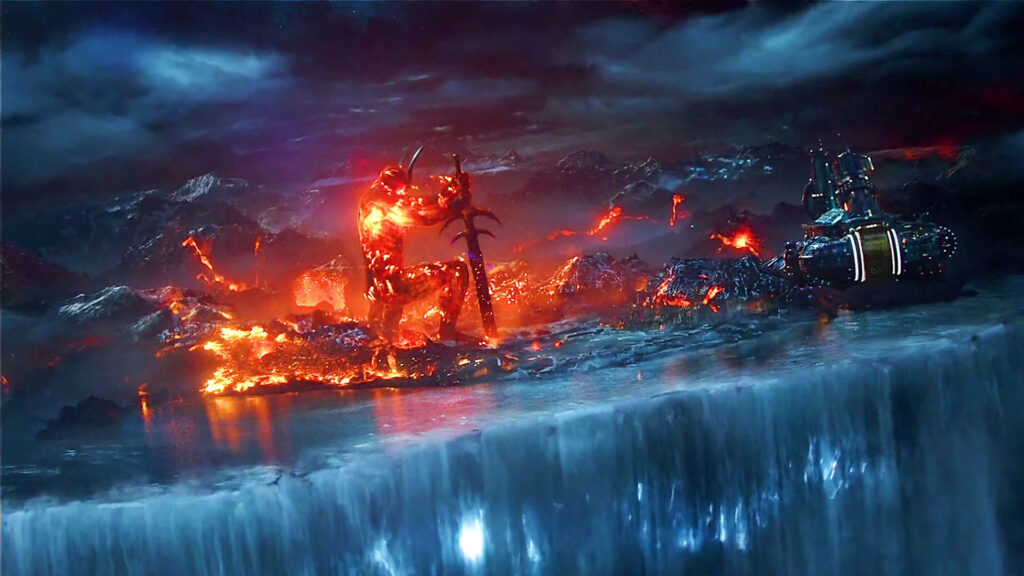 Thor: Love and Thunder Cast: Who are in the Movie
Marvel rec asts Chris Hemsworth as Thor – God of thunder – No surprise here. But what is very surprising news that we love to share with you is that Chris Hemsworth's son, Tristan is playing the role of little Thor in the movie! Like father like son, right?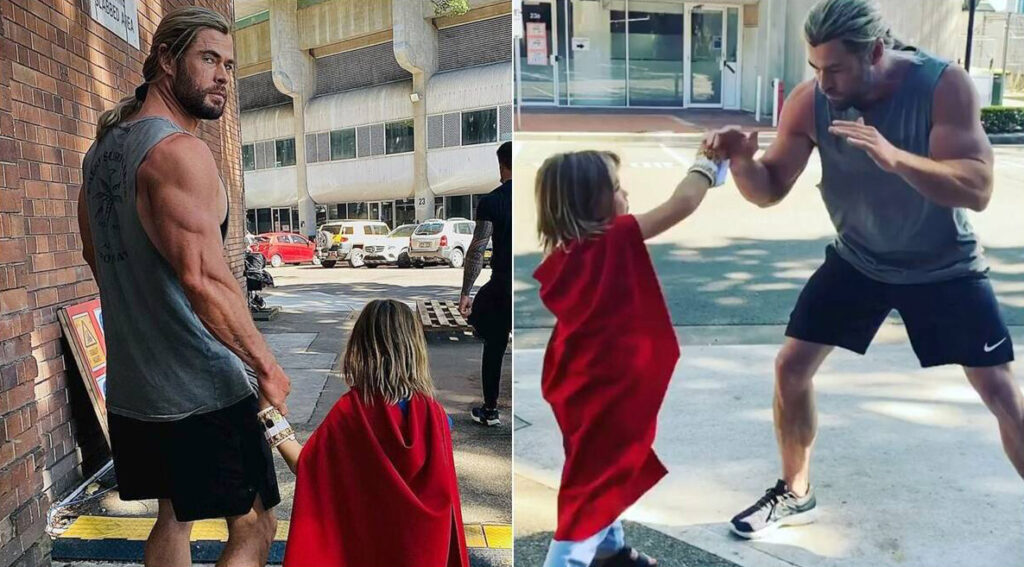 Anyway, in the teaser, we have also seen Valkyrie as the queen of New Asgard. Valkyrie's role is played by Tessa Thompson. We have also seen Natalie Portman as Jane Foster, Russell Crowe has joined the cast as Zeus, Sif's character is portrayed by Jaimie Alexander, Director Taika Waititi will also appear in front of the camera as Korg.
Chris Pratt plays Star-Lord, along with Vin Diesel as Groot, Karen Gillan as Nebula, Pom Klementieff as Mantis, and Dave Bautista as Drax. Rocket Raccoon is also present so Bradley Cooper is also back.
Still now, we haven't revealed who is in the opposing role for Thor. He is none other than our beloved, Christian Bale who portrayed The Batman in Christopher Nolan's The Dark Knight Trilogy. Now, in the Thor: Love and Thunder movie, we will witness him playing the role of Gorr the God Butcher who will most possibly be the antagonist of the movie. We have discussed about it in detail later in the article. Lastly, it is quite confirmed that sadly, Tom Hiddleston's Loki isn't returning in Thor: Love and Thunder in any way.
Thor: Love and Thunder Teaser: A Neglected Teaser from Marvel?
At first glance, you may not find anything quite exciting in the Thor: Love and Thunder teaser which makes it a little bit boring but there are a lot of Easter eggs that need to be explained.
Why is Thor Meeting with Zeus?
Zeus is a Greek God of thunder and in case you don't know, Thor belongs to Norse mythology that would be strange to see both God of Thunders together from different mythology but we know that Marvel has never mentioned mythology so it's possible to see them face to face together. In the teaser, we have seen Zeus for a moment, and possibly he is in the Olympus because we can spot Thor, Korg, Valkyrie, and Jane Foster walking through a city in the sky that features lots of Greek architecture in its columns and gardens.
It is hard to assume how director Taika Waititi plans but there are three possibilities. We have seen Thor says to Star Lord: "I Want to Choose My Own Path" in the teaser which confirms that from this scene, Thor is leaving the team Guardian Of the Galaxy maybe temporarily.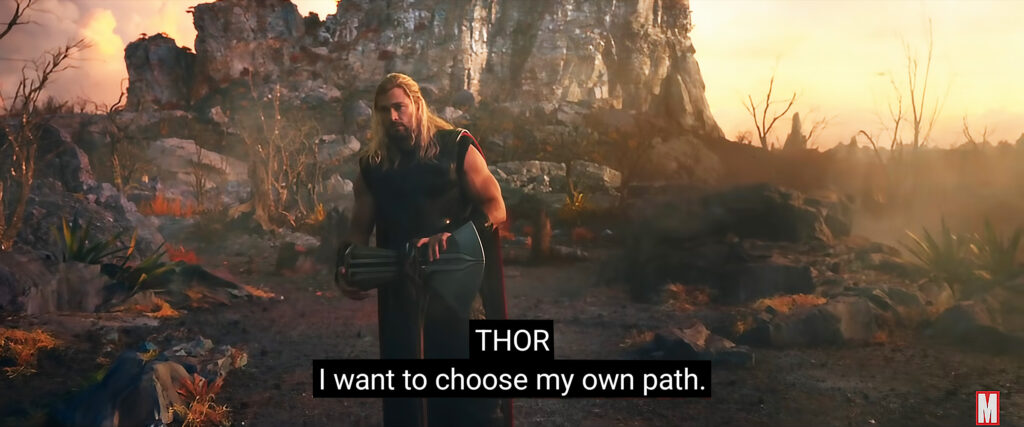 After that moment, Thor starts his journey and roams through different places in the universe, and in his free roaming, he suddenly meets Zeus in Olympus so it is possible that we could see Russell Crowe who is playing Zeus in Thor 4 in a cameo scene. Another possibility could be that throughout his travel Thor understands that someone is extended Gods from the universe, and through his investigation, he gets some clues about Zeus so he meets with him and gathers more information about who is that God-killer.
We may also possibly witness Thor teaming up with Zeus. We could also see a friendly fight between Zeus and Thor to prove who is the stronger God. These are just our assumptions and fan theories. After seeing the trailer, we can say that anything could be possible. If you have any assumptions or theories in your mind, you can express your thoughts in the comments.
Whom does Thor Kiss in the Teaser?
In the teaser trailer, we have seen an unknown woman swings into the scene on a boat and kiss Thor passionately. It is one of the stunning moments in Thor: Love and Thunder's teaser and fans are so excited after watching this including us. There's no indication whether she is actually a real woman or just a fantasy created in Thor's mind or maybe it is just a dream! Who knows?! If she is real then we don't know whether she is even a major character or not. Some fans claim that she is Jane Foster but this is highly doubtable. Anyway, the name of the movie is Love and Thunder so we could expect to see plenty of these scenes like this throughout the adventure or before the main storyline.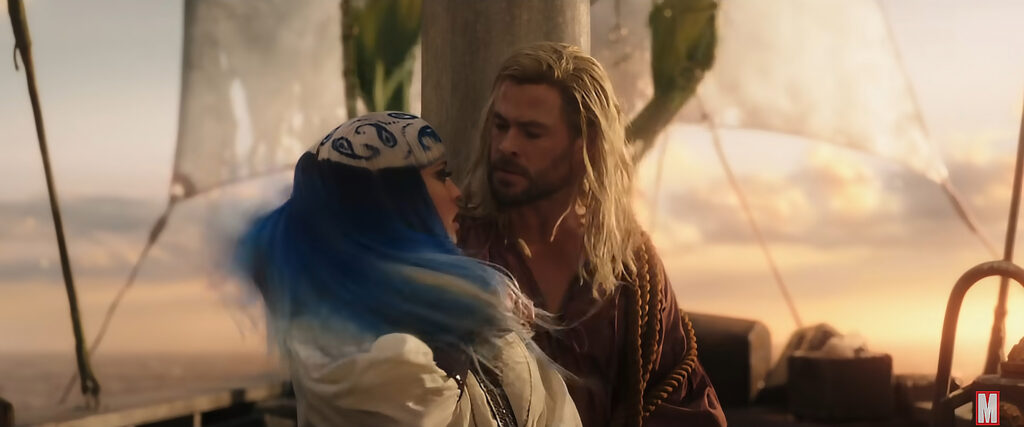 Who killed that Giant Monster? & What is that Giant Skeleton?
We have seen a scene where Thor and his fellow Korg stand in front of a massive dead beast lying in snowy weather. This is a reference from the comic series "Thor: God of Thunder". There, Thor describes this beast 'Falligar the Behemoth', an old friend and a fellow god who is a victim of Gorr the God Butcher.
Have you noticed in the teaser that a giant skeleton is bound with a chain and there, Thor is doing Battle Rope Workout with two gigantic chains to lose his weight and to get in shape. we have seen in the Avengers: Endgame that he was out of shape and because of that, he didn't fight well with Thanos. In terms of that giant skeleton, we can't get any reference from the teaser. Maybe it's not that so important as we think.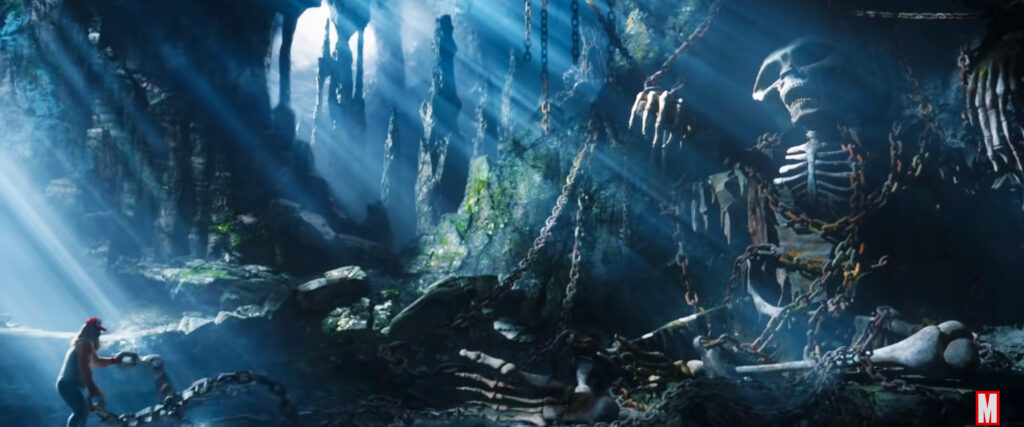 How does Jane Foster Become Worthy of Mjolnir? How Mjolnir is Back?
At the end of the trailer, we have seen Lady Thor aka Mighty Thor aka Jane Foster played by Natalie Portman with the hammer, Mjolnir. You may have noticed that the Mjolnir she holds has crack marks. This confirms that the Mjolnir she holds is not from another universe or from another timeline. This Mjolnir is from the main timeline we are familiar with. For some reason, the original Mjolnir which was broken by Hela welds and gets back like it was before.
Now the question is, how Jane Foster becomes worthy? Obviously, we have no idea how Marvel plans for Jane Foster's storyline in the cinematic universe but in the Marvel Comics, when Jane Foster was suffering from advanced breast cancer and taking chemotherapy, she discovered that she became worthy to lift Mjolnir. After lifting the mighty hammer, she got transformed into a God and became stronger. Her powers were almost identical to the Thor we know: super strength, speed, stamina, and durability but after the moment she stopped being the Mighty Thor, she returned to her dying body and all the treatments she had passed through were pointless as her cancer was rapidly increasing the more she suited up.
Natalie Portman (Playing Jane Foster in MCU) has also revealed that her character will be undergoing cancer treatment. So there is a high chance that Marvel follows Jane Foster's comic storyline through the Thor: Love and Thunder movie. That's also easy for fans to digest the fact.
Who will be the Villain in Thor: Love and Thunder?
There's no reference in the teaser about who will be the villain in Thor 4 but according to rumors and also as we have seen Christian Bale in the costume of Gorr the God Butcher on the shooting set, it's quite confirmed that Gorr the God Butcher will oppose Thor.
According to Marvel Comics, Gorr was growing up on a planet where earthquakes, lack of water, and wild animals are destroying his people but they still trust blindly in Gods and their faith. When the planet consumes Gorr's mother, children and friends he believed that there's no God and because of his strong belief, he is outcasted by his people.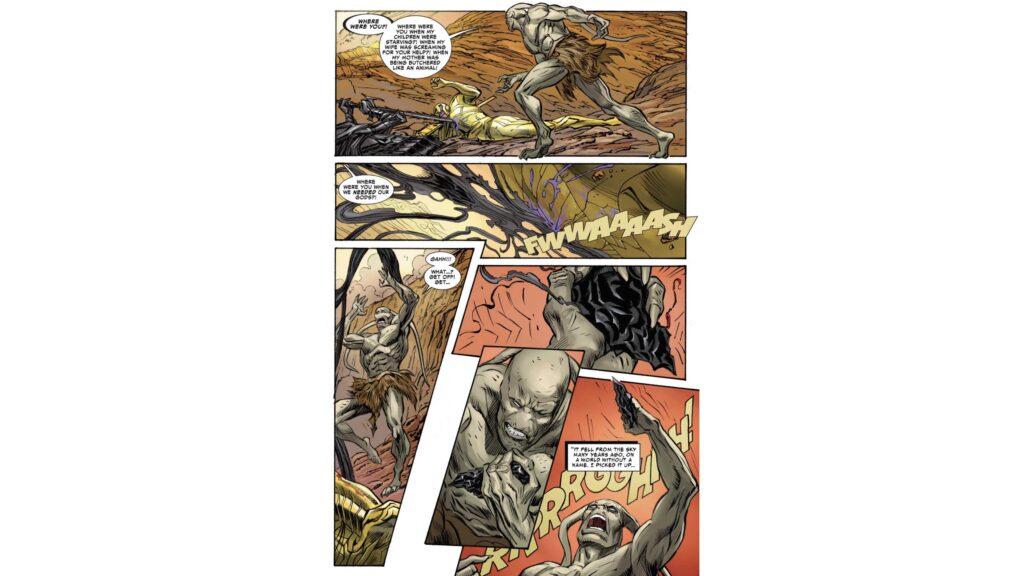 Later Gorr understands that Gods exist but don't help those who really need or deserve their help. This gets him angry and he decides to kill them all. So he acquired Necrosword, from Knull and starts to take his revenge on Gods by destroying them.
Thor: Love and Thunder Possible Story Line!
There's no indication about what's the base of the story of Thor 4 but as we have understood from the first teaser trailer, The Thor: love and Thunder movie is mainly focused on an adventure where Thor is in quest of finding his inner peace and his true identity. We can say he is almost retiring from everything and suffering from an identity crisis or something like that. In the first couple of minutes, we may see a fight of Thor on a planet with his current ally Guardian of the Galaxy aka Asgardian of the Galaxy. Sooner or after, he left the team as confirmed in the teaser too.
Star Lord gives him the advice to find his love and continue his peaceful life. Probably thereafter, he meditates to find his true identity and stay out from all the outside chaos to bring peace to his mind. His retirement is however interrupted by a galactic God killer known as Gorr the God Butcher. To defeat the threat, he may team up with Queen Valkyrie (Tessa Thompson), Korg, and his ex-girlfriend Jane Foster (Natalie Portman) who now becomes Mighty Thor after holding Mjolnir. Together they will uncover all the truth about Gorr the God Butcher with the help of Zeus and stop him before it's too late. After watching the teaser trailer, this is the possible plot that we may witness.
Therefore, these are all the details we have known so far about Thor: love and Thunder movie. Just like you, we are also eagerly waiting for the movie to hit the theatres. Anyway, If you have any thoughts about the plot possibility of the movie then don't hesitate to express your feelings in the comments below. Thanks for visiting.