Games about trains may not be the most popular type of games in the world of Android but this is also a good choice if you really want to use and enjoy your interest on trains. There are some awesome train games available in the Play Store for Android though you cannot install them because of whatever reason. Maybe your phone is not strong enough to handle a large size game or maybe you don't want to pressurize your phone's processor by playing those games. But, do you know that a bunch of awesome train games are there too which are very small in size and that's why they don't create any pressures on your device's RAM and processor? So, if you have a low-end smartphone, you can play these low MB train games without any hesitation or at least try them for once. These games are well tested by me and I assure you will love all of them. Anyway, here we are with our top ten low MB train games for your Android smartphone that you should play so that your phone's processor will not be pressurized and you can play them for hours without hurting your phone. Most of them are popular because of their versatility in such a low size. Let's know them one by one in detail for your convenience.
Cockpit Train Simulator
Developed by PinPrick Gamers | Simulation | 16.15 MB |Free (in-app purchases) |100K+ Downloads
This is a decent game that provides realistic feeling of train driving along with realistic sounds in such a low size. You can go long distance with your train in endless tracks of this game and beat your previous highest scores. That's why this train simulation game is unique than others. You don't have to pick and drop passengers here. All you have to do is to drive your train as far as possible without any accidents. With the smooth gameplay as well as controls, HD quality display and most importantly, three weather changes, this game becomes more better as a rookie in the Play Store. Give it a try right now.
Flying Train Simulator 3D Free
Developed by GT Race Games | Simulation/Adventure|17.75 MB |Free| 1M+ Downloads
Are you bored of classic train simulator games? If so, try this game. As It's name suggests, you don't have to drive trains in the railway tracks in this game rather you have to drive trains on the sky! Yes, It's true. You can drive your train on off roads and in the sky just like an airplane. Seems interesting and awesome, isn't? This game also provides HD quality graphics and futuristic flying trains with real sounds and dynamic airplane like physics. So, collect your favourite futuristic flying train and start your adventure on the beautiful modern city of this game.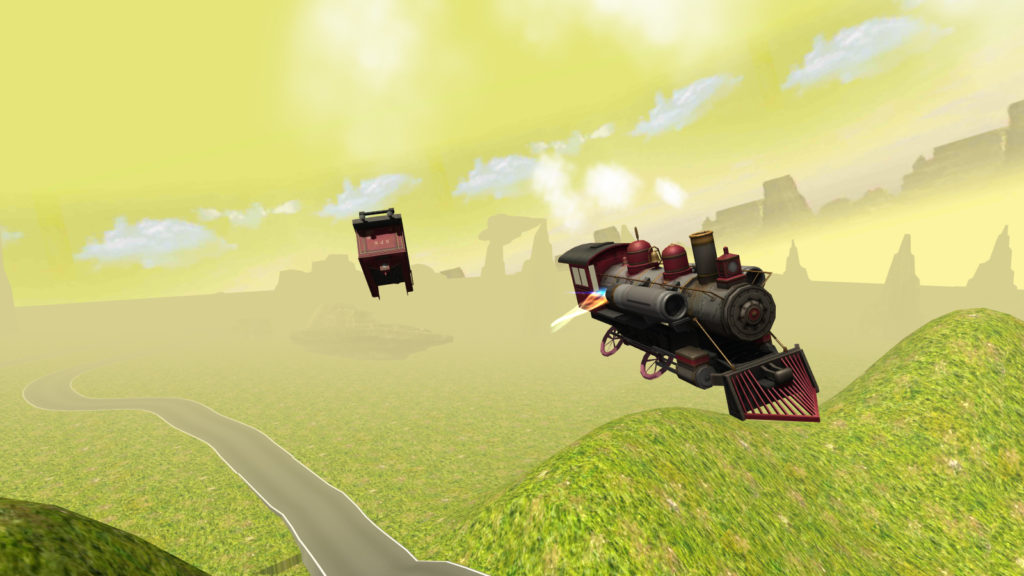 Rail Maze: Train Puzzler
Developed by Spooky House Studios UG | Puzzle |17.93 MB |Free (in-app purchases) |5M+ Downloads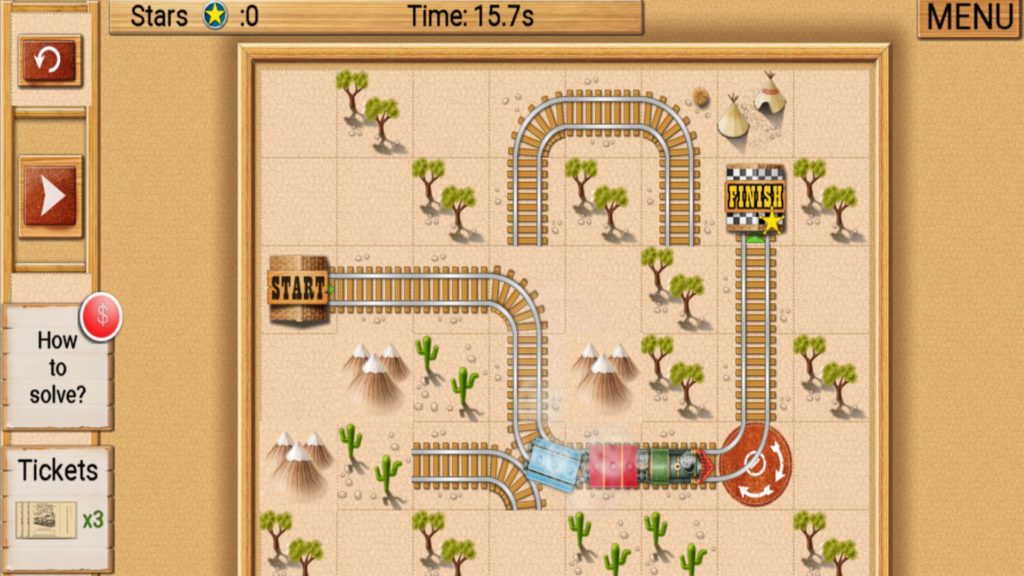 Do you love to play puzzle games? What if you get a game that is not only based about trains but also has puzzles in it? It will be awesome as you will get both of these genres in one game. Rail Maze is a prime example for this. This game has tunnels, bombs, pirate trains, super long trains etc. that comes with hundreds of challenging and interesting puzzles to solve. There are four types of puzzles in this game which are Labyrinth, Build Railroad, Snake & Longest Railroad. These modes are also filled with actions and excitements. So, if you don't want to play train simulators anymore, try downloading this.
Indian Train Simulator Driver
Developed by Roboticsapp | Simulation/Adventure |31.99 MB| Free| 1M+ Downloads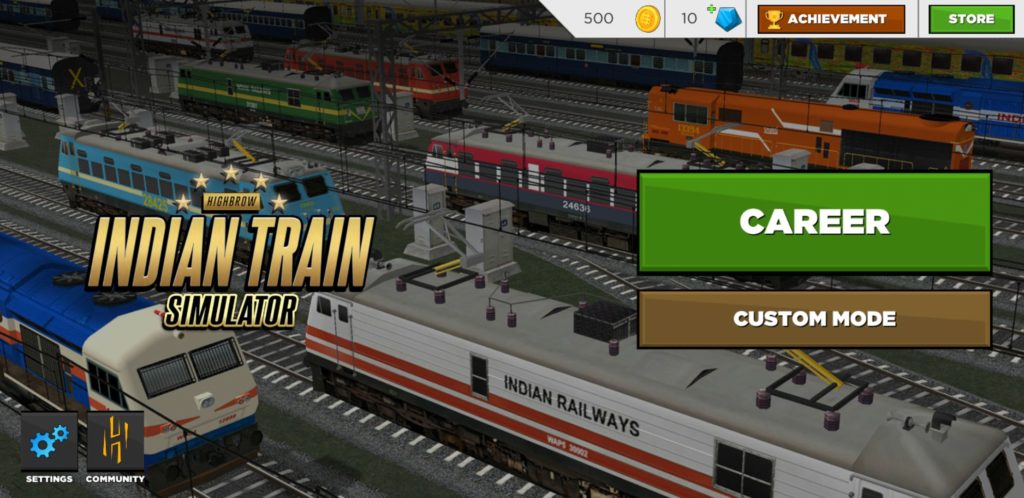 Indian Train Simulator Driver is a very ordinary and classic adventurous train simulator game. You have to just pick and drop passengers into the right time. There are some challenging missions available in this game to give you more enjoyment. Complete those missions and be the most skilled driver ever. As this is a pretty decent game, you should try it at least once.
Train Taxi
Developed by SayGames | Puzzle |32.18 MB |Free (in-app purchases) | 50M+ Downloads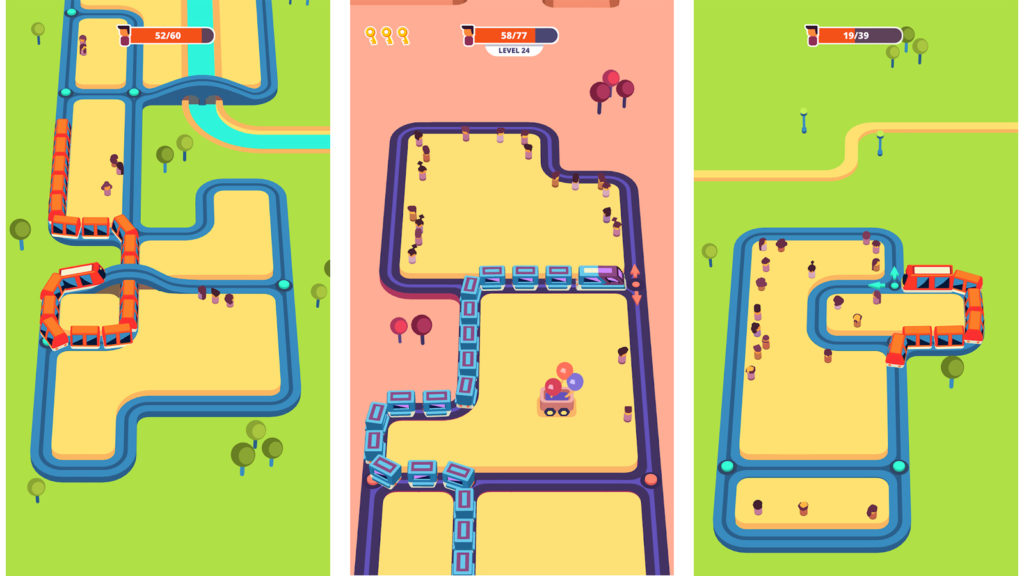 Train Taxi is another puzzle game based on trains and frankly speaking, this is an outstanding game. It has only one mission i.e. to get all the passengers. You can complete a level when you will collect all the people on your train. The more passengers you have, the longer the train gets, and that will be more problematic for you because if the long tail somehow crashes, your mission will be failed so you have to avoid the crashes and that's the real challenge in this game. There are various trains to collect and use as an animal train, legendary train, etc. Therefore, don't miss out on this excellently unique game. Download it as early as you can and enjoy playing.
Russian Train Simulator
Developed by ALP GAMES | Simulation/Adevnture|36.21 MB |Free (in-app purchases)|1M+ Downloads
This is another example of cool and classic train simulators. In such a small size, this game has almost everything from smooth controls and display to various trains that can be driven into various beautiful environments. Multiple types of trains like old vintage trains, passenger trains, etc. are available in this game. You can drive your trains in different beautiful environments like snow, forest, rains, etc.
Various camera angles can be adjusted in this game so that you can get the best experience ever. Smooth gameplay and nice graphics make the game even better. You should have this game for better simulation in train driving.
Pocket Trains
Developed by NimbleBit LLC | Casual|39.59 MB |Free (in-app purchases) | 1M+ Downloads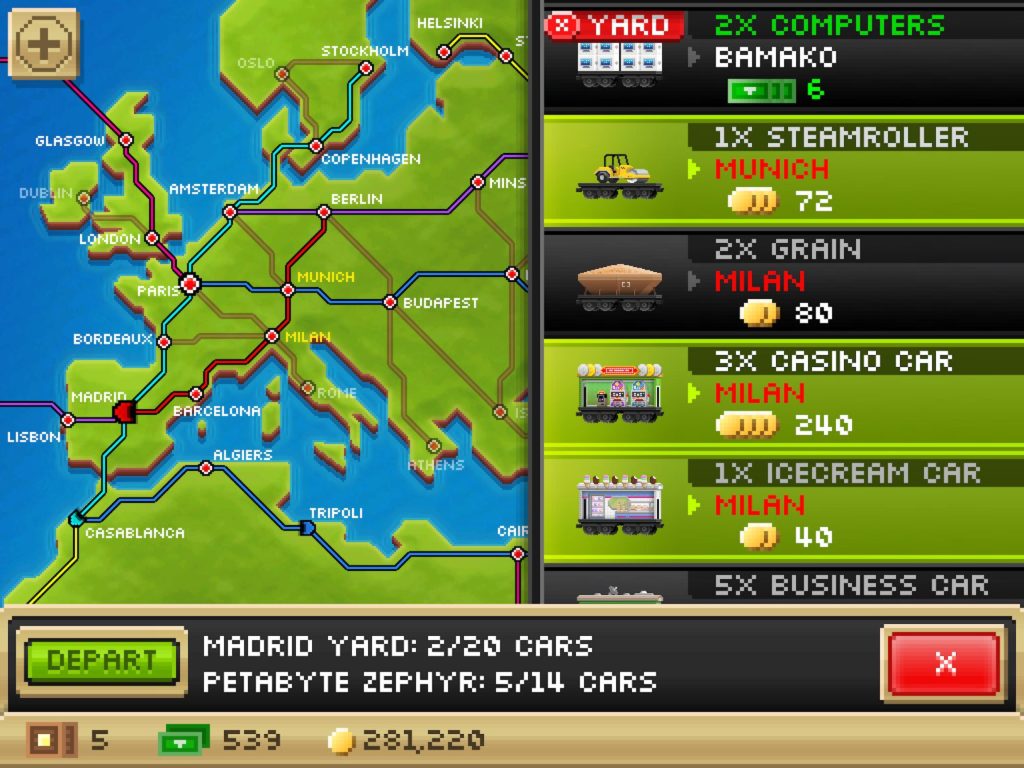 Another unique game comes to my list. This is a casual game that is based about managing and growing railway tracks and trains. You have to collect parts in order to construct all the various types of trains from Diesels to Steamers and complete the daily events to unlock extraordinary trains. Don't think too much. Go and install it to enjoy its uniqueness.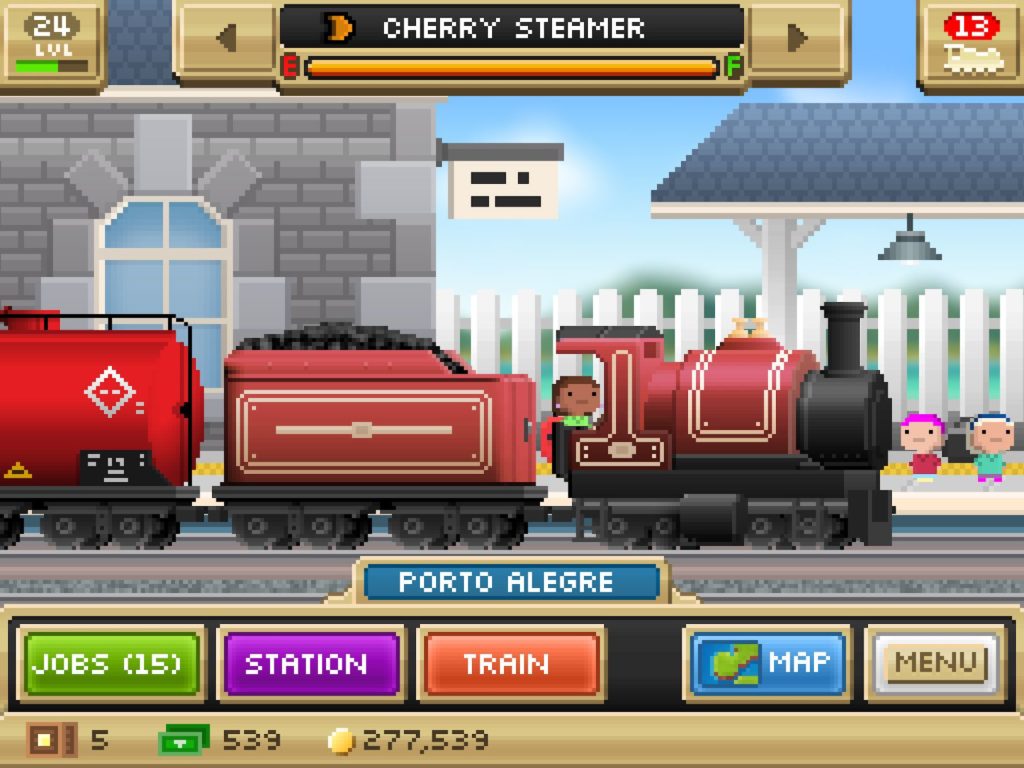 Train Station: Train Freight Transport Simulator
Developed by Pixel Federation Games | Simulation/Strategy|44.04 MB |Free (in-app purchases) |10M+ Downloads
Train Station is a combined game of simulation and strategy. Fortunately again, we get a game for you that possesses two different genre and that means double enjoyment is waiting. This game provides you the real-life experience of being a manager of the trains, stations and more that are related with them. You can manage your station, manage transport of passengers and gain resources and materials with freight trains. Then you can use those materials to build your own train station and purchase passengers and trains such as steam, diesel, electric, maglev and hyperloop etc. from Northern America, Germany, India, Australia and many more countries. Frequent updates makes this game even more resourceful. Challenge your friends in various Seasonal events and earn awesome achievements, golds and resources to make your station more fantastic by building tons of unique buildings and by using multiple themes on your railroads like Western, Orient and many more. Let your friends admire your dream station and you can admire theirs too as you can visit their station for inspiration. There are so much more in that single game with that small size and I really can't explain much in this description. You should better try this fabulous game right now to explore it in order to get familiar all of its admirable features.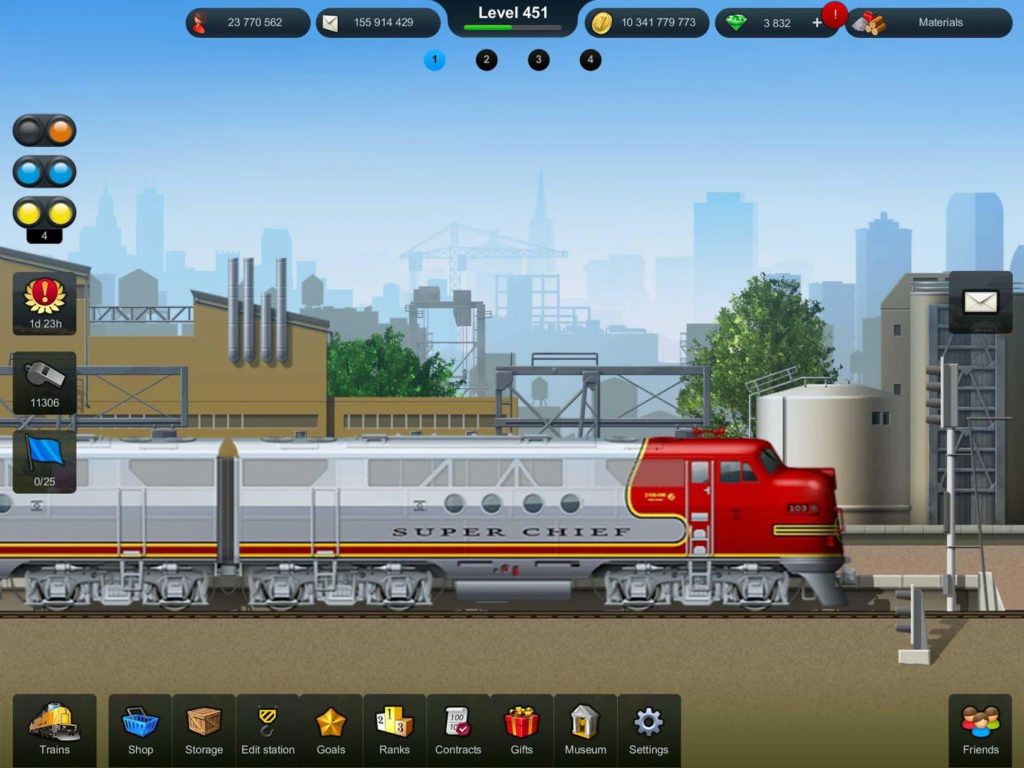 Euro Train Simulator
Developed by Highbrow Interactive | Simulation|46.33 MB |Free (in-app Purchases) |10M+ Downloads
Highbrow Interactive is well known for its train simulator games. Euro Train Simulator is one of them. It's indeed one of the best train simulator games available on Android. You cannot get a better simulation like this from other games in this low size. This game is a high quality, rich railroad simulation game that covers major destinations in Europe. In several European countries and in countless cities, you can drive some of the best and most unique trains of the world from Bombardier trains to super fast inter-city expresses and feel the realistic experience. With two major game modes, collect your preferable trains and give the best journey your passengers. You can set time, route, destination stations, weather and time of the day before your journey. Real time feeling and weather experience makes the game more better. Germany, France, Spain etc. European countries are available in this game with the weathers like clear, overcast, fog, rain and thunderstorm. You can even use the real red, yellow, green signals in your journey along with the real time experience.
The graphics and controls of this game is so smooth. This game features HD quality graphics starting from the station to the destination. You can even close or open the doors of your train so that the animated people can enter and exit your train. Another awesome feature of this game is that it has multiple camera angles to that you can feel the experience even more better. I think you will not get another wonderful train simulator game like this in this limited size so if you really love to play train simulator game, you should definitely install it or at least try it for once. I am sure, you will love it.
Train Driver 15
Developed by Ovidiu Pop | Simulation/Adventure|45.81 MB |Free (in-app Purchases) |10M+ Downloads
Train Driver 15 is one of the top-rated train simulator games available for Android. In a pretty small size, it has almost everything that relates to a real-life train driving and journey experience. This game has realistic locations and countries like USA, Germany, France, Australia, Canada, etc. and a large variety of trains are also available to drive in this game like steam, diesel, freight, inter-city, subway etc.
The detailed interior with open/close doors makes this game more realistic. You can even notice animated people entering and exiting the train. With extraordinarily smooth controls and amazing graphics, you can run your train in any weather conditions in any type of places such as the city, countryside, mountain, desert, and snow. Challenge your friends in online ranking and show them who is really the best train driver?
Read More: [Best] Low MB Cricket Games For Your Android!
Therefore, these are some of the best low MB train games for your Android device that you can definitely enjoy playing. So, don't waste time thinking too much. Install your favorite one for unlimited fun. I hope, you guys have liked this article. If so, don't hesitate to comment down below to express your thoughts about it. If you have any other cool low MB train game in your mind, inform us about it too. Thanks for visiting & appreciating my work.