Just like over 100 million Spidey fans around the world, you must have also watched the recent official trailer of Spider-Man: No Way Home which has been released two days ago on Nov 17, fully one month prior to the release date of the movie. It is now no secret that Tom Holland's Spider-Man is quite ready for the pandemonium of the multiverse along with Doctor Strange. But, there are much more things than that as we saw Doctor Strange saying: "We started getting some visitors… from every universe". The trailer itself reveals many secrets that you may have missed while watching the trailer with awe. Let's break the trailer of No Way Home down in detail to know all the missing parts.
Read Now: Spider-Man: No Way Home Teaser Trailer Breakdown
First, "Hello Peter!" then, "You're not Peter Parker!"
3 months ago, when the first teaser trailer of Spider-Man: No Way Home was released, we already witnessed Alfred Molina's Doctor. Octopus arrived in Tom Holland's Spider-man's universe to fight with him. In this official trailer, we have seen a glimpse of Doctor. Octopus fighting with our new Spidey and when the old foe of Tobey's Spider-Man finally catches the new one with one of his tentacles, he said in wonder: "You're not Peter Parker."

This single line by Doctor Octopus reveals many things. The most important one is, he is from the other universe, that is for sure which is why, he seemed to look for his world's Peter Parker (Tobey Maguire) and thus, he was not able to recognize this universe's Peter Parker (Tom Hollands). This also reveals the fact that Tobey Maguire's Spider-Man will have a presence in this movie in this universe as his most fearsome foe is looking for him.
Electro, Green Goblin, Sandman, Lizard are also Confirmed!!
The previous teaser trailer of Spider-Man: No Way Home already surprised us by showing a glimpse of Doctor Octopus to make the confirmation. And now, in this official trailer, we have seen almost all the infamous old foes of Garfield & Tobey's Spider-Men. First, let's talk about Electro.
Electro
There are no doubts left as it is now confirmed that Jamie Foxx's Electro is back in the upcoming movie, No Way Home and he just looks as badass as a supervillain could be, especially with his new yellowish incarnation. Moreover, with the costume & the lightning helmet, he looks much better & similar to his comic book appearance and that is what the majority of fans wanted from this character. It is speculated that Electro would contribute a major role in this movie along with Sandman & Lizard.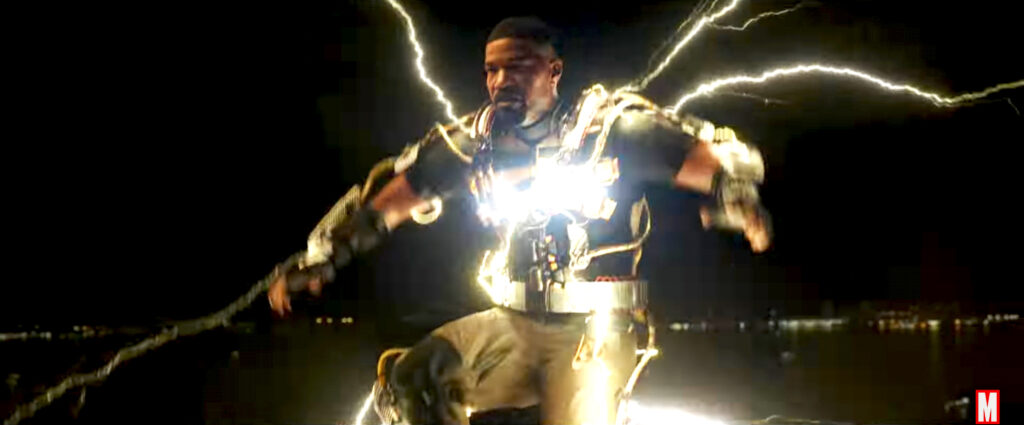 Green Goblin
In the previous teaser trailer of No Way Home, the pumpkin bomb was nothing but a confirmation that Willem Dafoe's Green Goblin is also back & will show up in the movie. Now in the recent official trailer, we have finally seen Green Goblin very closely with his classic attire of 2002's Spider-Man movie.
Moments after we saw Green Goblin closely in the trailer, we also saw another goblin soaring through the sky. Although it looks like a new goblin, rumors from the majority of fans suggest this as the new & upgraded outfit of Green Goblin which he would get from Doctor Octopus.
Lizard & Sandman
Both Lizard & Sandman will also be appearing in the No Way Home movie. We have seen Lizard back in The Amazing Spider-Man movie and Sandman in the Spider-Man 3 movie. While it is not officially announced whether Rhys Ifans or Thomas Haden Church will be back to reprise their roles, it is still confirmed that Lizard & Sandman is back in No Way Home just like other members of Sinister Six. Speaking about Sinister Six, looks like the team is quite full. What do you think? Will we see all the members of Sinister Six in No Way Home?
Spidey's New Black Suit is too Cool!
If you think Tom Holland's Spider-Man's Infinity War suit is the coolest then you have to think twice because, he is getting a new suit in No Way Home as we have seen in the trailer and frankly speaking, the new suit is the coolest suit of Spider-Man ever! It's black, gold & blended with some magic from Doctor Strange.
Some of you may think that it is the modified version of the black suit from the Spider-Man: Far From Home movie but it is actually not. Rather this suit is kind of like the infamous suit from Spider-Man 3 of 2007. Moreover, this latest black suit is upgraded by Doctor Strange himself. The magical bracelet on Spider-Man's wrist similar to Strange is the proof of that. It looks like some unique superpowers are also added with this suit!
Reminiscent of Gwen Stacy's Death!
In the final scene of the No Way Home trailer, we have witnessed Zendaya's MJ falling from a sky-scraping structure and Tom Holland's Spider-Man jumps to save her which is reminiscent of the death of Emma Stone's Gwen Stacy in The Amazing Spider-Man 2.
In that movie, Gwen also falls like that but unfortunately, Andrew Garfield's Spider-Man could not catch her despite shooting his web. Now, it is not obviously shown in the trailer whether Tom's Spidey saves MJ or not which is why some of the fans theorize that Garfield's Spidey would appear to save MJ to get his redemption after his failure to save Gwen Stacy.
Statue of Liberty with a Captain America Makeover!
In the trailer, we have seen the Statue of Liberty but with a new untraditional look. Instead of its original classic design, it is now decorated or rather, we should say, it is now armed with Captain America's iconic shield with red, blue & white lighting. As the time of this incidents is not quite clear, it is still in clouds whether it is a tribute to our original Captain America Steve Rogers or it is for the celebration for new & the first black Captain America, Sam Wilson after he proved why he is worthy of holding that shield & being Captain America in Falcon and The Winter Soldier
.
Whatever this signifies, it is proof that people are now respecting the superheroes that they deserve. Later in the trailer, we can see the shield drops while Spider-Man fights with Electro, Sandman & Lizard which hints that this battle takes place at Liberty island.
Doctor Octopus' Upgraded Tentacles Thanks to Stark Tech!
Since the death of Tony Stark in Avengers: Endgame, every movie & web series after Endgame has a reference to Tony Stark. And, if it is a Spider-Man movie then the reference will indeed be greater. In the later scenes of the trailer, when we take a close look at the tentacles of Doctor Octopus, its color scheme, as well as design, indicate that it is a Stark technology that means not only the hero but also the bad guys become upgraded to face their counterparts. As we have mentioned earlier that Green Goblin could also appear in an upgraded suit thanks to Doctor Octopus.
There are some rumors about how Doctor Octopus gets the Stark tech. The majority of fans theorize that a villain version of Tony Stark from another universe would show up to help Doctor Octopus to upgrade his tentacles with Stark Tech! As logical as it seems, there is still very little chance of that rumor happening in the movie & we already know the reason why.
J. Jonah Jameson is a must to criticise Spider-Man!
Lastly, The legendary JK Simmons is also back with the iconic role of J. Jonah Jameson to criticize the Spider-Man or Spider-Men. We have seen him in the trailer looking up as the night sky is covered with Electro's electricity. Just like you, we are also eagerly waiting for JJJ's hilarious yet irritating cameo scene.
Therefore, these are the things that we think are important to notice while watching the trailer of No Way Home so that you can get all the hints of what could possibly happen in the upcoming movie of Spider-Man: No Way Home. The movie is set to hit the theatres on December 17 in the US & on December 15 in the UK. Let's see whether the biggest movie of Spidey keeps up with the expectations of the fans or not. Anyway, we hope that you have found this article helpful enough. If it really so then don't hesitate to express your valuable thoughts in the comment section below. Thanks for visiting & appreciating our work.