Money Heist is one of the most popular web series in the recent history of Netflix. It has got tons of praise not only from the US but also from global audiences. Already, 4 seasons of this excellent crime-drama series have been released and a few weeks ago, Volume 1 of the Money Heist 5 is also released but the Volume 2 is yet to release. This 5th season will be the final season of Money Heist and to know about all the details of two volumes of this last season, click here. As volume 2 is on its way very soon, let's remember the whole story once again starting from the second heist from season 3 so that you would not be confused while watching Volume 2 of the final season.
Read Now: Money Heist Season 5 Volume 1 & 2 Release Date, Casts, Rumours & More!
Money Heist Season 3: The Story Begins!
Money Heist Season 5 or la casa de papel part 5 storyline is originated from Rio's arrest back at the starting of season 3. It's unfair to say arrest, the government officers actually tortured him against all the laws to gather information about all of his gang members, especially the mastermind, Professor. This is the start of all the chaos that will just go to happen.
A bit of flashback, after the first successful daring escape, Tokyo & Rio have enjoyed their paradise at San Blas Archipelago! officially known as the 'Guna Yala' which is definitely a beautiful place. But after 2 years of spending in this lone paradise; thousands of kilometers away from Spain, Tokyo informs Rio that she can't fulfil her desire in this quiet place rather she needs the excitement and thrill of the outside city-world. So, she decided to leave the island for a couple of days to fill that excitement, fun, and thrill she always wanted. When Tokyo was leaving, Rio gave her a satellite phone to make both of them in contact. Basically, this was the terrible mistake that Rio did. Although Rio bought those satellite phones (a pair) from the black market and the seller assured them that those phones are unregistered, it wasn't true.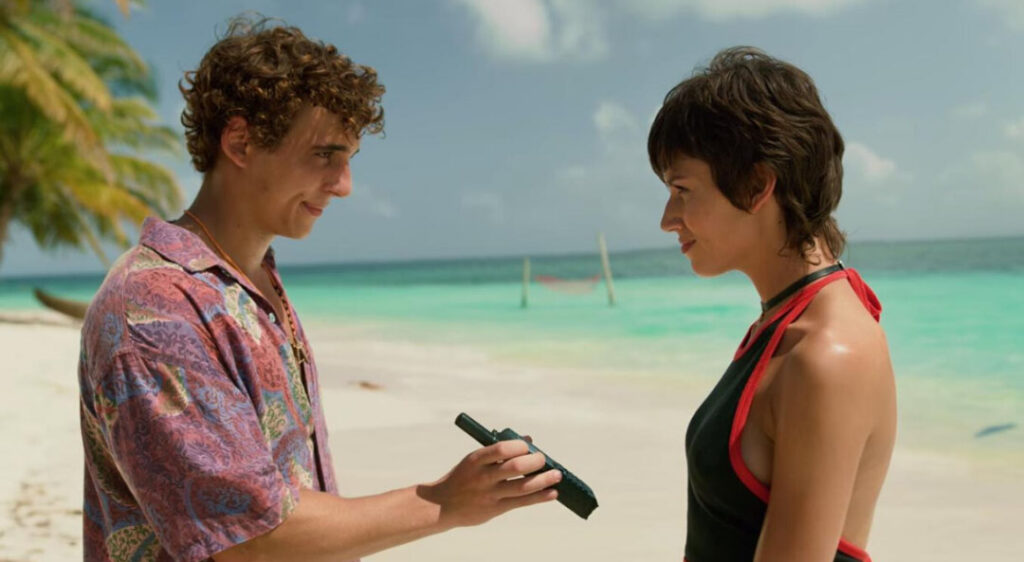 When Tokyo reached her excited & fun-filled city life, she completely forgot about Rio and became busy in her fun and enjoyment for days. Suddenly, while watching the clock, it stroke on her mind that she had not made any contact with Rio for days. So, she called Rio who was already calling her several times, and spoke with him. On the other side, the government was constantly monitoring all the communication devices around the globe, and thus, they discovered the communication of two satellite phones. Of course, by tracking the location, they found Rio and Tokyo. However, Tokyo managed to escape from the police and military but Rio was caught. They captured him and tortured him. They locked him in a very small space, didn't even give him an opportunity to take a bath, and also applied almost all the torturing techniques and drugs to make him talk. He didn't know anything about any of the gang members neither Tokyo did. But in case of any emergency, Professor provided them a way to contact him.
Tokyo understood that Rio was captured so without delaying she contacted Professor. Professor managed to take her safety to his house where Tokyo found Raquel as a girlfriend of Professor.
Now definitely, hot-headed Tokyo got angry as any normal person should by seeing an enemy with his/her friend. Anyway, Professor made Tokyo understand all the chemistry that happened between both of them during the robbery at the Royal Mint.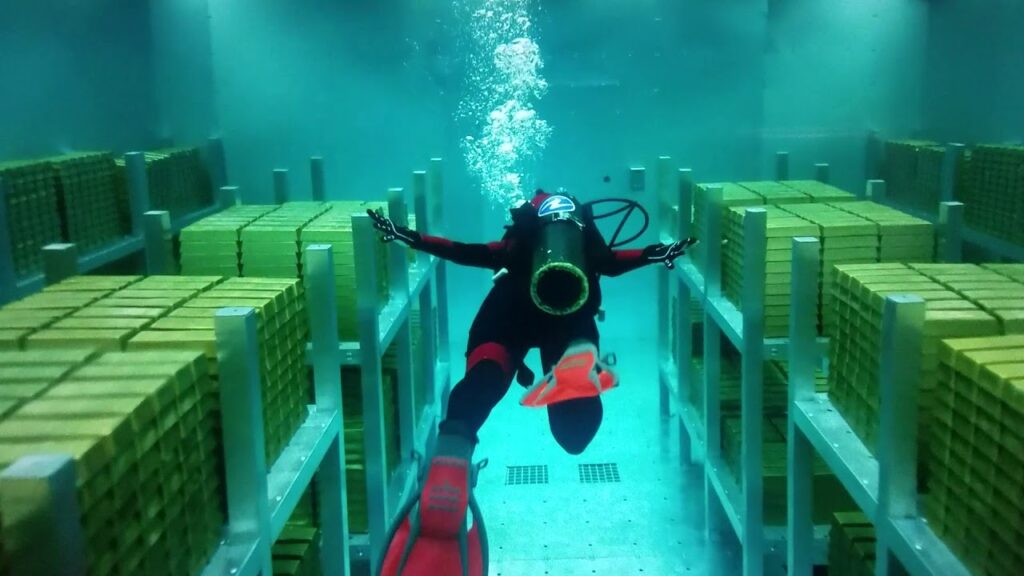 After that, they started planning of their next robbery to take out Rio from those evil hands. Again, Professor gathered all of his old heist's gang members and started classes to teach them what now to do. This time we have got to see several new faces like Bogota, Marseille, Benjamin, Palermo, etc.
In this second heist, their target was the gold of the Bank of Spain. Robbers already entered into the bank and hosted so many people along with the staff and the governor of the bank of Spain. Rio was already rescued while Lisbon was assumed dead which made Professor broke apart and in the bank, Nairobi was shot by a sniper on command of inspector Alicia Sierra who weakened Nairobi by showing her child.
Money Heist Season 4: More Thrill, More Action!
On the Money heist season 4, we witnessed that police found a couple of blood drops near a spot of car accident which carried the two cell phones which were used by Professor to contact with the Police officers and provided wrong information of his real location. Police assumed that car was driven by Professor himself. By looking at the blood drops, police thought that Professor could be injured and could not flew away. Actually, the car was driven by Marseille and he managed to escape safely from the car. This accident was definitely a trick done by our beloved genius Professor to make Police officers confused in order to buy some more time so that his gang members can melt more & more gold as soon as possible.
Later, we found, Nairobi was treated by her friends AKA gang members. And she was recovering from her injuries. But suddenly the situation had changed completely. Gandia: head of the governor's bodyguard managed to escape with the help of Palermo which Palermo did intentionally to get the command back to his hand which he lost earlier to Tokyo. Anyway, this made total chaos between the robbers but everything was back to normal because of the Professor's help.
Now the problem is Gandia. He first kidnapped Tokyo then Nairobi and tortured her and at the end during the conflict with the gang he killed her by headshot with a bullet. This makes all the team members and even the professor to cry and even it was a very sad moment for us too as a fan.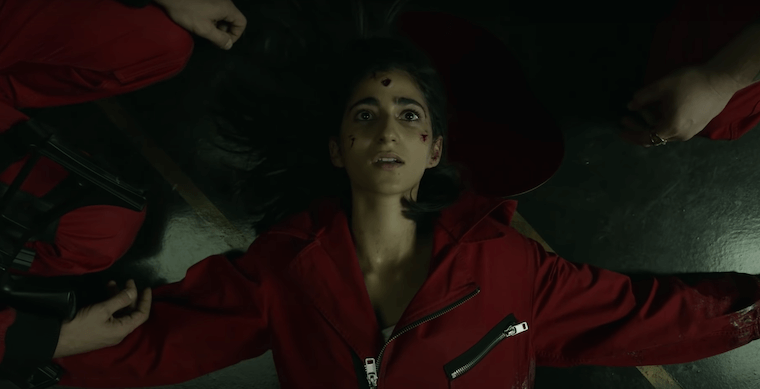 Gandia was also injured by a grenade thrown by Denver. At the end we have also seen that Raquel aka Lisbon is rescued by Professor from the way of the court and landed by a helicopter that Gandia has called to take him out from the bank of Spain. Basically, the professor forced him to say for a helicopter to the Tamayo, who leads the police force and military power after Cornell Prieto.

Now Lisbon is in the bank and joins the gang to take all the members safety out from this hell. It is better to say that Alicia Sierra is suspended because she revealed in a request of Tamayo what she did with Rio. Colonel Tamayo basically promised Sierra that she has to take full responsibility for everything on the police side.
Sierra in a huff, reveals all the officers name who are involved in the dictation happened with Rio. These words definitely make her criminal. Police and the government have issued an arrest warrants against Alicia.
After losing her job Alicia Sierra have managed to escape from the police and decided to checkmate Professor on her own which she did however later for some reason Sierra joined Professor that will we witness in the first part of Money Heist Season 5.
Money Heist Season 5 Volume 1: All-out Warfare!
In season 5 at the very beginning, we have seen Alicia pointed a gun at the Professor and Professor tries to manipulate her to leave him alone. After so many conversions and fights where we have shocked to see that Professor is hanged upside down and obviously everything was done by Alicia. She also has fired a bullet on the feet of the Professor to confess him but we know him, he doesn't confess anything at all.
On the other hand scenarios inside the bank are changed, Tamayo ordered a special military force commanded by Gandia to enter into the bank by exploding the roof of the bank. At the progression of time, robbers face so many problems to handle them and a small group of robbers like Tokyo Denver and Manila (Manila is from the professor's team but was under-covered as a hostage) was trapped in the kitchen. But because of Tokyo's and Professor's intelligence and presence of mind saved the team but Tokyo was shot many times by sniper in this conflict and she was almost paralyzed and can't move either so she has decided to perform suicide by grenade to punish Gandia and his team. In the meantime, Denver and Manila successfully have escaped from that kitchen. So, they have survived. Now we are guessing that Tokyo is dead.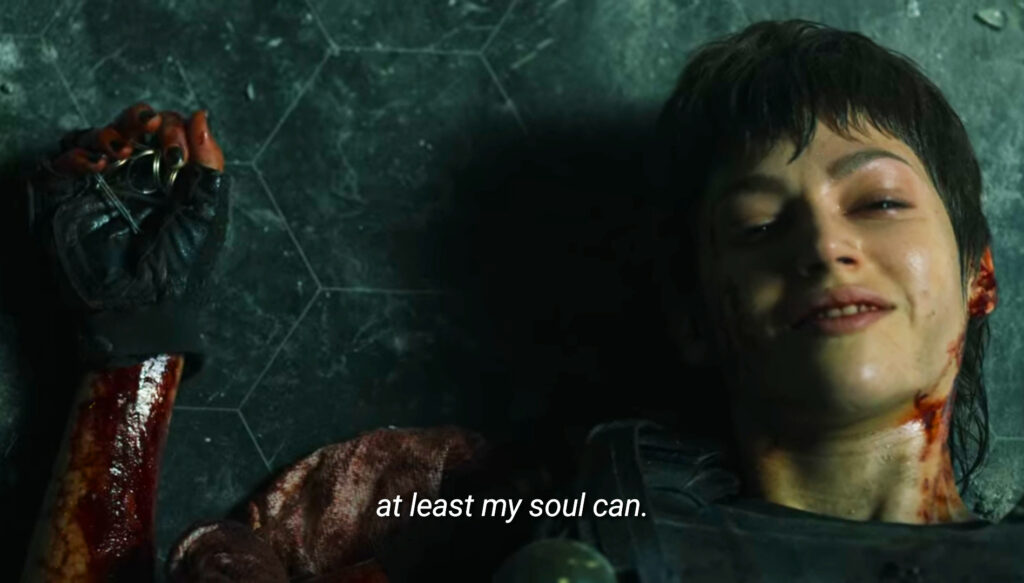 As we have mentioned earlier Sierra is now a traitor to the government, she tries to clear her identity by capturing Professor while in labor. While in the warehouse torturing Professor, Marseille and Benjamin suddenly realized that the time has come to birth to her baby. So, she tried to give birth but failed without assistance and Professor also alerts her if she refuses to take help then she might lose her baby.
She agrees with him and with the help of Professor she delivers her child. On the other side, the audience notices the army has begun firing at the bank as the episode ends.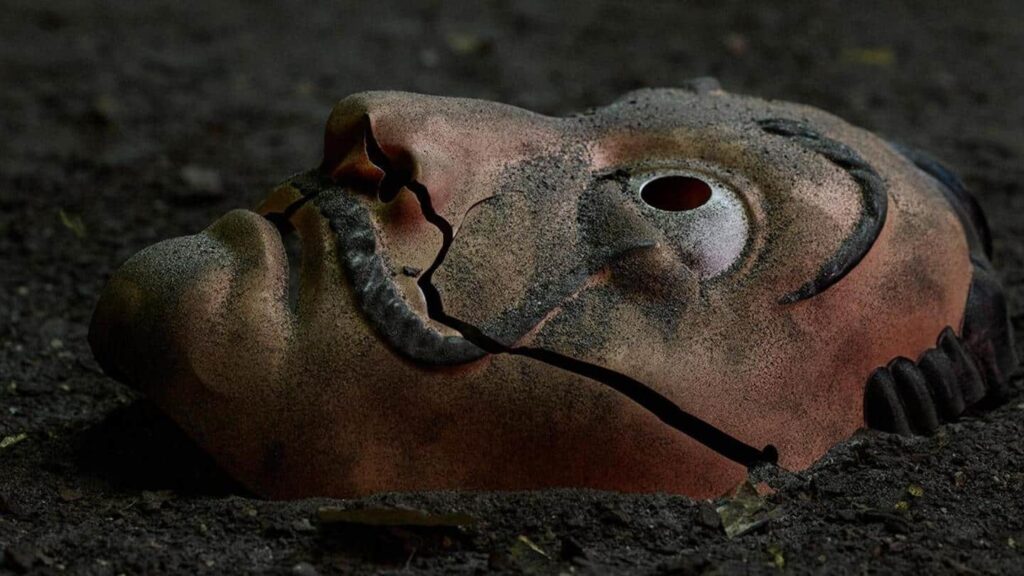 Therefore, this is the whole story in short that we have already witnessed from the 3rd season to the 5th season Volume 1. Now, let's wait for some weeks until we get to watch Volume 2 where anything can be possible as Money Heist is too unpredictable still we have some predictions that you can read here. Anyway, we hope you have found this article helpful enough. If it really so then don't hesitate to express your valuable thoughts in the comment section below. Thanks for visiting & appreciating our work.