In recent years, Chromebooks have become extremely popular among different users from various fields. Because of its light and easy-to-use Android interface, you could sometimes question yourself that can I install Chrome OS on my regular PC or Laptop? The answer is yes. After the release of Google Chrome OS Flex, it's pretty easy to put new life into your old and aging Windows PC and Laptops. The installation process is pretty simple and straightforward. I have tried Chrome OS Flex on my Windows laptop, and it worked just great. You could also install Chrome OS Flex to test the interface of Chrome OS in case you are planning to purchase a Chromebook. So, without further ado, let's learn how to install Chrome OS Flex on PCs and Windows laptops.
What is Google Chrome OS Flex? Where Does It Come From?
Have you ever heard of Neverware? I guess no. Neverware basically is a New York-based company that worked on a project called CloudReady – pretty similar to Chrome OS. Users owning old hardware could use that operating system to bring their old computers back to life. A few years back, Google took over the project and released Chrome OS Flex aka CloudReady 2.0. In simple terms, CloudReady 2.0 is also based on Chrome OS. Chrome OS Flex is officially a Desktop OS with the support for all the Google Services and Google Assistant. On top of that, you may not like to hear that but currently, Chrome OS Flex doesn't support Google Play Store.
Now, a question arrives how much do we have to pay for this? Well, you will be happy to hear that Chrome OS Flex is completely free for Education and Enterprise users. Although regular users can also install Chrome OS Flex on their old computers. Google's this idea contributes a lot to reducing E-Waste as users can utilize old hardware and get speedy performance so there's a little chance that they will replace the hardware with new and throw the old one to the junkyard.
Requirements To Install Chrome OS Flex
To install Chrome OS Flex, there is a defined system requirement that is pretty basic and I guess your computer could pretty easily meet that. If not then you may not install the Chrome OS Flex. You could try though, in case it will work for you.
Google has also released a list of supported devices for Chrome OS Flex but don't worry if your device isn't on that list. You can still proceed with the installation. Chrome OS Flex works even on non-certified PCs, maybe quite a bit of functionality will be limited. Ok, let's talk about the system requirements to install the Chrome OS Flex on PC.
A USB pen drive with at least 8GB or more storage.
Windows PC with an Intel or AMD x86 or x64 processor. ARM processors are not supported yet.
The computer you are going to use should possess at least 4GB RAM.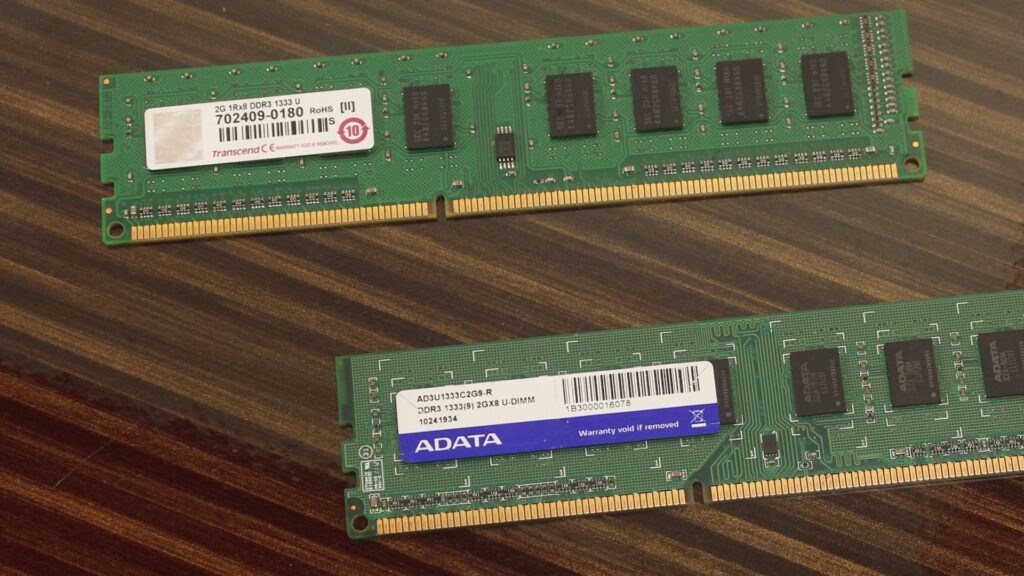 Internal storage should at least be 16GB. Higher will be better.
Flash Chrome OS Flex On USB Drive
To install Chrome OS Flex in Windows PC, first, we have to flash the OS into a USB Drive – that could be a Pendrive, Memory Card, or even an external Hard Drive.
1. First, download and install the 'Chromebook Recovery Utility' Chrome extension using the link here. It's an extension that will allow you to flash the Chrome OS Flex build on your USB drive.
2. Now plug in your USB drive and open the Chromebook Recovery Utility. Now just click on "Get Started". This will take you to the next page.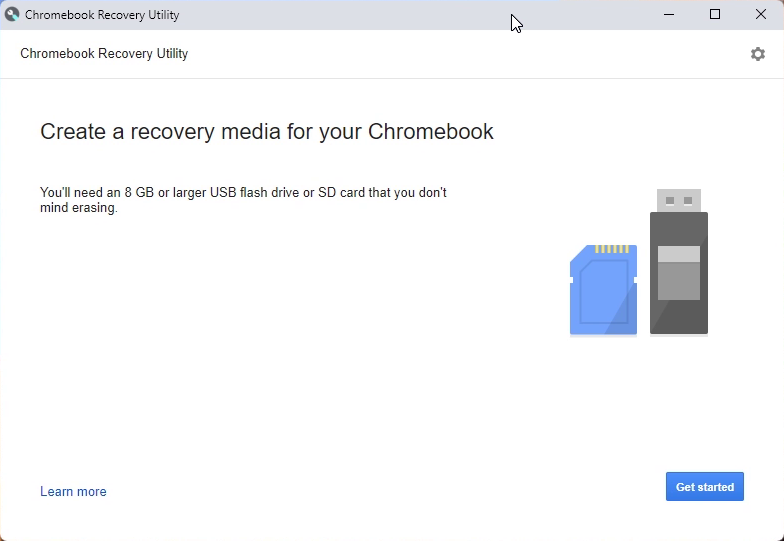 3. On this page, click on the "Select a model from a list".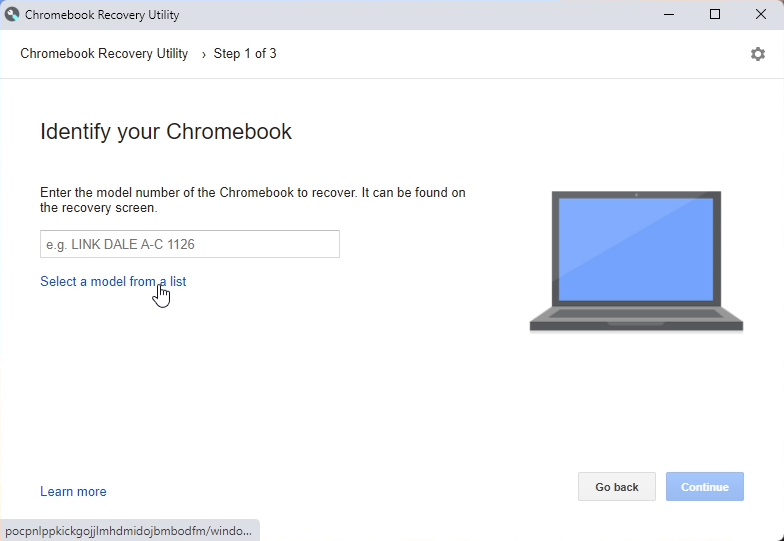 4. Now you have two drop-down menus. On the first one, click on the "Select a manufacturer" drop-down menu and choose "Google Chrome OS Flex". On the next drop-down menu, select "Chrome OS Flex (Developer-Unstable)". Now, click on "Continue".
5. On the next page, select your USB thumb drive and click on "Continue".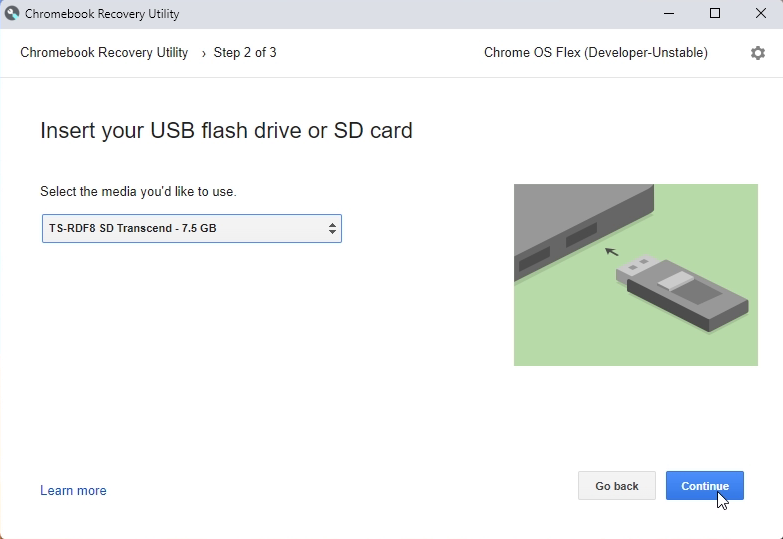 6. Finally, click on "Create now". That will create a bootable Chrome OS Flex drive. This process takes quite a while depending on your internet speed.
Install Chrome OS Flex on Windows Laptop
After flashing the USB drive, we are ready to install the Chrome OS Flex on our PC. Just restart the Windows and hit the Boot Key a couple of times to enter into the Boot selection page. If you don't know the boot key then just Google it with ('Your Computer's Manufacturer' boot key). If you are installing Chrome OS Flex on a custom-built PC, find the boot key based on your motherboard manufacturer from the internet.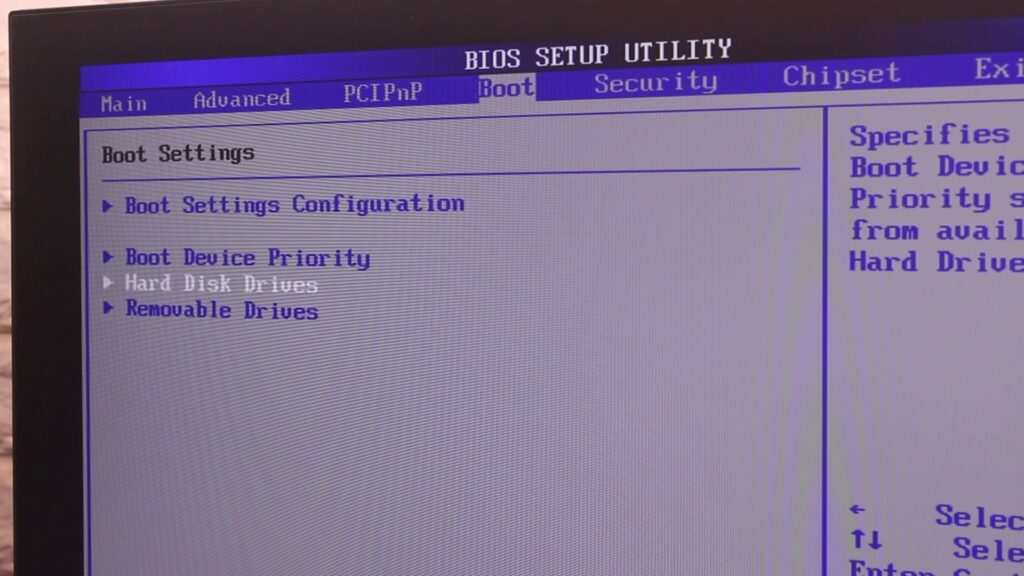 1. On the boot selection page, select your USB drive using the arrow keys and hit Enter.
2. Now, the "Welcome to Chrome OS Flex" screen will appear. Click on "Get Started". Here I am not going into much of the details on how to sign in with your Google account, the on-screen instructions are there to help you.
3. When you set up your Google account you will get two options: Install CloudReady 2.0, Try it First.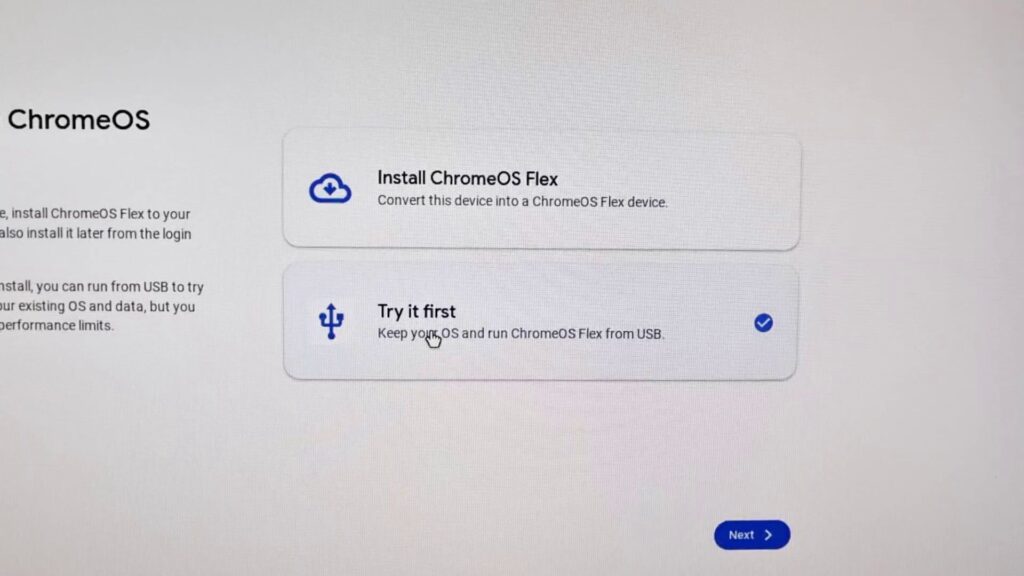 4. I suggest you to click on 'Try it First'. This way, you can explore Chrome OS Flex and check for compatibility of your Wi-Fi, keyboard, mouse, Bluetooth, touchpad, and other hardware devices. If everything works fine then you can click on 'Install ChromeOS Flex'.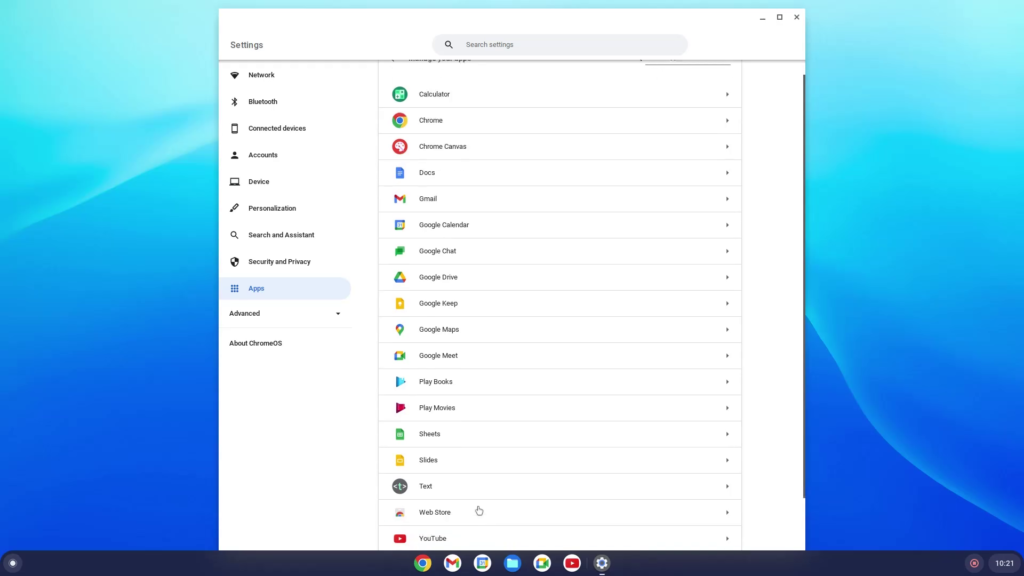 5. Before that, obviously you need to Sign Out from the trial session. To do that, open the Quick Settings panel from the bottom-right corner and click "Sign out".
6. Next, click on "Install ChromeOS Flex" at the bottom-left corner.
7. Finally, click on "Install ChromeOS Flex" and then click on "Install". This will wipe your complete hard drive, so make sure to take a backup of everything. Once the installation is complete, shut down your computer and remove the USB drive.
8. And that's it. Chrome OS Flex should boot up on your device without any issues.
Chrome OS Flex on a Windows Laptop: How is It?
Well, that's a difficult question to answer. In terms of performance, it's way better than the Windows 10 works on my custom PC which has an intel core i3 540 CPU, 4GB of RAM, GT 610 graphics card, and a 120 GB of SSD. But the problem is, the Windows operating system's most of the applications can't work in this OS which is also the fact with Chrome OS but because of the Google Play Store, most of the Android applications will work on Chrome OS. In the case of Chrome OS Flex, there is no Google Play Store so it's not possible to install Android apps. Sideload APKs aren't possible.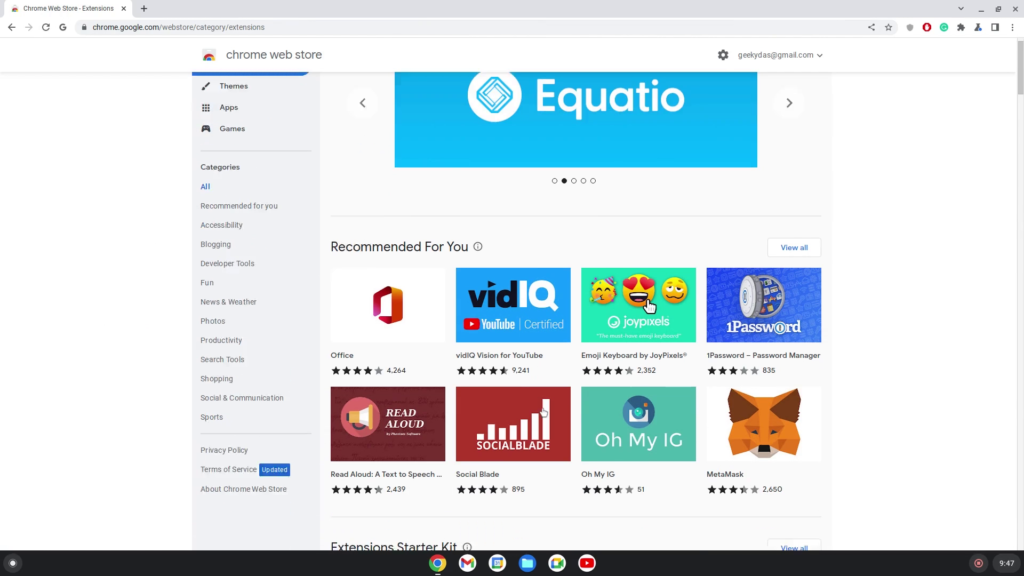 You can read the difference between Chromebook vs Windows PC here.
Nevertheless, there is full-fledged Linux support, and that is great in itself. You can able to use desktop-grade Linux apps on your Chrome OS Flex. It's also possible to run lightweight Windows apps.
By the way, the current Chrome OS Flex build is based on Chrome OS 100, which is amazing. Later Chrome OS Flex will become much more stable. In a conclusion, Chrome OS Flex is a great alternative if you have an old desktop PC or laptop.
So, Is It a Good Idea to Install Chrome OS Flex on Your PC or Laptop?
Just like I mentioned before, the answer is yes if you have a very old PC and installing Windows is going to be impossible. If you don't care about Windows features and don't have any idea about Linux operating system and how to use it then Chrome OS Flex is the best way to go. Chrome OS Flex can also be used in old Apple MacBooks but I haven't tested it yet. Hope that the installation process would be pretty similar. Hope you guys have enjoyed this article and learned quite a bit. If so then don't forget to express your thoughts in the comment section below. Thanks for visiting.