We all are well aware of the unlimited benefits of having a fit body & mind. And, exercises are the key to that fitness along with obviously proper diet & nutrition. Nowadays, there are countless great apps available for Android which work as a virtual coach and provide a wide range of different workout programs for every type of fitness goal. In this article, we have discussed the best workout apps that everyone should try for any type of fitness goal such as weight loss, bodybuilding, powerlifting, etc. Because all of these apps provide various types of workout sessions for different goals. Let's know about all the best workout apps for Android right now!
Must Read: How to Check UV Index? Protect Yourself From UV Radiation!
Home Workout – No Equipment
This is arguably the best home workout app ever! With the help of this awesome app, one can easily build enough muscle mass by utilizing the bodyweight exercises that this app offers. Home Workout app provides hundreds of bodyweight exercises for each muscle such as the chest, back, legs, abs, arms & butts which are designed by fitness experts.
Those exercises are included in workout programs like full-body, HIIT, push-pull, 3-day split, etc. And divided into three categories: beginner, intermediate & elite. You have to choose your favorable workout regime & any of these divisions that is proper for you, then start exercising with the help of the tutorial animations as well as videos so that you can make sure you use the proper form during each exercise.
In addition, warm-up and stretching routines are also available so that you can make your muscles ready for the workout sessions. The app records your training progress as well as your weight automatically so that you can know how far you have gone. If you seriously want to be fit & build your body at home with bodyweight exercises, you cannot find a better workout app than this.
Fitness & Bodybuilding is a great app that acts as a necessary tool for you in your journey to become muscular. This cool workout app comes with various effective workouts for every muscle group. With video guidance and text instructions, one can easily perform those exercises.
Once, you have started training, it will save & track data about your progress in its inbuilt calendar. This app also saves the previously performed exercises with sets & reps. You can even create customized workout plans in this app that suit your physique. In short, it's undoubtedly one of the best workout apps right now that you can choose for your fitness goal.
If you want to take your bodybuilding as well as weightlifting career to the next level then JEFIT might be the app you should go for. JEFIT is not only one of the best workout apps but also one of the best workout trackers which makes your fitness journey easier. This app offers tons of workout routines such as 3-day splits, push-pull, 5×5 strength training, etc. So, choose the routine according to your goal and start exercising with this cool app.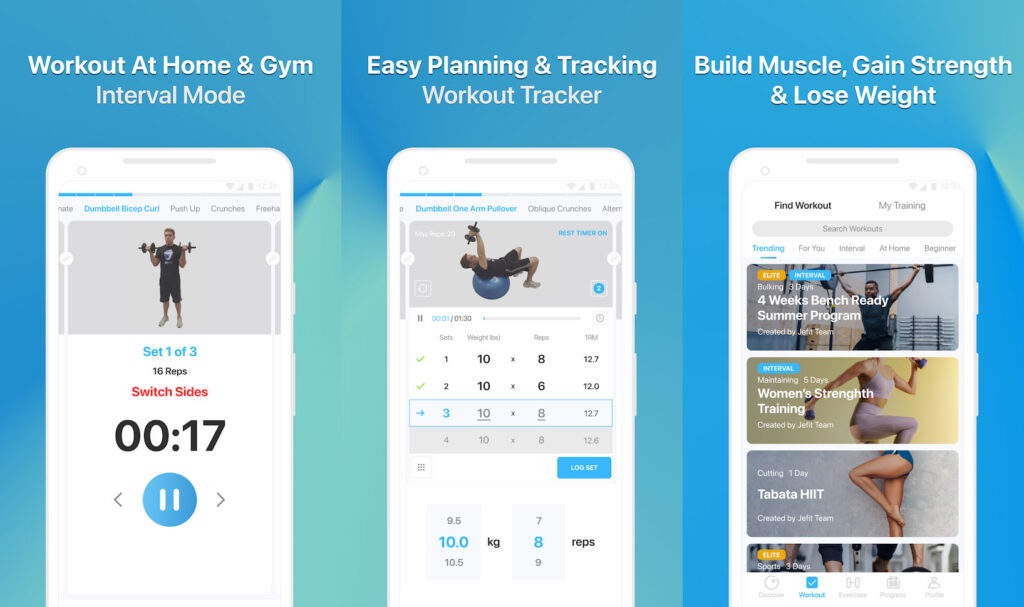 It tracks all of your exercises in detail along with your progress so that you will easily become an advanced lifter and elite bodybuilder. For beginners, plenty of bodyweight workout programs are also available so the app is quite suitable for everyone from beginner to professional.
You can also build your own customized workout plans just like in some other apps. A total of 1,300 exercises with full HD video guidance are available in this awesome workout and fitness app. Want to take your bodybuilding and lifting career into next gear? Then, don't forget to download this fabulous workout app.
it is a decent fitness app that provides hundreds of workouts & exercise videos along with different workout plans such as HIIT, yoga, Pilates, Barre & much more. From intense cardio to brutal strength training, every type of workout plan is available in this app.
Even this app has personalized meditation routines so that one can get mental peace. With video tutorials and fitness articles by certified fitness experts, you can even go further in your fitness journey. In a nutshell, FitOn is a pretty fine all-in-one fitness app that any type of fitness enthusiast can consider using.
Don't Miss: 10 Best Calorie Counter Apps for Android!
If you have a really busy schedule and can't go to the gym for hours of workout sessions then download this app & exercise in the comfort of your home for only 10-30 minutes. This amazing app is designed for busy people who want to get fit without going to the gym for hours.
Daily Workouts Fitness Trainer app offers quick yet effective randomized full-body workout sessions of a minimum of 10 to maximum of 30 minutes so that one can easily stay fit without giving that much time in the gym. The app offers 100+ exercises to do in the comfort of your home. Video tutorials are also available in the app just like all the other workout apps. Anyway, this is the app every busy people should use to get fit without spending much time in the gym or workout.
The official Adidas training app is one of the best workout apps as it provides various types of workout plans with thousands of exercises from bodyweight to dumbbell & barbell as well as machine exercises. Just like JEFIT, this app also offers any type of workout plan & methods such as fat burning, strength training, bodyweight exercises, etc.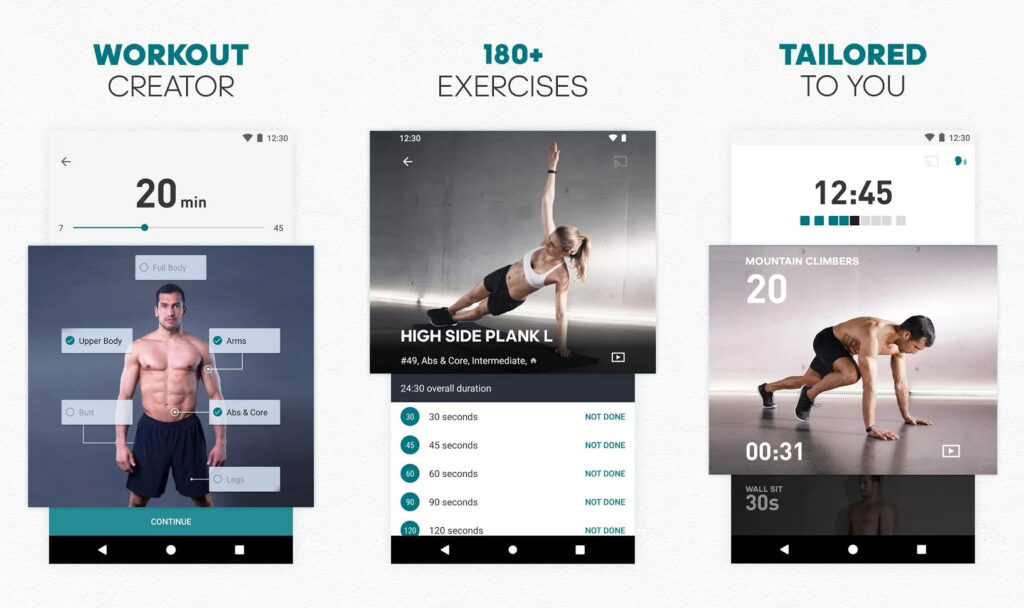 With thousands of different exercises with HD video tutorials, you can easily go further in any type of fitness journey. Whether you want to improve your weight loss goal or you want to progress in your bodybuilding and fitness journey, this app can be quite a good tool for you.
Freelectics is a pretty useful all-in-one fitness app that helps you to burn fat, build muscle and improve fitness by providing various targeted workout programs. Freelectics' advanced digital personal trainer & effective HIIT bodyweight workout sessions make your fitness journey simpler.
The AI trainer of this app will create a fully personalized workout plan that suits best for your physique. In addition, the cool AI also helps you in your workout sessions. This app is overall a great app and surely one of the best workout apps available for Android that serious fitness enthusiasts like you should try.
If you want to challenge yourself or others to be fit as quickly as possible then this app is perfect for you as it offers various types of targeted 30-day challenges such as 30-day abs challenge, 30-day butt challenge, or even 30-day full-body challenge. The 30-day intense workout programs provided by this app are very effective.
Although in just 30 days, you can not get significantly greater muscle mass or weight loss, still you can get somewhat toned muscles as well as less body fat percentage in a single month. But, frankly speaking, if you follow these challenges for several months, you can get your desired fatless toned physique for sure. So, this is quite a good app for the people who commit to be fit as soon as possible.
Therefore, these are the best workout apps for Android that you can use as a necessary tool or as a virtual trainer to achieve your fitness goal. Whether your goal is to lose fat or to muscle gain or others, you can use any of these apps which seem suitable for your fitness journey. All of these workout apps are great for any type of fitness goal. Anyway, we wish you all the very best for your journey to ultimate fitness and we hope that you have found this article about the best workout apps helpful. If so then don't hesitate to express your valuable thoughts in the comment section below. Thanks for visiting & appreciating our work.