Yes, Android phones are widely available in the market but running android apps on PC is a different experience because of the bigger screen size and buttery-smooth performance. Though modern gaming phones and even some normal smartphones are designed for gaming they are not nearly capable enough like computers. So, if you have a powerful PC and want to play your favorite android game then it is a good idea to use emulators for Android games on PC.
Emulators allow you to download and run not only the games but also most of the Android apps on your desktop or laptop. There are some different emulators for android available quite a while but we have picked the best emulators for Android on PC that can handle all the Android games and Apps simultaneously and they can use the resources of your PC properly so that you will not experience any hang or lags on this Android emulators. So, let's see what are the best emulators for Android games on PC for gamers.
Also Read: 20 Best Action Games for Android!
Bluestack
Bluestack can virtualize Android OS on PC and macOS. The features of this software are categorized into two parts free and paid. The free version is more than enough for almost every user but if you want some extra control then go for the premium. Here you can get all the info about Bluestack Premium.
This app Player features mouse, keyboard, and external touchpad controls. You can also precisely control these devices for the optimal experience. If you're a fan of multiplayer games like PUBG, COD then you have a special mode calls 'Shooting Mode' that can help you to act faster than your enemy, and obviously, you can achieve more victories.
For MOBA fans there is a mode called MOBA mode. Instead of WASD keys, this special control scheme assigns all the power to the mouse to move your character. It allows you to move much faster on a map and from an isometric point of view.
There are several other features available like Multi-Instance, Multi-Instance Sync, Macros, Eco-Mode, Real-Time translation, Smart Control, Rerolling, and Script. Along with you can record your gameplay and take screenshots with the Bluestacks internal tools. No third-party tools are required. So, needless to say why this is one of the best emulators for Android games on PC.
In terms of performance, Bluestack always tries to provide HD graphics (depending on your GPU) and higher FPS for a smoother gaming experience. So, what do you say? We are pretty sure that Bluestack is the most feature-rich emulator for Android that should be your first preference to install on your PC.
LDPlayer is also one of the best emulators for Android games on PC just like Bluestack. You get keyboard mapping, controller mapping, Macros, and everything that a gamer really needs. With this emulator, you can achieve higher frame rates and great graphics in games. From its own App store, you can download games like Garena Free Fire, Among Us, Clash of Clans, PUBG like titles. In the Android Nougat 7.1 environment, besides different games, you can use different apps like TikTok, Instagram, WhatsApp, etc. on this player.
Basically, it is an all-rounded application for everyone. Whether you're a gamer or just an application tester you can use this emulator for android on your PC. It has the best compatibility with almost all kinds of PC hardware so you will not face lags and slowdowns on this emulator. LD Player also has GPS location simulation, File sharing between your Windows and Android, and Multiple instances to play several games simultaneously.
NoxPlayer is a pretty cool and versatile emulator for Android. It is more stable and smoother for both games and apps. In the Android 7.0 environment, it has usual stuff like key-mapping with your keyboard, actual controller support, and even the ability to key-map gesture controls. you can assign the function to swipe right to an arrow key and use that in a game without actual hardware controller support. So, if you're a serious gamer, then you should definitely try NoxPlayer which is also So, one of the best emulators for Android games on PC.
Don't Miss: Best Marvel Games for Android Right Now!
Koplayer is another great free Android emulator that you can try as a gamer. It is a smooth, responsive, and feature-rich emulator for the Android gaming experience. You can download almost every application and game from the Play Store. You can also install .apk on this emulator, just drag and drop the file from your PC to this emulator. It supports Key-mapping so you can use your keyboard or gamepad to control your favorite games. It also allows you to record your gameplay and the ability to share the gameplay with the integrated video recording option.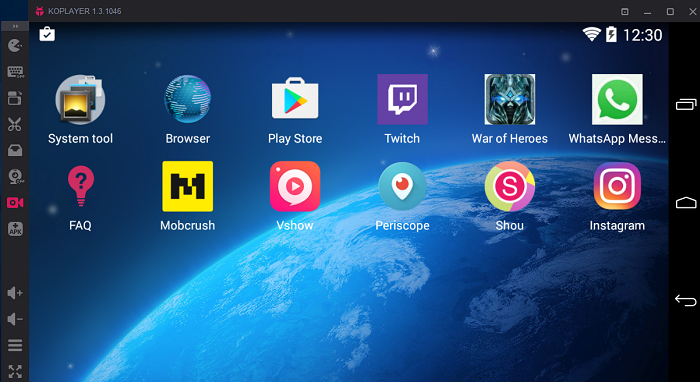 Believe it or not, Gameloop is our favorite best emulator for Android gaming which is definitely one of the best emulators for Android games on PC. You can achieve the finest Android gaming experience on your desktop. It is highly optimized for any kind of Android game. So you can expect the highest frame rates and stunning graphics on games with this emulator. Obviously traditional things like key mapping for the controller, keyboard, and mouse are available here. You can try this emulator too if you want to be a serious Android gamer on PC.
Try These: Best Games of 2020 for Android: You Should Play Now
Bottom line…
At the end, we would say that none of the emulators are perfect as they all have some bugs and glitches, which may be neglected depending upon what kind of game you have played. So, it's better to try it yourself to check what is suitable for you. Therefore, with that being said, hope you guys have enjoyed reading this article about the best emulators for Android games on PC & found it helpful. If it really so then don't forget to appreciate it in the comments below. Thanks for visiting.