Sudoku is a very popular puzzle game that mostly consists of a 9 × 9 grid with numbers appearing in some of the squares. The object of the puzzle is to fill the remaining squares, using all the numbers 1–9 exactly once in each row, column, and the nine 3 × 3 sub-grids. Solving Sudoku is a great way to sharpen our brain as well as improve our brain functionalities. If you want some easy Sudoku for kids then you can get some really good Sudoku apps in the Play Store for your kids. Here, in this article, we have discussed some apps featuring easy Sudoku for kids that your children would love to solve. Some of them are filled with cartoons, animals, and other stuff that make them more interesting for the kids to solve.
Although this is not a Sudoku app that offers Sudoku puzzles specialized for kids only, it is still one of the best and most popular Sudoku apps that the Play Store ever has. People of any age can use this app or I should rather say, game. This game offers 5,000+ Sudoku puzzles with 4 difficulty levels. Moreover, the developers add 100 Sudoku puzzles each week so the puzzles are kind of never-ending! Set the difficulty to easy for your kids or set it to hard or expert for you if you want some challenging & addictive puzzles.
Furthermore, daily challenges are also available so that you can train your & your children's brain every day. If you get stuck, you can get help from the hints so there is no problem as the AI is always with you if you can't solve the puzzle on your own. You will get access to more amazing handy features when you install the game. Anyway, this is a brilliant game that any person of any age can play including your kids.
Kidoku is one of the best kids' Sudoku games available on Android. Easy Sudoku for kids is what they exactly offer with lots of fun that only children can enjoy. If you are looking for a puzzle game for your child's early brain development then this game is ideal. Along with traditional Sudoku, this game offers Sudoku with animal faces instead of numbers in a game mode that your child would love to solve as they are fun-filled and engage. The puzzles will be tougher as your kid progress in the game. In the very first, easy challenges will be given such as 2×2 grid Sudoku puzzles and as your kid completes the beginner puzzles, he/she will face more challenging puzzles such as 6×6 to even 12×12 grid puzzles. In this fun-filled way, your child can easily train the brain to enhance the brain's power, problem-solving capabilities, and functionalities. When your child would be ready for classic Sudoku, you can change the game mode from animal-faced Sudoku to the classic one. Hundreds of puzzles are available in this game to solve and enjoy. So, install this game as soon as possible to make your child smarter in an engaging way.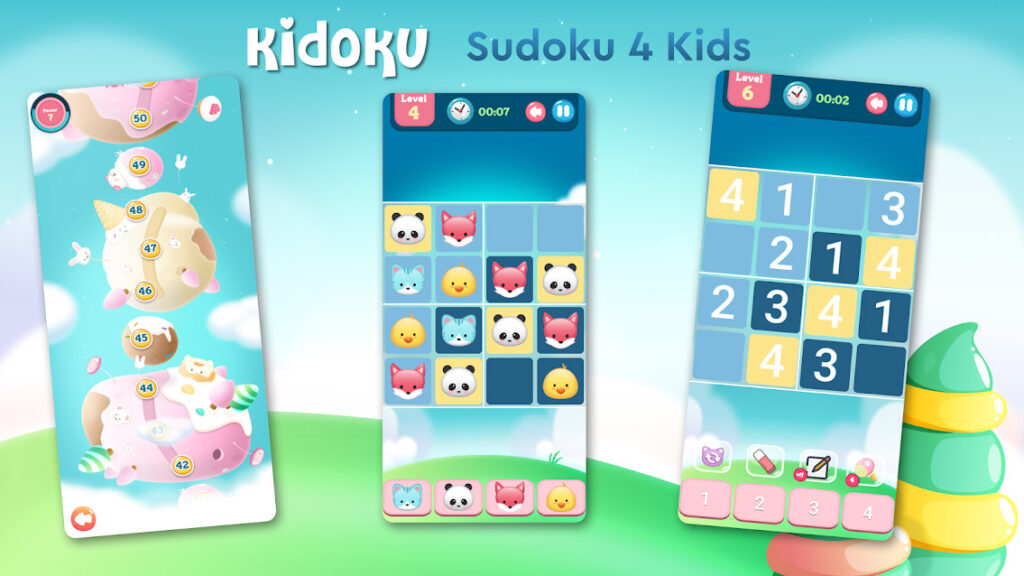 If you want a very basic and easy Sudoku for your little child then this is the game you should give a try. Picture Sudoku offers easy Sudoku with only colorful pictures such as cute animals, fruits, flowers & vehicles. Any kid over 3 years can easily train their minds with this colorful and enjoyable puzzle game. Your kid can start with basic 3×3 and then gradually increase the grid up to 6×6 to train their brain and enjoy the game as well. With bright interesting pictures and an easy-to-use interface, this game features really easy Sudoku that is best for any child at the beginner level. So, this is why this easy Sudoku for kids is recommended for any kid who wants to start training their brains with Sudoku.
This is another easy Sudoku for kids that your kids will definitely enjoy. Sudoku Village offers 2700 puzzles combined with three levels of difficulty. Along with numbers, there are Sudoku puzzles that consist of colorful fruits. Any child over 6+ age can train their brain with this Sudoku puzzles game. Teach your kids Sudoku with the easy levels first and then gradually, higher the difficulties to see whether he/she overcome the challenging Sudoku levels. The lovely friend Kody the sheep of the Sudoku village will guide you and your kids in this journey. By the way, this game offers 6×6 grid Sudoku puzzles so that it will be easier for the children to solve. In a nutshell, a decent Sudoku game that any child should enjoy playing.
Therefore, these are the best easy Sudoku for kids that you children can enjoy playing as well as sharping the brain. All of them are great in terms of providing good brain training as well as enjoyment for your kids. Some of them are very basic which a child can play at the beginner level whereas some provide different Sudoku puzzles of different difficulties so that a child can face some challenging puzzles once he/she gets used to the basic ones. Anyway, we hope you have found this article about the best easy Sudoku for kids helpful enough. If it really so then don't hesitate to express your valuable thoughts in the comment section below. Thanks for visiting and appreciating our work.