When there's intense gossip about motorcycles riding, performing stunts comes as one of the most primary topics in that discussion and needless to say, a wheelie is the most popular and coolest stunt that the motorcycle riders can deliver. Performing a wheelie must be fun if you have enough skills and experience. Moreover, your bike has to be under some criteria to help you perform that cool stunt. After successfully delivering that wheelie, if you somehow can't control the bike, you may injure yourself and your beloved motorcycle. That's why experience is a lot important in that stunt. There are some different ways to start a wheelie and practice it but as a motorcycle expert, we recommend you to learn the basic form of wheelie which is the power wheelie. This type of wheelie allows the riders to be comfortable and ride their bike on its rear wheel. Therefore, there are some easy steps below that you have to learn in order to perform this type of wheelie and after that steps and tips, we will discuss some best bikes for a wheelie. So, let's get started.
Read More: Top 10 Fastest Bikes in The World!
Before learning those steps and skills to attempt for performing a wheelie and practice further, here are some tips that you should keep in mind in order to avoid big mistakes that can lead to a dangerous accidents.
Experience Matters:- You have to be a very advanced bike rider to simply try for a wheelie because as we have earlier said in this article that mastering the wheelie requires lots of skills and techniques so if you are a beginner motorcycle rider, we will not recommend you to try this stunt.
Appropriate Gears to Stay Safe: – Stunts that need lots of skills should definitely be risky and dangerous stunts and wheelie of course is one of them. That's why it's highly recommended by our experts that you should wear proper gears such as thick helmet, leather gloves, leather or jeans pant and a solid leather jacket to stay protected in case of accidental injuries. If you want to minimise your upcoming injures even more than you can also wear elbow, angle or knee guards along with some solid boots that are good for proper grip.
Use One-way Jam-free Street to Practice:- Find an one-way street in your locality that has low traffic density and that has not any pedestrians nearby so that you can only focus on your learning and practicing wheelies without any kind of distraction and without making accidents with other cars that can lead to fatal injuries.
Remember those aforementioned tips and now, let's know these following steps below to learn how to perform a wheelie perfectly and practice to master this stunt or if you already know this stunt well, you can jump into the list of best bikes for wheelie in the down below.
Start with the First Gear
Basically, a power wheelie is about pulling the motorcycle's front wheel upward in the air by using the acceleration so that the rider does not have to worry about shifting. In that case, remaining in first gear allows the rider to pull the front wheel of the bike upward very easily unlike any other higher gears. So, if you want to be the master of wheelie in an easier way, you have to put the motorcycle in first gear.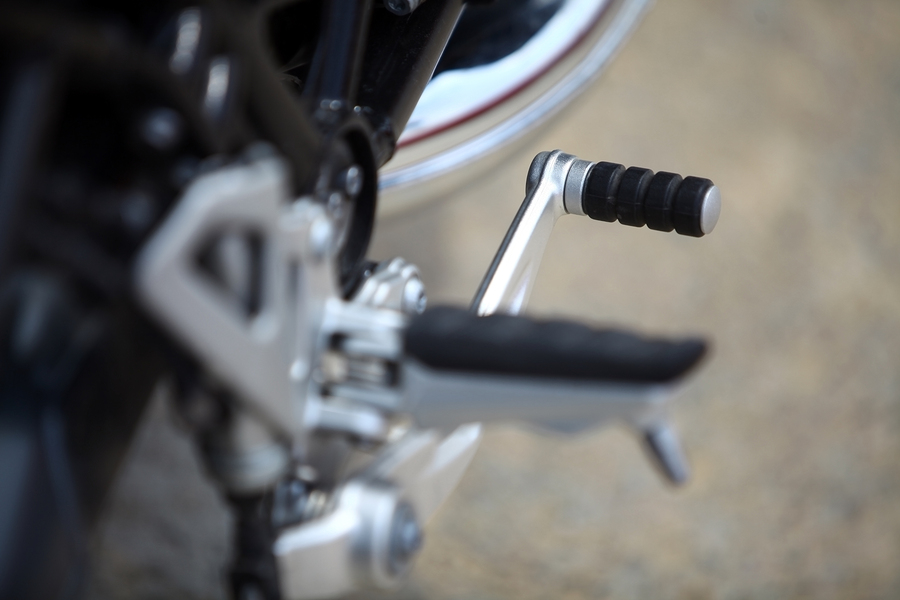 Speed up your Bike to a Minimum Level
Picking up right amount of speed is necessary to start a wheelie because when you will get enough speed in your motorcycle, you will easily pull the front wheel up in the air. That's why our experts recommend that a minimum 10-15 mph (16-24 km/h) speed is best to start a wheelie. If you attempt for a wheelie in a lower speed than that you may not get that enough power to pull the front wheel off the road and if you increase too much speed in your bike to attempt a wheelie, you may lose control of your bike which can lead to fatal accidents. Therefore, a constant speed of 10 to 15 mph is safest as well as easiest way to perform a perfect wheelie and soon, you will be the master of wheelie.
[Before acceleration for your wheelie, release the gas little bit more as it will provide your bike extra boost to get the front wheel up even more easily]
Hit the Throttle Hardly to Pull the Wheel up
When you reach the speed near 10-15 mph with your motorcycle, use the throttle roughly and try to pull the front wheel of your bike up in the air. If your bike's front wheel is perfectly up in the air then okay, you're on but if you feel like your bike is going too far back then simply use the rear brake to prevent it from flipping and the wheel will come back to the road.
Maintain Proper Balance during the Wheelie
During the wheelie, it's really hard to maintain proper balance. When the front wheel is up in the air, just lean back on the rear side of your bike to balance your motorbike properly. Don't stoop too much backward or forward during the wheelie otherwise, you will lose control as well as balance of the stunt and also your bike. So, having a good balance on your stunt and control over your bike really helps you a lot to practice this stunt for a longer period of time.
Use the Rear Brake to Complete the Wheelie
When you think this is the perfect time to complete the wheelie, slowly use your bike's rear brake to bring back the front wheel onto the road. Don't hit the rear brake roughly or suddenly otherwise your bike's front wheel will quickly crash down on the road that can lead to dangerous accidents. So, slowly and softly use the rear brake to end the wheelie and once your bike is fully on the road, use those same steps to perform another wheelie. Another thing that you should keep in mind that after using the rear brake, when the front wheel comes down to the road, try to land it as straight as possible because if the wheel does not land straight in the street, it can shake itself and you can lose control over your bike.
Performing wheelie is a dream for so many motorcycle riders as it's extremely fun to do but you have to be careful and make sure that you are doing this stunt safely. Therefore, follow those steps and tips that I have mentioned above, wear proper protective gear, and practice on a lonely road to avoid other vehicles. Once you start practicing wheelie, you will master this stunt soon. Now, let's check out the best bikes for wheelies although every bike is best if the rider has that skill to pull off a wheelie. Still, if a motorbike possesses lower curb weight, shorter seat height, higher torque, and a lower amount of RPM then it will be much more beneficial for the rider to perform the stunt. That's why Dirt Jump Bikes and Mountain Bikes are better at wheelies and other stunts than the Sport-bikes though we don't mention any dirt bikes on our list because almost every dirt bike and mountain bike are good at wheelies and other stunts. This is why these types of bikes are made. That's why we have made this loss without any dirt or mountain bikes. Anyway, let's check the list of best bikes for wheelie right now.
Triumph Speed Triple 1050
Triumph Speed Triple 1050 is a beast of the street. With a huge engine displacement of 1050cc, this bike is really a worthy one for a wheelie. Speed Triple comes with a pretty good speed of 160 mph so in that case, the rider must have to control the speed of this massively powerful bike to perform the wheelie perfectly. Still, this bike is one of the best bikes for wheelie not only because of its power but also because of its smoothness.
Ducati Monster S2R 800
Not really that monstrous you can find in this bike but it's indeed a great bike if you want to perform wheelies or something like that. With a low curb weight like 179 kg, Ducati Monster S2R provides you enough advantage to pull of the wheelie easily. Also, this bike's low seat height gives an edge to the riders for better gripping.
KTM 1290 Super Duke R
Super Duke is basically a meaner, leaner, "super-naked" bike. But its mean attitude doesn't stop only in power and speed but also in stunts like wheelies and other stuffs. Because of short size and huge power, this bike is uncontrollable for most of the riders while performing wheelie but those who can control this mega beast, have experienced the best stunts they can ever deliver.
Aprilia Tuono
Another beast is here in our "best bikes for wheelie" list. Though Aprilla Tuono is basically a naked motorcycle, it provides a huge speed of 155 mph along with an engine power of 173 HP. Honestly speaking, if you somehow can tame this powerful beast, it can do whatever you want including cool wheelies. This is why Tuono is on this list.
Yamaha FZ-09
Yamaha FZ-09 maybe is a decent bike in compared to the other in this list but this 847cc machine can help you to deliver perfect wheelies. With a low curb weight and quality engine power, this bike provides the smoothness that a rider need to pull off a stunt.
Therefore, these are the best bikes for wheelies that are all great when it's time to perform stunts. But before you go for attempting the wheelie, read the steps carefully that we have explained above in this article. Lastly, I hope, you really have enjoyed & understood "Best Bikes for Wheelie: Tips & Tricks to Master A Wheelie!". If so, don't hesitate to express your thoughts on it down below in the comment section. Thanks for visiting and appreciating my work.