Time travel is everyone's latent desire. We have sometimes previously done some stupid things or have taken stupid decisions that at standing on the present we want to fix. Time Travel movies meet us with our desire that's why this genre always fascinated audiences. With the addition of imagination and possibilities writers construct mind-bending storylines. Mostly, time travel creates mystery and forms a unique blend of suspense, action, and thrill. In this article, we'll take a closer look at the 9 best time-travel movies that you should add to your watchlist.
Predestination
Released On: 2014
Available On: Amazon Prime Video
IMDB Rating: 7.4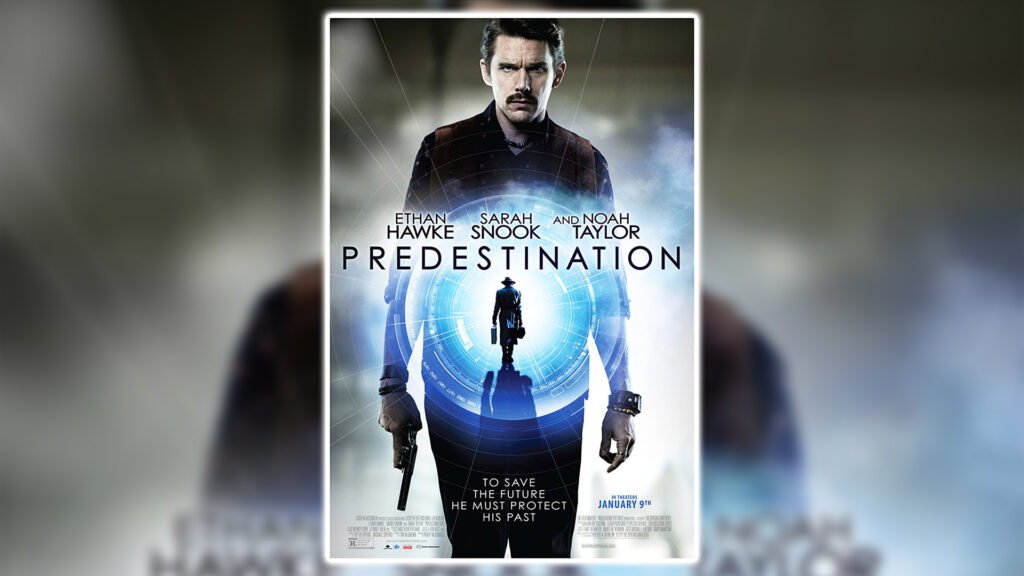 In terms of science fiction time travel movie Predestination showcases the negative effects of time travel. The story revolves around an agent whose mission is to prevent a terrorist attack that happened in past. As he moves through different timelines, he changes things which then triggers a chain of events that turns his perception of reality and his own identity in danger. With an incredible plot, acting, and plot twists this film is definitely worthy of your time. If you're a fan of time travel movies don't skip "Predestination". I can guarantee that this movie not only entertains you but also you will learn determinism, free will, and the nature of time, the creators introduced in this film.
Edge Of Tomorrow
Released On: 2014
Available On: Netflix
IMDB Rating: 7.9
As a fan of Time Travel Movie, you can't leave the edge of your seat until the end. In just a few minutes this movie will engage you with the screen. A soldier named William Cage, played by Tom Cruise now you can understand what level of action sequences you can expect. The soldier finds himself caught in a time loop. Basically, he lives the same day over and over. But with every repeat, he has the previous loop memory that brings the twist. At the end of the day every time he died. However as he learns something is happening wrong he started to change the series of events and finally with the help of a skilled warrior named Rita Vrataski, played by Emily Blunt, Tom Cruise's character learned knowledge and combat skills to defeat a powerful alien race that will eventually destroy the Earth. In one word you will enjoy the film. Alongside with hero, all the side characters possess great character development. You will just be attached to them.
Don't Miss: Best Tom Cruise Action Movies That Will Leave You Breathless
Tenet
Released On: 2020
Available On: Netflix
IMDB Rating: 7.3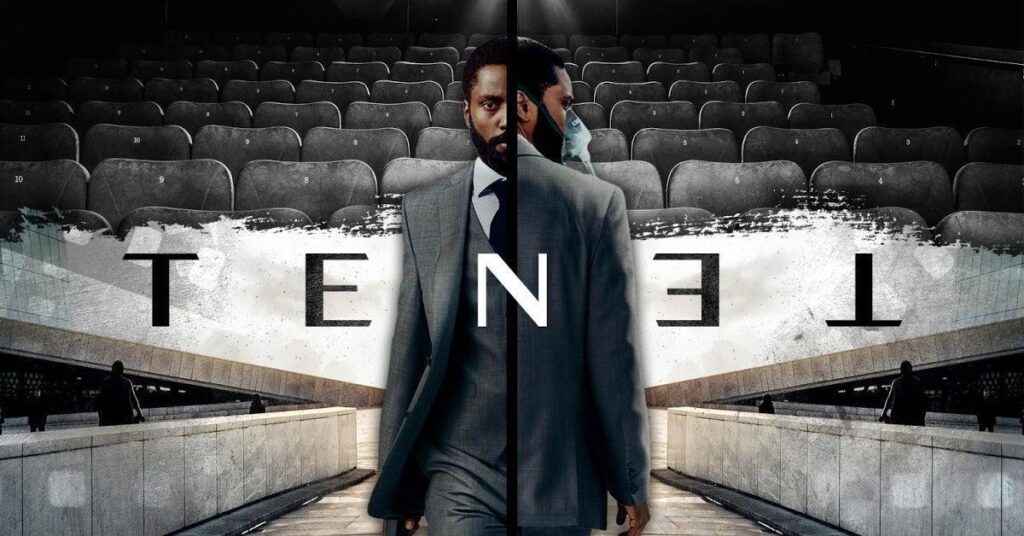 A film by Christopher Nolan so don't take this movie lightly. Being a science fiction thriller film it is a masterpiece. Here time travel is introduced differently. All the things are happening in present will happen in near future but in reverse order. In short, here we're introduced with the concept of time inversion, where objects and people can move backward in time. In the beginning we are introduced to a CIA agent known as "The Protagonist". On a mission, he finds out that a bullet and objects are moving back in time. At the time of investigating, who is doing this, and why objects are in a time inversion loop, he finds out a big mystery and one's intention to destroy the world. I will definitely not spoil the movie for you go check yourself. I would say it is one of the most complex movies so you may need to watch the movie twice to understand the concept. If you understand you will fall in love with this movie. With stunning visuals, action-sequences, intricate plot twists, and everyone's acting is praiseworthy. Definitely, worth watching if you love time travel movies.
Mirage
Released On: 2018
Available On: Netflix
IMDB Rating: 7.4
This movie also represents to showcase a kind of side effects of time travel. This film is related to time travel, and science fiction but showcases as drama. A woman named Vera who interacts with a ghost of a child. As she mysteriously finds herself transported 25 years into the past. Where she got the chance to save the child. As she saves the child cause glitch in space-time continuum. In simple words, that change triggers a chain of events which almost remove her from existence. How she stops the malediction? What events will happen after? Will amaze you. With brilliant performances and a thrilling plot, "Mirage" is a must-watch for fans of time-travel movies and psychological dramas.
Source Code
Released On: 2011
Available On: Amazon Prime Video
IMDB Rating: 7.5
As a time travel movie, the story of this film is introduced uniquely. A group of terrorists destroyed a train. To stop this tragedy a soldier – Captain Colter Stevens is sent from the future to the past. He wakes up in the body of a stranger on a commuter train. Ofcourse his task is to identify the bomber, defuse the bomb, and have to save everyone. To complete the job he gets only eight minutes. Now I will not tell you anything, I just want you to move through the tense moments the protagonist of the movie is passing. Time travel is just a part of this movie to continue the storyline but the important part is thrilling. You will just kind of stick with your seat at the very end of the movie. One of my favorite time travel movies definitely worth a try.
Looper
Released On: 2012
Available On: MX Player
IMDB Rating: 7.4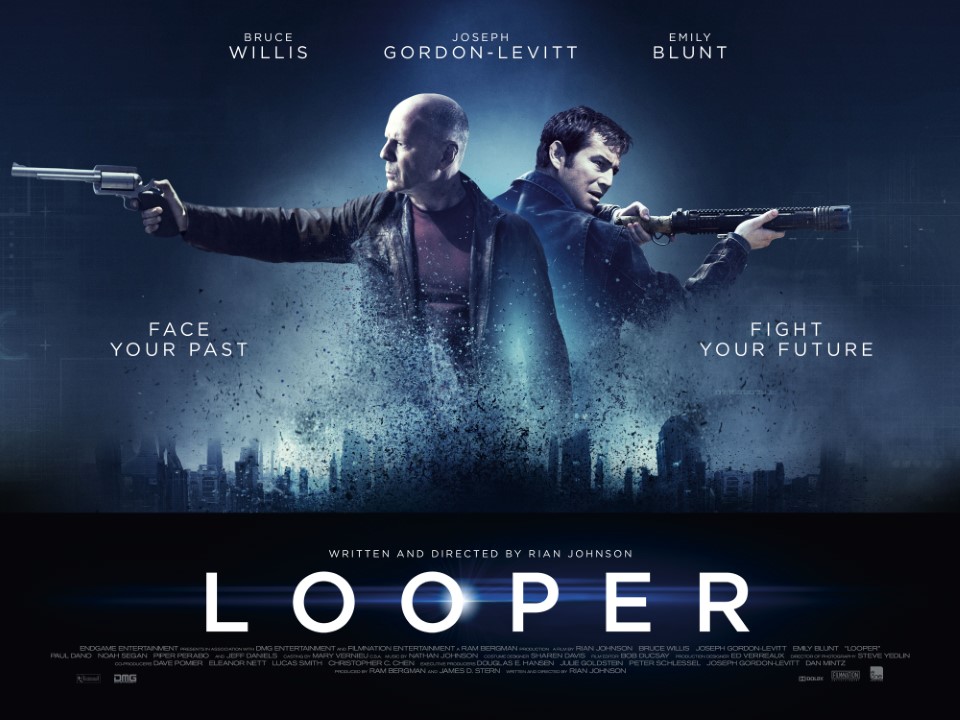 The story is set in the year 2044, when time travel has not yet been invented, but will be in the future but it is illegal and only available on the black market. Assassins of 2044 are hired from the future to eliminate those sent from the future. These assassins are known as "loopers". The twist comes when Joe's latest target turns out to be his future self, he is forced to confront his own identity and make a life-changing decision. As 2044's Joe tries to avoid carrying out his assigned task, he becomes embroiled in a danger that could curse his own future. How he manages his life and tackles everything is definitely worth a visit. The story of the film is a little bit complex so don't miss any scenes. Everything is important.
The Tomorrow War
Released On: 2021
Available On: Amazon Prime Video
IMDB Rating: 6.5
In 2021 at the release of the film Amazon has launched a big ad campaign on TV. So, I guess everyone has already watched this film. If you haven't until then let me tell you if you are finding a time travel action movie then this is the film you are looking for. The movie takes place in the near future, where humanity is fighting an alien invasion but they are losing. Don't have the sufficient manpower to win the battle. That is why people from the future come to the past and gather people alongside present-day forces to save humanity from extinction. The fight is very dangerous and one mistake and aliens will just tear apart a human body. So, the movie basically has a lot of thrilling elements and tensioning situations that force you to think 'just right now everyone will die'. In this film, we are introduced to high school teacher Dan Forester who has some previous record in the Military. In the future when his daughter asks for help, he leaves his family behind and embarks on a perilous journey. With stunning visual effects and heart-pumping action sequences, "Tomorrow War" is an action, thrilling, adventure, and one of the best time travel movies in this list that keeps audiences on the edge of their seats.
Click
Released On: 2006
Available On: Zee5
IMDB Rating: 6.4
Sometimes we think it would be really appealing if we can enjoy a well-being moment of our life repeatedly and can skip bad and depressing moments as fast as possible or can see how a previously happened moment is how actually happened. This vision of us is shown in this film. Click is a comedy-drama movie in which an architect is unable to manage his career and family life. Then for a sake of plot, he meets s scientist who gives him a universal remote that allows him to control his life like a television. Although Michael believes this remote will solve his every problem but soon he realizes that because of playing with time triggers consequences. Those events understood him the true meaning of happiness and the importance of family. This film is played by Adam Sandler. His acting and comedy is really heartwarming. One day if you're finding a sci-fi movie that pleases your eyes and can learn your child something this film is definitely worth a try.
Midnight In Paris
Released On: 2011
Available On: N/A at OTT
IMDB Rating: 7.7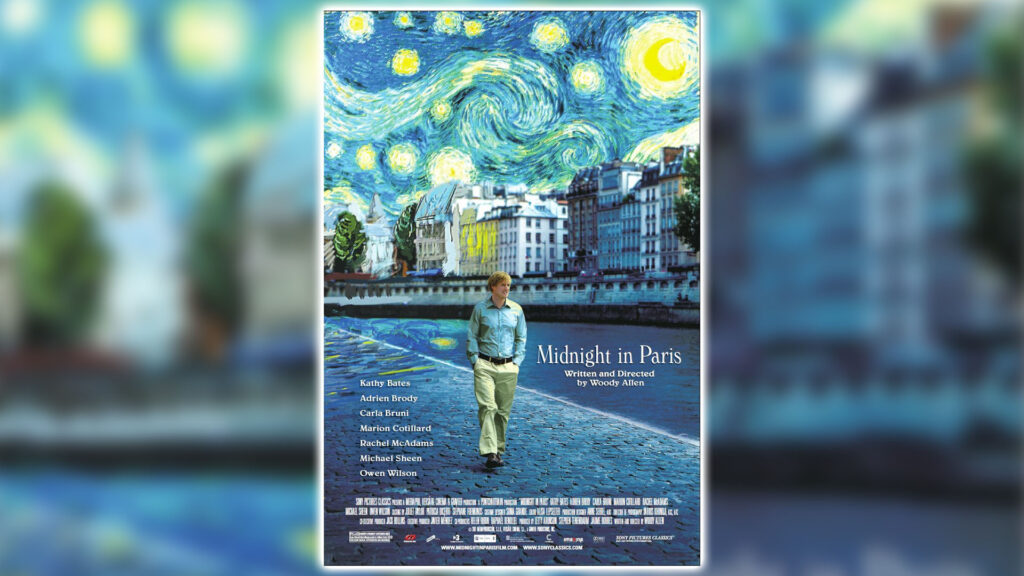 After a few action-adventure time-travel movies I dedicate this film to love birds who love time-travel movies. "Midnight in Paris" is one of them. It is a romantic comedy-drama movie. The movie is revolved around a writer named Gil. Who is visiting Paris with his fiancée and her family. Things gonna confusing when at night Gil finds himself that he is teleported back in the 1920s. In the 1920s he meets the most popular artists and writers, including Ernest Hemingway and F. Scott Fitzgerald. As he falls deeper into this world in which he actually desires he can't able to decide whether to live his real life or his dream life of 19s. Obviously, this movie isn't for everyone if you love art and beauty with stunning visuals and a charming storyline, "Midnight in Paris" will really warm your heart. The creativity in this film is definitely praiseworthy.
Conclusion
Time travel is a fascinating genre. Everyone's perspective and thoughts on time travel are different. There are millions of possibilities in this genre. Whether you're a fan of action-packed thrillers or drama or crime everything can be introduced with a twist of time travel. The movies I have listed are mostly everything you're looking for in a time travel movie. Definitely these are not the least movies made in this genre these are actually my favorites. So, grab some popcorn and get ready for a mind-bending adventure through the past, present, and future.