There are millions of free games available for Android in the Play Store or other app stores but there are only a few games that are actually loved by the gamers & truly worth playing. Yes, in this article, we are going to discuss about not all of them obviously but the 15 best free Android games that are really amazing to play & to enjoy your leisure time. Here, we have listed the best free Android games of every popular genre such as action, battle royale, open-world, horror, casual & many more so that you can choose a game of your favourite genre. Let's see what are the best free games on Android that you shouldn't miss.
Don't Miss: 20 Best Action Games for Android!
VOODOO
Arcade/Action|4.0 ★ |79 MB |Free (in-app purchases) | 100M+ Downloads
If you have loved playing its predecessor named Paper.io then you will obviously love playing the part 2 of this game where the goal of the game players remains the same. Capture as much territory as possible with your preferable colour & beat other opponents to win the competition.
Paper.io 2 has smoother & graphically better gameplay than the first version. It will definitely be fun for you to watch while capturing the territory with your favourite colour paper & defeat other papers or opponents. You should give it a try as it is one of the best io games available in Android right now which is why this is one of the best free Android games too!
Ruby Game Studio
Action|4.2★|43 MB |Free (in-app purchases) |100M+ Downloads
Hunter Assassin is a very thrilling action-packed assassination game which has become so popular within some months after its release. You have to control the assassin & hunt down your targets one by one. Use your surroundings & shadows to stay hidden from flashlights. Each eliminated target drops some gems that will be needed to unlock faster assassins which will help you to complete missions more easily. There are subscriptions available in this game which you can purchase with real money if you want to ease your game. Lastly, this is a very creative action game & a very good starter for your new year.
Gerena International Private Limited
Survival Shooter/ Battle Royale/Action |509 MB |Free (in-app purchases) | 500M+ Downloads
Free Fire is one of the best, if not the best free Android games & battle royale games that is available on mobile. The gameplay is very simple yet full of intense actions. Each game is about 10 minutes and in that time 50 players are placed on a remote island where they have to fight with others for the survival. The last man standing will be the winner. You can also create 4-man squad along with in-game voice chat to stay connected and battle together with others.
The vast map where you will be placed is open world and you have the opportunity to explore it as much as possible in that time, with vehicles or without vehicles. This is the game that gains most of the popularity along with PUBG into the battle royale category games in Android so it's quite obvious to have this game in our list of best battle royale games for Android.
If your device is not strong enough to support PUBG, you should choose Free Fire as it is as awesome as PUBG. I am not explaining much about Free Fire as it is too popular to be known for everyone. If you want to play it, don't ever hesitate, rush to the Play Store to install it as early as possible and you will come to know how outstanding the game really is!
Supersonic Studios LTD
Arcade/Action|4.1★|59 MB |Free (in-app purchases) | 100M+ Downloads
Join Clash 3D is one of the most popular arcade action games today which is totally free to play. This game becomes famous because of its intense & unique gameplay. You have to start running alone initially in this game then gather more & more people on your way to collect a massive crowd. After that, lead your gang through all sorts of obstacles from moving one to rotating one. Lastly, reach to the castle of other gangs, clash with them & capture their castles. Do not think much because you cannot get a game as unique & cool as this game is. So, install the game right now to dive into the unlimited fun & entertainment in this new year!
Kabam Games, Inc.
Action/Fighting|4.2★|71 MB |Free (in-app purchases) | 100M+ Downloads
Have you ever imagined that our favourite superheroes & most notorious supervillains of Marvel are fighting with each other like a 1-on-1 MMA fight. They are knocking each other out as badly as they can. If you have really imagined this then your imagination is going to take a giant leap into the reality as this game, MARVEL Contest of Champions offers the epic versus-fighting with all of your favourite Marvel superheroes & supervillains in the ultimate cosmic showdown contest!
This game is one of the best superhero games for Android that is obviously free to play & it's so popular that already 100 million players have downloaded this game! You can play with Spider-Man, Iron Man, Wolverine & anyone you want. Just assemble a team & begin your action-packed quest to become the Ultimate Marvel Champion of the fighting contest!
Thor vs. Captain Marvel! Captain America vs. Iron Man! Hulk vs. Wolverine! Spider-Man vs. Deadpool! The greatest battles in Marvel history are in your control now! The story of this game is pretty simple. The greedy Elder of the Universe known as the Collector has summoned you to an epic brawl against the most dangerous villains like Thanos, Kang the Conqueror & many more.
Now, you have to beat all of them one by one with your assembled team of superheroes. Apart from story mode, there are many other types of game modes available under the Alliance of this game such as Alliance Wars, Alliance Event & Alliance Quest. You have collect your superheroes & supervillains, level up them with different potions & elements available in this game and lastly, rank them up. Once fully ranked, they will get their full superpower.
This game have more or less 1 GB of data and need a decently powerful Android smartphone to play it. When you download the apk from the Play Store, just open the game, start playing and the data of this game will automatically be downloaded. This game is my personal favourite of all the Marvel games available in Android. I hope, you will love it too. So, don't waste your time. Rush to the Play Store & download it to begin the biggest fighting contest of the Marvel universe!
Read Now: Best Marvel Games for Android Right Now!
DogByte Games
Adventure/Simulation |196 MB |Free (in-app purchases) | 10M+ Downloads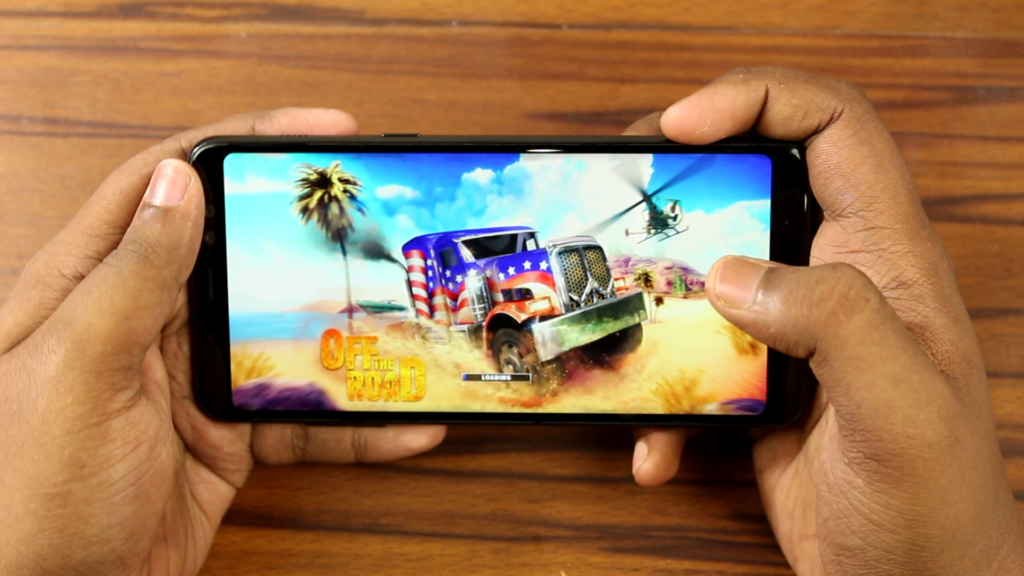 As its name suggests, it is definitely a classy open world Android game that is absolutely free & based on driving, boating and piloting on the huge off-road open world scenario. If you love driving games, you should love it too. You can walk in this beautiful off-road nature or you can drive your way to the highest mountain of this island to collect hidden rewards.
You can even start boating into the beautiful fresh water of this open world nature or fly your way up to the heaven with your preferable helicopters. The choice is up to you but one thing is pretty sure, you will get endless adventures by playing this game.
There are several challenges like transport challenges, checkpoint challenges etc. in this beautiful game that you have to beat to earn money and upgrade your vehicles so that they can be stronger, faster, look more awesome!
There are 20 off-road cars available in this game that can be unlocked and driven for better riding. Earning XP helps you to level up your profile which gives you cool rewards. Simulated water, mud and other surfaces are provided in this game that gives realistic graphics and feeling. Give it a try and you will understand how great this game is.
Tencent Games
Survival Shooter/Battle Royale/Action |1.6 GB |Free (in-app purchases) | 100M+ Downloads
So, the winner of "2018 Game of the Year" is in the list of best free Android games! Seems obvious? Yes, of course. PUBG is not only one of the best survival shooter battle royale games today but It's also an awesome open world game. As this game possesses immense popularity, I don't think that I have to discuss much about its gameplay and features. Still for the people who don't know much about this game, I am explaining it briefly.
Basically, this is the mobile version of the PC game where you have to survive in epic action-packed third or first person shooter 100-player classic battles, payload mode, battle duels, fast-paced 4v4 team death match and zombie modes. You have to be the last man standing to win the match. With an extraordinary console quality gaming and graphics, you can do anything you want.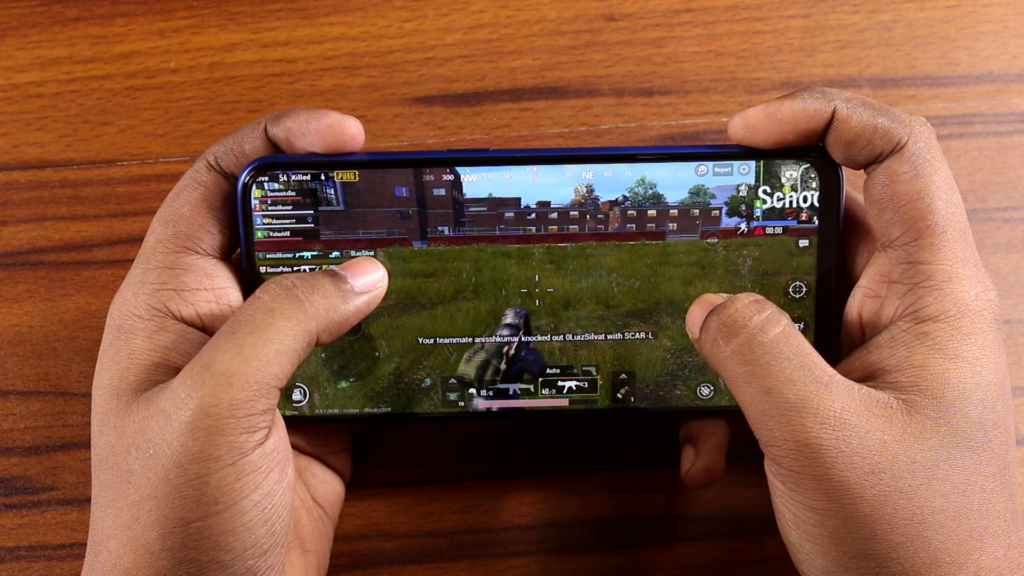 From voice chat with your friends to training your character, everything is possible here! Huge realistic maps are provided by this game where you can go anywhere you want, do anything you wish. So, this is the shortest possible way to describe this game. Download the coolest battle royale action game ever from the Play Store to enjoy the game and to know the rest of the features and gameplay.
The only thing I am recommending you i.e. make sure your device is strong enough for this game as this app needs huge additional data to play otherwise it will lag and slow down your device. If your device is not so strong, you can go for PUBG Lite which is the lighter version of the main game or you can go for other popular open battle royale games such as Gerena Free Fire and others mentioned in this article.
VOODOO
Casual/Action|4.2★|45 MB |Free (in-app purchases) |50M+ Downloads
A very simple arcade game is Stack Colors. As a new member of the arcade genre, this game definitely has already earned its place well enough. Like its name suggests, you have to just move & stack the right color platforms & then finally, you have to kick them to get a massive score. That's all. Simple yet very fun to play. If you want a good time-killer game, try this game in the New Year.
Gameloft SE
Action/Role Playing|4.3★|1.9 GB |Free (in-app purchases) | 50M+ Downloads
Gameloft has fulfilled many smartphone gamers' wishes by launching this incredibly good action-adventure open-world game which is even better than the real GTA games available for Android. Gangstar Vegas is not only the best open-world android games but also one of the best free Android games that Play Store ever has. You have to play the role of Jason in the dramatic story of this third-person shooter game and you can do basically anything in Las Vegas. You can walk and run freely, go for a long drive in cars & boats too, pilot planes or helicopters, kill someone and snatch his money and clothes without caring who he/she is or even you can go to the casino to play them.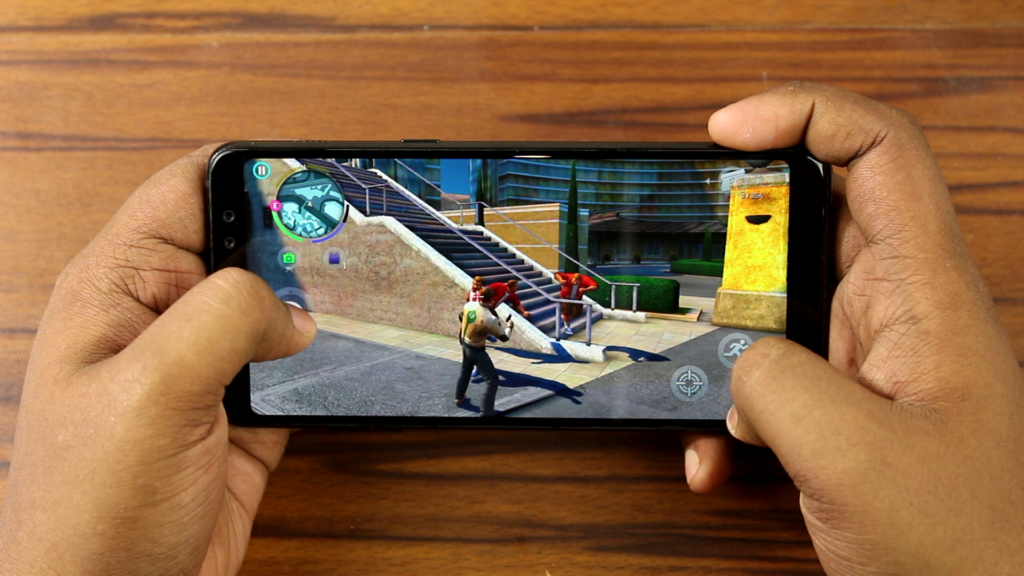 Gangstar Vegas comes with beautifully realistic graphics like actual GTA 5 PC game that makes you really surprised. There are numerous weapons like SMGs, LMGs, Shotguns, Rocket Launchers, melee weapons etc., cloths like casual dresses, formal dress on variations and vehicles like SUVs, Sedans, Supercars, Boats, Helicopters, Airplanes etc. are available in this shop section of the game so that you can complete all the 80+ missions properly by purchasing & using them. You can also craft your own weapons, vehicles & cloths.
Fully action-packed online events are offered by this game where you have to either fight with the zombies, aliens and other gangstars with your own or you have to join with a gang to beat down other gangs in the massive gang wars. The rewards of those events are lucrative cloths and suits, legendary guns and vehicles too. So, what are you waiting for? You cannot get another awesome open world game like that which is too similar like GTA 5. Install Gangstar Vegas and rule Vegas with your criminal adventures in your own way. The City of Vegas is eagerly waiting for a gangstar like you!
Don't Miss: Games Like GTA 5 For Android!!
DVloper
Survival Horror/Puzzle|4.3★|101 MB |Free| 100M+ Downloads
Granny is arguably the best horror game for Android & obviously, this is one of the best free Android games too. Moreover, this game is one of the oldest horror games on Android. You can say this game has actually started the genre of horror escape games. In this game, Granny keeps you locked in her creepy house but what you have to do is to try to get out of that house within 5 days. But be careful! Granny hears everything! If you mistakenly drop something in the floor, she immediately hears it & comes running towards you! You can hide in wardrobes, under beds or using other large furniture to save yourself temporarily from Granny. Remember, you have 5 days only. Good luck for your journey to ultimate hell!
Read Now: Best Horror Games for Android You Should Play!
Activision Publishing, Inc.
Action/Survival Shooter/Battle Royale|1.7 GB |Free (in-app purchases) | 100M+ Downloads
Activision's greatest creation, Call of Duty is already a very popular & successful video gaming series in computers which is why, when they launches a Call of Duty game for smartphones, it gains a huge amount of hype & success in a very short period of time. Matter of fact, in just a couple of week, Call of Duty: Mobile crossed the border of 50 million download in the Google Play Store!
100 player Battle Royale battleground? Fast 5v5 team deathmatch? Sniper vs sniper battle? Call of Duty: Mobile has it all! So, you can't be bored playing this game as it offers so many multiplayer game modes along with iconic maps to explore.
Activision has designed this game exclusively for mobile phones so that one can get the console-like experience without having a PC or console. With quality HD gaming & tons of multiplayer game modes like Team Deathmatch, Frontline, Free For All, Search and Destroy, Domination, Hardpoint etc., this game really has brought an evolution in mobile gaming. Lastly, it you're really searching for a cool battle royale game, you should not miss this one.
Candy Mobile
Action/Adventure |20 MB |Free (in-app purchases) | 10M+ Downloads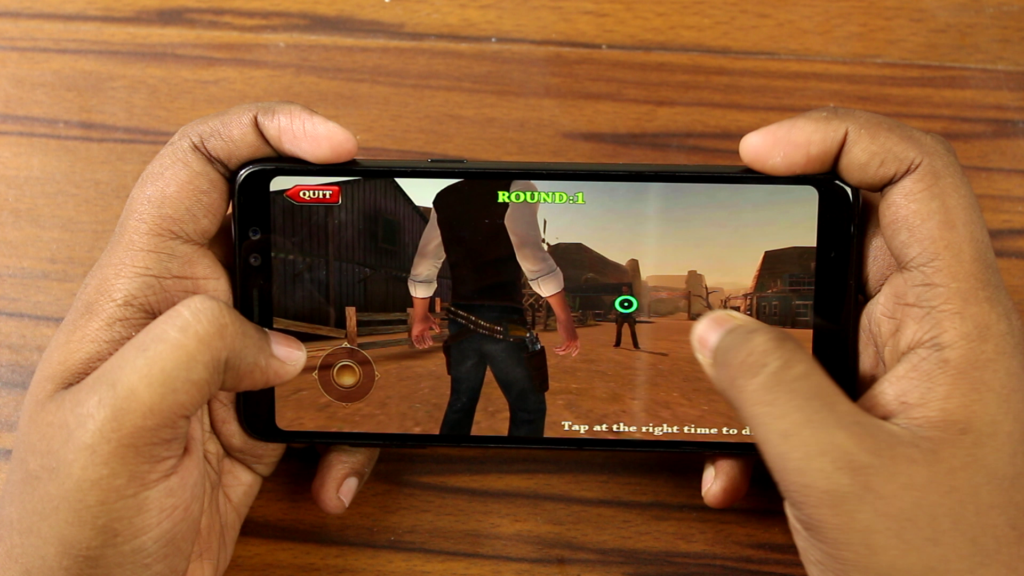 If you have a less powerful Android device and still you want to play open world games then this game is undoubtedly perfect for you. West Gunfighter is a very decent open world game that offers you to explore old wild west along with your role as a heroic cowboy or cowgirl.
Scopely
Role Playing/Action |4.3★|129 MB |Free (in-app purchases) | 10M+ Downloads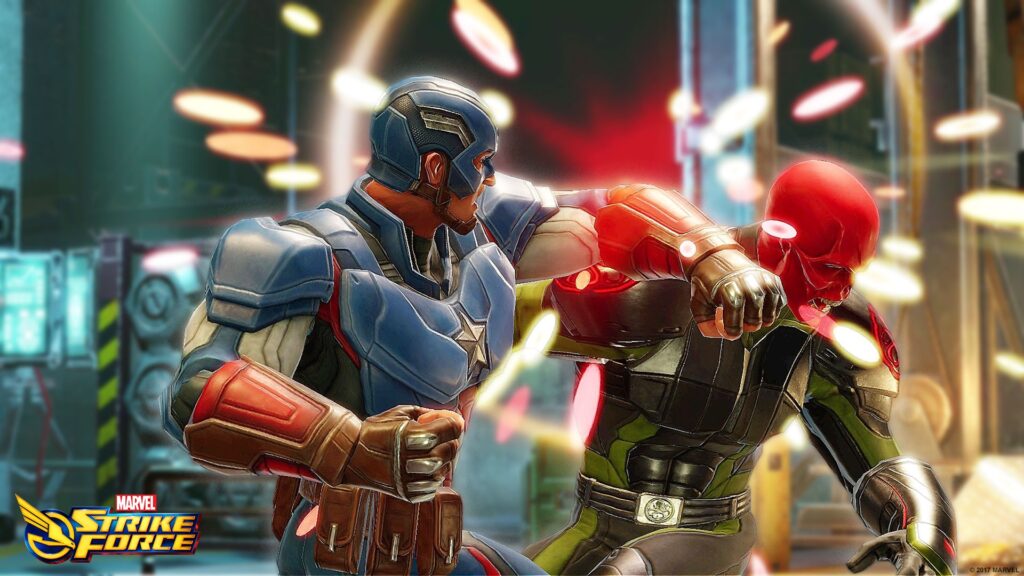 In a couple of years after its release, MARVEL Strike Force becomes one of the most popular & best Marvel games for Android. This game already have 15 million active players worldwide! & rightfully so. The key reasons behind its huge success in that little time is nothing but its perfection as a Marvel game. Marvel fans may have got how they want their Marvel dream game for the Android. Let's see what this awesome game offers.
In MARVEL Strike Force, the story is quite interesting. A hellish assault on Earth has begun so Marvel superheroes & supervillains decide to work together in order to defend the planet. You have to lead the charge by assembling your best squad that includes the bests of the Marvel like Spider-Man, Doctor Strange, Groot, Rocket Raccoon, Loki, Venom, Elektra, Captain America, Iron Man & many more. In this game, the fighting style is strategic yet action-packed so use your brain to strategically fight against the enemies. The tactical 5v5 combat style of this game make it even more realistic.
Upgrade your superheroes & supervillains to win battles for easily. Pair up specific characters together to unleash the combo skills that will more easily take out the enemies. New campaign missions, events & many more are added by providing updates of this game. The main story & its missions are also occasionally changed in this game to keep the interest grow into the players.
Gameloft SE
Action/Adventure|4.3★|965 MB |Free (in-app purchases) | 10M+ Downloads
One of the latest game from Gameloft is Gangster New Orleans & it has already got so much popularity because of its gold standard open-world action-packed gameplay just like GTA 5. This game undoubtedly provides all the tools from the city of New Orleans in order to make you a real Gangstar. After Gameloft's Gangstar Vegas's huge success, Gameloft had decided to launch another game of this open world action-adventure genre. Thus, we have got another awesome game like GTA 5 for Android.
Gangstar New Orleans contains AAA quality graphics like PC games & this graphics quality makes the action more awesome & exciting. You can go to different districts of New Orleans to taste unique flavours of action. Apart from the single player story mode, this game provides various multiplayer game modes like GvG (gangster vs gangster) are available that can lift the level of action to another height.
Turf War is another game mode of this game in which you have to claim your turf & then defend it from rival gangs. Hundreds of guns, other heavy weapons, vehicles are available so that you can choose your personal style of crime & action. Want to be a gangster & rule the underworld in New Orleans? Then download & play this game.
SayGames
Action/Shooter|4.3★|74 MB |Free (in-app purchases) | 10M+ Downloads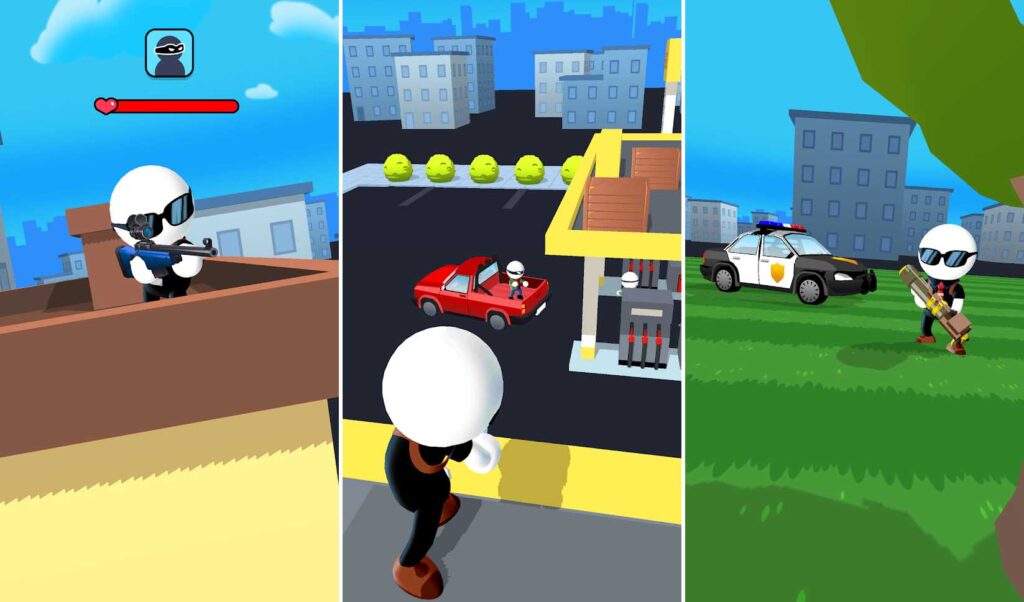 Just like the previous Johnny Trigger game, this new game is also one of the best free Android games comes with great action in recent memory. Thus, this game is also one of the best games of 2020. In this new Johnny Trigger game, you have to kill your targets with the sniper rifles. Unlike traditional sniper games, this game provides you quite a different perspective of sniper shooting. We are pretty sure, you will love that. There are variety of locations, countless cool weapons & super weapons are available in this 3D sniper game. So, what are you waiting for? Try this game right now to celebrate the New Year with more excitement & fun.
Therefore, these are the 15 best free Android games that you can definitely enjoy playing in your free time. Whether you are an action game lover or you are just a casual player, every type of game is included here for every type of gamers. There are obviously many more awesome free games available on Android but these are now some of the best free Android games. So, we can hope that you have really liked this article. If so then don't hesitate to express your valuable thoughts in the comment section below. Thanks for visiting & appreciating our work.