Brain games may not be the topper of all the genres in the gaming world but they are surely the most useful ones when it comes to improving the IQ of the brain and enhancing the brain's capabilities. Playing brain games is undoubtedly a very cool and fun-filled way to train your mind. It is so much interesting idea that everyone would love it. So, let's know the best brain games that are available on Android so that you can play them in your leisure time to train your brain and improve your IQ. From children to aged people, everyone can play these games. Let's know which are the best brain games now!
Read Now: How to Install SSD in Unsupported CPU aka PC Case?
Brain Out is one of the most popular and obviously one of the best brain games on Android now. With more than 100 million downloads, Brain Out is literally the most popular brain game along with Brain Test, and rightfully so as this fun-filled game provides tons of free tricky puzzles to solve and test your IQ level. You have to think in different ways to solve the puzzles otherwise you will be tricked easily. So, you have to use your brain uniquely in order to solve all of these puzzles. The funny, witty, and colorful puzzles will definitely impress and excite you to complete more and more puzzles. All these puzzles and trivia questions in this game possess a perfect combination of knowledge and creativity that helps to boost your brainpower. So, this is a must for you if you want to play an overall good brain game.
Just like Brain Out, Brain Test is another most popular as well as one of the best brain games available on Android. It also possesses 100 million downloads like the previous game. Brain Test is much like Brain Out. Numerous puzzles are available that need to be solved by using the brain in an unorthodox way. Sometimes you have to use your common sense while sometimes you have to think in a different way to solve these puzzles. All of these puzzles are free, addictive, and interesting as well as help to boost your IQ level as there are various types of puzzles available in this game such as word games, sudoku puzzles, riddle games, quiz games, and many more. Most importantly, any person from any age can play this game to train their brain and relax their mind. So, this is another brain game that is a must if you love to train your brain in a fun-filled way.
Easy Game is another very cool puzzle-solving game that helps to improve your IQ and your brain functionality. Just like other brain games, you have to think outside the box in order to solve the puzzles as they seem easy but tricky enough. With countless tricky brain teasers and a variety of levels, the game is really worth playing. You have to put your imagination and real-life logical skills into work to beat the challenges. There are very few games that are as good as Easy Game when it comes to boosting your IQ & concentration power. So, it is no secret that this game is one of the best brain games available on Android that you should give a try.
Brain Up is a brain game that comes with real-life problems, puzzles, and trivia that you can solve so that you can improve your common sense, maturity level, IQ, and concentration power. Moreover, these puzzles will help you boost your thinking capability as you have to think deeply to solve them. A wide variety of puzzles such as simple logic, complex, sudoku, and other types of mind games are available in this game. The interface of Brain Up is very easy-to-use and every player would love that. So, we really think you should play this game at least once to realize how amazing this brain game really is!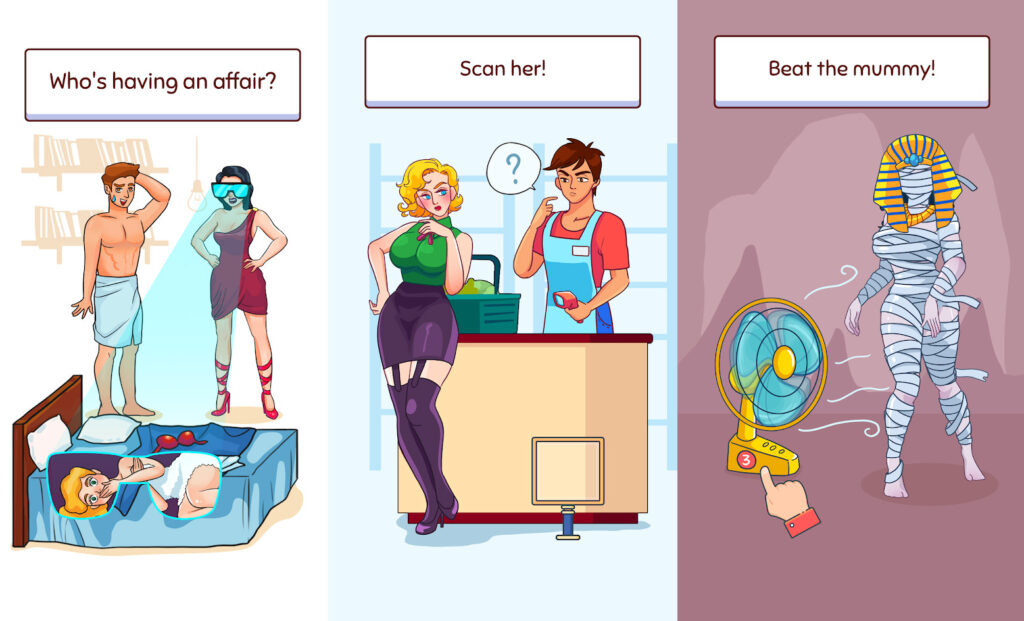 Unlike other brain games, this game, Brain It On is a very unique brain game that is totally based on physics-based puzzles and challenges. So, what you have to do is to draw some kinds of shapes and lines in order to solve these puzzles. As you can see from the screenshots, the puzzles look easy, don't they? But, they are not as easy as they seem. Just install the game and play some puzzles and you will realize how challenging they actually are still they are very addictive and fun-filled as the game is pretty unique than others. The most exciting thing about this game is, you can utilize multiple ways to solve the puzzles. That means you can draw anything that helps you to solve a particular puzzle. Isn't it amazing? In short, Brain It On is a unique brain game in which you can solve puzzles with your unique solutions.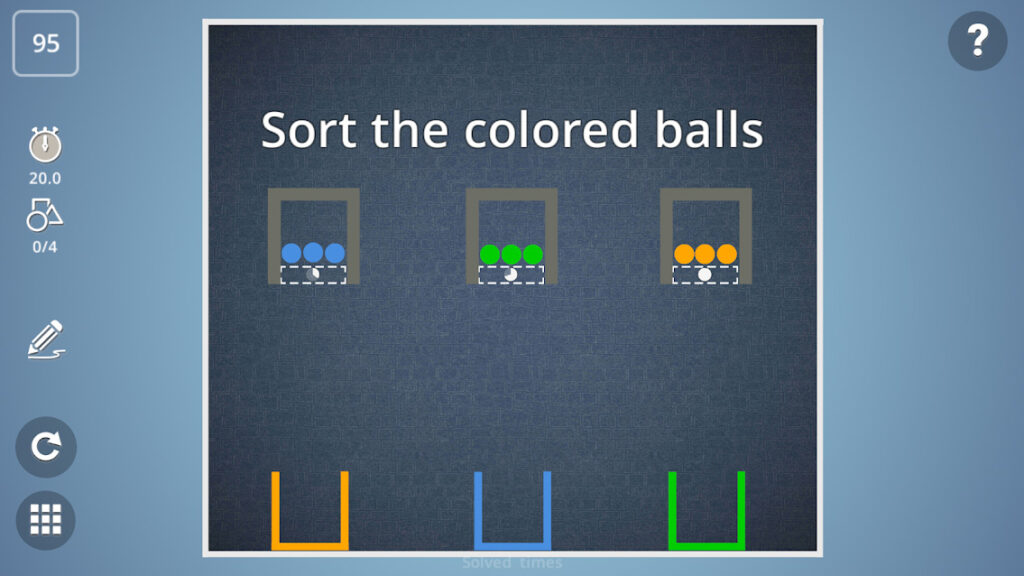 Thus, this game not only helps to enhance your IQ and concentration power but also helps to improve your creativity level and imagination capability. So, it is certainly one of the best brain games on Android right now that you should not miss at any cost if you want to boost your overall brain power in a very engaging, interesting, and fun-filled way.
After the huge success of the Brain Test, the developers launched the second game of the Brain Test series. Brain Test 2 is even better with even more tricky as well as challenging riddles and puzzles. And, guess what? Brain Test 2 got massive popularity in a very short period of time. Already more than 50 million people have downloaded this game since last year. If you have already the first Brain Test and really enjoyed it and wanted to play those types of puzzles again then you should not miss the second one which is this game, Brain Test 2. This game comes with thousands of new puzzles and riddles that you can enjoy playing to improve your brainpower. The developers recently released Brain Test 3 a few months ago. So, if you really love playing these addictive brain games, then you can also try Brain Test 2 and even the third one as both of them are much like their predecessor or might be better.
Skillz is one of the best brain games on Android especially for improving your memory, attentive skills, and logical skills. A very fun-filled, interesting, and real-life brain game that can play everyone regardless of any age to pass their time while enhancing their brain functionality. Each level of this game is tricky and needs attention to solve carefully as it tests your skills and abilities. After completing each level, your results will be ranked between 1 and 5 Stars depending upon how many abilities you possess and you will be rewarded with a number of Brains. For every Star earned you will be rewarded with one Brain. Using a brain, you can retry from the current round, pass a round or pass a level with 5 stars.
This excellent brain game also provides a multiplayer game mode where you can play with 3 more players to solve a puzzle or to challenge your friends and others. In a nutshell, a unique and totally awesome brain game that you really need if you want to improve the skills and abilities of your brain in an easy & effortless way.
Logic Master 1 Mind Twist
Logic Master 1 is the brain game that you should consider playing if you want to take your IQ and logical skills to the next level. This is a very creative and logical puzzle game that needs absurd solutions to complete. So, a creative approach from the player is a must to solve the tricky and unusual puzzles of this game just like many of the games in this list of best brain games on Android. Anyway, with very simple and addictive gameplay, this game comes with 260+ puzzles that you can solve in order to spend quality pastime and to increase your mental abilities. With the help of multiplayer mode, you can also play against other players around the world and beat them to rank up in the leader board. Install and play this decent brain game now to show everyone who is the genius!
Therefore, these are the best brain games available on Android that you should play if you really love brain games, puzzles, riddles, and trivia. All of them are great in terms of addictive gameplay, interesting, tricky & challenging puzzles, and improving the overall brain functions such as memory power, thinking ability, logical skills, and more. If you really want to enhance your brainpower in a fun-filled way then there is no other option better than playing these unique and interesting brain games. So, install and play the games you prefer from this list. Anyway, hopefully, you have found this article about the best brain games on Android helpful enough. If it really so then don't hesitate to express your valuable thoughts in the comment section below. Thanks for visiting and appreciating our work.